Open Access This article is
freely available
re-usable
Review
The Role of miRNAs in Common Inflammatory Arthropathies: Osteoarthritis and Gouty Arthritis
1
Department of Nursing, Faculty of Human Movement and Quality of Life Sciences, University of Peloponnese, Orthias Artemidos and Plateon St, GR-23100 Sparti, Greece
2
Immunology Laboratory, Immunology Department, Hellenic Pasteur Institute, P.O Box 115 21, Athens, Greece
†
These authors contributed equally to this work.
*
Author to whom correspondence should be addressed.
Academic Editor: Jürg Bähler
Received: 8 August 2016 / Accepted: 2 November 2016 / Published: 11 November 2016
Abstract
:
MicroRNAs (miRNAs) are small, non-coding RNA species that are highly evolutionarily conserved, from higher invertebrates to man. Up to 1000 miRNAs have been identified in human cells thus far, where they are key regulators of the expression of numerous targets at the post-transcriptional level. They are implicated in various processes, including cell differentiation, metabolism, and inflammation. An expanding list of miRNAs is known to be involved in the pathogenesis of common, non-autoimmune inflammatory diseases. Interestingly, osteoarthritis (OA) is now being conceptualized as a metabolic disease, as there is a correlation among hyperuricemia and metabolic syndrome (MetS). Experimental evidence suggests that metabolic deregulation is a commonality between these different pathological entities, and that miRNAs are key players in the modulation of metabolic routes. In light of these findings, this review discusses the role of miRNAs in OA and gouty arthritis, as well as the possible therapeutic targetability of miRNAs in these diseases.
Keywords:
arthropathy; post-transcriptional regulator; metaflammation; overweight; cartilage erosion; hyperuricemia; monosodium urate crystals
2. OA and Gouty Arthritis: Overview of Pathophysiological Features
3. OA and Overweight: A Perplexed Interplay
4. miRNA-Associated Pathways in OA
5. miRNA-Associated Pathways in Gouty Arthritis
Analysis in mononuclear cells isolated from individuals suffering from gouty arthritis showed that miRNA-155 is expressed at higher levels in synovial fluid mononuclear cells (SFMCs) of patients in comparison to peripheral blood mononuclear cells (PBMCs) derived from healthy subjects. With the aim of unveiling a possible etiological link between miRNA-155 and gouty arthritis, it was found that the exposure of PBMCs from healthy participants to MSU crystals resulted in the induction of the expression of this miRNA. Src homology 2 (SH2) domain-containing inositol-5-phosphatase 1 (SHIP-1) levels were found to be lower, both in SFMCs of patients and in PBMCs of healthy controls on treatment with MSU crystals than in MSU-untreated PBMCs of healthy individuals. This is consistent with the fact that the immunoregulatory protein SHIP-1 is directly targeted by miRNA-155. SHIP-1 displays anti-inflammatory actions and the miRNA-155/SHIP-1 route is thought to fuel inflammation in gouty arthritis [
122
].
It is noteworthy that in THP-1 human monocytic cells, the decrease in SHIP-1 levels was found to coincide with a decrease of a molecule that is critically involved in inflammation—NF-kB inhibitor (IkB)—upon challenge with MSU crystals. miRNA-155-transfected or MSU-challenged THP-1 cells display a profound alteration in their pro-inflammatory secretory activity, exemplified by the elevation of IL-1β and TNF-α extracellular release, as evidenced by a multiplex immunoassay, termed Luminex. In line with the in vitro data, miRNA-155 is increased in the murine gout model. Importantly, in gouty arthritis clinical synovial specimens, the expression of SHIP-1 was reported to be scarce, which is in striking contrast to OA samples, which were positive for SHIP-1 [
122
]. The aforementioned data favor the notion that miRNA-155-dependent signaling positively regulates inflammation in gouty arthritis. In addition, these data pave the road for the identification of novel discriminative biomarkers for diagnosing gouty arthritis and other inflammatory arthropathies. A more recent study suggests that miRNA-146α halts inflammation evoked by MSU crystals; in fact, it suppresses the expression of a series of inflammatory mediators (monocyte chemoattractant protein-1 (MCP-1), TNF-α, interleukin 8 (IL-8), IL-1β). However, miRNA-146α is somehow lost throughout the acute response to these pro-inflammatory irritant particles [
123
].
6. miRNA-Dependent Pathways as Therapeutic Targets in OA and Gouty Arthritis: At the Juncture of Biotechnology and Traditional Medicine
7. Conclusions and Future Perspectives
Inflammation and cartilage erosion in OA are linked by a miRNA-488-regulated Zn
2+/
ZIP8/MTF1 pathway, which affects the expression of MMPs-ADAMTS5. The prevailing view is that OA is a "wear and tear" process, which, in an oversimplified manner, is solely associated with cartilage erosion due to the cartilage matrix degeneration by catabolic enzymes (MMPs, ADAMTS enzymes). By taking advantage of high throughput screening and RNA sequencing technologies, and via experimental models of OA (surgical instability models or genetically engineered animals), it has been demonstrated that miRNAs not only simply act as regulators of inflammatory processes in the affected joints (e.g., chemotaxis), but also as key metabolic regulators at the juncture of the modulation of metabolism and inflammation (metaflammation), as well as in the control of metabolic pathways, which mechanistically link obesity to OA. Downregulated RCT, critically modulated by miRNA-33a, and deregulated autophagic flux, modulated by miRNA-155, are prominent molecular features of OA. From a structural genomics point of view, several miRNAs reside within the intronic regions of the human genome [
152
,
153
]. Certain OA-related miRNAs, i.e., miRNA-33a, miRNA-455-3p, miRNA-140, and miRNA-335-5p, are actually embedded within the intronic regions of human SREBP-2, COL27A1, WWP2, and MEST, respectively. The intronic class of miRNAs possibly displays biogenetic differences with regard to the exonic class of miRNAs in mammals [
152
]. Whether this intronic class of miRNAs differentially influences OA pathogenesis, compared to the exonic class of miRNAs, is a very interesting topic for future research. Another hallmark of OA is miRNA-335-5p downregulation in OA MSCs; something that can be therapeutically harnessed in the future, in the field of regenerative medicine.
In addition to OA, miRNAs are also central players in pathways associated with MSU-induced inflammation and gouty arthritis. The identification of miRNA(s) possibly targeting TLRs, IL-1β, chemokines, and NLRP3 in gouty arthritis is another major goal for the future. The etiopathological role of miRNA-155 is a commonality between OA and gouty arthritis, although, in OA, miRNA-155 functions as a suppressor of autophagy, whereas a miRNA-155/SHIP-1 pathway has been incriminated in gouty arthritis. Thus far, no such metabolism-associated miRNA has been discovered that links OA and gouty arthritis, although there is a positive correlation among hyperuricemia and MetS, and OA is being conceptualized as the fifth component of MetS. Thus, it would be interesting for researchers to address whether there is/are any common metabolism-related miRNA(s) playing a role in the pathogenesis of OA and gouty arthritis. This is a challenging task for the future.
Another future challenge for OA therapeutics would be to address whether there are OA-related miRNAs displaying evolutionary conservation of seed sequences, so that they could possibly be targeted by "tiny LNAs". Moreover, interfering with miRNA-146α-dependent pathways controlling nociception in OA [
103
] might serve as a strategy to relieve pain. In fact, the idea that miRNA-mediated axes could be targeted for the management of pain has been gaining ground [
154
].
The studies mentioned above unequivocally indicate that miRNAs are interrelated with the pathogenesis of OA, as well as gouty arthritis. Even in the case that miRNAs are not etiopathologically associated with OA, their expression is somehow influenced throughout the OA development process, either as single non-coding molecules or as part of a miRNA "signature". miRNAs could be clinically used (e.g., in a microarray-based format) as a feasible procedure for the specific assessment of OA, which could be less expensive than magnetic resonance imaging (MRI). More experimentation is required in this direction [
155
]. Validating a certain miRNA or miRNA sets, as non-invasive biomarker(s) in patients suffering from OA or gouty arthritis, using an established statistical method, such as receiver operating characteristic (ROC) curve analysis as has been attempted in other diseases [
156
,
157
], would therefore be another future goal. For instance, miRNA let-7e seems to be a negative predictor for severe OA, at least in Caucasians [
155
], and its validation as a biomarker is of great interest. Valuable data regarding the usefulness of distinct miRNAs as biomarkers at the pre-clinical level in animal models have been already provided [
158
]. However, ROC analyses are nodal statistical tools in clinical studies. Clinical data, properly processed in order to be statistically refined, are much-awaited, in order to propel the introduction of possible miRNA-based therapies into clinical practice.
It is worth mentioning that miRNAs are part of the underlying mechanism by which herbal decoctions, used by traditional Chinese medicine, act in the management of OA. A significant "take-home message" is that miRNA-mediated control plays a key role in the cellular responses to medical practices applied all over the world, from the West to the East. In addition, miRNAs are involved in the modulation of the inflammatory pathways activated in different types of arthropathies, whether they are evoked by crystal deposits or not.
Acknowledgments
The authors would like to thank the Emeritus Professor of Genetics and Human Genetics at the Aristotle University of Thessaloniki, Costas Triantaphyllidis, for his valuable comments on the manuscript. This theoretical study was self-funded. None of the authors received grants in support of this work or any funds for covering the costs to publish in open access.
Conflicts of interest
The authors declare no conflicts of interest.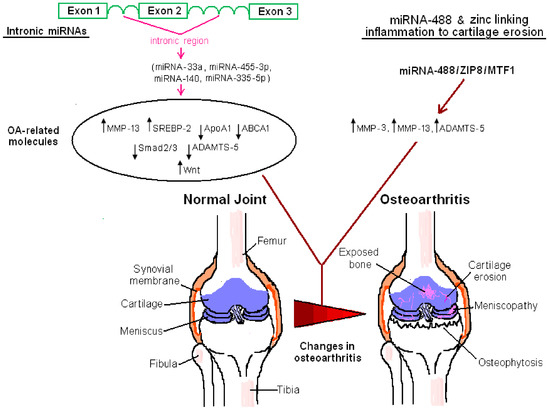 Figure 1. Intronic microRNAs (miRNAs) and the miRNA-488/ZIP8/MTF1 pathway are critically involved in the pathogenesis of osteoarthritis (OA). Distinct miRNAs (miRNA-33a, miRNA-455-3p, miRNA-140, and miRNA-335-5p) reside within intronic regions of human genes and they modulate the expression of a series of molecules either positively (upward pointing arrows) or negatively (downward pointing arrows) associated with the development of osteoarthritis. These molecules include proteases responsible for the degradation of cartilage matrix (matrix metalloproteases (MMPs), A Disintegrin and Metalloproteinase with Thrombospondin Motifs 5 (ADAMTS5)), molecules related with cholesterol synthesis and efflux in OA chondrocytes (sterol regulatory element binding protein 2 (SREBP-2), apolipoprotein A1 (ApoA1), and ATP binding cassette subfamily A member 1 (ABCA1)), or they affect Mothers against decapentaplegic homolog 2/3 (Smad2/3)- and Wingless (Wnt)-dependent signalling. On the other hand, miRNA-488 influences a zinc transporter ZIP8/ metal-regulatory transcription factor 1 (ZIP8/MTF1)-mediated route, which eventually upregulates a set of molecules that are implicated in the enzymatic erosion of articular cartilage, i.e., MMP-3, MMP-13, and ADAMTS5. These molecular events largely contribute to the OA phenotype through promoting pathological changes; erosion of cartilage and meniscus, denudation of the subchondral bone and osteophytosis (see the text for details). Other miRNA-dependent, as well as miRNA-independent, pathways are involved in the pathogenesis of OA. However, they are not depicted here for reasons of simplicity. Intronic miRNAs reside in introns from different loci. A common graph of three exons has been drawn here for reasons of clarity. Key anatomic domains of the knee and their alterations during OA development are indicatively depicted. These molecular events are not only associated with knee osteoarthritis but they may also be localized in other joints.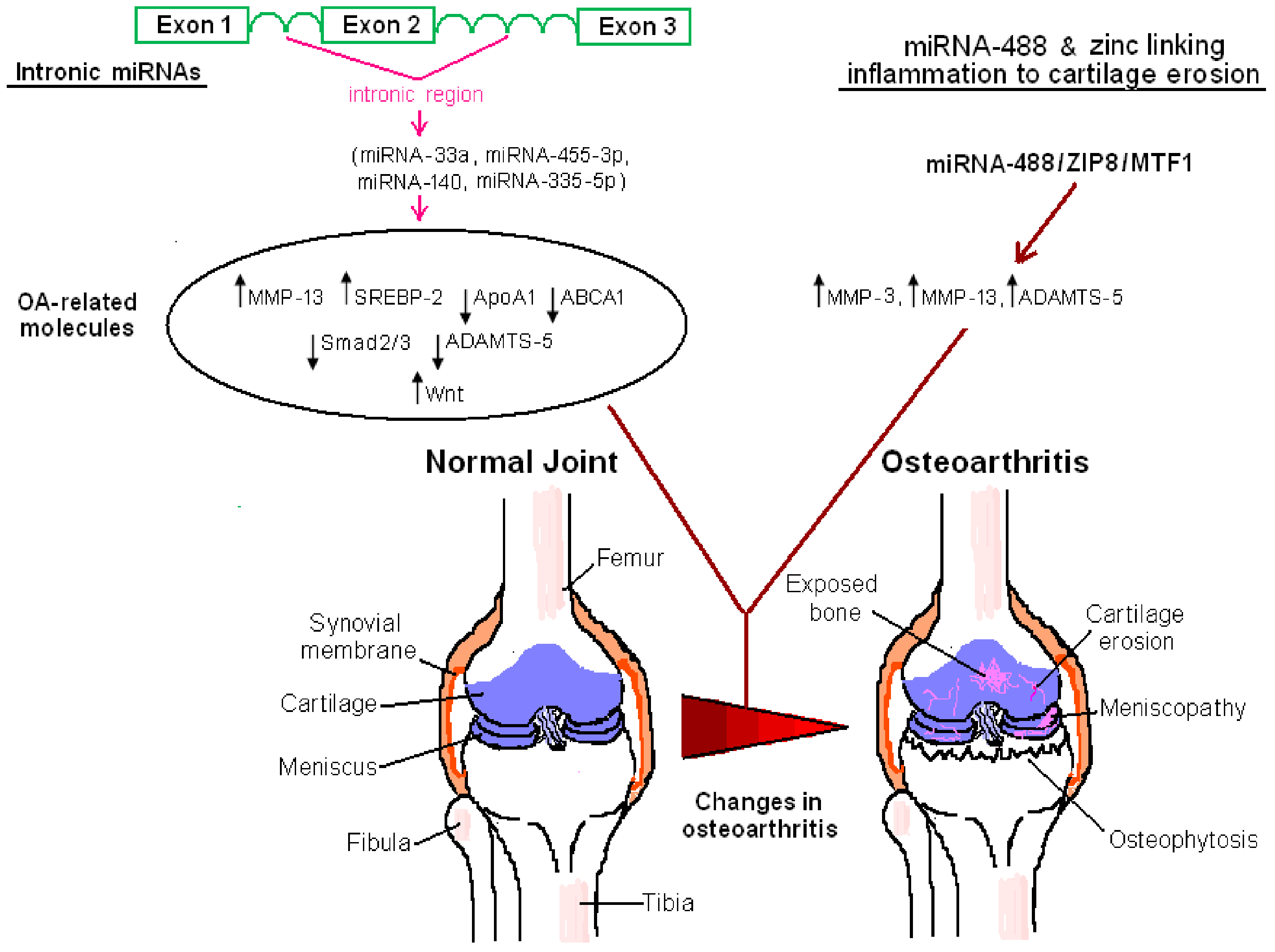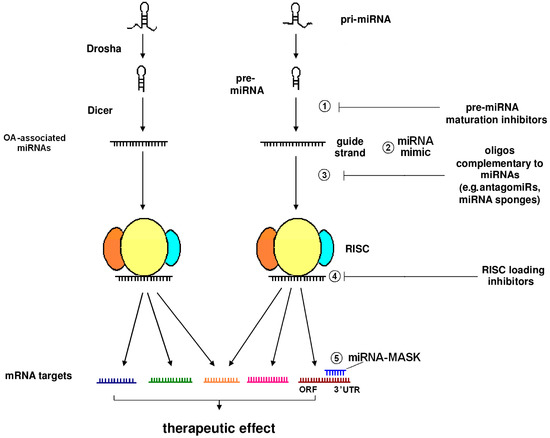 Figure 2. OA-associated miRNA-dependent pathways may be therapeutically targeted at multiple levels. Dicer-mediated processing of certain pre-miRNAs of the corresponding mature miRNA (guide strand) can be blocked via small molecules that serve as maturation inhibitors (level 1). miRNA mimics can be used to mimic the function of endogenous miRNA molecules (level 2). Oligonucleotides (oligos) complementary to miRNAs, such as antagomiRs and miRNA sponges, can interfere with miRNA:mRNA interactions through hybridization with target miRNAs (level 3). Chemically divergent small molecules, which block the assembly of RNA-induced silencing complex (RISC), designated as RISC loading inhibitors, have been also identified. These inhibitors do not affect argonaute 2 (Ago2) activity or pre-formed miRNA:Ago2 complexes (level 4). On the other hand, miRNA-masking (miRNA MASK) technology (level 5) involves the usage of single-stranded chemically modified oligos, which are complementary to the 3′ untranslated region (UTR) of a target transcript. Therefore, the interaction among miRNA and its target is prevented, and the expression of a gene of interest is derepressed. Overall, the net result of all of the above-mentioned putative therapeutic strategies is the modulation of the expression of different mRNAs that are associated with OA pathogenesis. Note that a miRNA may regulate multiple miRNA targets, while a distinct mRNA may be controlled by more than one miRNA. This phenomenon contributes to the generation of a complicated network of interplaying pathways. ORF: open reading frame; pri-miRNA: primary miRNA.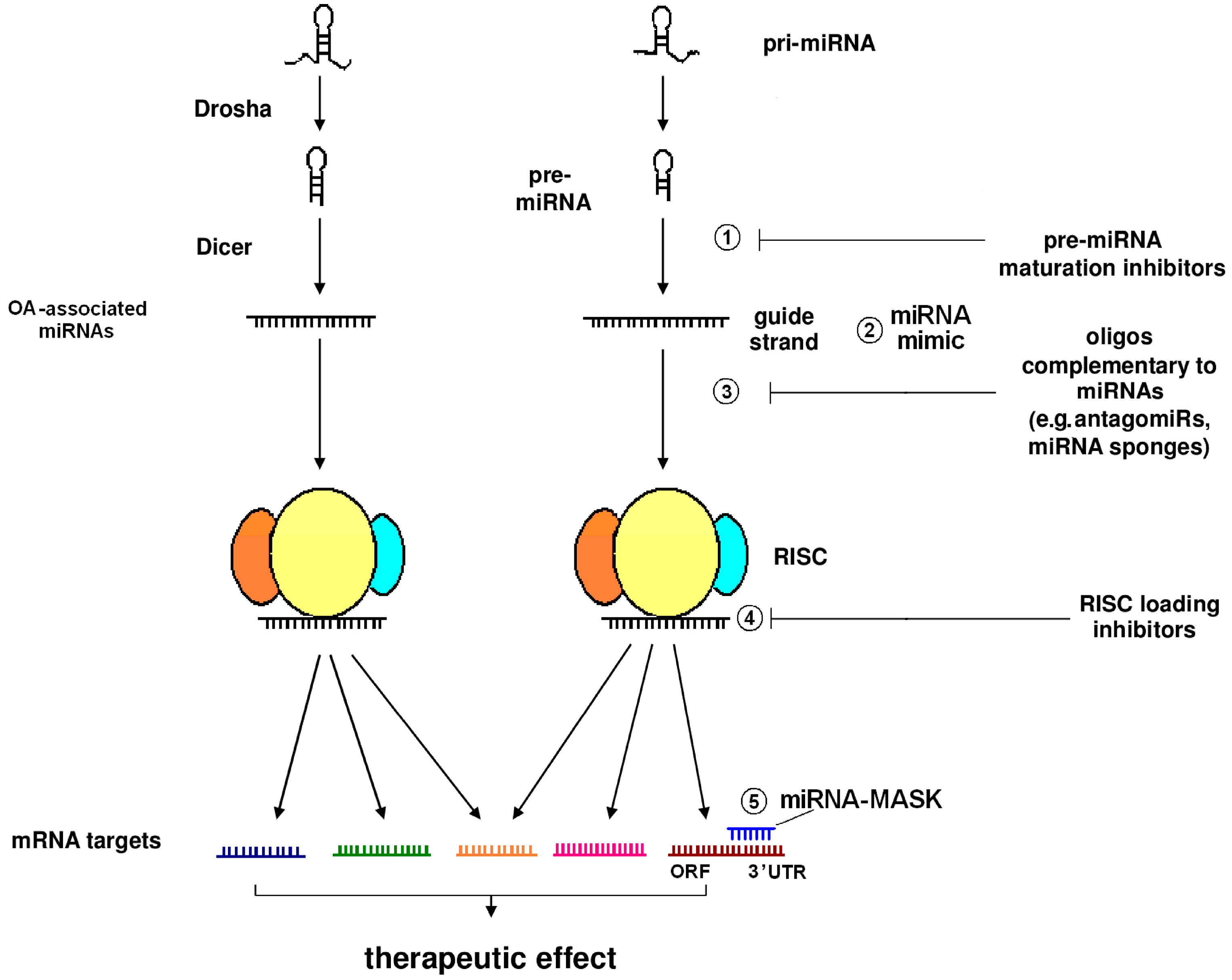 © 2016 by the authors; licensee MDPI, Basel, Switzerland. This article is an open access article distributed under the terms and conditions of the Creative Commons Attribution (CC-BY) license (http://creativecommons.org/licenses/by/4.0/).