The Effect of Alcohol and Hydrogen Peroxide on Liver Hepcidin Gene Expression in Mice Lacking Antioxidant Enzymes, Glutathione Peroxidase-1 or Catalase
1
Department of Internal Medicine, Division of Gastroenterology/Hepatology, University of Nebraska Medical Center, Omaha, NE 68198, USA
2
Department of Biochemistry and Molecular Biology, University of Nebraska Medical Center, Omaha, NE 68198, USA
*
Author to whom correspondence should be addressed.
Academic Editors: Natalia Osna and Kusum Kharbanda
Received: 4 March 2015 / Revised: 22 April 2015 / Accepted: 27 April 2015 / Published: 6 May 2015
Abstract
This study investigates the regulation of hepcidin, the key iron-regulatory molecule, by alcohol and hydrogen peroxide (H
2
O
2
) in glutathione peroxidase-1 (gpx-1
−/−
) and catalase (catalase
−/−
) knockout mice. For alcohol studies, 10% ethanol was administered in the drinking water for 7 days. Gpx-1
−/−
displayed significantly higher hepatic H
2
O
2
levels than catalase
−/−
compared to wild-type mice, as measured by 2'-7'-dichlorodihydrofluorescein diacetate (DCFH-DA). The basal level of liver hepcidin expression was attenuated in gpx-1
−/−
mice. Alcohol increased H
2
O
2
production in catalase
−/−
and wild-type, but not gpx-1
−/−
, mice. Hepcidin expression was inhibited in alcohol-fed catalase
−/−
and
wild-type mice. In contrast, alcohol elevated hepcidin expression in gpx-1
−/−
mice. Gpx-1
−/−
mice also displayed higher level of basal liver CHOP protein expression than catalase
−/−
mice. Alcohol induced CHOP and to a lesser extent GRP78/BiP expression, but not XBP1 splicing or binding of CREBH to hepcidin gene promoter, in gpx-1
−/−
mice. The up-regulation of hepatic ATF4 mRNA levels, which was observed in gpx-1
−/−
mice, was attenuated by alcohol. In conclusion, our findings strongly suggest that H
2
O
2
inhibits hepcidin expression
in vivo
. Synergistic induction of CHOP by alcohol and H
2
O
2,
in the absence of gpx-1, stimulates liver hepcidin gene expression by ER stress independent of CREBH.
View Full-Text
►

▼

Figures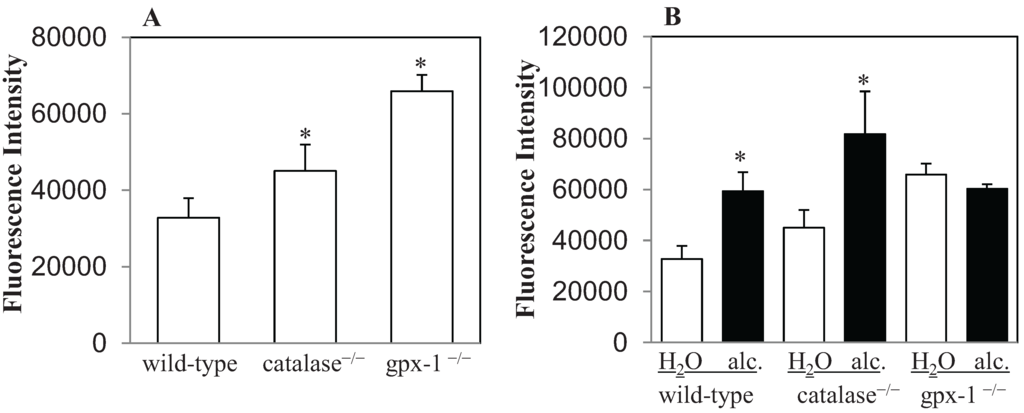 Figure 1
This is an open access article distributed under the
Creative Commons Attribution License
which permits unrestricted use, distribution, and reproduction in any medium, provided the original work is properly cited (CC BY 4.0).

Share & Cite This Article
MDPI and ACS Style
Harrison-Findik, D.D.; Lu, S. The Effect of Alcohol and Hydrogen Peroxide on Liver Hepcidin Gene Expression in Mice Lacking Antioxidant Enzymes, Glutathione Peroxidase-1 or Catalase. Biomolecules 2015, 5, 793-807.
Related Articles
Comments
[Return to top]