Towards the Search for Thallium Nuclear Schiff Moment in Polyatomic Molecules: Molecular Properties of Thallium Monocyanide (TlCN)
1
Chemistry Department, M. Lomonosov Moscow State University, Moscow 119991, Russia
2
NRC "Kurchatov Institute"—PNPI, Orlova Roscha, 1, Gatchina 188300, Russia
3
Physical Department, Saint-Petersburg State University, Ulianovskaya 1, Petrodvoretz 198504, Russia
*
Author to whom correspondence should be addressed.
Received: 29 April 2019 / Revised: 19 June 2019 / Accepted: 25 June 2019 / Published: 29 June 2019
Abstract
Molecular properties of the thallium monocyanide (Tl·CN) system in its ground electronic state are studied using high-precision ab initio relativistic two-component pseudopotential replacing 60 inner-core electrons of Tl. A relativistic coupled-cluster method with single, double and perturbative triple amplitudes is employed to account for electronic correlations. Extrapolation of results to the complete basis set limit is used for all studied properties. The global potential energy minimum of Tl·CN corresponds to the linear cyanide (TlCN) isomer, while the non-rigid isocyanide-like (TlNC) structure lies by approximately 11 kJ/mol higher in energy. The procedure of restoration of the wavefunction in the "core" region of Tl atom was applied to calculate the interaction of the Tl nuclear Schiff moment with electrons. The parameter
X
of the interaction of the Tl nuclear Schiff moment with electrons in the linear TlCN molecule equals 7150 a.u. The prospects of using the TlCN molecule for the experimental detection of the nuclear Schiff moment are discussed.
View Full-Text
►

▼

Figures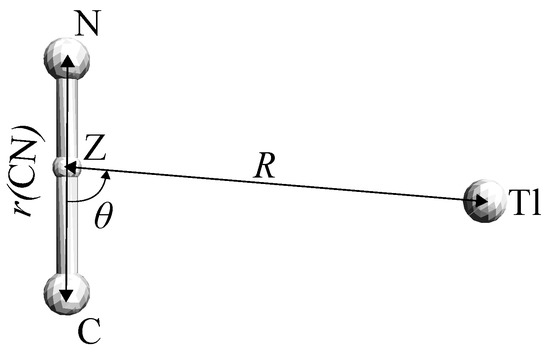 Figure 1
This is an open access article distributed under the
Creative Commons Attribution License
which permits unrestricted use, distribution, and reproduction in any medium, provided the original work is properly cited (CC BY 4.0).

Share & Cite This Article
MDPI and ACS Style
Kudrin, A.V.; Zaitsevskii, A.; Isaev, T.A.; Maison, D.E.; Skripnikov, L.V. Towards the Search for Thallium Nuclear Schiff Moment in Polyatomic Molecules: Molecular Properties of Thallium Monocyanide (TlCN). Atoms 2019, 7, 62.
Note that from the first issue of 2016, MDPI journals use article numbers instead of page numbers. See further details here.
Related Articles
Comments
[Return to top]