Open Access This article is
freely available
re-usable
Protocol
An UPLC-MS/MS Assay to Measure Glutathione as Marker for Oxidative Stress in Cultured Cells
1
Centre for Analysis and Synthesis, Department of Chemistry, Lund University, 223 62 Lund, Sweden
2
Laboratory Genetic Metabolic Diseases, Department of Clinical Chemistry, Amsterdam UMC, Location AMC, University of Amsterdam, 1105 AZ Amsterdam, The Netherlands
*
Author to whom correspondence should be addressed.
Received: 21 January 2019 / Accepted: 28 February 2019 / Published: 5 March 2019
Abstract
:
Oxidative stress plays a role in the onset and progression of a number of diseases, such as Alzheimer's disease, diabetes and cancer, as well as ageing. Oxidative stress is caused by an increased production of reactive oxygen species and reduced antioxidant activity, resulting in the oxidation of glutathione. The ratio of reduced to oxidised glutathione is often used as a marker of the redox state in the cell. Whereas a variety of methods have been developed to measure glutathione in blood samples, methods to measure glutathione in cultured cells are scarce. Here we present a protocol to measure glutathione levels in cultured human and yeast cells using ultra-performance liquid chromatography-tandem mass spectrometry (UPLC–MS/MS).
Keywords:
oxidative stress; glutathione; cultured cells; yeast; mass spectrometry
Supplementary Materials
The following are available online at
https://www.mdpi.com/2218-1989/9/3/45/s1
: Figure S1: Effect of menadione and BSO on GS-NEM and GSSG levels in fibroblasts; Figure S2: Fragmentation pattern of GS-NEM and GSSG.
Author Contributions
K.H., C.W.T.v.R., and A.G.v.C. performed laboratory analyses. K.H. analysed the data. K.H. wrote the manuscript. R.J.A.W., H.R.W. and L.I. supervised the study and revised the manuscript. W.K. revised the manuscript.
Funding
This research was funded by FP-7-PEOPLE-2012-Marie Curie-ITN316723 PERFUME (K.H. and H.R.W.).
Acknowledgments
The authors thank Henk van Lenthe for helpful discussions and advice, and Frédéric M. Vaz for critical revision of the manuscript.
Conflicts of Interest
The authors declare no conflict of interest. The funders had no role in the design of the study; in the collection, analyses, or interpretation of data; in the writing of the manuscript; or in the decision to publish the results.
Appendix A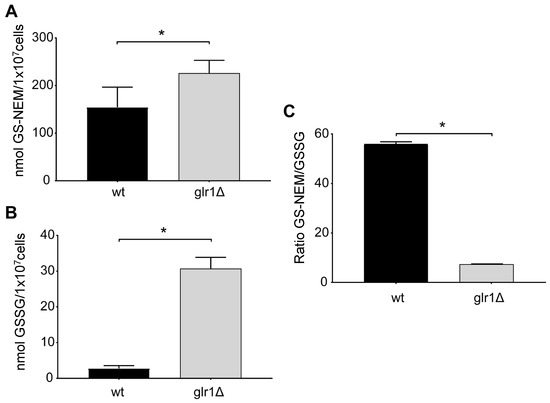 Figure A1.
Glutathione levels in the yeast
S. cerevisiae
. Glutathione levels of WT and glr1 deletion strains are shown as bar plots with standard error. (
A
) GS-NEM, (
B
) GSSG, and (
C
) ratio GS-NEM/GSSG. Mann–Whitney U test was performed to determine significant differences between the groups (*
p
-value < 0.05).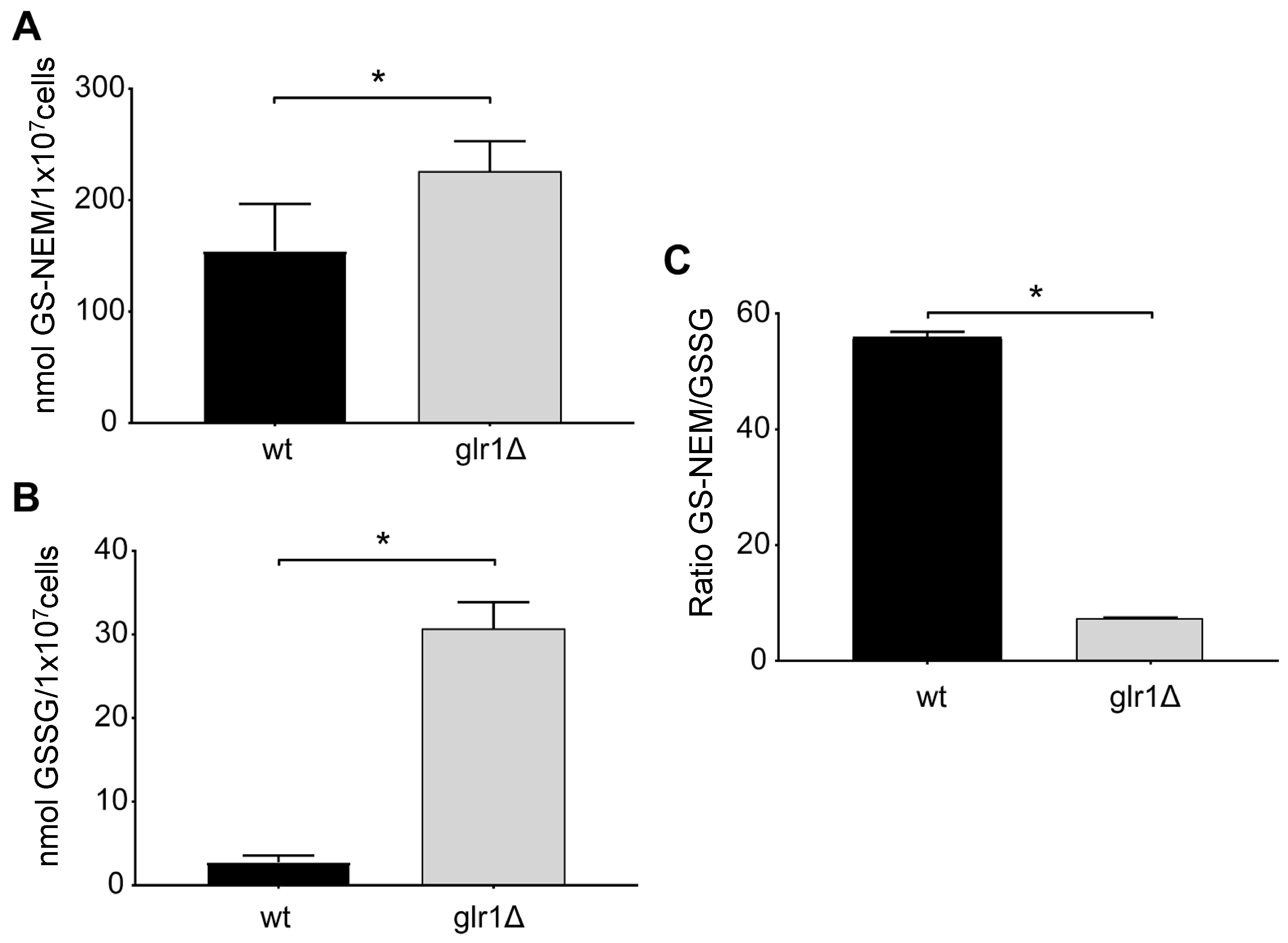 Appendix B
Comparison of results with those obtained by other LC-MS-based protocols. We compared the levels of GSH and GSSG presented in this study to concentrations of GSH and GSSG determined by HPLC methods in cultured cells and physiological fluids reported in the literature. In a study using NEM and trichloroacetic acid for sample preparation of various human and bovine cell lines, the reported concentrations of both GSH and GSSG were approximately one order of magnitude lower than we measured with our assay [
4
]. The GSH/GSSG ratio, however, was comparable to the levels reported in our study [
4
]. In two other studies using NEM and sulfosalicylic acid for the preparation of whole blood samples from humans, and from a mouse model with chronic oxidative stress, glutathione levels and the GSH/GSSG ratio were similar in blood samples when compared to cultured cells measured with the method presented in the present article [
13
,
14
]. In a study using NEM and acetonitrile for the preparation of blood and saliva samples, the levels of GSH and GSSG in red blood cells exceeded the GSH concentrations in cultured fibroblasts we measured [
5
]. In saliva, the GSH concentrations were similar when compared to cultured fibroblasts, whereas the concentrations of GSSG were much higher [
5
]. Since Fahrenholz et al. [
5
] used a similar approach for sample preparation as presented in our paper, the differences in GSH and GSSG concentrations are likely due to the different concentrations present in the red blood cells and saliva when compared to cultured fibroblasts. It has been reported that tissues and cells have lower glutathione concentrations when compared to physiological fluids [
3
].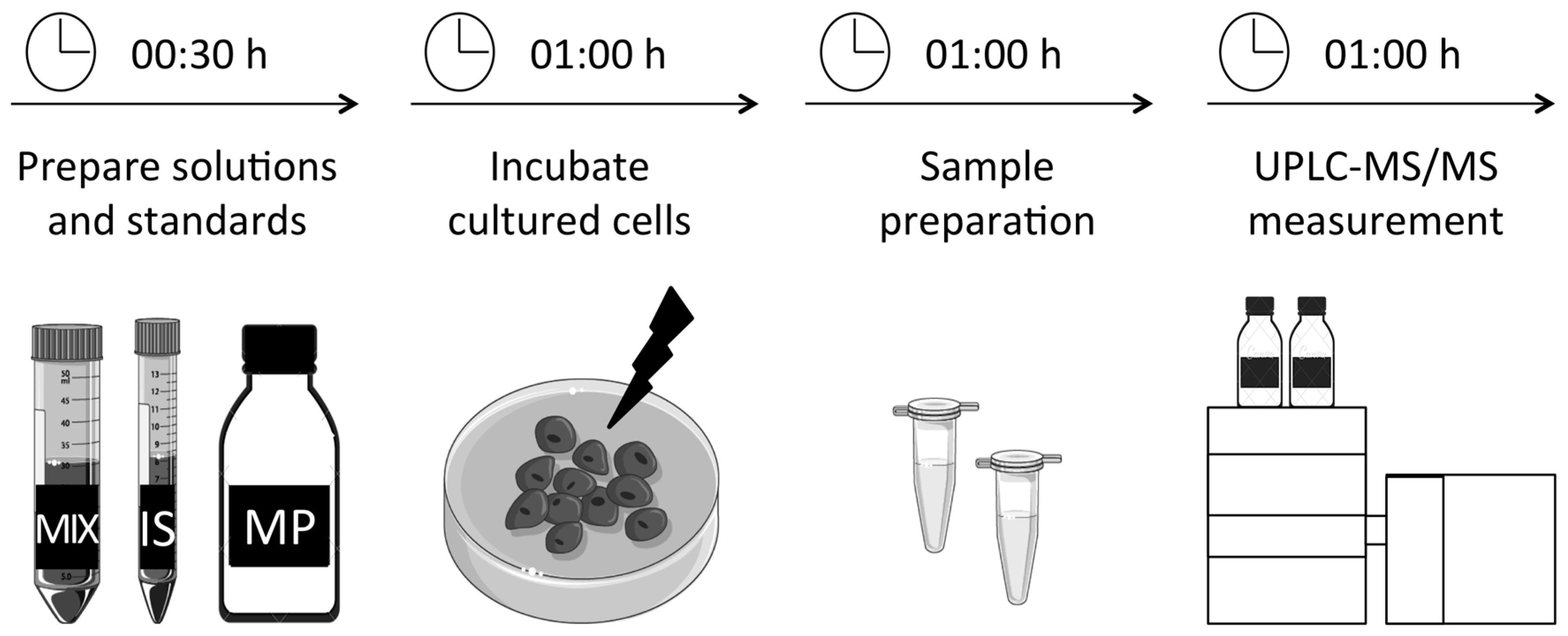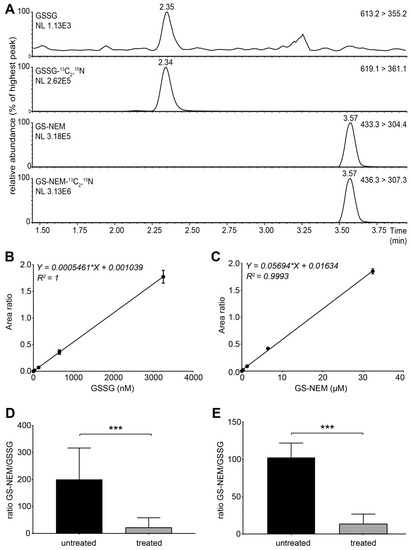 Figure 2.
Method validation. (
A
) Representative extracted ion chromatograms of glutathione in an oxidised form (GSSG), GS-NEM and their isotopically labelled internal standards from control cells prepared using the presented sample preparation and UPLC-MS/MS method are shown. Mass transitions and the signal intensity (NL) are indicated for each analyte. (
B
,
C
) Calibration curves were generated using serially diluted amounts of unlabelled analyte for (
C
) GSSG (0–3.25 µM), and (
D
) GSH-NEM (0–32.41 µM), and a constant amount of corresponding isotopically labelled internal standard. Each data point represents the mean area ratio ± standard deviation duplicated measurements. Invisible error bars fall within the symbol size. Linearity was determined by linear regression, and the coefficient of determination (R2) was used as a goodness of fit. (
D
,
E
) GS-NEM/GSSG ratio in cells incubated with (
D
) 25 µM menadione for 1 h or (
E
) 12.5 µM BSO for 24 h, or vehicle. Data present the GSH/GSSG ratio. Additional plots of analytes are presented in
Figure S1
. Data are shown as bar plots with standard error. Mann–Whitney U test was performed to determine significant differences between the groups (***
p
-value < 0.001).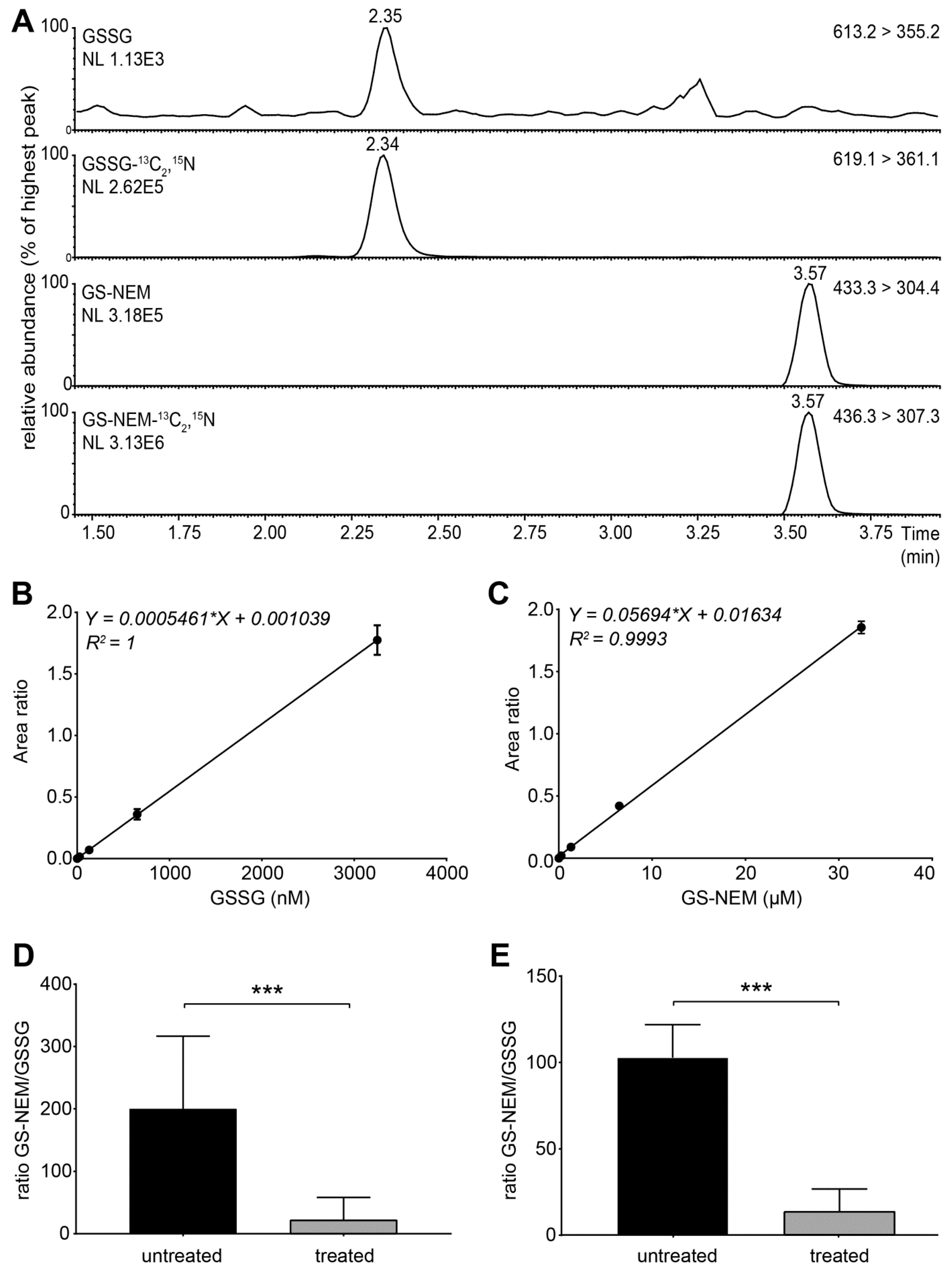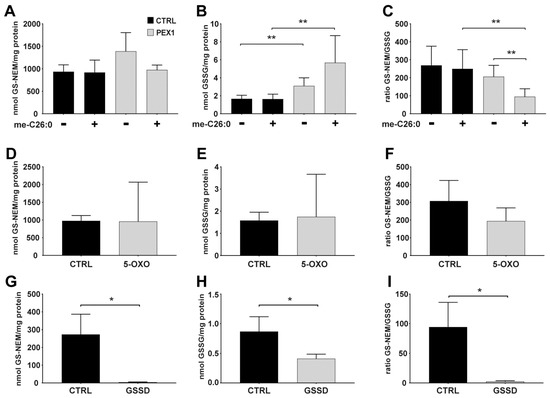 Figure 3.
Glutathione levels in PEX1-deficient fibroblasts and cells with defects in glutathione metabolism. (
A
–
C
) Control and Pex1-deficient fibroblasts were incubated with methylated cerotic acid (me-C26:0) for 96 h, or with DMSO as vehicle. (
D
–
I
) Glutathione levels of (
D
–
F
) 5-oxoprolinase-deficient fibroblasts (5-OXO), and (
G
–
I
) glutathione synthetase-deficient fibroblasts (GSSD). (
A
,
D
,
G
) GS-NEM, (
B
,
E
,
H
) GSSG, and (
C
,
F
,
I
) ratio GS-NEM/GSSG. Data are shown as bar plots with standard error. Mann–Whitney U test was performed to determine significant differences between the groups (*
p
-value < 0.05; **
p
-value < 0.01).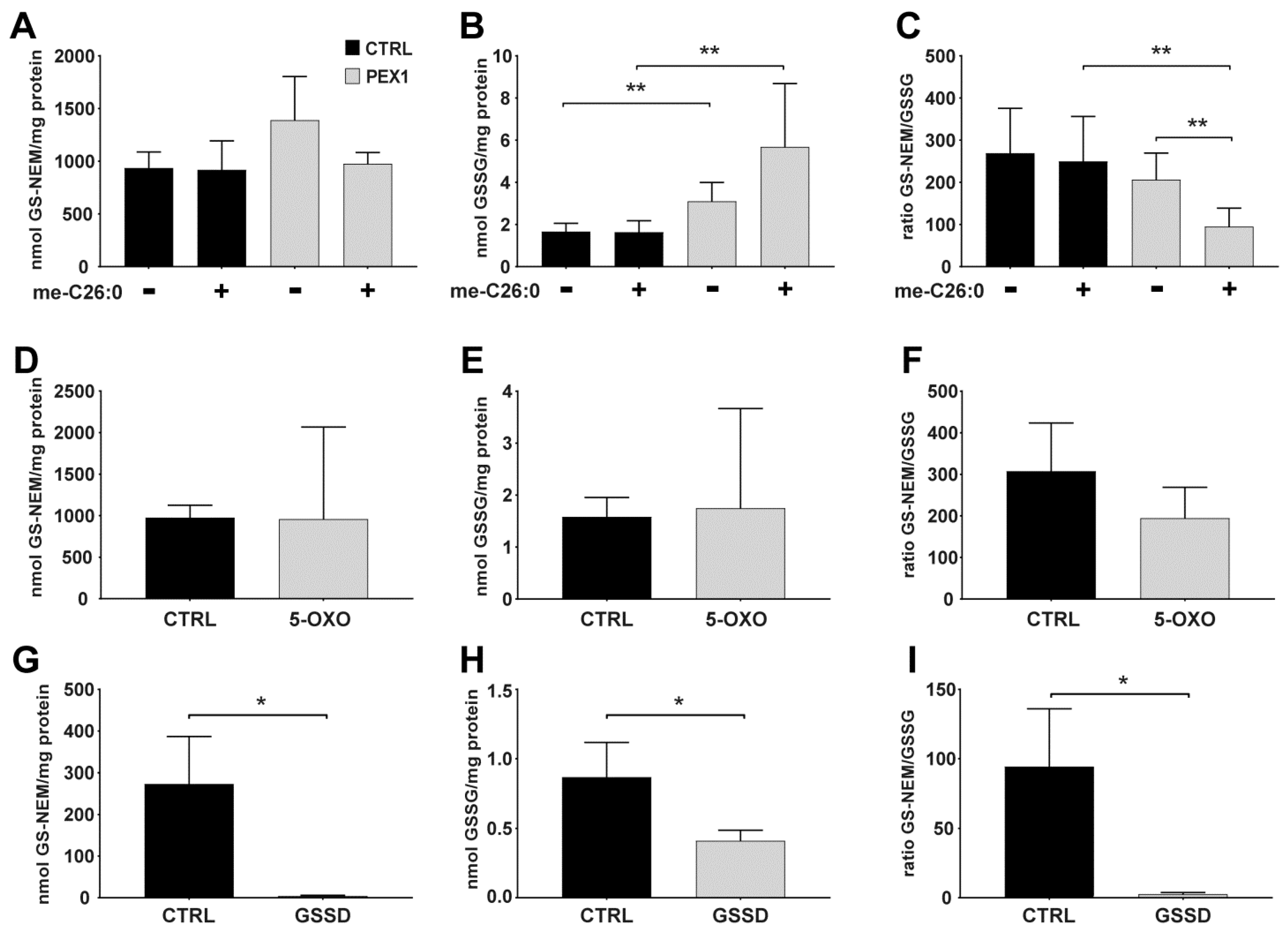 © 2019 by the authors. Licensee MDPI, Basel, Switzerland. This article is an open access article distributed under the terms and conditions of the Creative Commons Attribution (CC BY) license (http://creativecommons.org/licenses/by/4.0/).