Open Access This article is
freely available
re-usable
Review
Rethinking the Combination of Proton Exchanger Inhibitors in Cancer Therapy
1
Department of Oncology and Molecular Medicine, National Institute of Health, Viale Regina Elena 299, 00161 Rome, Italy
2
Dipartimento Neurofarba, Sezione di Scienze Farmaceutiche, Laboratorio di Chimica Bioinorganica, Università degli Studi di Firenze, Polo Scientifico, Via U. Schiff 6, Sesto Fiorentino, 50019 Florence, Italy
*
Author to whom correspondence should be addressed.
Received: 21 November 2017 / Accepted: 21 December 2017 / Published: 23 December 2017
Abstract
:
Microenvironmental acidity is becoming a key target for the new age of cancer treatment. In fact, while cancer is characterized by genetic heterogeneity, extracellular acidity is a common phenotype of almost all cancers. To survive and proliferate under acidic conditions, tumor cells up-regulate proton exchangers and transporters (mainly V-ATPase, Na+/H+ exchanger (NHE), monocarboxylate transporters (MCTs), and carbonic anhydrases (CAs)), that actively extrude excess protons, avoiding intracellular accumulation of toxic molecules, thus becoming a sort of survival option with many similarities compared with unicellular microorganisms. These systems are also involved in the unresponsiveness or resistance to chemotherapy, leading to the protection of cancer cells from the vast majority of drugs, that when protonated in the acidic tumor microenvironment, do not enter into cancer cells. Indeed, as usually occurs in the progression versus malignancy, resistant tumor clones emerge and proliferate, following a transient initial response to a therapy, thus giving rise to more malignant behavior and rapid tumor progression. Recent studies are supporting the use of a cocktail of proton exchanger inhibitors as a new strategy against cancer.
Keywords:
acidity; hypoxia; pH; carbonic anhydrases; V-ATPases; proton pump inhibitors; carbonic anhydrase inhibitors
Acknowledgments
This study was supported by a grant from the Italian Ministry of Health.
Author Contributions
Elisabetta Iessi conceptualized and designed the structure of the article, and wrote the article. Mariantonia Logozzi and Rossella Di Raimo assisted in literature search. Davide Mizzoni prepared figures presented in this review. Claudiu T. Supuran edited and supervised the manuscript. Stefano Fais edited and supervised the manuscript draft and figures. All authors were involved in the critical reading and editing of the review. All authors have read and approved the final version of the manuscript.
Conflicts of Interest
The authors declare no conflict of interest.
Figure 1. Proton flux regulators and their role in cancer. The aberrant expression and activity of proton exchangers leads to acidification of the tumor microenvironment and creates a reversed pH gradient across the plasma membrane leading to extracellular acidity and an alkaline, organelle-free cytosol.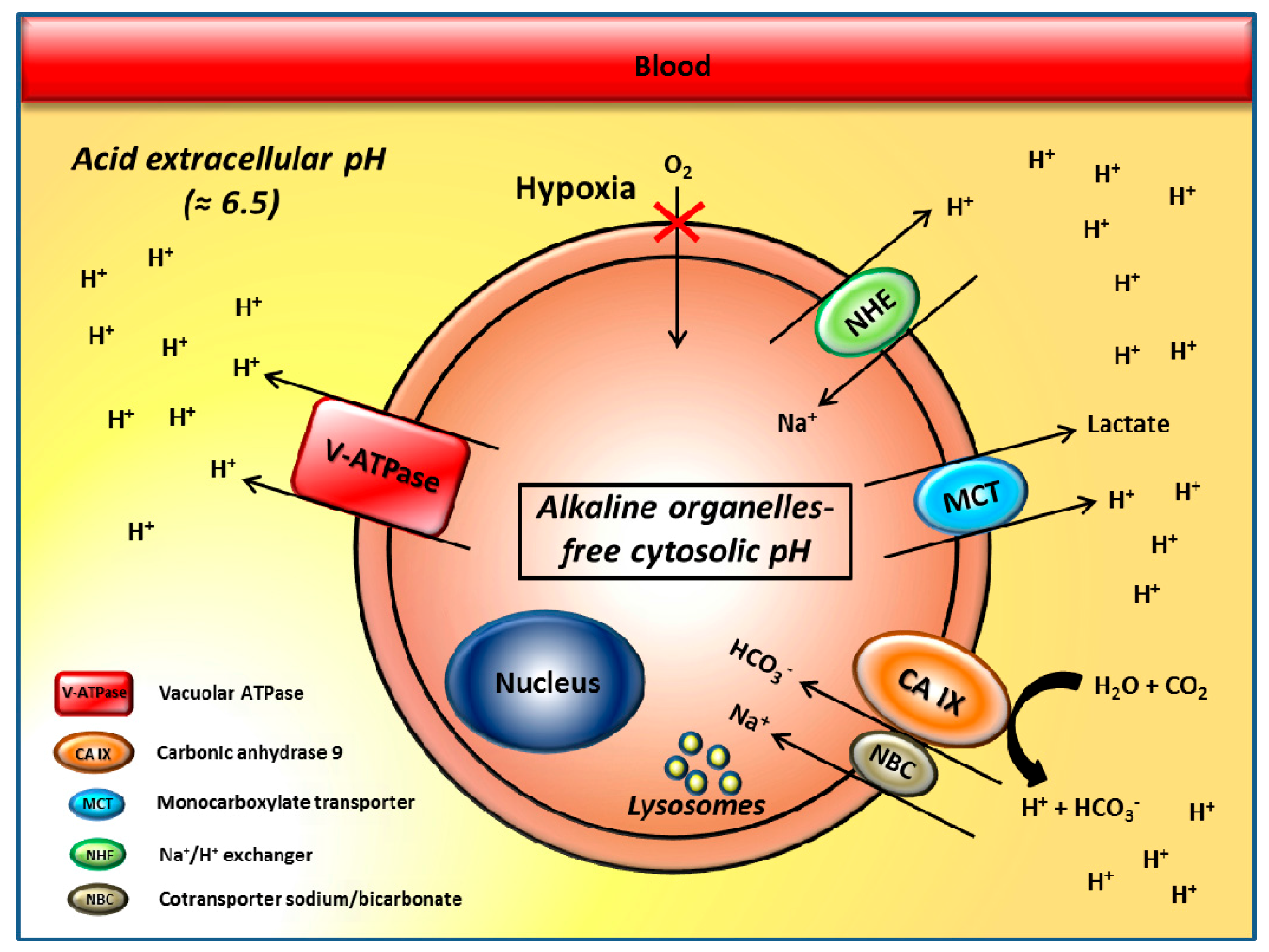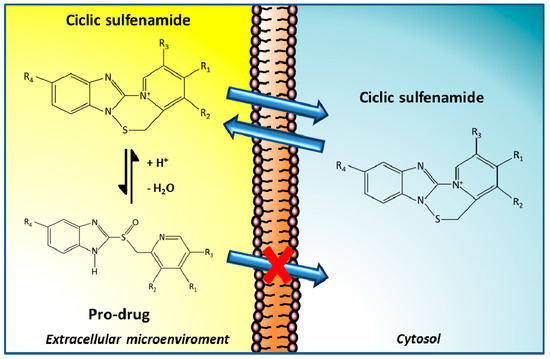 Figure 2. Proton pump inhibitors (PPIs) mechanism of action. PPIs are weak base pro-drugs, that once in the acidic extracellular environment surrounding tumors, can be protonated, thereby reducing their ability to cross the membrane of cells. PPIs then bind irreversibly to proton pumps, dramatically inhibiting their activity, leading to inhibition of proton translocation across the plasma membrane, which in turn, induces alkalization of the tumor microenvironment.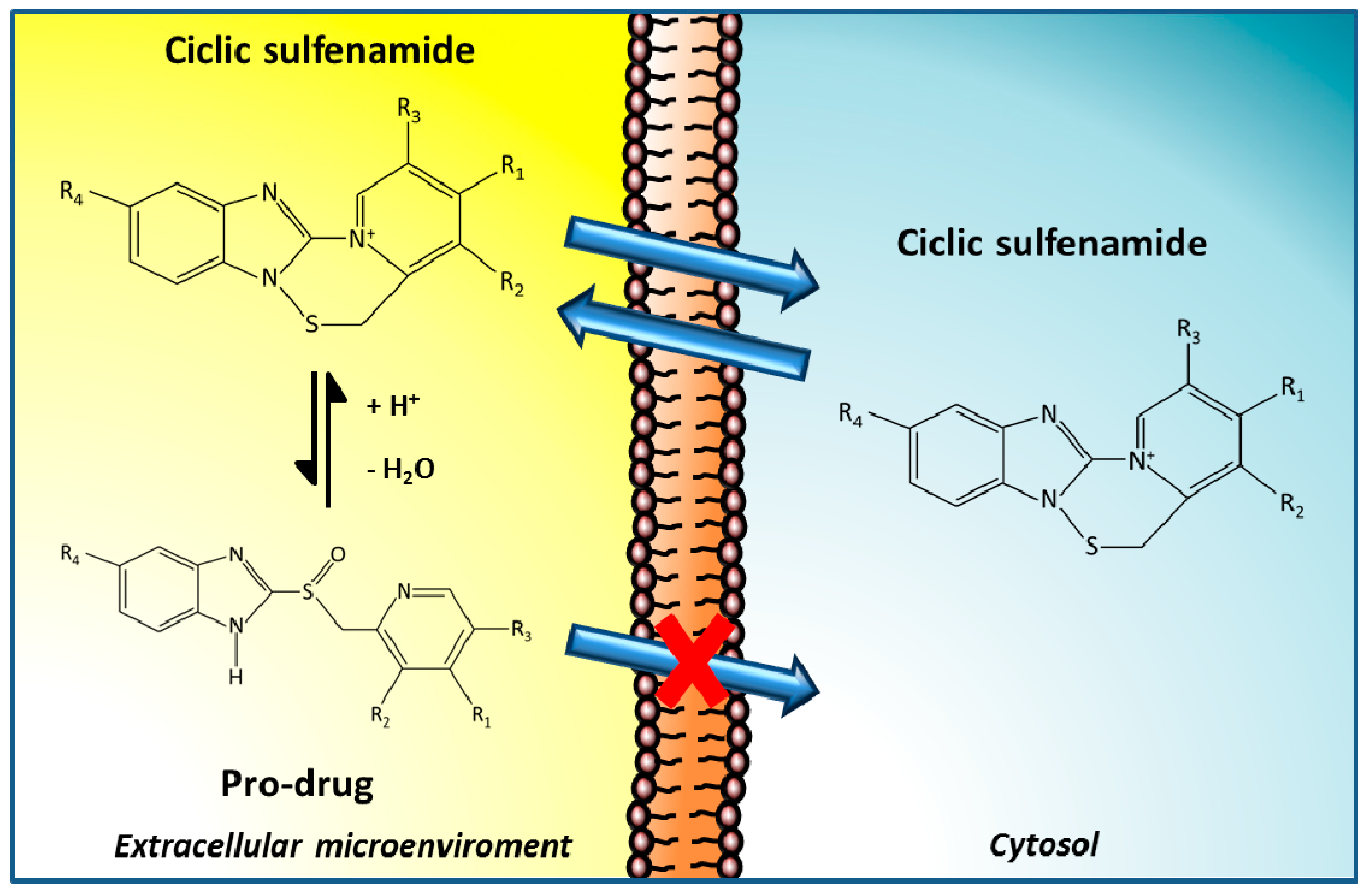 © 2017 by the authors. Licensee MDPI, Basel, Switzerland. This article is an open access article distributed under the terms and conditions of the Creative Commons Attribution (CC BY) license (http://creativecommons.org/licenses/by/4.0/).