Open Access This article is
freely available
re-usable
Review
Autophagy Intertwines with Different Diseases—Recent Strategies for Therapeutic Approaches
1
Department of Medical Biochemistry, Dr. A.L.M. Post Graduate Institute of Basic Medical Sciences, University of Madras, Chennai 600113, India
2
Renal Division, Brigham and Women's Hospital, Harvard Medical School, Boston, MA 02115, USA
3
The Ragon Institute of Massachusetts General Hospital, The Massachusetts Institute of Technology and Harvard University, 400 Technology Square, Cambridge, MA 02140, USA
*
Author to whom correspondence should be addressed.
Received: 6 December 2018 / Accepted: 28 January 2019 / Published: 1 February 2019
Abstract
:
Autophagy is a regular and substantial "clear-out process" that occurs within the cell and that gets rid of debris that accumulates in membrane-enclosed vacuoles by using enzyme-rich lysosomes, which are filled with acids that degrade the contents of the vacuoles. This machinery is well-connected with many prevalent diseases, including cancer, HIV, and Parkinson's disease. Considering that autophagy is well-known for its significant connections with a number of well-known fatal diseases, a thorough knowledge of the current findings in the field is essential in developing therapies to control the progression rate of diseases. Thus, this review summarizes the critical events comprising autophagy in the cellular system and the significance of its key molecules in manifesting this pathway in various diseases for down- or upregulation. We collectively reviewed the role of autophagy in various diseases, mainly neurodegenerative diseases, cancer, inflammatory diseases, and renal disorders. Here, some collective reports on autophagy showed that this process might serve as a dual performer: either protector or contributor to certain diseases. The aim of this review is to help researchers to understand the role of autophagy-regulating genes encoding functional open reading frames (ORFs) and its connection with diseases, which will eventually drive better understanding of both the progression and suppression of different diseases at various stages. This review also focuses on certain novel therapeutic strategies which have been published in the recent years based on targeting autophagy key proteins and its interconnecting signaling cascades.
Keywords:
autophagy; cancer; neurodegenerative disorder; lysosomal disorder; renal disorder; inflammation; HIV; drug toxicity
1. Introduction
Autophagy is a well-studied adoptive intracellular homeostasis process through which impaired cellular materials, senescent organelles, and biological surplus macromolecules are eliminated with the help of lysosomal hydrolytic enzymes [
1
,
2
,
3
,
4
]. Various reports on cellular mechanisms have shown that different types of autophagy pathways were found within the cells, which include macro-autophagy, micro-autophagy, and chaperone-mediated autophagy [
1
,
5
]. The process of autophagy has been well-known since it was discovered by Christian de Duve, who observed the degradation of mitochondria and other intracellular structures within the lysosomes of rat livers perfused with glucagon [
6
]. However, the fundamental concepts of autophagy were recognized only after 1995 from the findings of Yoshinori Ohsumi, whose significant contribution earned him a Nobel prize in physiology or medicine in 2017. This review solely aims to highlight the gradual and rapid advances in the autophagy field in various years and intervals. Here, we will discuss how autophagy dysregulation interlinks with several diseases, namely neurodegenerative diseases, Lysosomal Storage Diseases (LSD), cancer, renal disorders, inflammatory diseases, and HIV. This review will provide cellular and molecular information of autophagy in various diseases for targeting and developing novel strategies against diseases.
2. Overview of Autophagy for Intracellular Homeostasis
The autophagy process requires several consecutive steps to degrade the cargos of senescent organelles captured and the biological surplus macromolecules in the cytosol (
Figure 1
). The first step in this process is the stimulation of the autophagy signal and formation of autophagosome precursor molecules. The next step is the formation of a complete of double-membrane rings called an "autophagosome" which fuses and docks with lysosomes resulting in "auto-phagolysosome". Autophagy exploits the above-discussed phases to degrade the targeted or random cargoes. Then, the degraded cargoes generate amino acids and fatty acids which get transported back into the cytoplasmic pool from the Endoplasmic Reticulum (ER) and Golgi. In yeast, more than 30 autophagy-related (Atg) genes have been identified, and most of those are conserved among higher eukaryotes [
7
]. In the induction phase of autophagy, an isolated membrane is formed and expanded by a dynamic family of proteins characterized as Atg (Atg 12, 7, and 10 and Atg 5/12/16 conjugated) [
8
,
9
]. Like Atg proteins, the LC3 complex protein (exists on cell surface in two forms: LC3-I and LC3-II, known for their ubiquitin-like modifier) is also well-known for its contribution in autophagosome formation [
10
]. The LC3 dispensation is critical for the expansion and elongation of the budding curvatures. The molecular events of autophagy in cells are stimulated by various factors, either by external or internal stress response, including cancer, exercise, caloric restriction, denervation, and nutrient withdrawal. A study has been reported on the low-nutrient status of cells, which spotted a decreased expression (inactivation) of target of rapamycin (TOR) kinase (stress sensor) which lead to Atg13 hypophosphorylation. A complex of genes (Ulk1 gene/Atg1 gene) interacts with the TOR kinase inactivation mediated hypophosphorylation of Atg13 and Atg17 proteins to regulate the importation of lipids through the Atg9 protein. Atg9, a transmembrane protein, has been reported as a key player in "auto-phagophore" formation. The protein complex Vps34/Beclin1 (mammalian orthologue of Atg6 which positively regulates autophagy through the activation of Vps34) conjugates with the Atg5–Atg12 complex which in turn forms a complex with Atg16L by phosphoinositol (PI) conversion to (phosphoinositol 3 phosphate) PI3P. This complex interactome results in the multimerization of the phagophore and formation of budding curvatures. The forthcoming section discusses the sequential description of how this intracellular homeostasis mechanism interlinks with various diseases (
Figure 2
).
3. Role of Autophagy in Diseases
4. Autophagy and Therapy
Recently, researchers have found that directing autophagy-like processes might be a feasible therapeutic approach in fighting diseases, specifically cancer and neurological disorders. Different approaches have been found for the treatment of various diseases by targeting autophagy. In cancer, one method of treatment is to induce autophagy and enhance its tumor suppression attributes. Autophagy can also be inhibited to treat cancer based on the concept that autophagy is a protein degradation system used to maintain homeostasis, and some studies suggested that the inhibition of autophagy often leads to apoptosis. However, the inhibition of autophagy is riskier as it may lead to the survival of the cells instead of the targeted cell death [
225
]. So far, various pharmacological studies have been examined and tested as autophagy-induced therapies in diseases. These therapies indicate that autophagy increases in a dose-dependent manner. This dose dependency of autophagy is directly related to the growth of cancer cells in a dose-dependent manner as well. In conclusion, many cancer researchers have undergone various studies of therapeutic approaches to encourage autophagy in cancer, one of which includes the inhibition of the protein pathways directly known to induce autophagy that may serve as an anticancer therapy.
5. Discussion
Most studies on autophagy and diseases are rationalized by the specific objective of identifying small molecules or pharmacologic agents that have "off-target" properties beyond prompting or hindering the autophagy. Some groups experimented on the genetic knockout models of autophagy-related proteins such as Atg8, Gabarapl2, Atg12, Atg7, and Atg16l2 to identify their helpful or adverse effects in certain diseases. Future potential studies could be done on developing drugs that are more specific in targeting autophagy. More exploration on CRISPR knockout in in vitro models and in vivo models with the inducible modulation of genes involved in autophagy during specific disorder or in various diseases are mandatory to define whether focusing on autophagy would be a feasible approach in the future, in which autophagy-modifying medications may be used to impede or treat diseases. Overall, within the past few years, autophagy has been hypothesized and has emerged as a new and potent modifier of disease progression or suppression rates. We have discussed the recent significant findings on the role of autophagy in various diseases and its implications in novel therapeutic approaches for the betterment of humans. Moreover, an improved understanding of the relevance of autophagy in the different stages of various disease progression is obligatory. Additionally, the revolutionary approaches should be engaged to recognize discrete aspects of autophagy in diseases that can be overwhelmed, targeted, and used for the progress of a practicable treatment approach to cure various diseases efficiently.
Author Contributions
J.R., L.R. and B.V. conceived and designed the review manuscript. J.R. and L.R. performed IPA analysis. J.R., L.R. and B.V. wrote the manuscript. J.R., L.R. and A.G. revised and edited the manuscript.
Funding
There was no funding received from any funding agencies.
Acknowledgments
Thanks to Divyaratha Bhuvarahamurthy, Sridharan Bhuvarahamurthy, and Sruthi Swaminathan for editing the manuscript and the University of Madras UGC-SAP grant.
Conflicts of Interest
The authors declare no conflict of interest.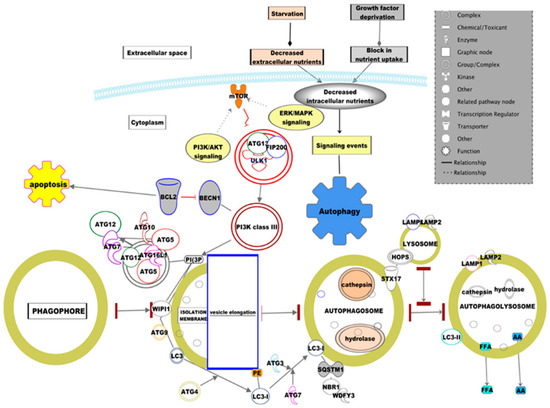 Figure 1. The autophagy-A highly conservative cascaded regulatory mechanism upholds the intracellular homeostasis of the biological system. Five steps are involved in the autophagy signaling cascades: 1. Nucleation of the phagophore; 2. expansion of the phagophore; 3. formation of the autophagosome; 4. fusion of the autophagosome–lysosome; and 5. degradation and efflux of the cargos are illustrated in the pathway. Using a build tool in the pathway developer of IPA (Ingenuity Pathway Analysis), the Autophagy–Canonical pathway was developed.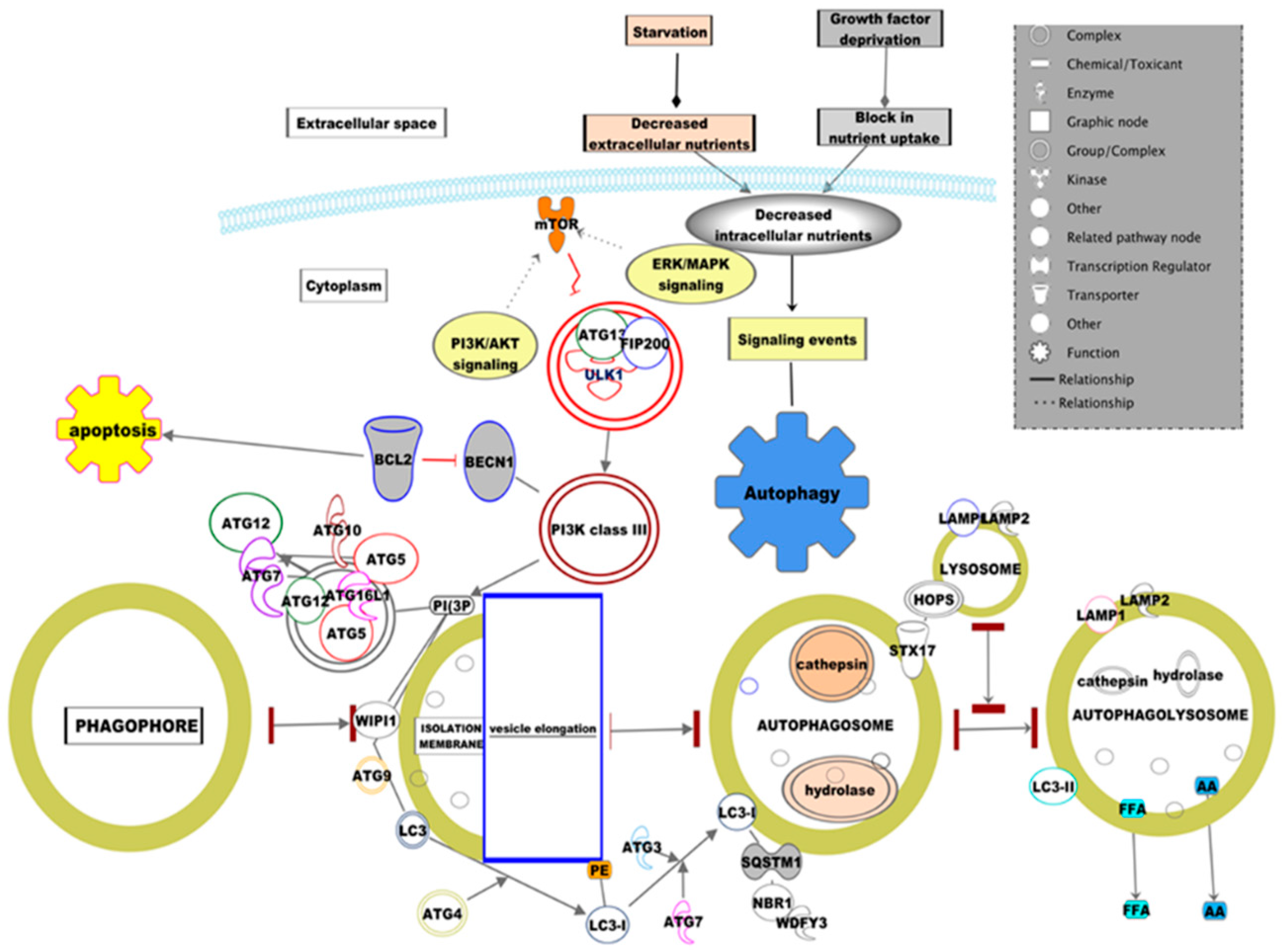 Figure 2. The interconnection of autophagy-related proteins in (A) neurological diseases, (B) cancer, (C) renal disease, and (D) infectious diseases. All these figures represent the critical events and key molecules which are connected between autophagy and diseases. In panel 2A, the autophagy proteins, namely LC3-II, BECN1, ATG 13 complex, LAMP2, ATG10, ATG12, ATG7, and ATG5, have been predicted to interlink with neurological diseases-related molecules, such as AMBRA, GABARAPL, VPS18, VPS39, VPS33A, OPTN, KEAP1, Rab5, TRIM55, TRIM33, AKT1S1, APOL1, AIM2, MAP1B, and others. In panel 2B, autophagy proteins, namely LC3-II, BECN1, ATG 13 complex, LAMP2, ATG10, ATG12, ATG7, and ATG5, have been predicted to interlink with cancer-related molecules, such as APOBEC3B, VPS41, TRIM55, TRIM16, AKT1S1, APOL1, APOL6, ATG14, CNN3, MAP1B, ROBO3, SYNPO2, PUM2, SAFB2, and others. In panel 2C, autophagy proteins, namely LC3-II, BECN1, ATG 13 complex, LAMP2, ATG10, ATG12, ATG7, and ATG5, have been predicted to interlink with renal disease-related molecules, such as APOBEC3B, TAB3, VPS33A, TRIM16, WDR41, WIP12, STK4, TFEB, SNAPC4, PIK3C2A, PINK1, MDK, OPTN, KEAP1, FNIP-1, and others. In panel 2D, autophagy proteins, namely LC3-II, BECN1, ATG 13 complex, LAMP2, ATG10, ATG12, ATG7, and ATG5, have been predicted to interlinks with infectious disease-related molecules, such as TLR, UVRAG, WNK1, TP63, TP73, TRIM5, SERPINB3, Rab5, RPL3, IL-18, CXCR3, APOL1, ACTN1, ACTR2, BST2, BID, ATXN1, CAT, CHMP3, NCL, ITLN1, LNX2, PARG, and others. Using a build tool in the pathway developer of IPA (Ingenuity Pathway Analysis), the Autophagy–Canonical pathway was developed; then, the grow tool was used to connect the autophagy-related proteins to the neurological diseases, cancer, renal diseases, and infectious diseases pathways.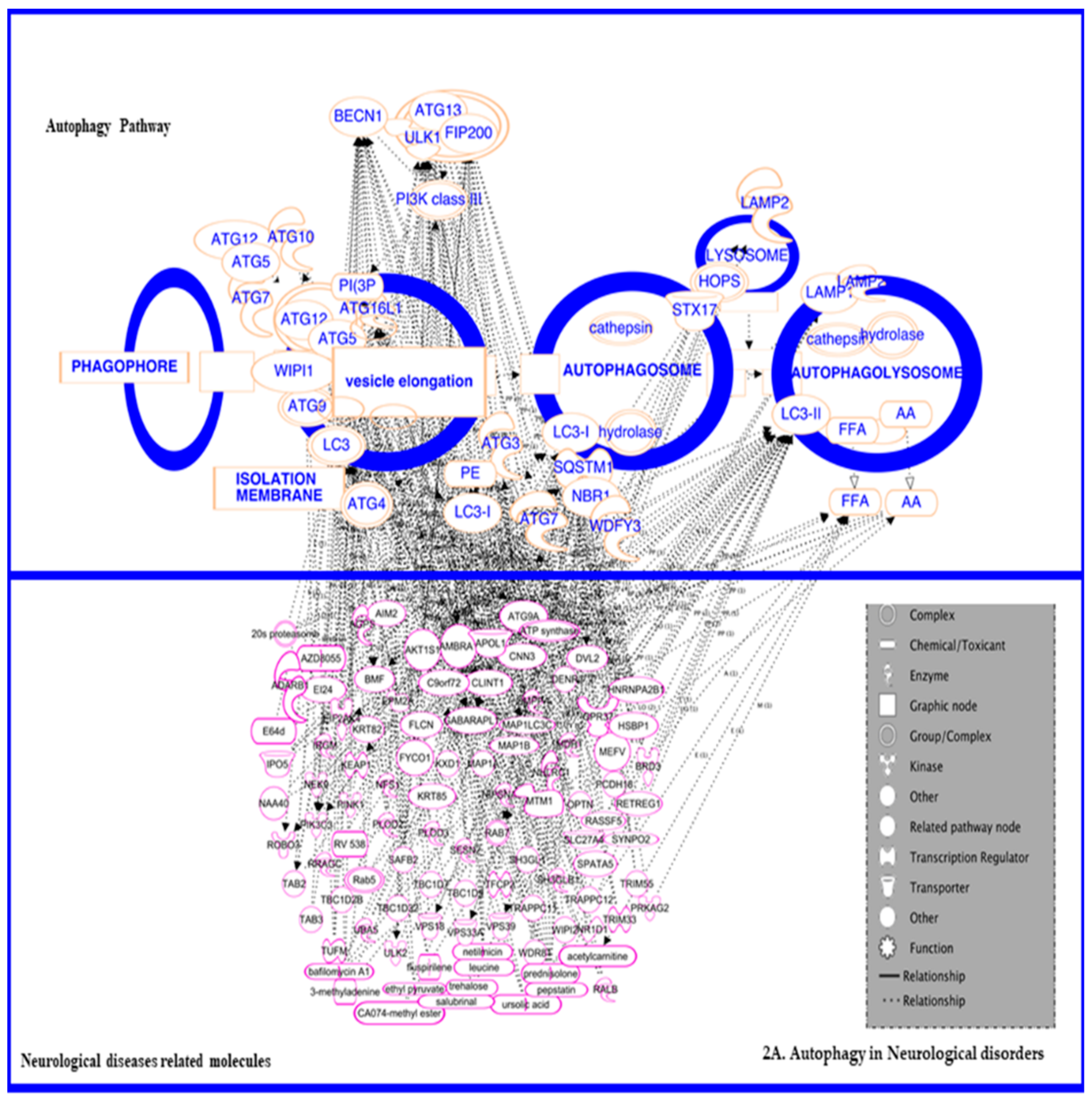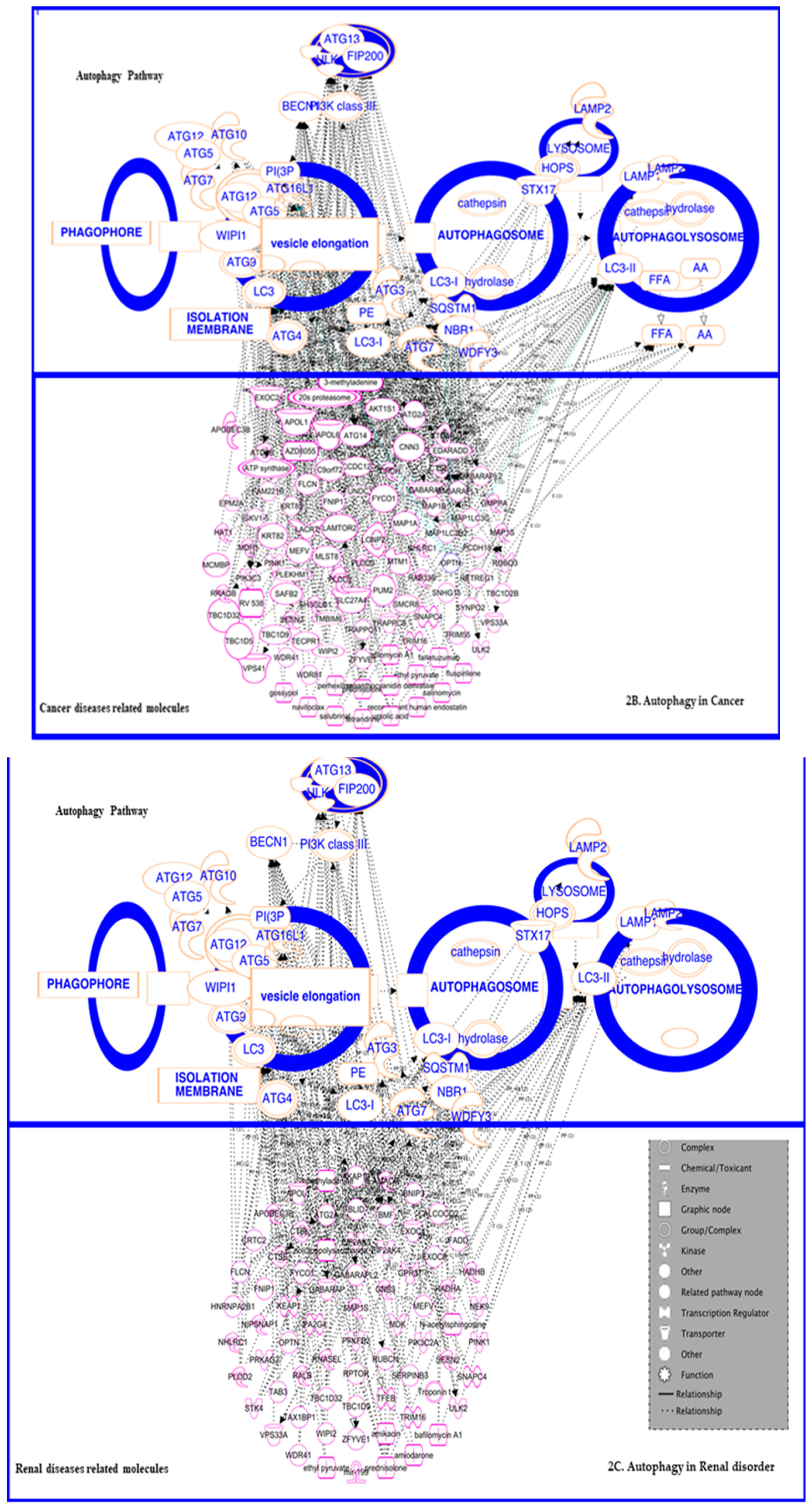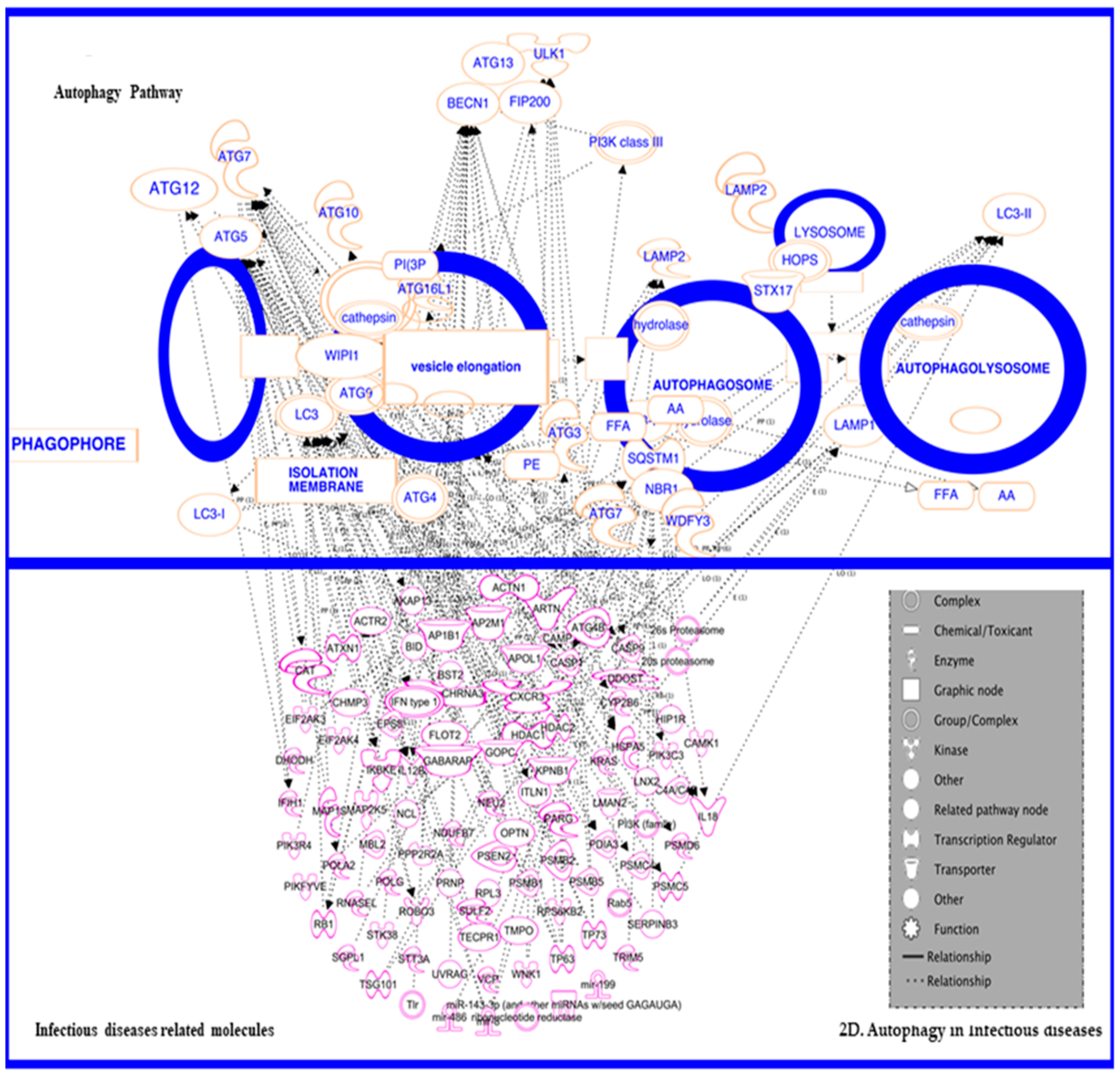 | Genotype of the Autophagy-Related Genes | Phenotype | Relevant Diseases | Reference |
| --- | --- | --- | --- |
| Atg5 deletion, liver-specific Atg7 deficiency and Atg4C deficiency | Mice develop benign tumors in the liver. | Liver cancer | [81] |
| Atg7 mutation | Mice show impaired glucose tolerance and a decreased level of serum insulin: protective autophagy. | Diabetes | [83] |
| Atg5 deficiency | Mice show cardiac hypertrophy and contractile dysfunction. | Cardiomyopathy | [84] |
| Beclin1 deletion | Mice show an increased frequency of spontaneous tumors: protective autophagy. | Breast, ovarian, and prostate cancer | [58,60,84] |
| Beclin1 overexpression | Decreases in MCF-7, cellular proliferation, in vitro clonogenicity, and tumorigenesis in nude mice. | Breast cancer | [84] |
| LAMP2 deficiency | Ultrastructural defects in cardiac myocytes and severely reduced cardiac contractibility. | Danon disease | [85] |
| Ambra1 deficiency | Severe neural tube defects in mice. | Neurodegenerative disease | [61] |
| Beclin 1 deficiency | Accelerated amyloid-b accumulation: protective autophagy. | Alzheimer's disease | [86] |
| Bec-1, Ce-Atg7, or Ce-Atg18 knockdown | Increase in aggregate formation and toxicity of PolyQ expansion proteins in Caenorhabditis elegans. | Huntington's disease | [31] |
| Beclin1 overexpression | Reduced accumulation of a-syn and the associated neuronal pathology in mouse. | Parkinson's disease | [87] |
| cathepsin D−/− (all tissues) | Neuronal ceroid lipofuscinosis with autophagic vacuolization and LC3-I to LC3-II conversion. Bax knockout reduced enhanced apoptosis but not autophagic degeneration and neuronal loss. | Neurodegenerative disease | [88,89] |
| cathepsin B−/−L−/− (all tissues) | Severe brain atrophy with enhanced apoptosis, autophagic vacuolization, and LC3-I to LC3-II conversion. | Neurodegenerative disease | [88,89,90] |
| cln3 (all tissues) | Juvenile neuronal ceroid lipofuscinosis, with autophagic vacuolization and LC3-I to LC3-II conversion. | Neurodegenerative disease | [91] |
| ambra1−/− (all tissues) | Decreased autophagy, increased apoptosis, and increased cell proliferation in fetal brain. Neural tube defects and embryonic death. | Neurodegenerative disease | [61] |

© 2019 by the authors. Licensee MDPI, Basel, Switzerland. This article is an open access article distributed under the terms and conditions of the Creative Commons Attribution (CC BY) license (http://creativecommons.org/licenses/by/4.0/).