Open Access This article is
freely available
re-usable
Case Report
Proctitis Caused by
Mycobacterium avium-intracellulare
in an HIV-Infected Patient
1
Division of Infectious Diseases, Department of Medicine, Miller School of Medicine, University of Miami, Miami, FL 33136, USA
2
Division of Anatomic Pathology, Department of Pathology and Laboratory Medicine, University of Miami, Miami, FL 33136, USA
*
Author to whom correspondence should be addressed.
Received: 20 April 2018 / Accepted: 5 May 2018 / Published: 8 May 2018
Abstract
:
Infectious proctitis is usually associated with sexually transmitted diseases, especially in HIV-infected individuals. Limited information is found about the role of
Mycobacterium avium-intracellulare
as a causative agent for this condition. Here, we report the case of an HIV-infected patient with a CD4 count of 304 cells/uL and undetectable HIV viral load, who presented with constipation and painful defecation. Endoscopic evaluation was significant for shallow rectal ulcerations. Histopathology revealed poorly formed granulomas. Stool culture grew
Mycobacterium
sp. that was further identified as
Mycobacterium avium-intracellulare
by DNA probe. He was successfully treated with a 3-drug regimen that included azithromycin, ethambutol and rifabutin. We advocate the use of AFB stool culture in cases of proctitis in which initial investigations for sexually transmitted diseases are unrevealing.
Keywords:
proctitis;
Mycobacterium avium-intracellulare
; HIV
1. Introduction
Proctitis is an inflammation of the rectal mucosa, and is frequently encountered in HIV-infected men who have sex with men (MSM). In this population, sexually transmitted diseases constitute the leading cause of infectious proctitis. The most common etiologic agents are
Herpes simplex
,
Chlamydia trachomatis
and
Neisseria gonorrhoeae
among others; however, a specific cause cannot be identified in a high number of cases [
1
].
Mycobacterium avium-intracellulare
(MAI) is an environmental pathogen that has not been recognized as a causative agent of proctitis. This non-tuberculous
Mycobacterium
is commonly responsible for disseminated disease in severely immunocompromised HIV patients with CD4 counts lower than 50 cells/uL. Gastrointestinal involvement has been documented in several reports, with the duodenum, being the most commonly affected organ [
2
]. Here, we describe the case of an HIV-infected patient with localized proctitis secondary to
Mycobacterium avium-intracellulare
that was successfully treated with a three-drug regimen. Rectal involvement by MAI has been reported only as part of a disseminated process affecting the colon or other extraintestinal organs. To the best of our knowledge, the present case is the first description of MAI infection exclusively affecting the rectum. In this report, we also discuss the challenges we usually face for the diagnosis and management of this infection.
2. Case Report
A 48-year-old man originally from Mexico presented to the Infectious Disease clinic with constipation and painful defecation in the last 4 weeks. He had noticed streaks of blood on the toilet paper after wiping. He had a 5-year history of HIV infection treated initially with Tenofovir/emtricitabine/efavirenz that was recently switched to abacavir/lamivudine/dolutegravir. His latest CD4 count was 304 cells/uL and his HIV viral load was undetectable. He was MSM (men who have sex with men), but denied unprotected sex in the last 3 months. His vital signs were within normal limits. He weighed 77.1 kg and did not report any significant weight loss. His abdomen was soft, nontender and non-distended. Bowel sounds were normoactive. Rectal exam was normal. Laboratory studies showed hemoglobin of 14.1 g/dL, leukocyte count of 4.7 K cells/uL and platelet count of 246 K cells/uL. Chemistry panel was significant only for mildly elevated alkaline phosphatase (142 U/L). RPR (rapid plasma reagin) was negative. Stool culture was negative for
Salmonella
,
Shigella
,
Aeromona
and
Plesiomona
.
Campylobacte
r antigen and
Escherichia coli
shigatoxins were not detected. Ova and parasites were not isolated in stool studies. He underwent rectal swab for gonorrhea and chlamydia PCR, which gave negative results. Given unrevealing work-up, the patient was referred to Gastroenterology for endoscopic evaluation. Colonoscopy showed moderate inflammation characterized by congestion, erythema and friability of the rectal mucosa. Shallow ulcerations were noted only in the rectum (
Figure 1
). The rest of the colon did not show any abnormalities. Histopathology examination of rectal tissue disclosed a mucosa with increased lymphoplasmacytic and neutrophilic infiltrate in lamina propia. Acute cryptitis and focal crypt abscesses were noted, along with erosions and few poorly formed granulomas (
Figure 2
). Immunohistochemistry for HSV1, HSV2, and CMV was negative. Tissue AFB (acid-fast bacilli) staining did not show any organisms. AFB smear in stool was negative; however, two weeks later, stool culture grew
Mycobacterium
sp. that was further identified as
Mycobacterium avium-intracellulare
complex by DNA probe. No susceptibility testing was performed. Rectal tissue culture did not grow any organisms. To complete the work-up, a chest X-ray and quantiferon gold were ordered. The results were unremarkable. The patient was started on azithromycin 500 mg daily, rifabutin 300 mg daily and ethambutol 1200 mg daily. At 2-month follow up, the patient reported complete resolution of his symptoms. Four months later, rifabutin was discontinued. The plan was to continue with azithromycin and ethambutol for six additional months to complete a total treatment course of one year.
4. Conclusions
Proctitis secondary to MAI is very uncommon, even in the setting of HIV infection. We believe that stool AFB and culture should be part of the work-up in patients presenting with proctitis, in whom initial investigations for sexually transmitted diseases are negative. The treatment for MAI is typically based on a 3-drug regimen that includes macrolides, ethambutol and possibly rifabutin. The optimal duration of therapy for extrapulmonary disease has not been standardized; however, a six- to twelve-month course is usually advocated.
Consent for Publication
Written informed consent was obtained from the patient for publication of this case report and any supplementary images.
Conflicts of Interest
The authors declare no conflict of interest.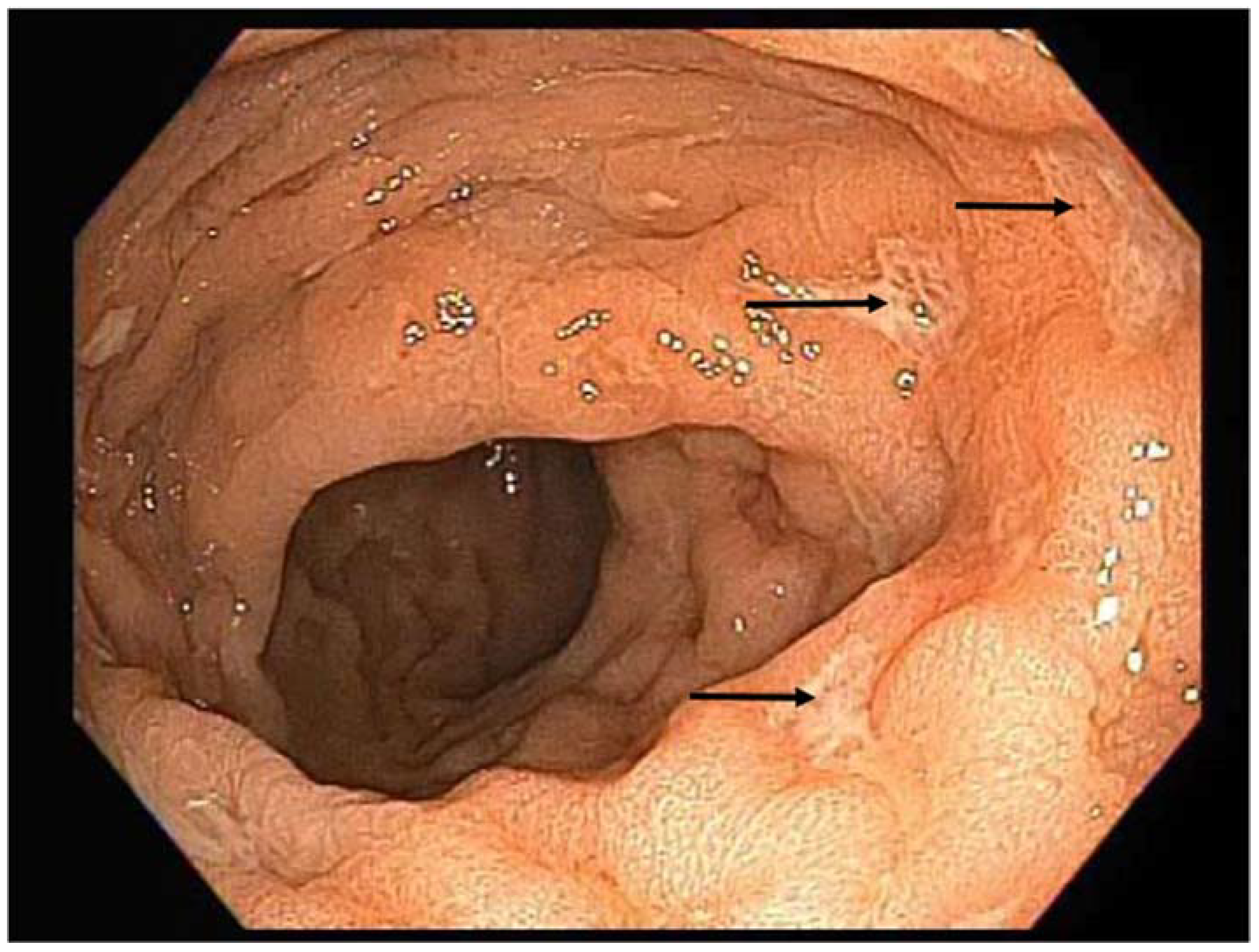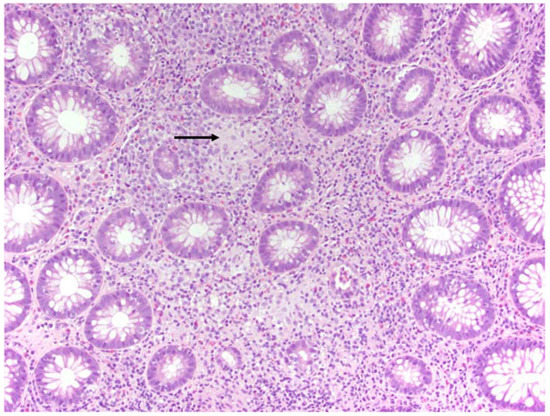 Figure 2. Histopathology showing cryptitis and noncaseating granuloma (arrow) in rectal mucosa (H&E, 400×).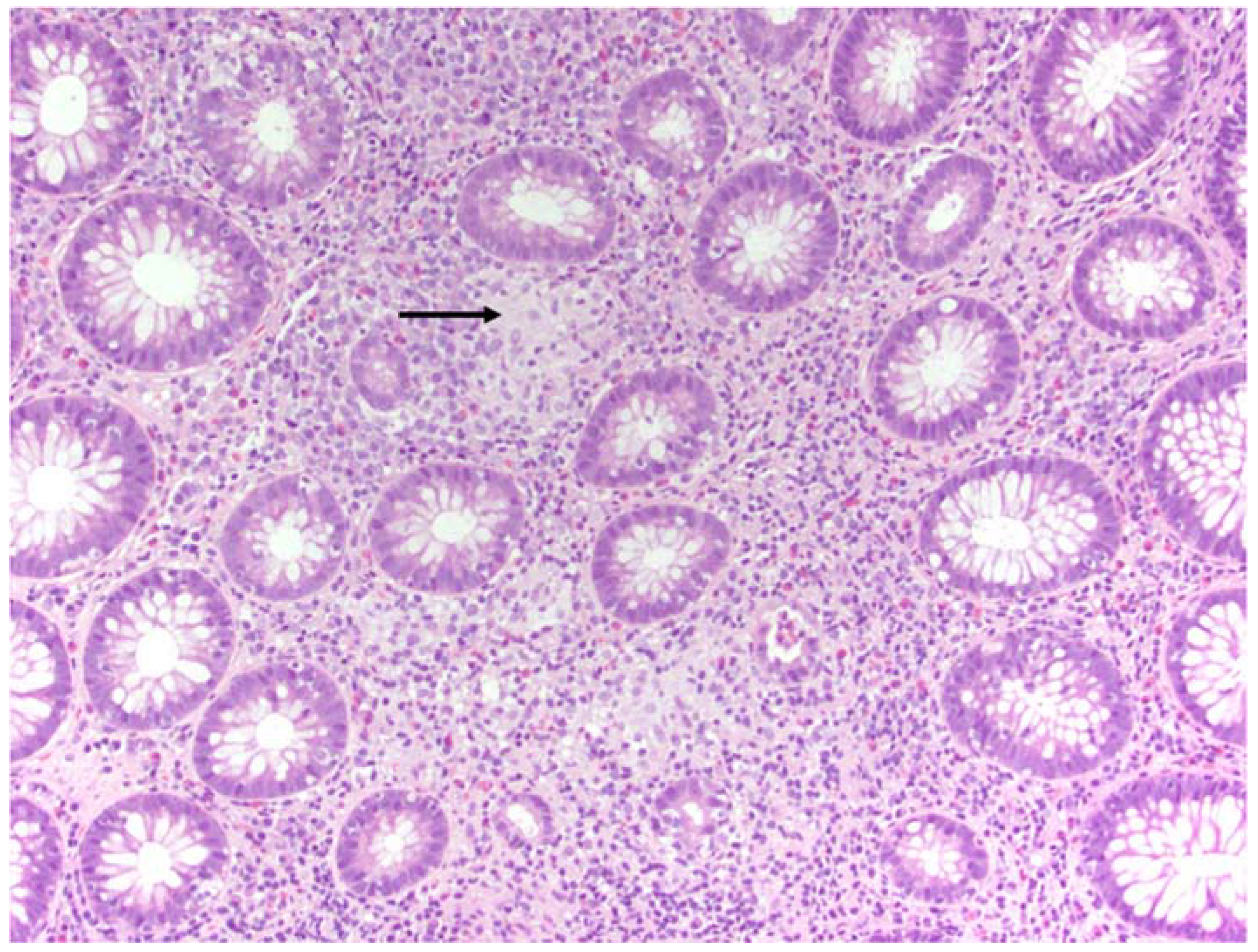 © 2018 by the authors. Licensee MDPI, Basel, Switzerland. This article is an open access article distributed under the terms and conditions of the Creative Commons Attribution (CC BY) license (http://creativecommons.org/licenses/by/4.0/).