Open Access This article is
freely available
re-usable
Review
New Tools for Molecular Therapy of Hepatocellular Carcinoma
1
Department of Cellular Biotechnologies and Hematology, Pasteur Institute-Cenci Bolognetti Foundation, Sapienza University of Rome, Viale Regina Elena, 324, 00161 Rome, Italy
2
National Institute for Infectious Diseases Lazzaro Spallanzani, IRCCS, Via Portuense, 292, 00149 Rome, Italy
*
Authors to whom correspondence should be addressed.
Academic Editor: Stephen L. Chan
Received: 15 September 2015 / Accepted: 22 October 2015 / Published: 30 October 2015
Abstract
:
Hepatocellular carcinoma (HCC) is the most common type of liver cancer, arising from neoplastic transformation of hepatocytes or liver precursor/stem cells. HCC is often associated with pre-existing chronic liver pathologies of different origin (mainly subsequent to HBV and HCV infections), such as fibrosis or cirrhosis. Current therapies are essentially still ineffective, due both to the tumor heterogeneity and the frequent late diagnosis, making necessary the creation of new therapeutic strategies to inhibit tumor onset and progression and improve the survival of patients. A promising strategy for treatment of HCC is the targeted molecular therapy based on the restoration of tumor suppressor proteins lost during neoplastic transformation. In particular, the delivery of master genes of epithelial/hepatocyte differentiation, able to trigger an extensive reprogramming of gene expression, could allow the induction of an efficient antitumor response through the simultaneous adjustment of multiple genetic/epigenetic alterations contributing to tumor development. Here, we report recent literature data supporting the use of members of the liver enriched transcription factor (LETF) family, in particular HNF4α, as tools for gene therapy of HCC.
Keywords:
HCC; HNF4α; LETFs; miRNAs; TGFβ; EMT; gene therapy
1. Introduction
Hepatocellular carcinoma (HCC) is one of the most common cancers worldwide and the most frequent among the primary tumors of the liver. HCCs are phenotypically and genetically heterogeneous tumors, since they often develop on the pathological background of pre-existing chronic liver diseases, including fibrosis or cirrhosis in consequence of HBV and HCV infections, alcoholic injury, or autoimmune hepatitis, that impair organ function and reduce the efficacy of common cancer therapies [
1
]. Moreover, most HCC patients are diagnosed at advanced stages of disease when the high tumor recurrence rate and the tendency to metastasize make current treatments ineffective and the prognosis poor [
2
].
In recent years, intense pre-clinical and clinical research have been devoted to the development of tailored therapeutic molecules, capable of restoring the physiological cell functions lost in transformed hepatocytes, through the gene therapy of HCCs. Gene therapy is a promising approach, since it is possible to deliver vectors directly into hepatic tumors, reducing potential side effects derived from transduction in non-target cells. Molecules utilized in current protocols include genes for proteins or microRNAs (miRNAs) displaying antitumor properties (anti-proliferative, pro-apoptotic, anti-angiogenic, or immunomodulatory).
Unfortunately, highly effective results have not been obtained so far, due to the low efficiency of the gene transfer [
3
] and to the genetic heterogeneity of HCCs [
4
]. For this reason, the most promising candidates would be oncosuppressor genes able to induce an efficient antitumor response without a specific correction of multiple mutations contributing to tumor development (e.g., p53) or differentiation-specific master genes, able to act as reprogramming transcriptional factors, coordinating extensive gene expression. In the context of the latter strategy, we will discuss recent progress in the knowledge of HCC biology and genetics supporting the use of Liver Enriched Transcription Factors (LETFs), and in particular of hepatocyte nuclear factor 4α (HNF4α), as promising candidates for targeted gene therapy of HCCs.
2. Molecular Alterations in HCC
2.1. Cell-Autonomous Changes
In spite of the heterogeneity of HCC, tumor onset and progression have been associated with recurring cell-autonomous molecular changes [
5
] such as the loss of expression of differentiation genes (e.g., Hepatocyte Nuclear Factor 1 and 4, HNF1α, and HNF4α) [
6
,
7
], chromosomal instability leading either to the loss of heterozygosity in tumor suppressor genes (e.g., p. 53) [
8
] or to the amplification of loci for oncogenes (e.g., ERK5) [
9
], and aberrant activation of signaling pathways (e.g., Wnt/β-catenin pathway) [
10
].
In addition, recent findings highlight how epigenetic alterations are commonly observed in human HCCs [
11
,
12
] and can be exploited as clinical predictors for diagnosis and prognosis [
13
]. These alterations include aberrant methylation of tumor suppressor genes [
13
], post-translational histone modifications [
14
,
15
], and altered expression profile of miRNAs [
16
,
17
].
The progression of HCC toward more aggressive stages, responsible for the worst prognosis in patients, is frequently associated to the activation, in transformed hepatocytes, of a transdifferentiation process: the epithelial-to-mesenchymal transition (EMT). EMT contributes to tumor progression through the loss of epithelial/hepatocyte cell differentiation, the acquisition of motility/invasivity properties and cancer stem cell traits, the resistance to apoptosis, and metastasis (reviewed in [
18
]). Overexpression of EMT markers (
i.e
., Snail and Twist) has been reported in invasive areas of primary tumors [
19
] and in metastasis of aggressive hepatocarcinomas [
20
], and were associated with poor prognosis. Their analysis in circulating tumor cells has been recently proposed as prognostic tools for HCC patients [
21
]. The role of EMT master genes, in particular Snail, in tumor progression was found to be mediated by (i) the direct transcriptional repression of an extensive amount of target genes involved both in epithelial (e.g., E-cadherin) [
22
] and hepatic (e.g., HNF4α) [
23
] differentiation, (ii) the increase of mesenchymal gene expression [
23
], and iii) the miRNA-mediated up-regulation of stemness genes [
24
]. The acquisition of EMT-related stem cell characteristics has been demonstrated to positively correlate with HCC progression [
25
]. The presence of stemness traits in HCC tumor cells, indeed, has been associated with chemoresistance and tumor recurrence after surgery [
26
,
27
] and can contribute to the intratumoral heterogeneity of HCC tumor cells [
28
].
2.2. Non-Cell-Autonomous Cues
3. Gene Therapy of HCC: Is It a Good Deal?
4. LETFs as Molecular Tools for Gene Therapy of HCC
Maintenance of hepatocyte differentiation and control of liver-specific gene expression are attributed in large part to hepatocyte nuclear factors (HNFs) belonging to the LETF family, including HNF1α, HNF4α, HNF6, and FOXA2 [
59
]. Being reciprocal transcriptional activators, they operate cooperatively in a connected network in the liver, regulating several developmental and metabolic functions in hepatocytes [
60
,
61
].
4.1. HNF4α
Importantly, in addition to the transcriptional regulation of mRNAs, HNF4α regulates the expression of miRNAs which, in turn, can act as pleiotropic elements influencing differentiation, EMT, stemness, and hepatocarcinogenesis.
5. Conclusions
The unsuccessful therapeutic approaches for the treatment of HCCs lead to focus the attention on molecular strategies consisting of the intra-tumoral delivery of specific proteins with tumor suppressor properties.
Recent literature data discussed above demonstrates the high potential of anti-cancer therapy based on the restoration of functions of epithelial/hepatocyte differentiation master regulators belonging to the LETF family, mainly HNF4α. These proteins are able to induce cellular reprogramming, coordinating extensive gene expression either through direct transcriptional regulation or by driving epigenetic changes on regulatory regions of target genes (
Figure 1
). LETFs, indeed, can not only induce the terminal differentiation of tumor cells (and potentially of cancer stem cells) but they can also interfere with the EMT program responsible for tumor progression. These characteristics make LETFs promising tools for molecular therapy of HCC. The challenge is now the optimization of these tools through the creation of engineered molecules to take in account the microenvironmental cues that could influence the effectiveness of this therapeutic approach. Further studies will be necessary to achieve this result.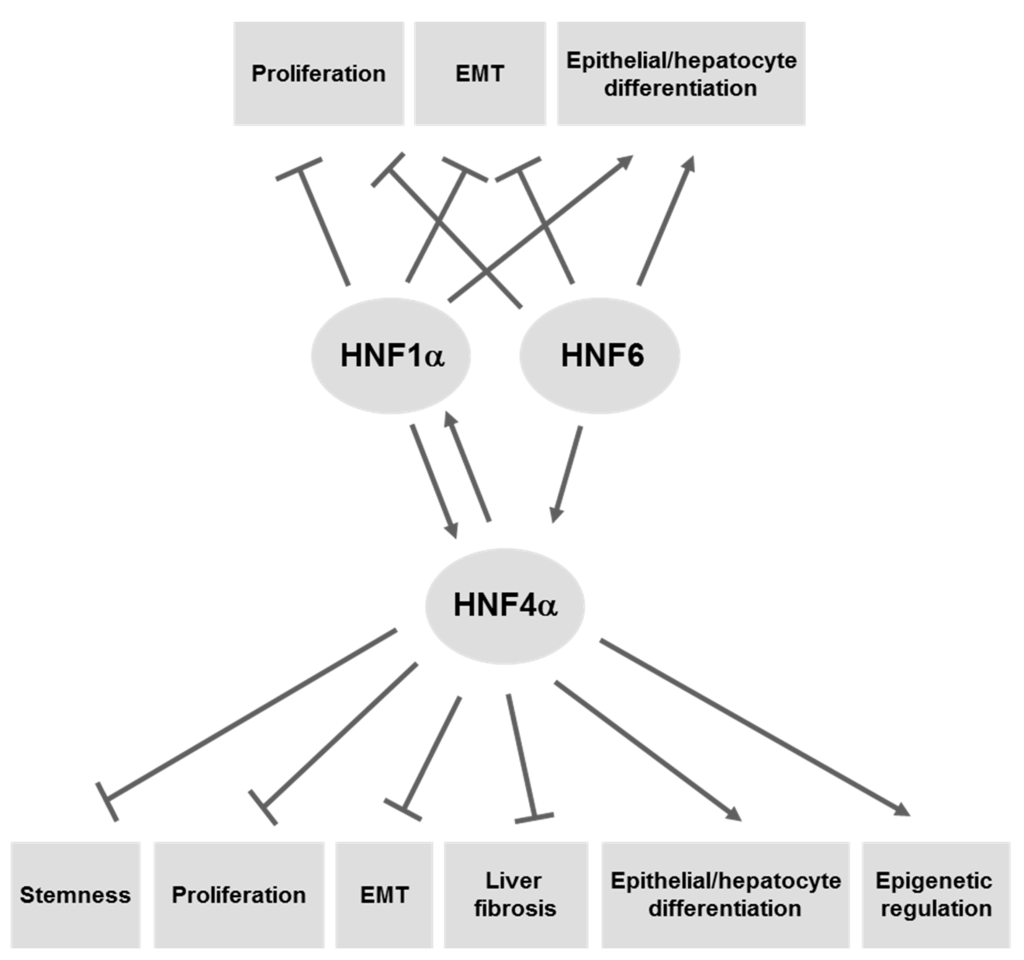 Figure 1. Tumor suppressor properties of HNF4α, HNF1α, and HNF6 in HCCs. HNFs can regulate different cell functions associated with the HCC onset and progression, through the direct transcriptional activation/repression of target genes (described in the text). The reciprocal regulation among HNFs is shown.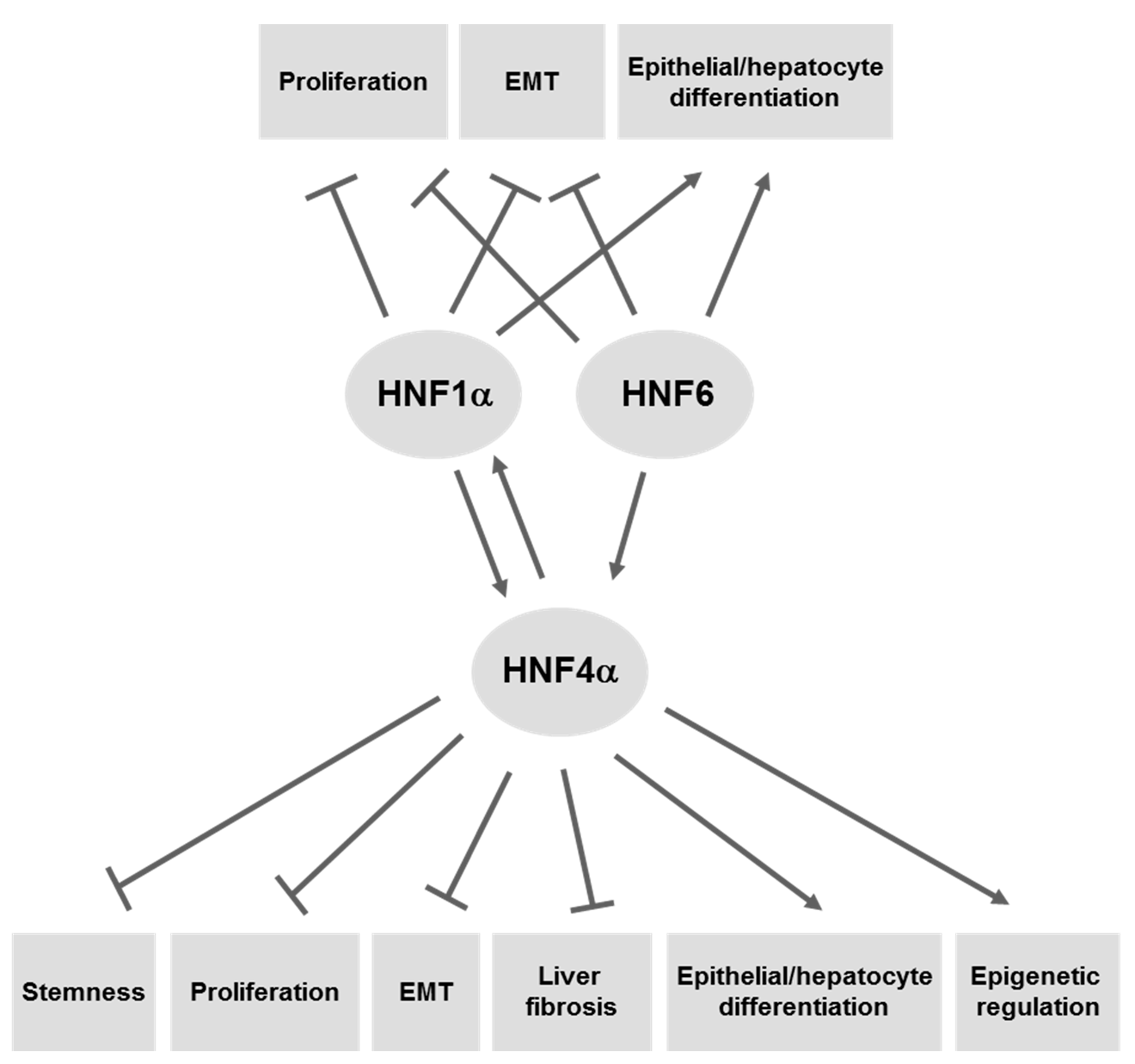 Author Contributions
AM and MT contributed to the design, writing and editing of the review; FB and AMC contributed to the writing and editing of the review. All authors read and approved the final manuscript.
Conflicts of Interest
The authors declare no conflict of interest.
© 2015 by the authors; licensee MDPI, Basel, Switzerland. This article is an open access article distributed under the terms and conditions of the Creative Commons Attribution license (http://creativecommons.org/licenses/by/4.0/).