Nanopharmaceuticals for Eye Administration: Sterilization, Depyrogenation and Clinical Applications
1
Department of Pharmaceutical Technology, Faculty of Pharmacy, University of Coimbra, Pólo das Ciências da Saúde, Azinhaga de Santa Comba, 3000-548 Coimbra, Portugal
2
Institute of Human Genetics, Polish Academy of Sciences, Strzeszyńska 32, 60-479 Poznań, Poland
3
Laboratory of Biomaterial and Nanotechnology (LaBNUS). University of Sorocaba, Raposo Tavares 92.5, Sorocaba, 18078-005 São Paulo, Brazil
4
Institute of Quality Science, Poznań University of Economics and Business, al. Niepodległości 10, 61-875 Poznań, Poland
5
CREA-Research Centre for Food and Nutrition, Via Ardeatina 546, 00178 Rome, Italy
6
Center for Biomedical Engineering, Department of Medicine, Brigham and Women& Hospital, Harvard Medical School, 65 Landsdowne Street, Cambridge, MA 02139, USA
7
Biotechnological Postgraduate Program, University of Tiradentes (Unit), Av. Murilo Dantas, 300, 49010-390 Aracaju, Brazil
8
Institute of Technology and Research (ITP), Nanomedicine and Nanotechnology Laboratory (LNMed), Av. Murilo Dantas, 300, 49010-390 Aracaju, Brazil
9
Tiradentes Institute, 150 Mt Vernon St, Dorchester, MA 02125, USA
10
Department of Pharmacy, University of Napoli Federico II, 80131 Napoli, Italy
11
CEB—Centre of Biological Engineering, University of Minho, Campus de Gualtar, 4710-057 Braga, Portugal
*
Authors to whom correspondence should be addressed.
Received: 11 August 2020 / Revised: 23 September 2020 / Accepted: 13 October 2020 / Published: 14 October 2020
Simple Summary
Nanopharmaceuticals have revolutionized the way ophthalmic drugs are administered to overcome ocular delivery barriers and improve drug bioavailability. The design and production of an efficient ocular drug delivery system still remain a challenge. In this review, we discuss the sterilization and depyrogenation methods, commonly used for ophthalmic nanopharmaceuticals, and their clinical applications.
As an immune-privileged target organ, the eyes have important superficial and internal barriers, protecting them from physical and chemical damage from exogenous and/or endogenous origins that would cause injury to visual acuity or even vision loss. These anatomic, physiological and histologic barriers are thus a challenge for drug access and entry into the eye. Novel therapeutic concepts are highly desirable for eye treatment. The design of an efficient ocular drug delivery system still remains a challenge. Although nanotechnology may offer the ability to detect and treat eye diseases, successful treatment approaches are still in demand. The growing interest in nanopharmaceuticals offers the opportunity to improve ophthalmic treatments. Besides their size, which needs to be critically monitored, nanopharmaceuticals for ophthalmic applications have to be produced under sterilized conditions. In this work, we have revised the different sterilization and depyrogenation methods for ophthalmic nanopharmaceuticals with their merits and drawbacks. The paper also describes clinical sterilization of drugs and the outcomes of inappropriate practices, while recent applications of nanopharmaceuticals for ocular drug delivery are also addressed.
View Full-Text
►

▼

Show Figures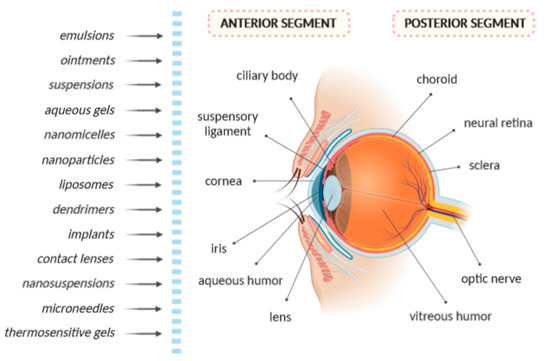 Figure 1
This is an open access article distributed under the
Creative Commons Attribution License
which permits unrestricted use, distribution, and reproduction in any medium, provided the original work is properly cited

MDPI and ACS Style
Zielińska, A.; Soles, B.B.; Lopes, A.R.; Vaz, B.F.; Rodrigues, C.M.; Alves, T.F.R.; Klensporf-Pawlik, D.; Durazzo, A.; Lucarini, M.; Severino, P.; Santini, A.; Chaud, M.V.; Souto, E.B. Nanopharmaceuticals for Eye Administration: Sterilization, Depyrogenation and Clinical Applications. Biology 2020, 9, 336.
Show more citation formats
Show less citations formats
Note that from the first issue of 2016, MDPI journals use article numbers instead of page numbers. See further details
here
.