Cell Death Patterns Due to Warm Ischemia or Reperfusion in Renal Tubular Epithelial Cells Originating from Human, Mouse, or the Native Hibernator Hamster
Department of Nephrology, Faculty of Medicine, University of Thessaly, 41110 Larissa, Greece
*
Author to whom correspondence should be addressed.
Received: 8 October 2018 / Revised: 13 November 2018 / Accepted: 14 November 2018 / Published: 15 November 2018
Abstract
Ischemia–reperfusion injury contributes to the pathogenesis of many diseases, with acute kidney injury included. Hibernating mammals survive prolonged bouts of deep torpor with a dramatic drop in blood pressure, heart, and breathing rates, interspersed with short periods of arousal and, consequently, ischemia–reperfusion injury. Clarifying the differences under warm anoxia or reoxygenation between human cells and cells from a native hibernator may reveal interventions for rendering human cells resistant to ischemia–reperfusion injury. Human and hamster renal proximal tubular epithelial cells (RPTECs) were cultured under warm anoxia or reoxygenation. Mouse RPTECs were used as a phylogenetic control for hamster cells. Cell death was assessed by both cell imaging and lactate dehydrogenase (LDH) release assay, apoptosis by cleaved caspase-3, autophagy by microtubule-associated protein 1-light chain 3 B II (LC3B-II) to LC3B-I ratio, necroptosis by phosphorylated mixed-lineage kinase domain-like pseudokinase, reactive oxygen species (ROS) fluorometrically, and lipid peroxidation, the end-point of ferroptosis, by malondialdehyde. Human cells died after short periods of warm anoxia or reoxygenation, whereas hamster cells were extremely resistant. In human cells, apoptosis contributed to cell death under both anoxia and reoxygenation. Although under reoxygenation, ROS increased in both human and hamster RPTECs, lipid peroxidation-induced cell death was detected only in human cells. Autophagy was observed only in human cells under both conditions. Necroptosis was not detected in any of the evaluated cells. Clarifying the ways that are responsible for hamster RPTECs escaping from apoptosis and lipid peroxidation-induced cell death may reveal interventions for preventing ischemia–reperfusion-induced acute kidney injury in humans.
View Full-Text
►

▼

Figures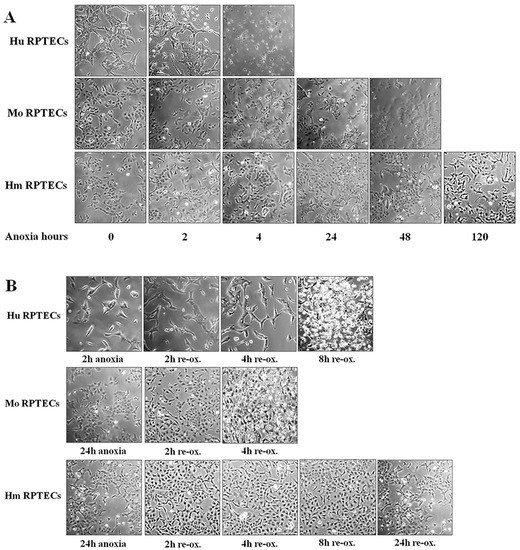 Figure 1
This is an open access article distributed under the
Creative Commons Attribution License
which permits unrestricted use, distribution, and reproduction in any medium, provided the original work is properly cited (CC BY 4.0).

Share & Cite This Article
MDPI and ACS Style
Eleftheriadis, T.; Pissas, G.; Antoniadi, G.; Liakopoulos, V.; Stefanidis, I. Cell Death Patterns Due to Warm Ischemia or Reperfusion in Renal Tubular Epithelial Cells Originating from Human, Mouse, or the Native Hibernator Hamster. Biology 2018, 7, 48.
Note that from the first issue of 2016, MDPI journals use article numbers instead of page numbers. See further details here.
Related Articles
Comments
[Return to top]