A Rare De Novo
RAI1

Gene Mutation Affecting BDNF-Enhancer-Driven Transcription Activity Associated with Autism and Atypical Smith-Magenis Syndrome Presentation

1

John P. Hussman Institute for Human Genomics, University of Miami, FL 33136, USA

2

J. C. Self Research Institute of Human Genetics, Greenwood Genetic Center, Greenwood, SC 29646, USA

3

Molecular Diagnostic Laboratory, Greenwood Genetic Center, Greenwood, SC 29646, USA

4

School of Computing, Clemson University, Clemson, SC 29634, USA

5

Dr. John T. Macdonald Foundation Department of Human Genetics, Miller School of Medicine, University of Miami, FL 33136, USA

6

Department of Genetics and Biochemsitry, Clemson University, Clemson, SC 29634, USA

*

Authors to whom correspondence should be addressed.

Received: 17 April 2018 / Revised: 20 May 2018 / Accepted: 21 May 2018 / Published: 24 May 2018
Abstract
Deletions and mutations involving the Retinoic Acid Induced 1 (
RAI1
) gene at 17p11.2 cause Smith-Magenis syndrome (SMS). Here we report a patient with autism as the main clinical presentation, with some SMS-like features and a rare de novo
RAI1
gene mutation, c.3440G > A (p.R1147Q). We functionally characterized the RAI1 p.R1147Q mutant protein. The mutation, located near the nuclear localization signal, had no effect on the subcellular localization of the mutant protein. However, similar to previously reported RAI1 missense mutations in SMS patients, the RAI1 p.R1147Q mutant protein showed a significant deficiency in activating in vivo transcription of a reporter gene driven by a BDNF (brain-derived neurotrophic factor) intronic enhancer. In addition, expression of other genes associated with neurobehavioral abnormalities and/or neurodevelopmental disorders were found to be altered in this patient. These results suggest a likely contribution of RAI1, either alone or in combination of other factors, to social behavior and reinforce the
RAI1
gene as a candidate gene in patients with autistic manifestations or social behavioral abnormalities.
View Full-Text
►

▼

Figures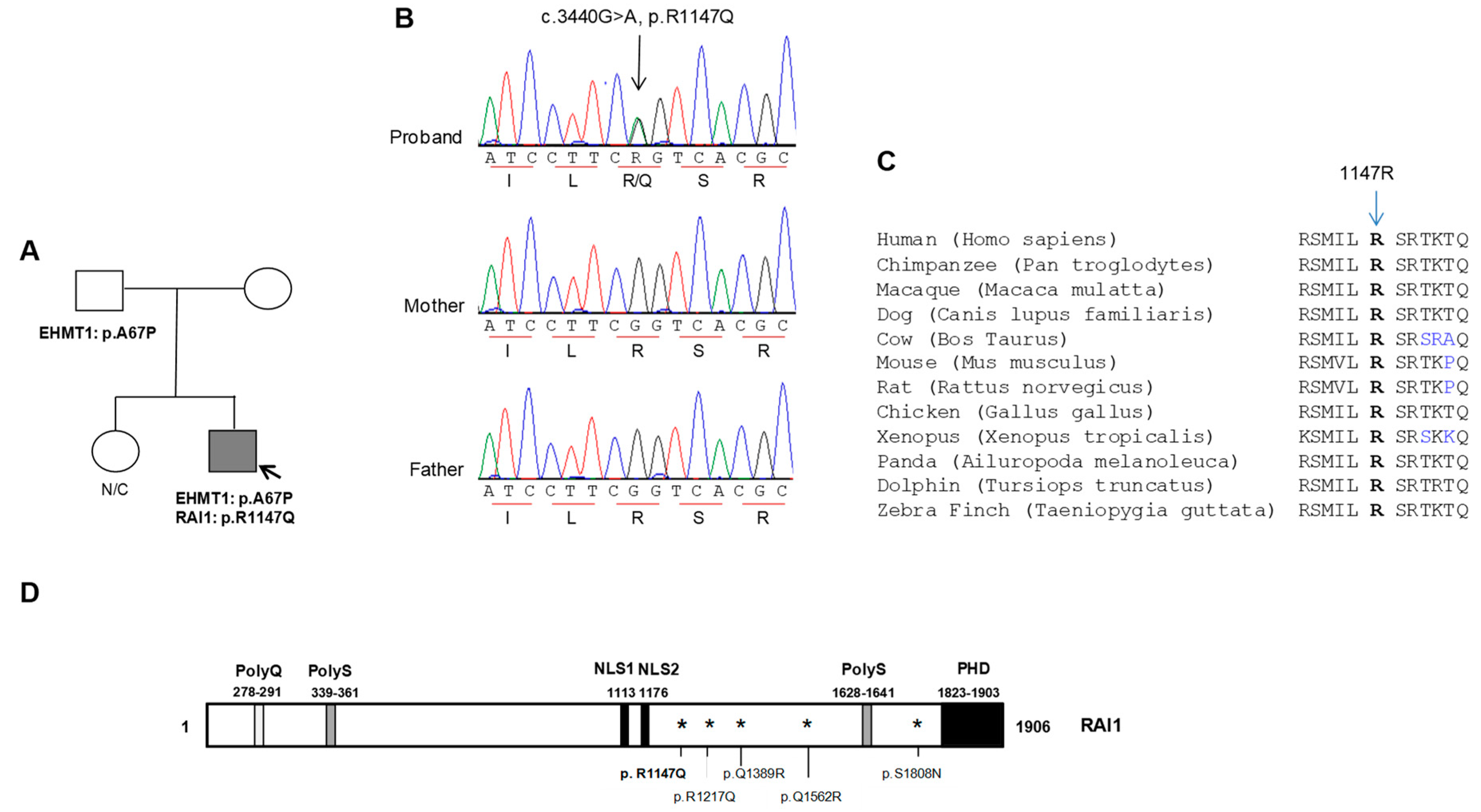 Figure 1
This is an open access article distributed under the
Creative Commons Attribution License
which permits unrestricted use, distribution, and reproduction in any medium, provided the original work is properly cited (CC BY 4.0).

Share & Cite This Article
MDPI and ACS Style
Abad, C.; Cook, M.M.; Cao, L.; Jones, J.R.; Rao, N.R.; Dukes-Rimsky, L.; Pauly, R.; Skinner, C.; Wang, Y.; Luo, F.; Stevenson, R.E.; Walz, K.; Srivastava, A.K. A Rare De Novo RAI1 Gene Mutation Affecting BDNF-Enhancer-Driven Transcription Activity Associated with Autism and Atypical Smith-Magenis Syndrome Presentation. Biology 2018, 7, 31.
Note that from the first issue of 2016, MDPI journals use article numbers instead of page numbers. See further details here.
Related Articles
Comments
[Return to top]