Treatment of Real-World HCV Genotype 2-Infected Japanese Patients with Sofosbuvir plus Ribavirin
1
Department of Gastroenterology and Nephrology, Graduate School of Medicine, Chiba University, 1-8-1 Inohana, Chuo-ku, Chiba 260-8670, Japan
2
Safety and Health Organization, Chiba University, 1-33 Yayoicho, Inage-ku, Chiba 263-8522, Japan
3
Department of Molecular Virology, Graduate School of Medicine, Chiba University, 1-8-1 Inohana, Chuo-ku, Chiba 260-8670, Japan
*
Author to whom correspondence should be addressed.
†
Current address: Japan Community Health Care Organization Funabashi Central Hospital, 6-13-10 Kaijin, Funabashi 273-8556, Japan.
Academic Editor: Chris O'Callaghan
Received: 1 March 2017 / Revised: 4 May 2017 / Accepted: 6 May 2017 / Published: 9 May 2017
Abstract
The aim of this study was to characterize the treatment response and tolerability of sofosbuvir plus ribavirin therapies in Japanese patients infected with hepatitis C virus (HCV) genotype (GT)-2. This retrospective study analyzed 114 Japanese HCV GT-2 patients treated for 12 weeks with 400 mg of sofosbuvir plus weight-based ribavirin daily. This treatment led to higher sustained virologic response at 12-weeks post-treatment (SVR12) rates in both treatment-naïve and treatment-experienced patients. The efficacy of this treatment in compensated cirrhotics was the same as that in patients with chronic hepatitis. HCV GT-2a infection and lower estimated glomerular filtration rates (eGFR) tended to be associated with SVR12. Of 114 patients, 113 completed the combination of sofosbuvir plus ribavirin for 12 weeks. Seven patients without SVR12 did not have HCV NS5B-S282 mutations. The overall SVR12 rate was 90.4% (103 of 114). More effective therapeutic options with less adverse events are desired to achieve higher SVR rates in HCV GT-2 Japanese patients.
View Full-Text
►

▼

Figures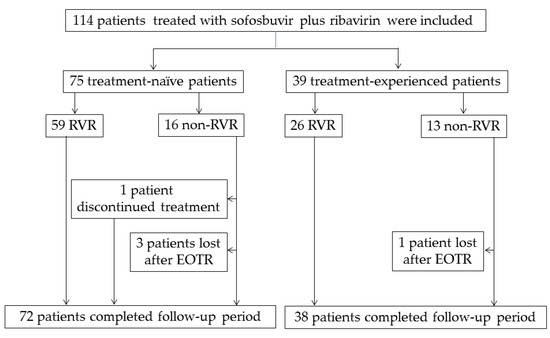 Figure 1
This is an open access article distributed under the
Creative Commons Attribution License
which permits unrestricted use, distribution, and reproduction in any medium, provided the original work is properly cited (CC BY 4.0).

Share & Cite This Article
MDPI and ACS Style
Kanda, T.; Nakamura, M.; Yasui, S.; Haga, Y.; Tawada, A.; Suzuki, E.; Ooka, Y.; Takahashi, K.; Sasaki, R.; Wu, S.; Nakamoto, S.; Arai, M.; Imazeki, F.; Yokosuka, O. Treatment of Real-World HCV Genotype 2-Infected Japanese Patients with Sofosbuvir plus Ribavirin. Biology 2017, 6, 30.
Note that from the first issue of 2016, MDPI journals use article numbers instead of page numbers. See further details here.
Related Articles
Comments
[Return to top]