Miniaturized Bioaffinity Assessment Coupled to Mass Spectrometry for Guided Purification of Bioactives from Toad and Cone Snail
1
AIMMS Division of BioMolecular Analysis, Faculty of Sciences, VU University Amsterdam, De Boelelaan 1081, 1083 HV Amsterdam, The Netherlands
2
Department of Molecular and Cellular Neurobiology, Center for Neurogenomics and Cognitive Research, Neuroscience Campus Amsterdam, VU University Amsterdam, De Boelelaan 1085, 1081 HV Amsterdam, The Netherlands
3
Department of Biophysical Chemistry, Institute for Molecules and Materials, Radboud University Nijmegen, Heyendaalseweg 135, 6525 AJ Nijmegen, The Netherlands
4
AIMMS Division of Organic Chemistry, Faculty of Sciences, VU University Amsterdam, De Boelelaan 1081, 1083 HV Amsterdam, The Netherlands
5
The Institute for Molecular Bioscience, The University of Queensland, St Lucia, Queensland 4072, Australia
6
MassSpec Consultancy, de Wetstraat 8, 2332 XT Leiden, The Netherlands
†
These authors contributed equally to this work.
*
Author to whom correspondence should be addressed.
Received: 9 December 2013 / Revised: 23 January 2014 / Accepted: 26 January 2014 / Published: 13 February 2014
Abstract
A nano-flow high-resolution screening platform, featuring a parallel chip-based microfluidic bioassay and mass spectrometry coupled to nano-liquid chromatography, was applied to screen animal venoms for nicotinic acetylcholine receptor like (nAChR) affinity by using the acetylcholine binding protein, a mimic of the nAChR. The potential of this microfluidic platform is demonstrated by profiling the
Conus textile
venom proteome, consisting of over 1,000 peptides. Within one analysis (<90 min, 500 ng venom injected), ligands are detected and identified. To show applicability for non-peptides, small molecular ligands such as steroidal ligands were identified in skin secretions from two toad species (
Bufo alvarius
and
Bufo marinus
). Bioactives from the toad samples were subsequently isolated by MS-guided fractionation. The fractions analyzed by NMR and a radioligand binding assay with α7-nAChR confirmed the identity and bioactivity of several new ligands.
View Full-Text
►

▼

Figures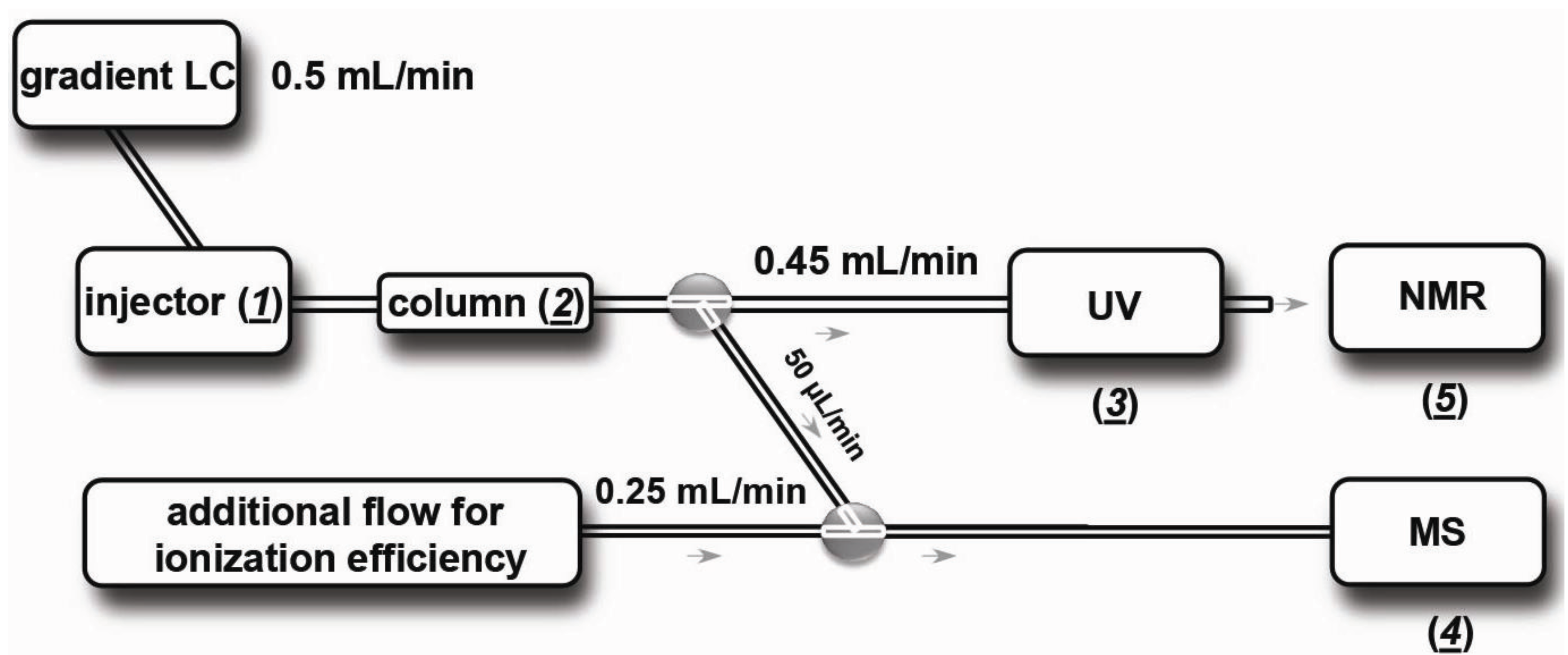 Figure 1

Share & Cite This Article
MDPI and ACS Style
Heus, F.; Otvos, R.A.; Aspers, R.L.E.G.; Van Elk, R.; Halff, J.I.; Ehlers, A.W.; Dutertre, S.; Lewis, R.J.; Wijmenga, S.; Smit, A.B.; Niessen, W.M.A.; Kool, J. Miniaturized Bioaffinity Assessment Coupled to Mass Spectrometry for Guided Purification of Bioactives from Toad and Cone Snail. Biology 2014, 3, 139-156.
Related Articles
Comments
[Return to top]