Open Access This article is
freely available
re-usable
Article
Liquid Phase Selective Hydrogenation of Phenol to Cyclohexanone over Electrospun Pd/PVDF-HFP Catalyst
1
Department of Chemical Engineering, Jazan University, Jazan 45142, Saudi Arabia
2
Biosciences and Water Filtration Division, Parker-Hannifin Corporation, Oxnard, CA 93030, USA
3
Department of Chemical Engineering, Royal Commission Yanbu Industrial College, Yanbu 46452, Saudi Arabia
4
Exhaust Emission Engineering Team, Hyundai Motor Company, Gyeonggi-do 100NN, Korea
5
Department of Mathematics and Physics Engineering, Faculty of Engineering in Matteria, Helwan University, Cairo 11718, Egypt
6
Department of Chemical and Biomolecular Engineering, The University of Akron, Akron, OH 44325, USA
*
Author to whom correspondence should be addressed.
Received: 9 February 2019 / Accepted: 25 March 2019 / Published: 3 April 2019
Abstract
:
Cyclohexanone is an important industrial intermediate in the synthesis of materials such as nylons, but preparing it efficiently through one-step hydrogenation of phenol is hindered by over-reduction to cyclohexanol. Using an efficient catalyst can enhance the selectivity of cyclohexanone at high phenol conversion. In this study, catalysts comprised of palladium nanoparticles supported on electrospun PVDF-HFP (polyvinylidene fluoride-co-hexafluoropropylene) nanofibers were prepared using the electrospinning technique. The catalysts were characterized using thermogravimetric analyzer (TGA), scanning electron microscopy (SEM), transmission electron microscope (TEM), and drop shape analyzer (DSA). The prepared catalysts were used to hydrogenate phenol into cyclohexanone in a batch reactor. The Pd/PVDF-HFP catalyst showed a very high product selectivity and high phenol conversion. The conversion of phenol achieved was 98% with 97% cyclohexanone selectivity in 7 h using 15 wt% of palladium (0.0021 moles) relative to phenol (0.0159 moles). The turnover number (TON) and turnover frequency (TOF) values calculated were 7.38 and 1.05 h−1, respectively. This paper presents original research in heterogeneous catalysis using novel electrospun nanofibers. Multiphase hydrogenation of phenol to cyclohexanone over electrospun Pd/PVDF-HFP catalyst has not been reported by any researcher in the literature. This work will also provide a research window for the application of electrospun polymeric nanofibers in multiphase reactions.
Keywords:
phenol to cyclohexanone; electrospun catalyst; palladium nanoparticles; multiphase reactions; nanofibers
1. Introduction
It is thus of great interest to prepare Pd supported on polymer support for multiphase hydrogenation of phenol. The electrospun fiber mat catalysts have the advantages of good mechanical strength, high porosity, high permeability, and other improved characteristics. In contrast to nanopowder or nanoparticles on the ceramic catalyst, the polymer catalytic membranes are very easy to separate from liquid phase products. Most importantly, the polymeric membrane catalysts can be used in different continuous flow reactors like membrane reactors, packed bed reactors or fluidized bed reactors.
2. Materials and Methods
2.1. Preparation of Pd/PVDF-HFP Catalyst
The PVDF-HFP with a molecular weight of 450,000 (Detonated by Arkema, Inc., King of Prussia, PA, USA) was dissolved in acetone (Sigma Aldrich, St. Louis, MO, USA) at room temperature to form electrospinning solutions having polymer concentrations of 10 wt%. Mild stirring for 24 h was done to make the electrospinning solutions. Then 0.3 g of palladium black (Sigma Aldrich) was added into 15 mL of the prepared PVDF-HFP solution and mixed for one day to disperse the catalytic metal particles uniformly in the polymer solution. Electrospinning of the PVDF-HFP solution containing Pd particles was executed at room temperature where the prepared solution was injected from a 5 mL syringe equipped with a 21-gauge needle through a syringe pump (SP220i, World Precision Instruments, Sarasota, FL, USA) at a feed rate of 15 mL/h [
31
]. The power supply was adjusted to 30 kV. A piece of aluminum foil was used as a collector for the produced fibers. The gap distance between the needle and the aluminum foil was 15 cm.
2.2. Catalytic Membrane Characterization
The thermal properties of the electrospun catalytic membrane were analyzed with a thermogravimetric analyzer (TGAQ500) (TA Instruments, New Castle, DE, USA). TGA analysis was performed in the temperature range of 30–800 °C with a 20 °C/min heating rate under N
2
. In addition, the electrospun catalytic membrane was placed in a furnace, Barnstead Thermolyne 1400 Furnace, at 120 °C under air conditioning for 12 h to measure the weight change. Scanning electron microscopy (SEM) was used to study the fiber morphology. SEM images of the catalytic membrane were acquired using FEI Quanta 200 at 15 kV and HITACHI TM3000 (Hitachi High Technologies America, Inc, Greenville, SC, USA). The images were taken with different magnifications at the voltage of 15 kV. The diameter of the nanofibers was measured directly from the SEM images using FibraQuant 1.3 software (nanoScaffold Technologies LLC, Chapel Hill, NC, USA) and was displayed as diameter histogram. The histogram was generated out of 100 measurements. Transmission Electron Microscope (TEM, JEM 1200XII, Jeol USA, Peabody, MA, USA) was used to acquire the catalytic particle size. To prepare the TEM sample, the fibers were directly dispersed on a TEM grid during electrospinning. An X-ray diffractometer (Bruker AXS Dimension D8 X-ray, BRUKER AXS, Inc. Madison, WI, USA) was used to determine the support and catalytic peaks. PVDF-HFP with and without catalytic particles was tested. Cu anode (Kα1 = 0.154056 nm) was used. The voltage was set to 40 kV and the current to 40 mA. Scans were collected with the step size of 0.1 degrees and scan speed of 0.5 degrees/min. The wettability of the membrane was characterized by the water contact angle. Water drops of 5 μL volumes were placed on the fiber mats and imaged using a drop shape analyzer (DSA20E, Krüss GmbH, Hamburg, Germany). To determine the contact angle, the contact angles were averaged from measurements of five independent drops. Frazier Air Permeability Tester (Frazier Precision Instrument Company, Inc., Hagerstown, MD, USA) was used to measure the permeability of the catalytic membrane. The permeability can be calculated using Darcy's law. Darcy's law provides a relationship between the pressure drop and the flow through a membrane with the permeability coefficient as given in Equation (1):
where is the permeability in m
2
,
Po
and
Pl
are the initial and final pressure in Pa,
L
is the thickness of the membrane in m,
Q
is the volumetric flow rate in m
3
/s, µ is the kinematic viscosity in NS/m
2
, and
A
is the area of the membrane in m. For thin media, as for the tested catalytic PVDF-HFP membrane, to obtain accurate permeability values, an accurate measure of the mat thickness is very important. Since, precise thickness measurements were not obtainable hence, the ratio of permeability to the thickness of the medium is reported for this work.
2.3. Catalytic Experiments
In a typical reaction, aqueous phenol (20 g/L) was first prepared by dissolving phenol in deionized water. Seventy-five mL of the phenol and different amounts of Pd/PVDF-HFP catalyst (5, 10, and 15 wt% of palladium relative to phenol), was placed into a three-necked flask in three different experiments. A balloon was connected to the flask to store the hydrogen. Prior to the reaction, the system was flushed with hydrogen three times to remove air. The mixing and heating of reactants were conducted using a magnetic stirrer with a hotplate. The temperature of the system was raised to 80 °C. After a period of time, a sample was taken and analyzed to monitor the progress of the reaction. The reaction products were analyzed using a gas chromatograph (Shimadzu GC-17A, Shimadzu America Inc., Columbia, MD, USA) equipped with a Flame Ionization Detector (FID) and Hewlett Packard free fatty acids phase (HP-FFAP) column. The GC conditions were as follows: Injection temperature, 220 °C; detector temperature, 240 °C; column temperature, 120 °C; and temperature ramping rate, 10 °C/min [
20
]. The conversion of cyclohexanone into products was calculated using
where
C
A

0
and
CA
are initial and final cyclohexanone concentrations, respectively.
3. Results and Discussion
3.1. Pd/PVDF-HFP Characterization
3.2. Pd/PVDF-HFP Catalytic Performance Test
Different amounts of Pd/PVDF-HFP catalysts were tested. First, 10 wt% of palladium with respect to phenol (1.5 g phenol and 0.15 gPd/0.75 gPVDF-HFP) was tested. Conversion of phenol increased with time and was 37% in 3 h and 62% in 7 h as shown in
Figure 7
. Only cyclohexanone was detected at the first three hours indicating 100% selectivity. The cyclohexanone selectivity was decreased slightly to 99% at 6 h and to 98% at 7 h. To have a higher conversion, the amount of palladium was increased to 15 wt% with respect to phenol (1.5 g phenol and 0.225 gPd/1.125 g PVDF-HFP). The phenol conversion achieved was 60% in 3 h and 88% in 6 h. Almost complete phenol conversion was achieved at 7 h (98%) as shown in
Figure 8
. The TON (turnover number) and TOF (turnover frequency) values calculated were 7.38 and 1.05 h
−1
, respectively. The TON value was calculated based on the moles of phenol converted (0.0159 moles) with respect to moles of Pd utilized (0.0021) in the reaction while TON with respect to time of reaction was termed as TOF [
40
].
The selectivity of cyclohexanone achieved was very high (>95%) even at high phenol conversion as shown in
Figure 8
. The result proved that phenol conversion could be increased by increasing the metal loading without a major decrease in the desired selectivity when using superhydrophobic nanofiber support. The high cyclohexanone selectivity is attributed to the superhydrophobicity of the PVDF-HFP support.
4. Conclusions
Hydrogenation of phenol to cyclohexanone was achieved actively and selectively using nanofiber supported catalysts. Palladium nanoparticles supported on PVDF-HFP nanofibers were synthesized using electrospinning. The superhydrophobic catalytic fiber mats directed the reaction toward the desired product leading to high cyclohexanone selectivity and high phenol conversion. The conversion of phenol achieved was 98% with 97% cyclohexanone selectivity within 7 h using 15 wt% of palladium relative to phenol. This paper presents novel research in heterogeneous catalysis using electrospun nanofibers. Multiphase hydrogenation of phenol to cyclohexanone over electrospun Pd/PVDF-HFP catalyst has not been reported earlier in the literature. This work can open a research window for applications of polymeric nanofibers in multiphase reactions. The polymeric structure provided the advantages of easy separation and high mechanical strength.
Author Contributions
Reaction experiment, original draft preparation, A.A. (Ahmed Abutaleb); characterization and analysis, D.L., A.A. (Abdulwahab Aljuhani) and H.U.S.; partial writing, review and editing, M.A.A.; writing and editing, A.A.Y.H. and I.M.H.M.; advising and supervision, G.G.C.
Funding
This research received external funding.
Acknowledgments
The author would like to thank SABIC Company and Jazan University for financially supporting this project (Grant No. SABIC 3/2018/1). Special thanks go to Arkema for denoting the PVDF-HFP polymer.
Conflicts of Interest
The authors declare no conflict of interest.
Figure 1. Polyvinylidene fluoride-co-hexafluoropropylene (PVDF-HFP) electrospun fiber mat (A) without and (B) with catalytic nanoparticles.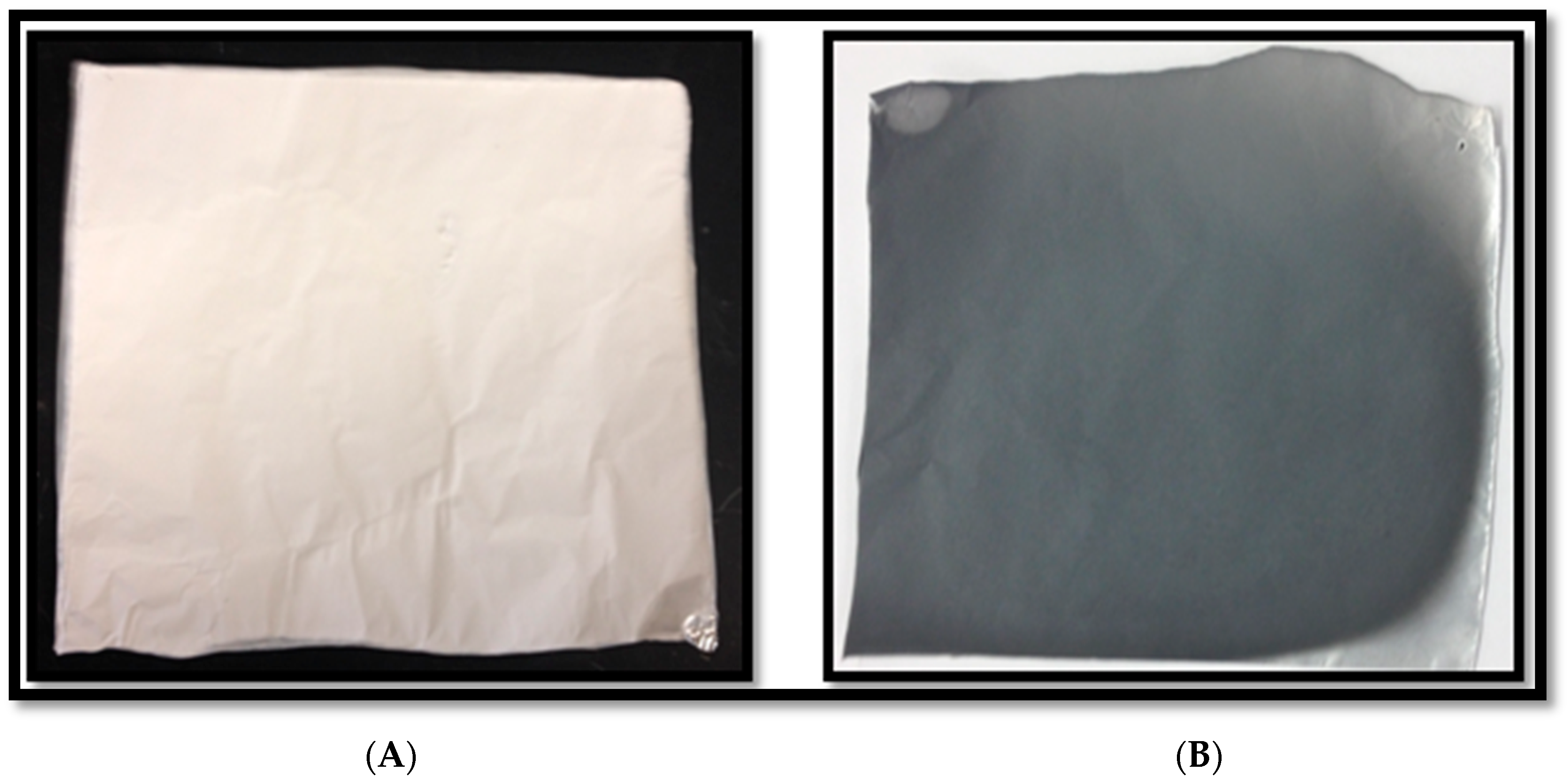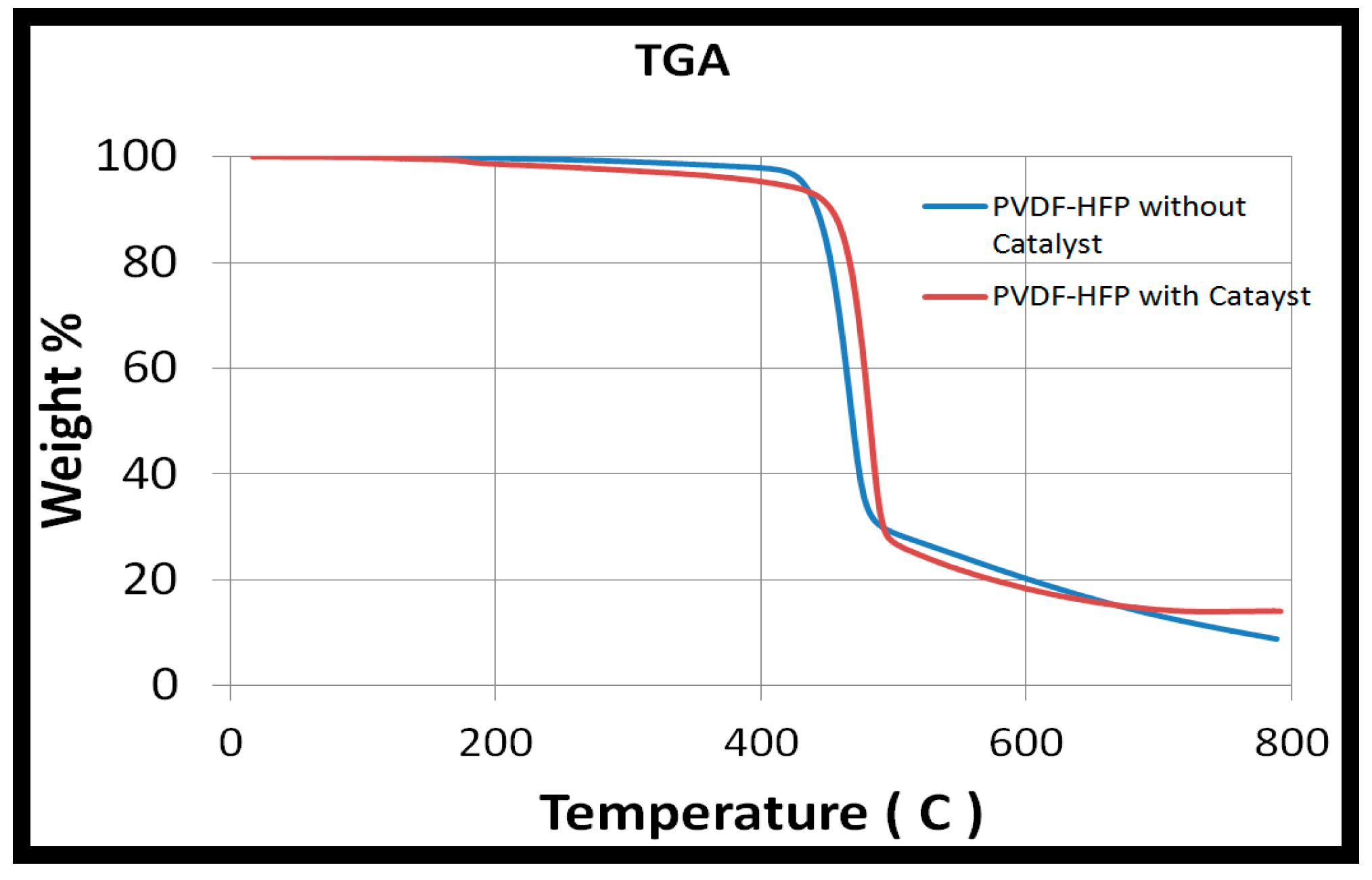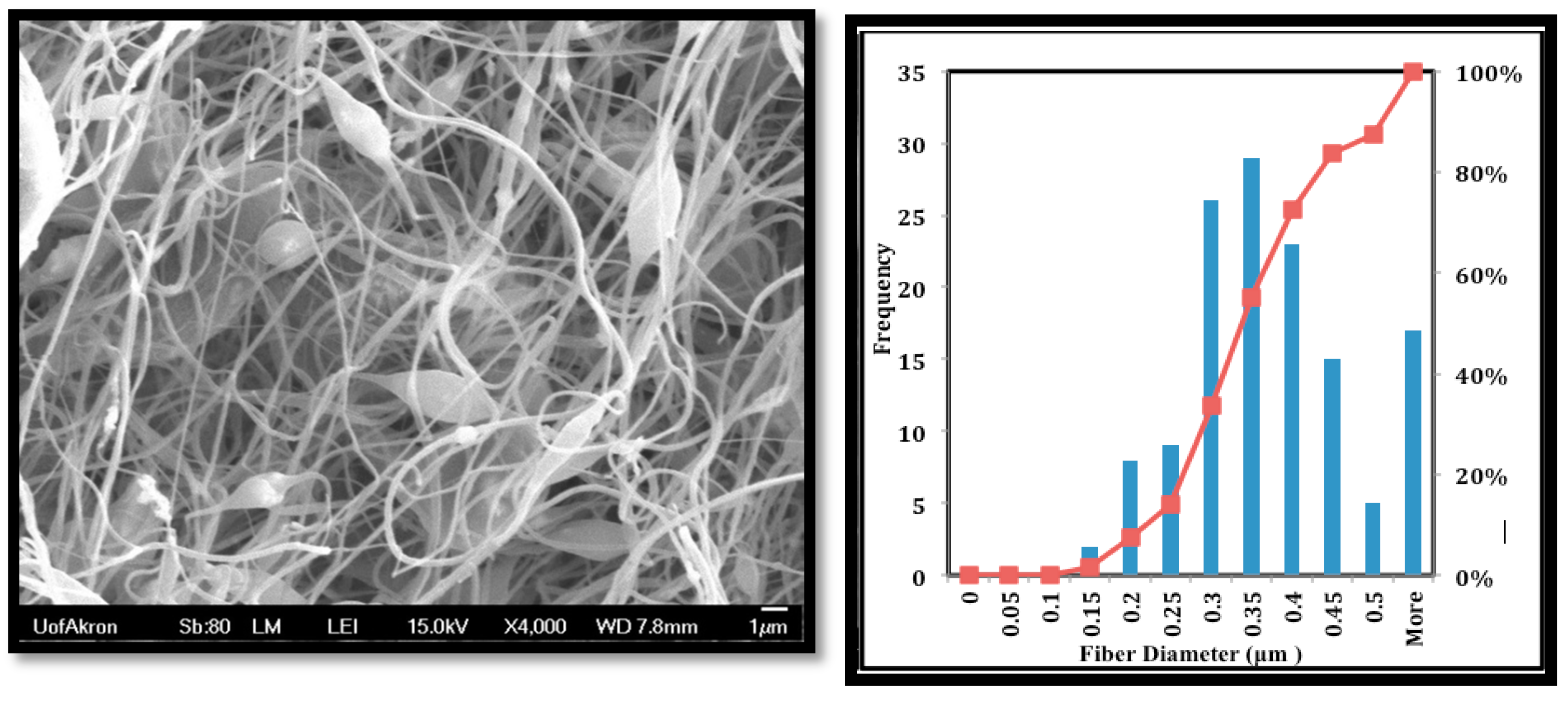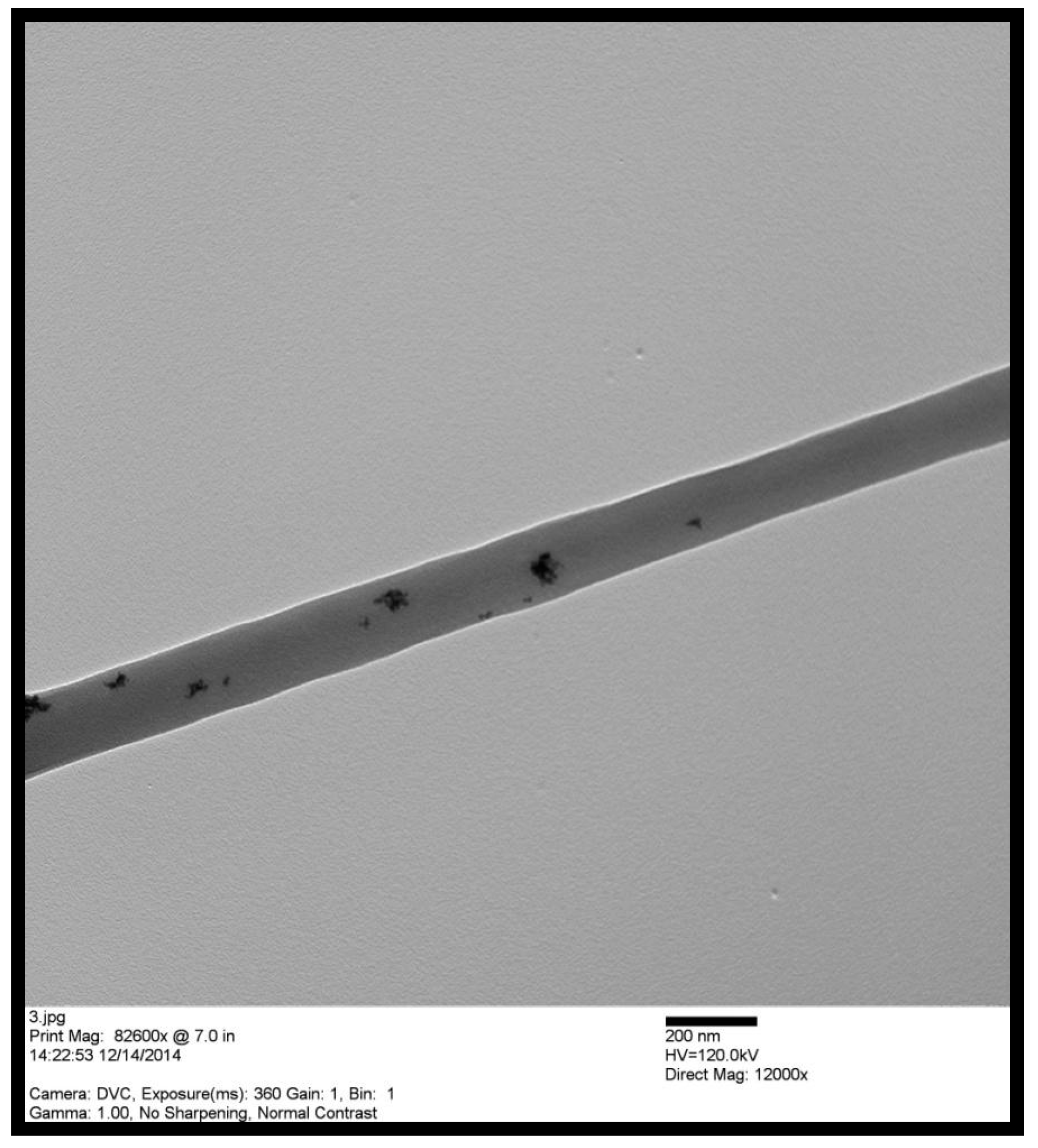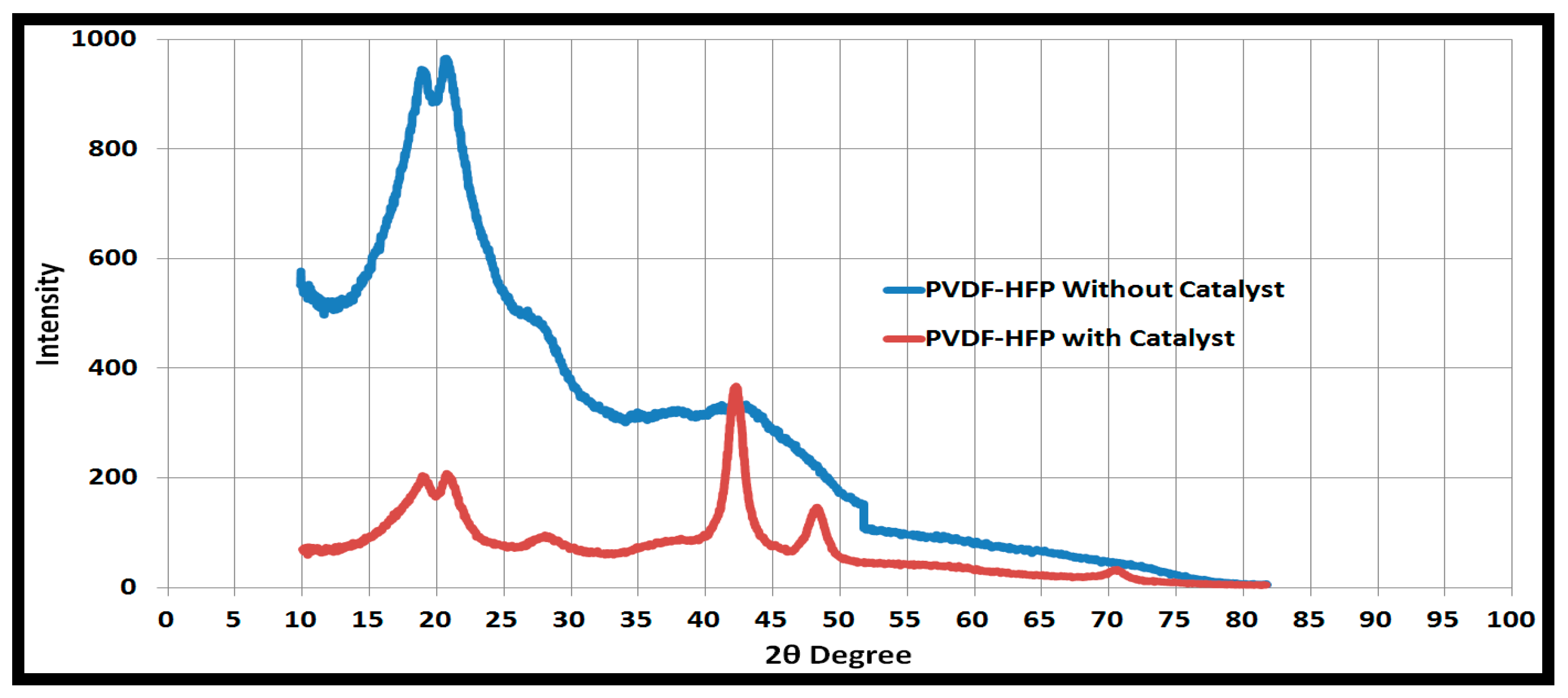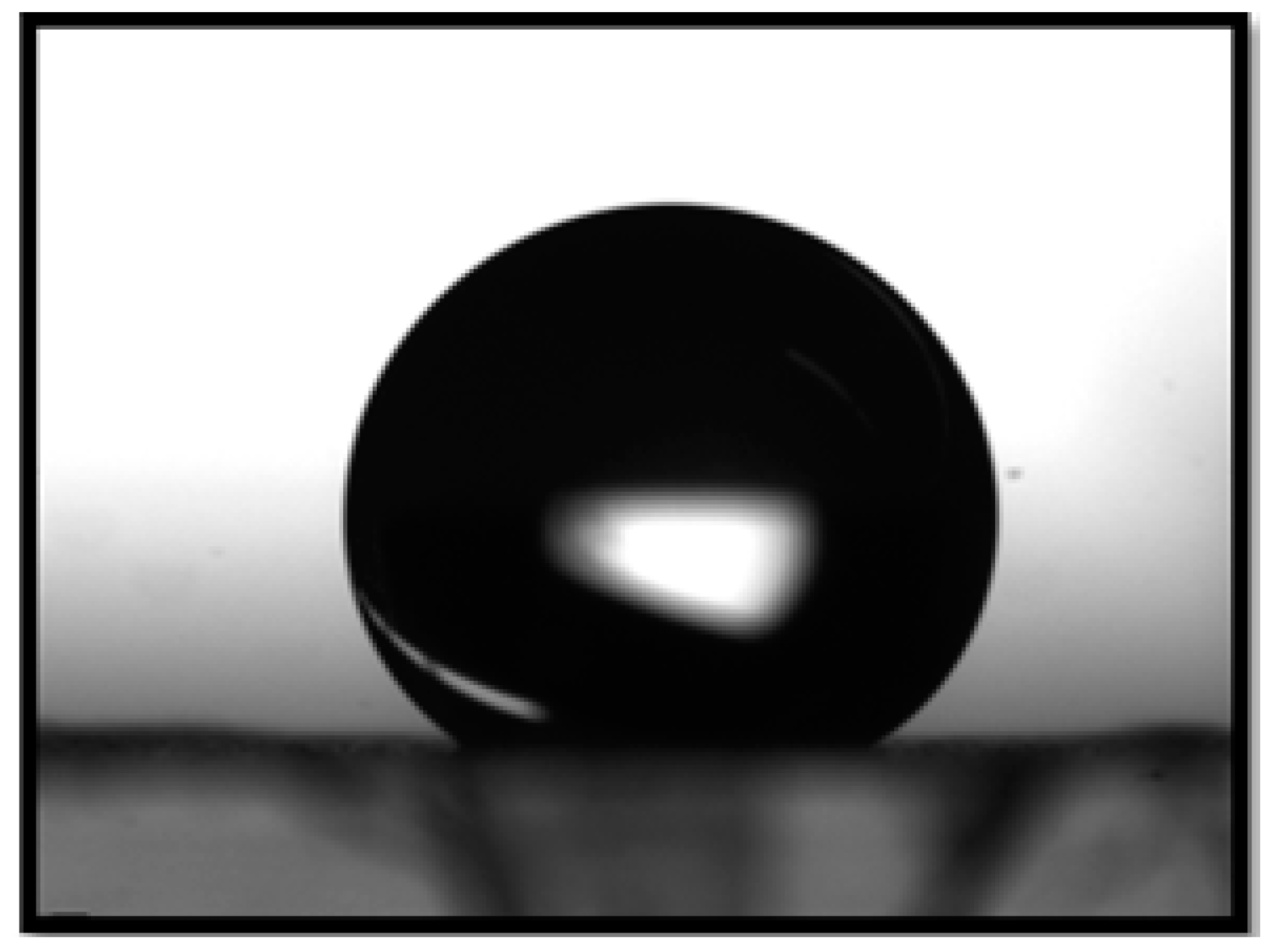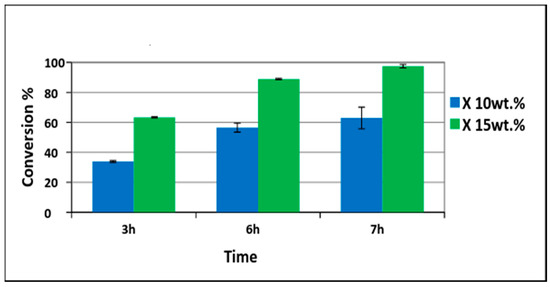 Figure 7. Conversion of phenol using 10 wt% (phenol 1.5g (0.0159 moles) with palladium 0.15 g (0.0014 moles)) and 15 wt% (phenol 1.5 g (0.0159 moles) with palladium 0.225g (0.0021 moles)) of electrospun catalysts.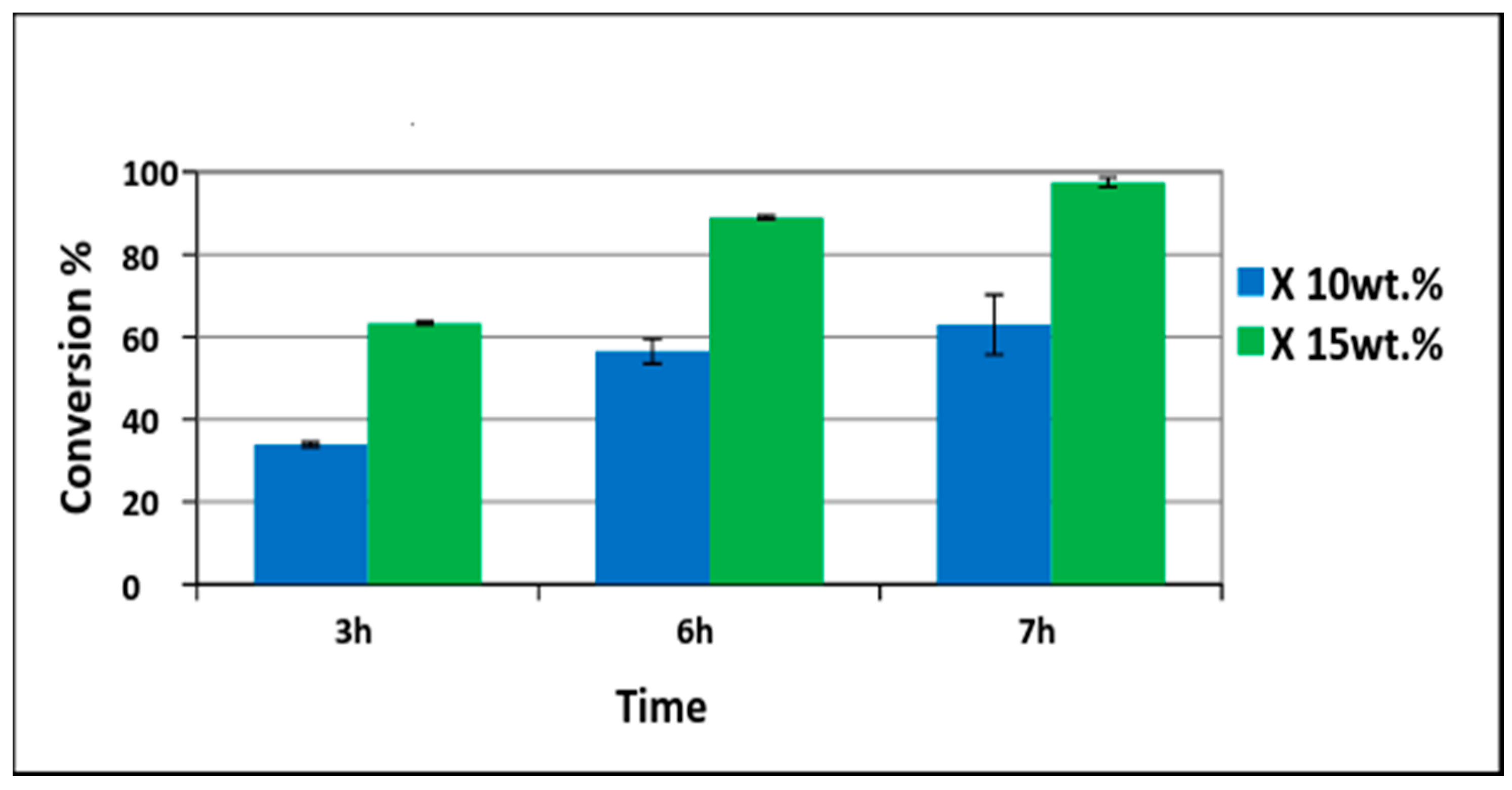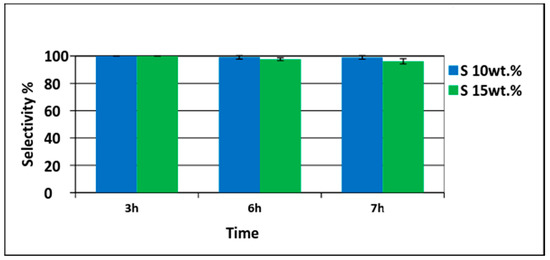 Figure 8. Selectivity of cyclohexanone using 10 wt% (phenol 1.5 g (0.0159 moles) with palladium 0.15 g (0.0014 moles)) and 15 wt% (phenol 1.5 g (0.0159 moles) with palladium 0.225 g (0.0021 moles)) of electrospun catalysts.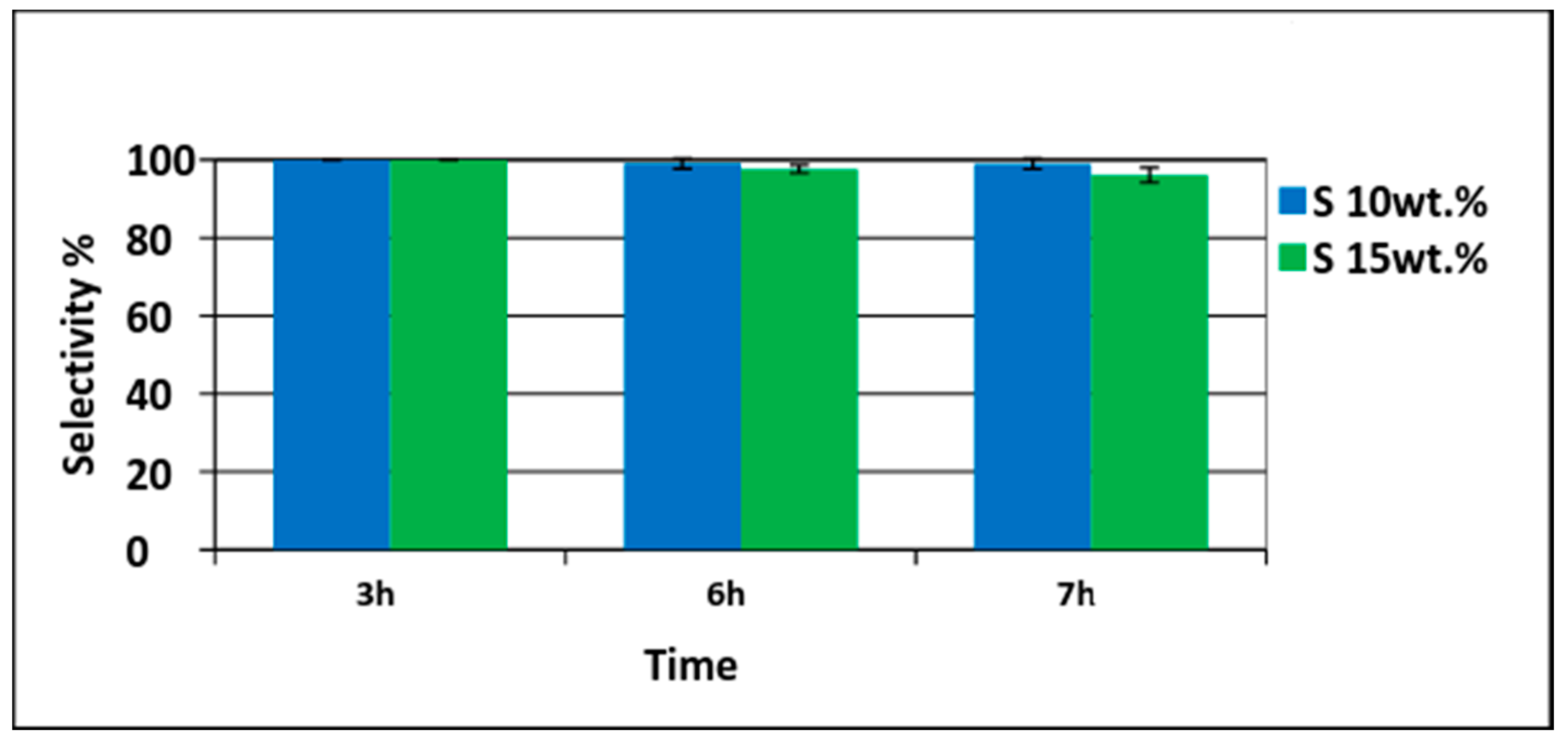 © 2019 by the authors. Licensee MDPI, Basel, Switzerland. This article is an open access article distributed under the terms and conditions of the Creative Commons Attribution (CC BY) license (http://creativecommons.org/licenses/by/4.0/).