Open Access This article is
freely available
re-usable
Article
Influence of pH on Morphology and Structure during Hydrolytic Degradation of the Segmented GL-
b
-[GL-
co
-TMC-
co
-CL]-
b
-GL Copolymer
1
Chemical Engineering Department, Polytechnic University of Catalonia, Av. Diagonal 647, Barcelona E-08028, Spain
2
Braun Surgical S.A., Carretera de Terrassa 121, Barcelona 08191, Spain
3
ALBA Synchrotron Light Facility, Ctra BP 1413 km 3.3, Cerdanyola del Vallès, Barcelona 08290, Spain
*
Author to whom correspondence should be addressed.
Academic Editor: Jingwei Xie
Received: 24 July 2015 / Accepted: 8 September 2015 / Published: 15 September 2015
Abstract
: Hydrolytic degradation in media having a continuous variation of pH from 2 to 12 was studied for a copolymer having two polyglycolide hard blocks and a middle soft segment constituted by glycolide, trimethylene carbonate, and ɛ-caprolactone units. The last units were susceptible to cross-linking reactions by γ irradiation that led to an increase of the molecular weight of the sample. Nevertheless, the susceptibility to hydrolytic degradation was enhanced with respect to non-irradiated samples and consequently such samples were selected to analyze the degradation process through weight loss measurements and the evaluation of changes on molecular weight, morphology, and SAXS patterns. Results reflected the different hydrolytic mechanisms that took place in acid and basic media and the different solubilization of the degradation products. Thus, degradation was faster and solubilization higher in the basic media. In this case, fibers showed a high surface erosion and the formation of both longitudinal and deep circumferential cracks that contrasted with the peeling process detected at intermediate pHs (from 6 to 8) and the absence of longitudinal cracks at low pHs. SAXS measurements indicated that degradation was initiated through the hydrolysis of the irregular molecular folds placed on the amorphous interlamellar domains but also affected lamellar crystals at the last stages. Subsequent heating processes performed with degraded samples were fundamental to reveal the changes in microstructure that occurred during degradation and even the initial lamellar arrangement. In particular, the presence of interfibrillar domains and the disposition of lamellar domains at different levels along the fiber axis for a determined cross-section were evidenced.
Keywords:
absorbable sutures; glycolide copolymer; hydrolytic degradation; γ-irradiation; lamellar microstructure; small angle X-ray scattering
1. Introduction
Sutures were the first commercial use of biodegradable polymers as orthopedic devices and by now their use has been extended to most surgical fields [1]. Nowadays, most resorbable sutures are polyesters (homopolymers and copolymers) based on glycolide, lactide, trimethylene carbonate, ɛ-caprolactone, and p-dioxanone units. These synthetic polymers, with hydrolizable bonds in their main chain, provide clear advantages over natural polymers such as tailored properties and even predictable lot-to-lot uniformity. In fact, control over degradation rate and properties can be achieved by the appropriate selection of monomers, copolymer composition, and copolymer architecture (e.g., blocky or random distributions). In this way, factors like hydrophilicity, crystallinity, chain stiffness, and molecular weight can be easily controlled [2].
Poly(glycolide), the first and simplest polyester employed as a suture [3], renders materials with high crystallinity, high melting and glass transition temperatures, high strength and Young modulus, and high degradation rate. The polymer is commercialized as a braided material due to its high stiffness and consequently has some potential inconveniences associated to tissue drag, knot tie-down, and risk of infection compared to monofilament sutures [4,5,6]. Flexible suture threads that are processed in a monofilament form have been manufactured to avoid these problems. Some of them consist on glycolide/trimethylene carbonate copolymers (named as polyglyconates) and a segmented A-B-A architecture where A is a polyglycolide hard block and B a random soft segment. MaxonTM (Syneture) was one of the former monofilament synthetic suture based in glycolide that has been developed [7]. Therefore, detailed studies concerning synthesis, degradation, properties, and crystallization have been performed on such copolymers as model materials for suture applications [8,9,10,11,12,13,14,15,16,17,18,19,20].
Works about monofilament sutures having three (e.g., MonosynTM [21], and BiosynTM [22,23]) and four components (e.g., CaprosynTM [24]) are more scarce despite the incorporation of additional monomers may lead to polymers with different properties and degradation behavior. Specifically, MonosynTM is the segmented GL-b-[GL-co-TMC-co-CL]-b-GL copolymer constituted by 72, 14 and 14 wt% of glycolide, trimethylene carbonate and ɛ-caprolactone units, respectively. The material has a soft segment that represents the 43 wt% of the sample and includes ɛ-caprolactone units. The high methylene content provided by them lead to a decrease on the degradation rate that may balance the opposite effect caused by the increase on the amorphous character.
Exposure to gamma rays is a process often employed for microbial decontamination of medical devices since this irradiation procedure is economically feasible for a large-scale terminal sterilization. Gamma irradiation is highly penetrating and ionizing events also activate numerous chemical reactions that can be useful to modify material properties. Basically, gamma irradiation may cause different effects on polymers: chain scission, crosslinking/grafting. The predominant process depends on the chemical nature of the polymer and the applied dose [25].
Polyester sutures exposed to gamma irradiation can experiment both a chain scission through the ester moiety and a crosslinking that involves radicals formed on the carbon atoms of methylene groups of the main chain [26]. Both crosslinking and degradation may occur simultaneously (i.e., gas release and increase of molecular weight may be observed together), although usually one process predominates. Obviously, the effect of these reactions on material properties is clearly different. Crosslinking increases the molecular weight, lowers the mobility of molecules, reduces creep, raises the tensile strength and increases the hardness and brittleness. Radiation induced degradation decreased the molecular weight as well as tensile, impact, shear strength, and elongation at break.
The predominant effect of γ irradiation on polyglycolide is a chain scission that mainly leads to the unzipping of molecules and a faster loss of Mn than Mw [3]. Polyesters with a high number of methylene groups in the main chain are less susceptible to degradation since weakening of main chain bonds through ester resonance becomes less effective. Therefore, ɛ-caprolactone units belonging to the soft segment may be more susceptible to crosslinking than degradation. Note that segmented GL-b-[GL-co-TMC-co-CL]-b-GL could experiment a degradation through its hard segments and simultaneously a significant crosslinking through its soft segments that could give rise to an increase of the molecular weight. This is not the case of the bicomponent segmented copolymer GL-b-[GL-co-TMC]-b-GL, in which chain scission events are still predominant during irradiation. Nevertheless, the molecular weight decrease was lower than that observed for polyglycolide suggesting that trimethylene carbonate units were also susceptible to crosslinking reactions [27].
Molecular scission is expected to be more pronounced in the amorphous regions since recombination of formed radicals can be easier in the compact crystalline regions with immobile chain segments. Gamma irradiation should lead to a reduction of chain entanglement of polyglycolide segments in the amorphous phase and an open amorphous structure that facilitates hydrolytic degradation [27]. In the same way, polymers could become more susceptible to enzymatic attack after altering their physical and chemical structures by gamma irradiation [28].
Recent degradation studies on GL-b-[GL-co-TMC-co-CL]-b-GL revealed a complex process that could take place along longitudinal and lateral fiber directions depending on the degradation medium as also reported for other glycolide based sutures [27,28,29]. In all cases, disk morphologies were clearly detected in the last degradation stages, playing an important role the confinement of the amorphous soft segment between the two crystallizable polyglycolide hard blocks [29]. The present work insists on the morphological changes that took place during exposure of the gamma irradiated GL-b-[GL-co-TMC-co-CL]-b-GL copolymer that was selected for its higher susceptibility to hydrolysis and its segmented architecture. To this end, media with a gradual variation of pH from 2 to 12 were considered and the lamellar morphology analyzed by means of small angle X-ray scattering (SAXS) of the exposed sutures before and after being submitted to a thermal annealing process that could enhance differences on the folding surfaces.
2. Experimental Section
2.1. Materials
Commercially available sutures of GL-b-[GL-co-TMC-co-CL]-b-GL (MonosynTM, USP 0) were kindly supplied by B. Braun Surgical, S.A. GL-b-[GL-co-TMC-co-CL]-b-GL samples were also exposed to a γ irradiation dosage above 25 kGry at a temperature of 25 °C (i.e., slightly higher than the glass transition temperature). The segmented microstructure was attained by a two-step synthesis (Figure 1) where firstly a random soft segment was prepared and then used as initiator for the ring opening polymerization of glycolide.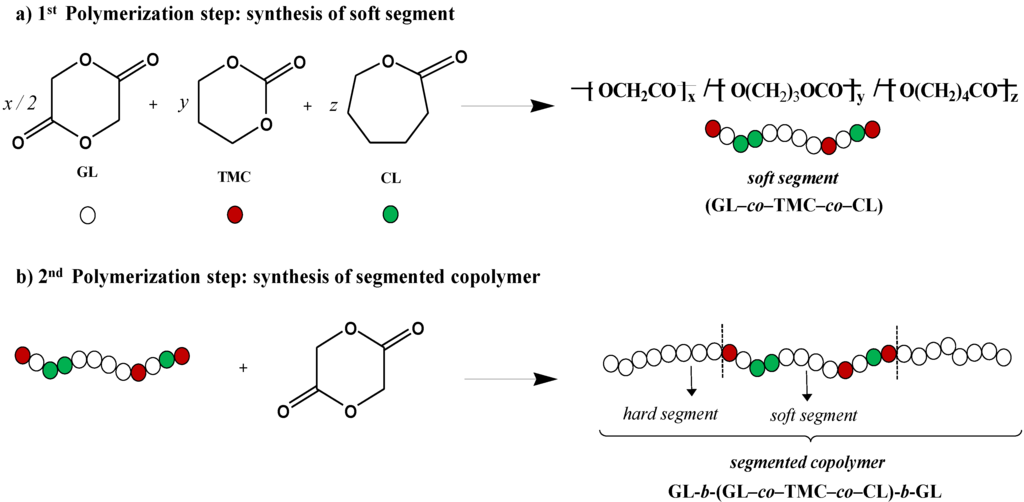 Figure 1.
Two step synthesis of GL-
b
-[GL-
co
-TMC-
co
-CL]-
b
-GL showing the chemical structure of soft and hard segments.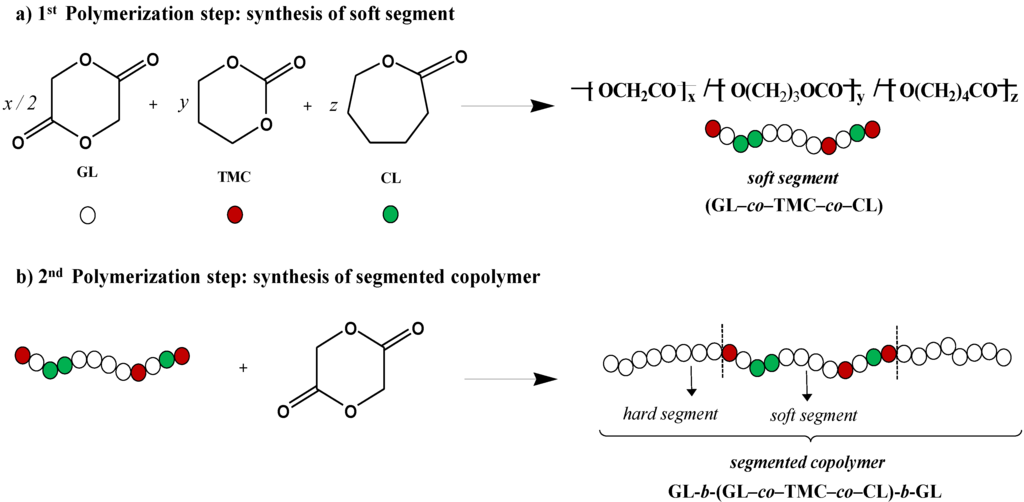 2.2. Hydrolytic Degradation
In vitro hydrolytic degradation assays were carried out at a physiological temperature of 37 °C and in the pH range from 2 to 12 using the Universal buffer (citrate-phosphate-borate/HCl) solution [30]. This was prepared by mixing 20 mL of a stock solution with x mL of 0.1 M HCl and distilled water up to a volume of 100 mL. The stock solution (1 L) contained 100 mL of citric acid, 100 mL of phosphoric acid, 3.54 g of boric acid and 343 mL of 1 M NaOH. pHs 2, 3, 4, 5, 6, 7, 8, 9, 10, 11, and 12 were attained with 74.4, 56.9, 50.7, 45.4 39.7, 32.9, 28.1, 24.0, 18.1, 14.7, and 1.3 mL (i.e., the x values) of the HCl solution, respectively.
Samples were kept under orbital shaking in bottles filled with 50 mL of the degradation medium and sodium azide (0.03 wt%) to prevent microbial growth for selected exposure times. The samples were then thoroughly rinsed with distilled water, dried to constant weight under vacuum and stored over P4O10 before analysis. Weight retention, molecular weight, and calorimetric properties were then evaluated. Degradation studies were performed in quintuplicate and the given data corresponded to the average values.
2.3. Measurements
Weight retention (Wr) of the specimens was determined by the percentage ratio of weight after degradation (Wd) to initial weight before degradation (W0):
Molecular weights were estimated by size exclusion chromatography (GPC) using a liquid chromatograph (Shimadzu, model LC-8A, Tokyo, Japan) equipped with an Empower computer program (Waters). A PL HFIP gel column (Polymer Lab) and a refractive index detector (Shimadzu RID-10A, Tokyo, Japan) were employed. The polymer was dissolved and eluted in 1,1,1,3,3,3-hexafluoroisopropanol containing CF3COONa (0.05 M) at a flow rate of 1 mL/min (injected volume 100 μL, sample concentration 2.0 mg/mL). The number and weight average molecular weights were calculated using polymethyl methacrylate standards.
Calorimetric data were obtained by differential scanning calorimetry with a TA Instruments Q100 series with Tzero technology and equipped with a refrigerated cooling system (RCS). A first heating run (20 °C/min) was performed to determine melting temperature and enthalpy, whereas a cooling run (10 °C/min) after keeping the sample in the melt state for three minutes to erase the thermal history was carried out to determine crystallization data. Experiments were conducted under a flow of dry nitrogen with a sample weight of approximately 5 mg and calibration was performed with indium. Tzero calibration required two experiments: the first was performed without samples while sapphire disks were used in the second.
Optical micrographs were taken with a Zeiss Axioskop 40 Pol light polarizing microscope (Carl Zeiss, Oberkochen, Germany) equipped with a Zeiss AxiosCam MRC5 digital camera.
Scanning electron microscopy (SEM) was employed to examine the morphology of sutures after different times of exposure to the selected degradation media. Carbon coating was accomplished with a Mitec k950 Sputter Coater (fitted with a film thickness monitor k150x (Quorum Technologies Ltd., West Sussex, UK). SEM micrographs were obtained with a Zeiss Neon 40 EsB instrument (Carl Zeiss, Oberkochen, Germany).
Time resolved SAXS experiments were carried out at the NCD beamline (BL11) of the Alba synchrotron radiation light facility of Cerdanyola del Vallès (Catalunya). The beam was monochromatized to a wavelength of 0.1 nm. Polymer samples were confined between Kapton films and then held on a Linkam THMS600 hot stage with temperature control within ± 0.1 °C. SAXS profiles were acquired during heating and cooling runs in time frames of 20 s and rates of 10 °C/min. The SAXS detector was calibrated with diffractions of a standard of a silver behenate sample. The diffraction profiles were normalized to the beam intensity and corrected considering the empty sample background.
3. Results and Discussion
4. Conclusions
Hydrolytic degradation of the segmented GL-b-[GL-co-TMC-co-CL]-b-GL copolymers took place faster after being γ irradiated despite this treatment caused also cross-linking reactions and a slight increase of the initial molecular weight. Samples exposed to hydrolytic media experienced a quick decrease of the molecular weight until a constant value was reached but weight loss was still observed for longer exposure times. The gradual increase of the pH of the media caused also a progressive acceleration of degradation due to the greater solubilization of decomposition products and the modification of the hydrolysis mechanism.
Degraded fibers showed complex morphologic changes that varied according to the pH of the medium. These changes involved the formation of longitudinal (at pHs equal to or greater than 5) and circumferential (at all pHs) cracks and peeling (at pHs between 6 and 8).
Small angle X-ray scattering patterns of degraded samples indicated a fast hydrolysis of chains placed in the interlamellar domains followed by a continuous attack to the crystalline domains. Furthermore, the existence of interfibrillar amorphous domains was clearly highlighted during exposure to neutral and basic media, namely when formation of longitudinal cracks was enhanced.
Subsequent annealing processes performed with degraded fibers demonstrated the capability to experiment a reordering process that increased the lamellar thickness and also the lamellar breadth. Specifically, the evolution of patterns allowed the detection of changes associated with lamellar tilting and structural features such as the presence of interfibrillar domains and the disposition of lamellar crystals at different levels along the fiber axis for a given cross-section.
Degraded samples were able to crystallize from the melt giving rise to aggregates with a lamellar structure that was clearly distinct from that observed in the initial fibers. Furthermore, differences were also detected between samples submitted at different levels of degradation. Specifically, lamellar thickness decreased when the hydrolytic attack was more aggressive as determined for both non-isothermally crystallized samples before and after a subsequent thermal annealing process.
Acknowledgments
Authors are in debt to supports from MINECO and FEDER (MAT2012-36205) and the Generalitat de Catalunya (2014SGR188). The work has also been carried out under a research agreement between B. Braun Surgical, S.A. and the Universitat Politècnica de Catalunya. Yolanda Márquez thanks financial support from B. Braun Surgical, S.A. Diffraction experiments were performed at NCD beamline at ALBA Synchrotron with the collaboration of ALBA staff.
Author Contributions
Yolanda Márquez performed the experiments. Juan Carlos Martínez collaborated in the acquisition and analysis of synchrotron data. Pau Turon, Lourdes Franco and Jordi Puiggalí directed the research. Jordi Puiggalí wrote the manuscript. All authors discussed the results and edited the manuscript.
Conflicts of Interest
The authors declare no conflict of interest.
© 2015 by the authors; licensee MDPI, Basel, Switzerland. This article is an open access article distributed under the terms and conditions of the Creative Commons Attribution license (http://creativecommons.org/licenses/by/4.0/).