Open Access This article is
freely available
re-usable
Article
Oscillating Magnetic Drop: How to Grade Water-Repellent Surfaces
1
Department of Physics, Florida State University, Tallahassee, FL 32306, USA
2
Biocolloid and Fluid Physics Group, Applied Physics Department, Faculty of Sciences, University of Granada, 18071 Granada, Spain
*
Author to whom correspondence should be addressed.
Received: 19 February 2019 / Accepted: 17 April 2019 / Published: 21 April 2019
Abstract
:
Evaluation of superhydrophobic (SH) surfaces based on contact angle measurements is challenging due to the high mobility of drops and the resolution limits of optical goniometry. For this reason, some alternatives to drop-shape methods have been proposed such as the damped-oscillatory motion of ferrofluid sessile drops produced by an external magnetic field. This approach provides information on surface friction (lateral/shear adhesion) from the kinetic energy dissipation of the drop. In this work, we used this method to compare the low adhesion of four commercial SH coatings (Neverwet, WX2100, Ultraever dry, Hydrobead) formed on glass substrates. As ferrofluid, we used a maghemite aqueous suspension (2%
v
/
v
) synthesized ad hoc. The rolling magnetic drop is used as a probe to explore shear solid–liquid adhesion. Additionally, drop energy dissipates due to velocity-dependent viscous stresses developed close to the solid–liquid interface. By fitting the damped harmonic oscillations, we estimated the decay time on each coating. The SH coatings were statistically different by using the mean damping time. The differences found between SH coatings could be ascribed to surface–drop adhesion (contact angle hysteresis and apparent contact area). By using this methodology, we were able to grade meaningfully the liquid-repelling properties of superhydrophobic surfaces.
Keywords:
water-repellent surfaces; ferrofluid drop; magnetic field; damped harmonic oscillation
1. Introduction
Liquid-repellent surfaces are identified as surfaces with low contact angle hysteresis (<10°) and high contact angles (>150°) [
1
]. Hysteresis is directly related to the energy cost during the total or partial detachment of a drop from a solid surface. Preparation of superhydrophobic (SH) surfaces is well-established and their water repelling property is commonly evaluated with contact angle or critical sliding angle measurements by using optical goniometry, as happens with the tilting plate method (inclined sessile drop) [
2
]. However, although this method is useful to illustrate water repellency, it provides low-resolution values of contact angle or critical sliding angle for SH surfaces. The difficult localization of the contact points of non-wetting drops, the insufficient resolution for high contact angles with both the conventional optical devices and numerical fitting of drop profiles [
3
], the resolution of standard inclinometers working at very low tilt angles (<5°) and the monitoring of "restless" drops placed on SH surfaces [
4
] required to establish new methodologies. Since the high drop mobility observed on a surface reveals its liquid repellency, the kinetic energy dissipation of a moving sessile drop might quantify the surface friction due to adhesion hysteresis.
A magnetic drop can be manipulated with an external magnetic field (magneto-wetting) [
5
,
6
,
7
,
8
,
9
,
10
,
11
]. The damped-oscillatory motion of a water-based ferrofluid sessile drop driven by a fixed permanent magnet [
12
] might be used to evaluate experimentally, without further theoretical treatment, the water repellency of non-magnetizable SH surfaces. It is known that, on SH surfaces, a moving sessile drop really rolls, it does not slide [
13
]. Far from the contact region, the rolling drop moves in a similar way to a rolling rigid-solid. This way, the bulk effect of viscosity may be ignored and the viscous forces mainly act near the contact area [
14
]. Moreover, this viscous dissipation is further reduced on SH surfaces where the actual drop contact area is particularly low. This approach is different to the viscous forces considered by Timonen et al. [
12
]. Otherwise, solid–liquid adhesion friction depends on contact angle hysteresis and contact line length of the drop. In this scenario, the plausible differences found with moving drops on SH surfaces would be exclusive to the surface-drop interaction.
In this work, we compared four commercial SH coatings on glass by using the decay time of an oscillating ferrofluid drop released far from its equilibrium. We found the optimal magnetic field to minimize the drop shape distortion and to reproduce longer oscillating motions. We studied the dependence of the damping time on the surface-drop contact area and the drop volume.
4. Discussion
Direct contact angle and hysteresis measurements of large drops (100 µL) showed that all the coatings were superhydrophobic, but this methodology was unable to identify the more efficient coating. Furthermore, the mapping of average contact angle of small drops (5 µL) in motion in terms of their contact area evidenced the contact angle hysteresis of each surface, but it did not resolve the corresponding water-repelling property. Instead, we were able to grade meaningfully non-magnetizable superhydrophobic surfaces by using the damping time of oscillating magnetic drops ruled by the solid–liquid shear adhesion. We confirmed that this method is more sensitive than goniometry-based methods to validate superhydrophobic surfaces. We recommend using small drops (5–10 µL) of dilute aqueous ferrofluids (2%
v
/
v
). Moreover, an intense magnetic field (peak value of 50 mT) is recommended to produce a damped oscillating motion with minor changes in the average contact area and contact angle of the drop as compared to the magnetic field-off case. Further work should be addressed to explore the relationship between the damping time of water-repellent surfaces and their contact angle hysteresis, measured with force-based techniques.
Author Contributions
Conceptualization, M.A.R.V. and M.A.C.-V; Methodology, A.G.D.S., F.V. and F.J.M.-R.C.; Writing—Original Draft Preparation, M.A.R.V. and F.J.M.-R.C.; Writing—Review and Editing, M.A.R.V. and F.J.M.-R.C.; Supervision, M.A.R.V. and M.A.C.-V.; Project Administration, M.A.R.V and M.A.C.-V.; Funding Acquisition, M.R.V. and M.A.C.-V.
Funding
This research was financed by the State Research Agency (SRA) and European Regional Development Fund (ERDF) through the project MAT2017-82182-R. Fernando Vereda acknowledges financial support from MAT 2016-78778-R and PCIN-2015-051 projects (Spain).
Acknowledgments
We acknowledge Juan de Vicente (UGR) for the assistance in the measurements of magnetic field strength with teslameter.
Conflicts of Interest
The authors declare no conflict of interest.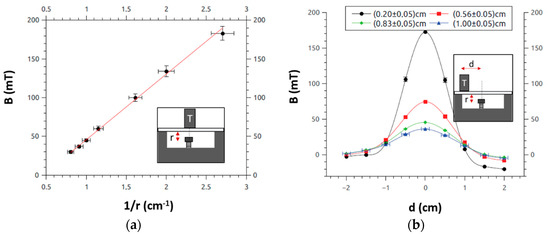 Figure 2. (a) Maximum magnetic field strength (measured at the magnet axis) as a function of the inverse of the surface-to-magnet distance. (b) Magnetic field strength at different horizontal positions on the sample stage from the magnet axis. The symbol "T" in the insets stands for the position of the Teslameter probe.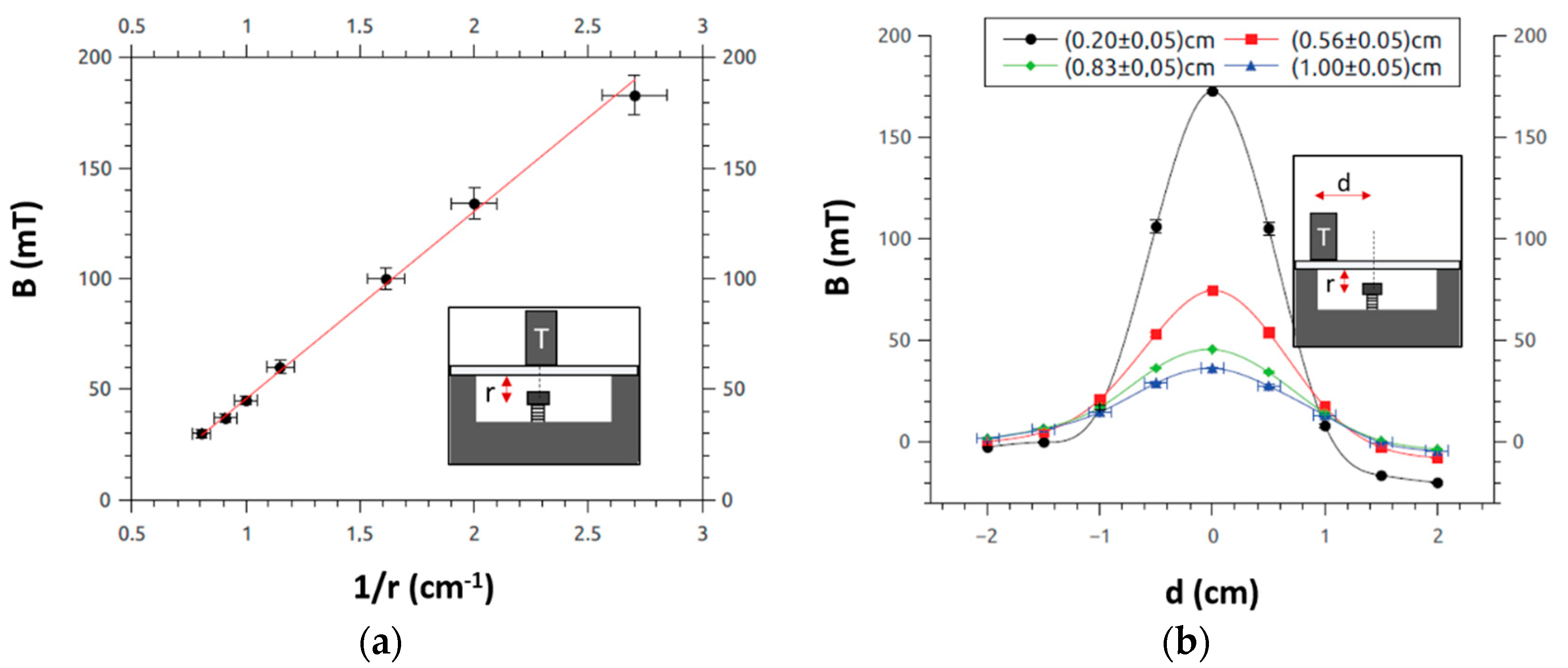 Figure 3. Shape distortion induced by the external magnetic field on an oscillating drop over a Hydrobead coating: (a) inverse of the average contact area versus the surface-to-magnet distance; and (b) the average contact angle as a function of the average contact area.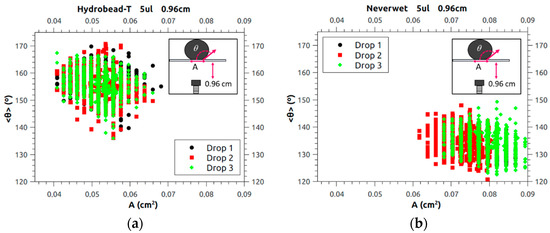 Figure 4. Average dynamic contact angle (measured at both sides of the drop) in terms of the instantaneous contact area for 5 µL-magnetic drops oscillating over glass slides coated with Hydrobead (a) and Neverwet (b). Each parameter was determined by image analysis of the single frames captured during the complete drop motion.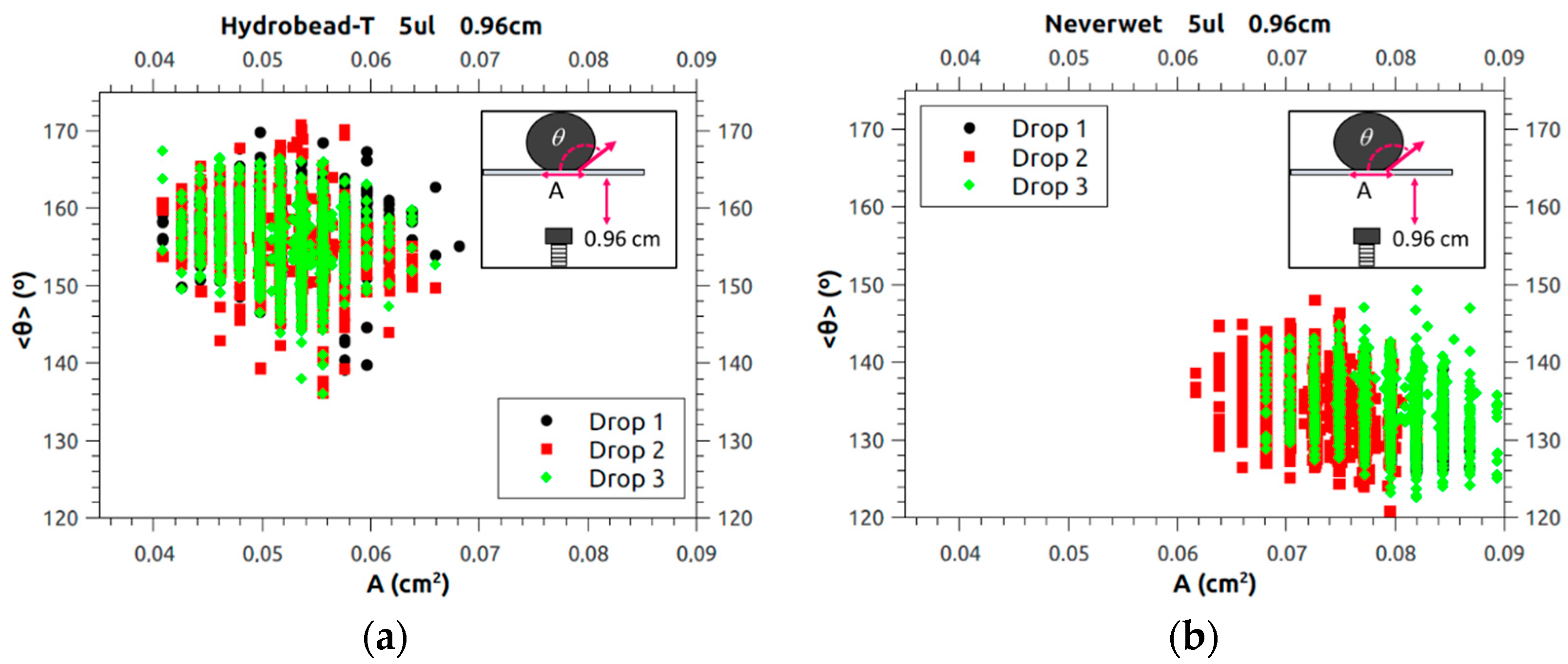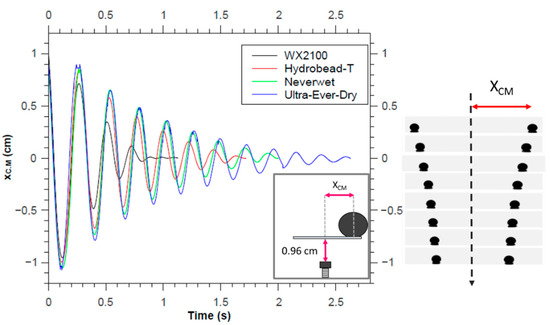 Figure 5.
Damped oscillating motion of 5 µL-magnetic drops on the SH coatings, for a surface-to-magnet distance of 0.96 cm. The
X
CM
corresponds to the horizontal deviation of the drop centroid from the equilibrium (primary magnet position).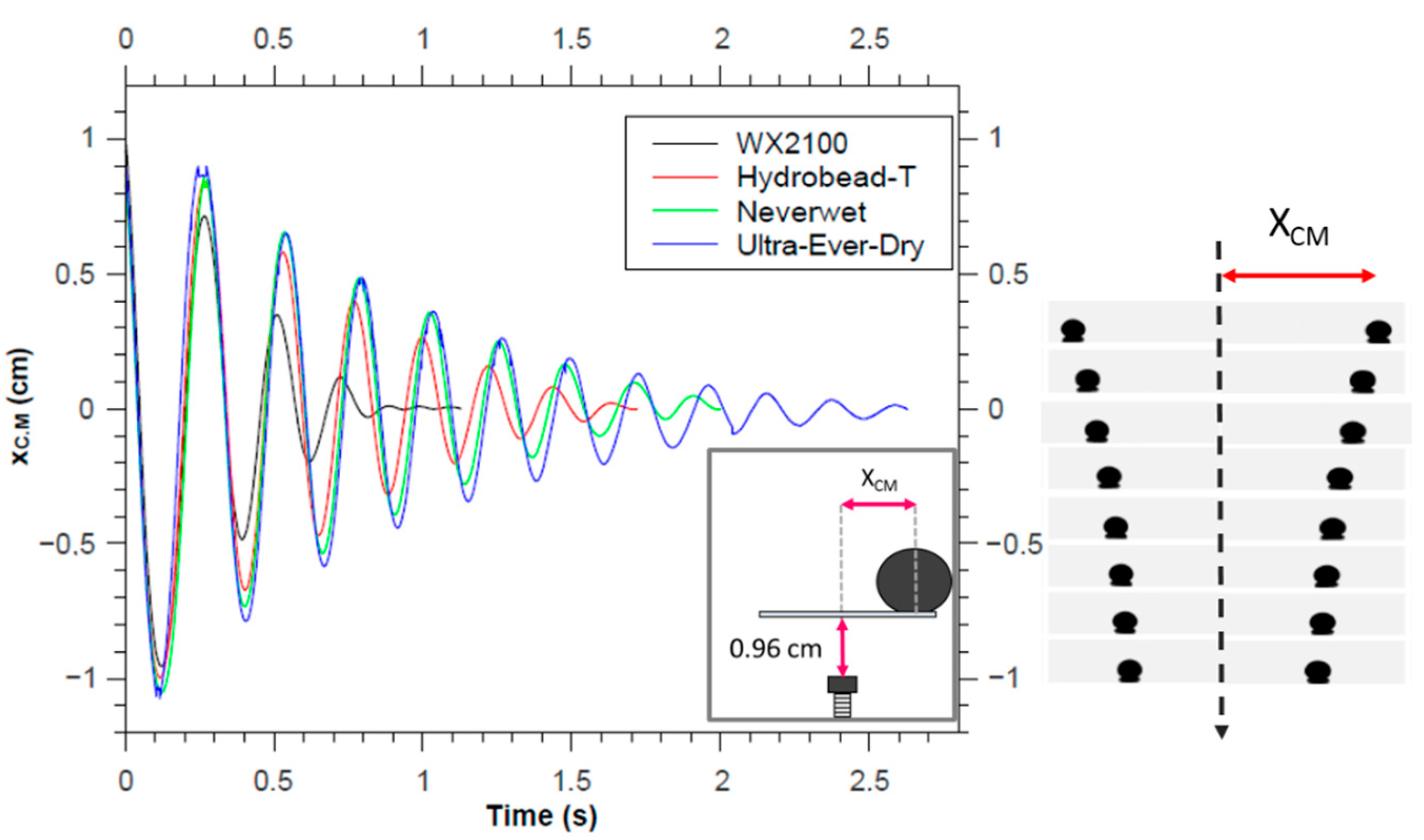 Figure 6.
(
a
) Inverse of the damping time (1/τ) of 5 µL-magnetic drops versus the average contact area (<
A
>), changed through the external magnetic field, on the Hydrobead coating. (
b
) Linear fit to the section of the same curve corresponding to low average areas (small fields, large surface-to-magnet distances).


Table 1. Contact angles of Milli-Q water drops (100 µL) measured with the tilting plane method on the Superhydrophobic (SH) coatings. ACA: Advancing Contact Angle, RCA: Receding Contact Angle and CAH: Contact Angle Hysteresis.
| Coating | ACA (°) | RCA (°) | CAH (°) |
| --- | --- | --- | --- |
| WX-2100 | 149 ± 2 | 147 ± 4 | 2 ± 6 |
| Hydrobead | 152 ± 1 | 146 ± 3 | 6 ± 4 |
| Ultra-Ever-Dry | 148 ± 2 | 146 ± 2 | 2 ± 4 |
| Neverwet | 151 ± 3 | 148 ± 3 | 3 ± 6 |

Table 2.
Values of the mean contact area (<
A
>) during the complete drop motion (5 µL) on the SH coatings.
Coating
<

A

> (mm2)
WX-2100
5.7 ± 0.4
Hydrobead
5.2 ± 0.4
Ultra-Ever-Dry
5.1 ± 0.4
Neverwet
7.8 ± 0.4
| Coating | τ (s)-5 µL | τ (s)-10 µL |
| --- | --- | --- |
| WX-2100 | 0.25 ± 0.04 | 0.40 ± 0.03 |
| Hydrobead | 0.61 ± 0.05 | 0.61 ± 0.06 |
| Ultra-Ever-Dry | 0.70 ± 0.10 | 0.84 ± 0.10 |
| Neverwet | 0.66 ± 0.04 | 0.52 ± 0.09 |
Coating
1/(τ<

A

>) (cm−2 s−1)-5 µL
1/(τ<

A

>) (cm−2 s−1)-10 µL
WX-2100
70 ± 16
33 ± 7
Hydrobead
32 ± 5
23 ± 9
Ultra-Ever-Dry
28 ± 6
17 ± 3
Neverwet
19 ± 2
19 ± 5

© 2019 by the authors. Licensee MDPI, Basel, Switzerland. This article is an open access article distributed under the terms and conditions of the Creative Commons Attribution (CC BY) license (http://creativecommons.org/licenses/by/4.0/).