The Properties of Zn-Doped AlSb Thin Films Prepared by Pulsed Laser Deposition
1
College of Materials Science and Engineering, Sichuan University, Chengdu 610064, China
2
Guangxi Key Laboratory of Automatic Detecting Technology and Instruments, Guilin University of Electronic Technology, Guilin 541004, China
3
State Key Laboratory of Optical Technologies on Nano-Fabrication and Micro-Engineering, Institute of Optics and Electronics, Chinese Academy of Sciences, P.O. Box 350, Chengdu 610209, China
*
Author to whom correspondence should be addressed.
†
These authors contributed equally to this work.
Received: 24 December 2018 / Revised: 4 February 2019 / Accepted: 8 February 2019 / Published: 20 February 2019
Abstract
Aluminum antimony (AlSb) is a promising photovoltaic material with a band gap of about 1.62 eV. However, AlSb is highly deliquescent and not stable, which has brought great difficulties to the applications. Based on the above situation, there are two purposes for preparing our Zn-doped AlSb (AlSb:Zn) thin films: One is to make P-type AlSb and the other is to find a way to suppress the deliquescence of AlSb. The AlSb:Zn thin films were prepared on glass substrates at different substrate temperatures by using the pulsed laser deposition (PLD) method. The structural, surface morphological, optical, and electrical properties of AlSb:Zn films were investigated. The crystallization of AlSb:Zn thin films was enhanced and the electrical resistivity decreased as the substrate temperature increased. The scanning electron microscopy (SEM) images indicated that the grain sizes became bigger as the substrate temperatures increased. The Raman vibration mode AlSb:Zn films were located at ~107 and ~142 cm
−1
and the intensity of Raman peaks was stronger at higher substrate temperatures. In the experiment, a reduced band gap (1.4 eV) of the AlSb:Zn thin film was observed compared to the undoped AlSb films, which were more suitable for thin-film solar cells. Zn doping could reduce the deliquescent speed of AlSb thin films. The fabricated heterojunction device showed the good rectification behavior, which indicated the PN junction formation. The obvious photovoltaic effect has been observed in an FTO/ZnS/AlSb:Zn/Au device.
View Full-Text
►

▼

Figures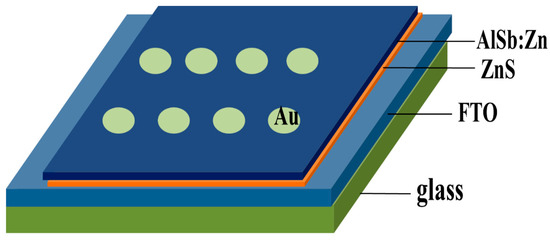 Figure 1
This is an open access article distributed under the
Creative Commons Attribution License
which permits unrestricted use, distribution, and reproduction in any medium, provided the original work is properly cited (CC BY 4.0).

Share & Cite This Article
MDPI and ACS Style
Tang, P.; Wang, W.; Li, B.; Feng, L.; Zeng, G. The Properties of Zn-Doped AlSb Thin Films Prepared by Pulsed Laser Deposition. Coatings 2019, 9, 136.
Note that from the first issue of 2016, MDPI journals use article numbers instead of page numbers. See further details here.
Related Articles
Comments
[Return to top]