Self-Saturable Absorption and Reverse-Saturable Absorption Effects in Diamond-Like Carbon Films with Embedded Copper Nanoparticles
1
Institute of Materials Science, Kaunas University of Technology, K. Baršausko Str. 59, LT-51423 Kaunas, Lithuania
2
JSC Ekspla, Savanorių Str. 237, LT-02300 Vilnius, Lithuania
*
Author to whom correspondence should be addressed.
Received: 18 December 2018 / Revised: 18 January 2019 / Accepted: 2 February 2019 / Published: 7 February 2019
Abstract
Nonlinear optical properties (self-saturable absorption and reverse-saturable absorption) of diamond-like carbon films with variable amounts of embedded copper nanoparticle (DLC:Cu) films deposited by high power pulse magnetron sputtering were studied in dependence on deposition conditions. X-ray photoelectron spectroscopy was used to study elemental composition and He ion microscopy to study changes of the size, shape, and concentration of the Cu nanoparticles deposited using different pulse currents as well as argon and acetylene gas ratios. Raman scattering spectra of DLC:Cu films studied were typical of diamond-like carbon (including the films with a high Cu atomic concentration where it was up to 60 atom % and carbon atomic concentration was less than 20 atom %). In all cases, in the absorption spectra of DLC:Cu films, the surface plasmon resonance-related peak was recorded. The position of the plasmonic peak for all the deposited nanocomposite films was in a 590–620 nm range. For the samples containing lower amounts of copper, reverse-saturable absorption was found. Transient optical absorption measurements have shown that the reverse-saturable absorption is typical for the samples with a lower relaxation time. The longer relaxation times recorded during transient optical absorption measurements correlated with the presence of the saturable absorption effect. For DLC:Cu samples containing 58–62 atom % Cu, some optical inhomogeneities were observed. The samples in different places demonstrated either saturable absorption or reverse-saturable absorption. The presence of both saturable and reverse-saturable absorption effects in the same sample is explained by the lateral inhomogeneities of the DLC:Cu films.
View Full-Text
►

▼

Figures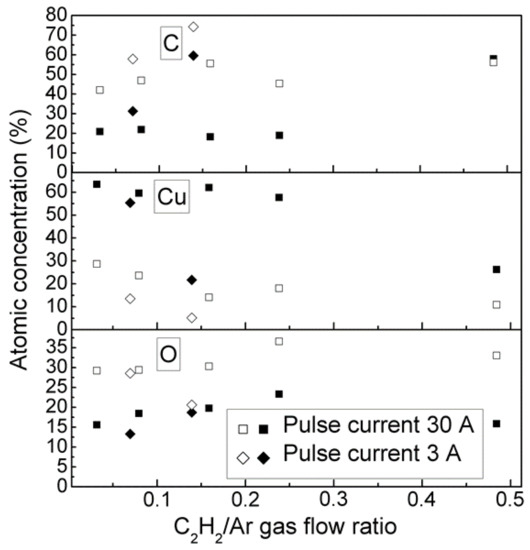 Figure 1
This is an open access article distributed under the
Creative Commons Attribution License
which permits unrestricted use, distribution, and reproduction in any medium, provided the original work is properly cited (CC BY 4.0).

Share & Cite This Article
MDPI and ACS Style
Meškinis, Š.; Vasiliauskas, A.; Andrulevičius, M.; Jurkevičiūtė, A.; Peckus, D.; Kopustinskas, V.; Viskontas, K.; Tamulevičius, S. Self-Saturable Absorption and Reverse-Saturable Absorption Effects in Diamond-Like Carbon Films with Embedded Copper Nanoparticles. Coatings 2019, 9, 100.
Note that from the first issue of 2016, MDPI journals use article numbers instead of page numbers. See further details here.
Related Articles
Comments
[Return to top]