Stainless Steel Surface Coating with Nanocrystalline Ag Film by Plasma Electrolysis Technology
1
Department of Mechanical Engineering, Cheng Shiu University, No.840, Chengcing Rd., Niaosong Dist., Kaohsiung City 83347, Taiwan
2
Department of Mechanical Engineering, National Kaohsiung University of Science and Technology, No.415, Chien Kung Rd., Sanmin Dist., Kaohsiung City 80778, Taiwan
3
Department of Electrical Engineering Cheng Shiu University, No.840, Chengcing Rd., Niaosong Dist., Kaohsiung City 83347, Taiwan
*
Authors to whom correspondence should be addressed.
Received: 28 May 2018 / Revised: 12 June 2018 / Accepted: 15 June 2018 / Published: 17 June 2018
Abstract
This paper describes the use of a plasma electrolysis technique to apply a nanosilver coating to the surface of stainless steel to achieve hydrophobic properties. We propose an experimental reaction system, which includes stainless steel 316 as the two electrodes and an aqueous solution of potassium nitrate (KNO
3
), silver nitrate (AgNO
3
), and ammonium hydroxide (NH
4
OH) as the electrolyte. Better results with a stainless steel surface coated by nanocrystalline Ag film are obtained using optimal parameters chosen through one-factor-at-a-time experiments. The main parameters consist of electrode distance, KNO
3
concentration, and AgNO
3
concentration. The experiment focuses on analyzing the impact of the plasma electrolysis technique on processing time. Variations in KNO
3
concentration show that 3 wt.% yields the worst result because it causes an uneven surface, whereas 5 wt.% gives excellent results because it creates an even, porous surface and the highest contact angle. An AgNO
3
concentration of 0.03 wt.% yields the best contact angle. With the same processing time, silver sediment increases as the KNO
3
concentration increases. With respect to variation in electrode distance, we find that when the distance is set at 20 mm, the contact angle exceeds 100° and results in hydrophobic properties on the specimen surface, while other distances yield a contact angle below 80°, resulting in hydrophilic surfaces. The SEM (scanning electron microscope) results show that the surface of the specimen is full of crater-like cavities that directly affect the contact angle. In this experiment, the contact angle yielding optimum hydrophobic properties is 134° ± 10°. Finally, using distribution patterns obtained by elemental analysis, the experimental results lead to an evenly distributed silver coating on the surface of specimens subjected to plasma electrolysis treatment. The study confirms that plasma electrolysis can be used to coat nanosilver onto stainless steel 316.
View Full-Text
►

▼

Figures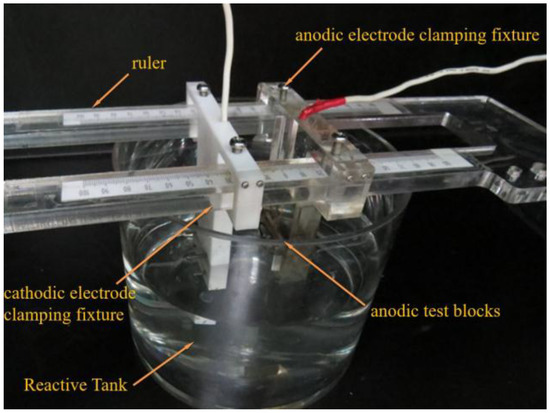 Figure 1
This is an open access article distributed under the
Creative Commons Attribution License
which permits unrestricted use, distribution, and reproduction in any medium, provided the original work is properly cited (CC BY 4.0).

Share & Cite This Article
MDPI and ACS Style
Lin, A.-D.; Kung, C.-L.; Cao, Y.-Q.; Hsu, C.-M.; Chen, C.-Y. Stainless Steel Surface Coating with Nanocrystalline Ag Film by Plasma Electrolysis Technology. Coatings 2018, 8, 222.
Note that from the first issue of 2016, MDPI journals use article numbers instead of page numbers. See further details here.
Related Articles
Comments
[Return to top]