Open Access This article is
freely available
re-usable
Article
Effect of Untampered Plasma Coating and Surface Texturing on Friction and Running-in Behavior of Piston Rings
Department of Mechanical Engineering, Louisiana State University, Baton Rouge, LA 70803, USA
*
Author to whom correspondence should be addressed.
Received: 17 February 2018 / Accepted: 16 March 2018 / Published: 19 March 2018
Abstract
:
The running-in behavior and the associated transient friction characteristics of a piston ring with different surface treatments are experimentally evaluated using a custom-made engine testing apparatus. Results are reported for a series of running-in and steady-state experiments on piston rings with different combinations of coated and textured surfaces. Comparisons are provided between five different types of piston rings: (1) with no textures; (2) with textures only; (3) with coating only; (4) first textured and then coated; and (5) first coated and then textured. A combination of the texturing and coating showed 12.5% improvement in the frictional behavior and up to 50% improvement in break-in time compared to cases when only one surface treatment was applied.
Keywords:
piston rings; plasma coating; surface laser texturing; engine's friction; running-in
2. Materials and Methods
2.1. Experimental Setup
A custom-built engine testing apparatus with a reciprocating piston instrumented for friction measurement was used to conduct the experiments. The apparatus was equipped with a diesel engine piston, piston rings, cylinder liner, and connecting rod. An electric motor drives the crankshaft through a set of pulleys. Rotation of crankshaft creates a reciprocating movement of the piston assembly. The pulley drive ratio is 3.4:2.5. A larger pulley connected to the crankshaft also functions as a flywheel to smooth the motion of the piston. To achieve smooth motion in the axial direction, the cylinder liner should remain in the center position. For this purpose, each lateral support is equipped with two ball bearings.
Figure 1
shows the schematic of the test rig.
Similar to the lubrication system of a real engine, a nozzle sprays the lubricant on the lower surface of the piston and cylinder liner. Holes in the piston deliver the lubricant to the cylinder wall and lubrication is regulated by the oil control rings [
16
]. A full description of the experimental setup can be found in [
16
].
3. Results and Discussion
Clearly, significant savings in power loss can be obtained by surface treatment via coating and texturing, both of which reduce the running-in time, the transient, as well as the steady-state friction. By texturing first and then coating the piston ring, the performance can be optimized. Future research should be directed to examine the coating lifetime during long-term tests.
4. Conclusions
Plasma coating and micro-pockets with optimal geometries were selected based on a previous study [
15
] and fabricated on the running surface of compression rings using a laser. The results show that the combination of coating and texturing not only reduced the running-in time but also yielded the lowest piston ring frictional force in an engine test. Specifically, a 15% reduction in friction force was observed where the piston rings were textured and then coated. The close second best behavior was observed when the rings were coated and then textured. At higher speeds, the difference between the rings sets with coating and texturing was reduced. Texturing and coating alone would also improve frictional behavior as well. The friction test results showed that the combination of coating and laser texturing yielded a reduction of 11%‒15% in the total friction between the cylinder liner and piston assembly over a wide range of speed. Also noteworthy is the favorable results of 40% reduction in the break-in duration when the combination of coating and texturing was applied.
Acknowledgments
This work was conducted at LSU Center for Rotating Machinery. The assistance of Cong Shen in the design of the original engine test rig and texture configuration is gratefully acknowledged.
Author Contributions
A. Akbarzadeh and M. M. Khonsari conceived the original idea and designed the experiment. A. Akbarzadeh carried out the experiments and analyzed the data. M. M. Khonsari supervise the project.
Conflicts of Interest
The authors declare no conflict of interest.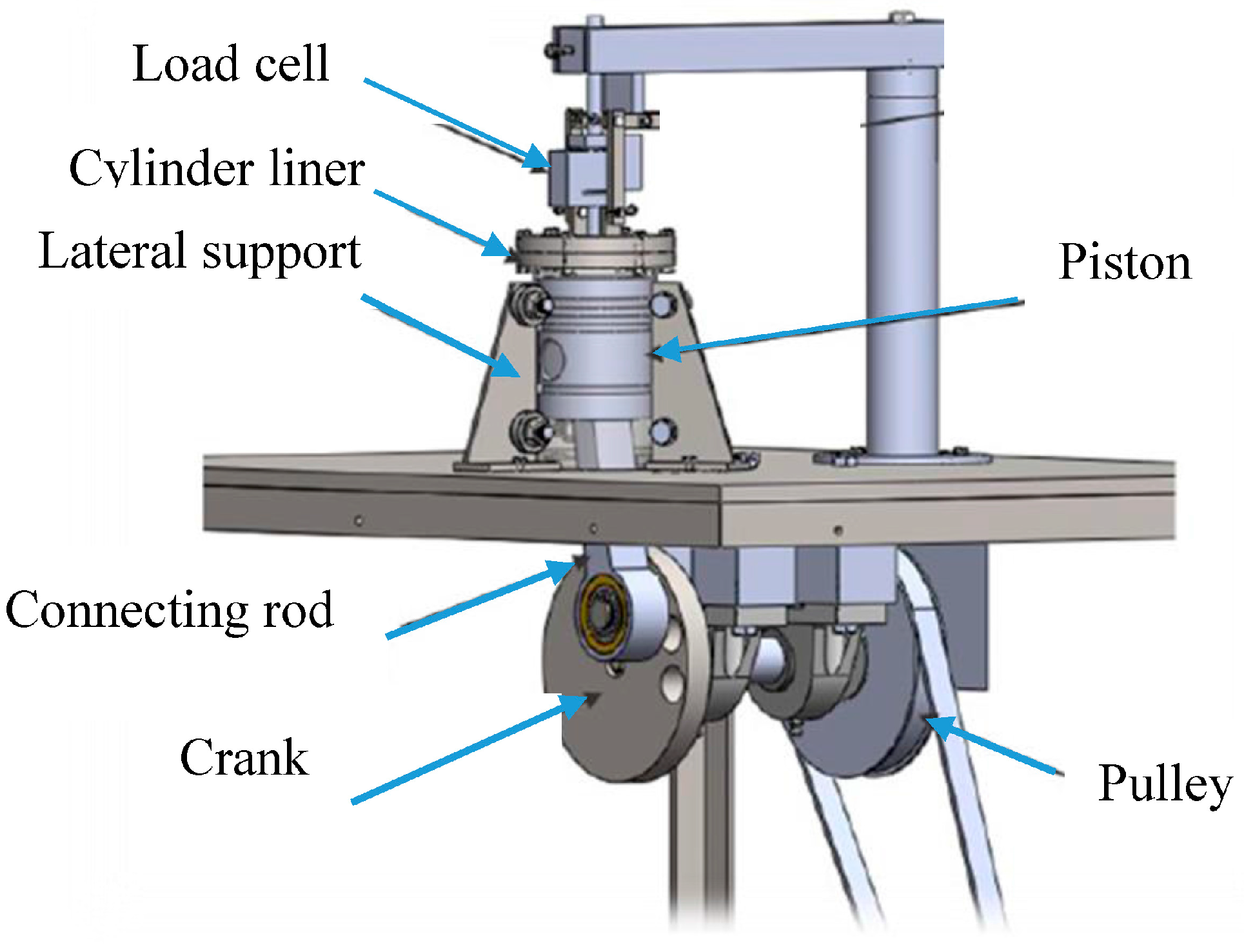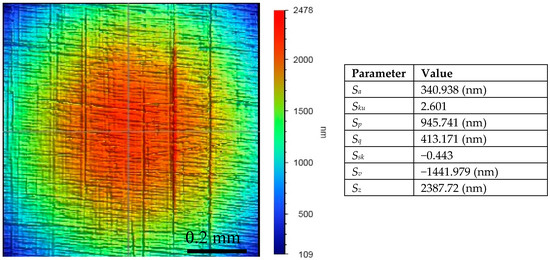 Figure 2. Surface profile of an untreated pressure ring. Surface roughness parameters are given in the right table.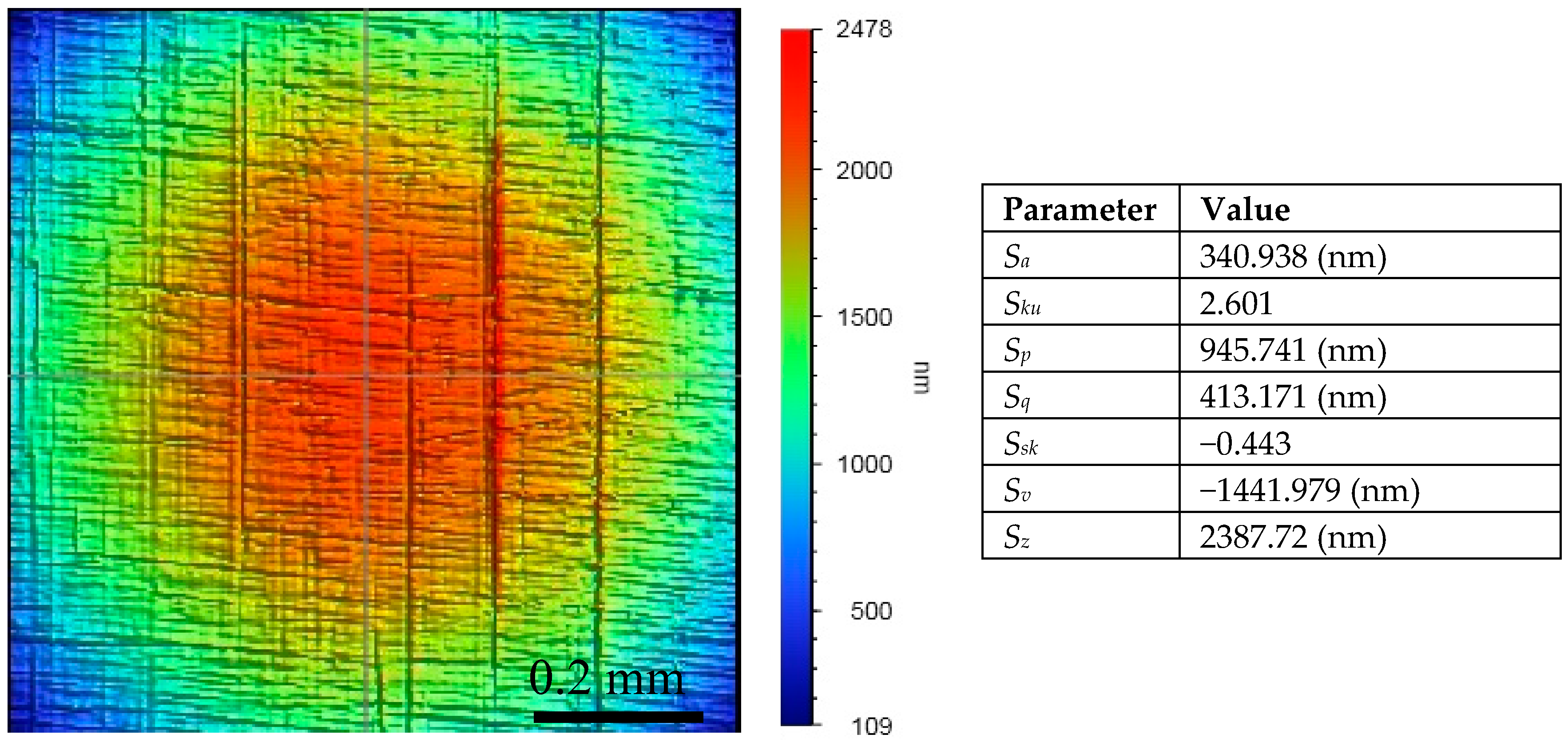 Figure 3.
Image of pocketed compression ring [
14
].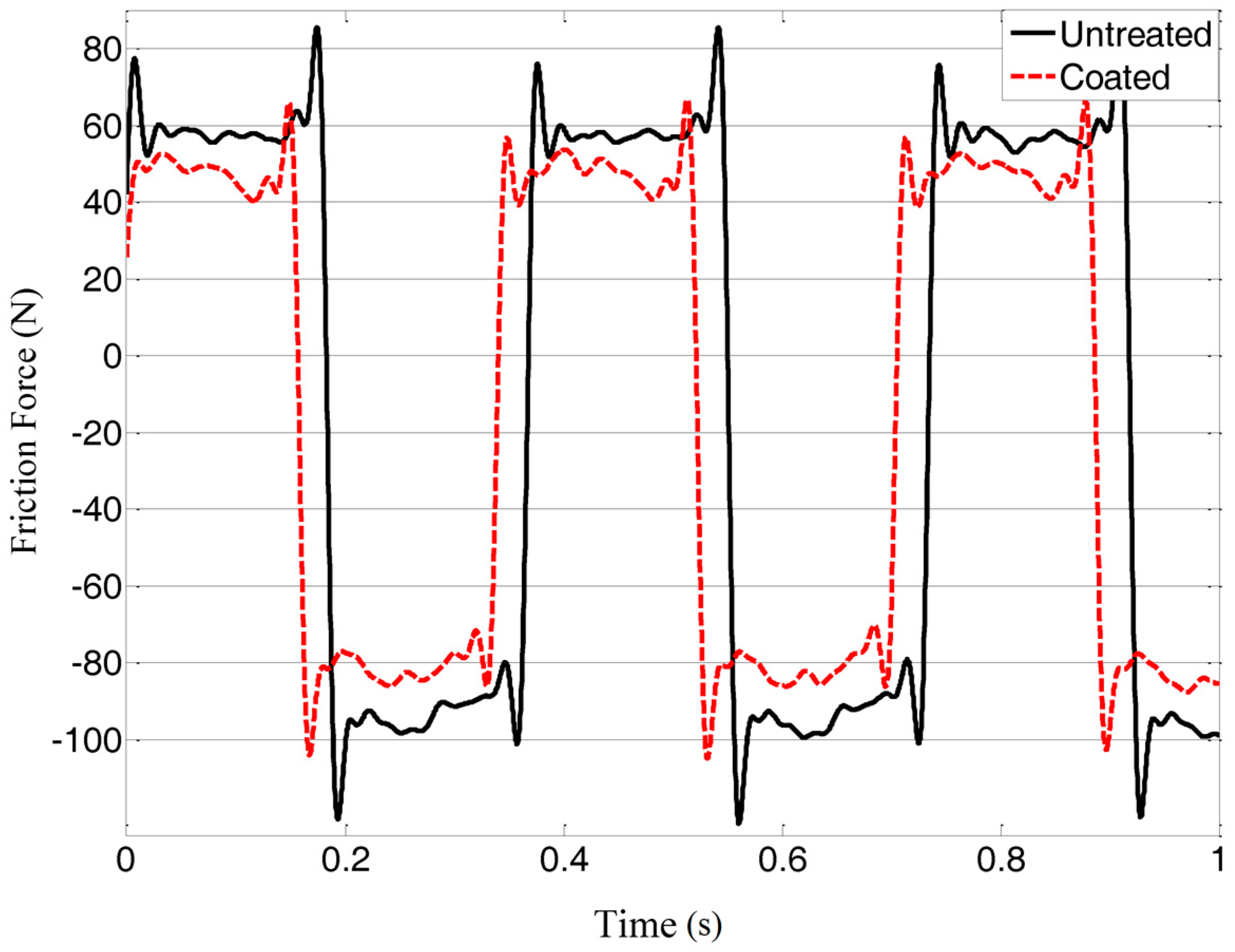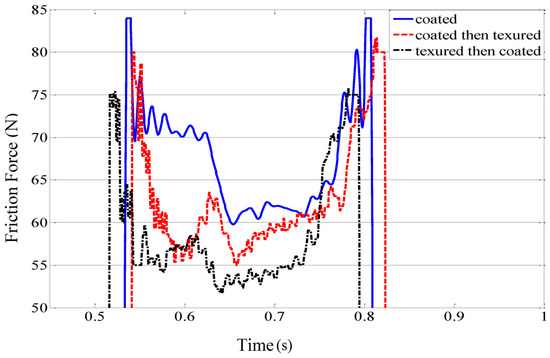 Figure 5. Magnified picture of friction force versus time at 120 rpm for coated, coated and textured, and textured and coated rings.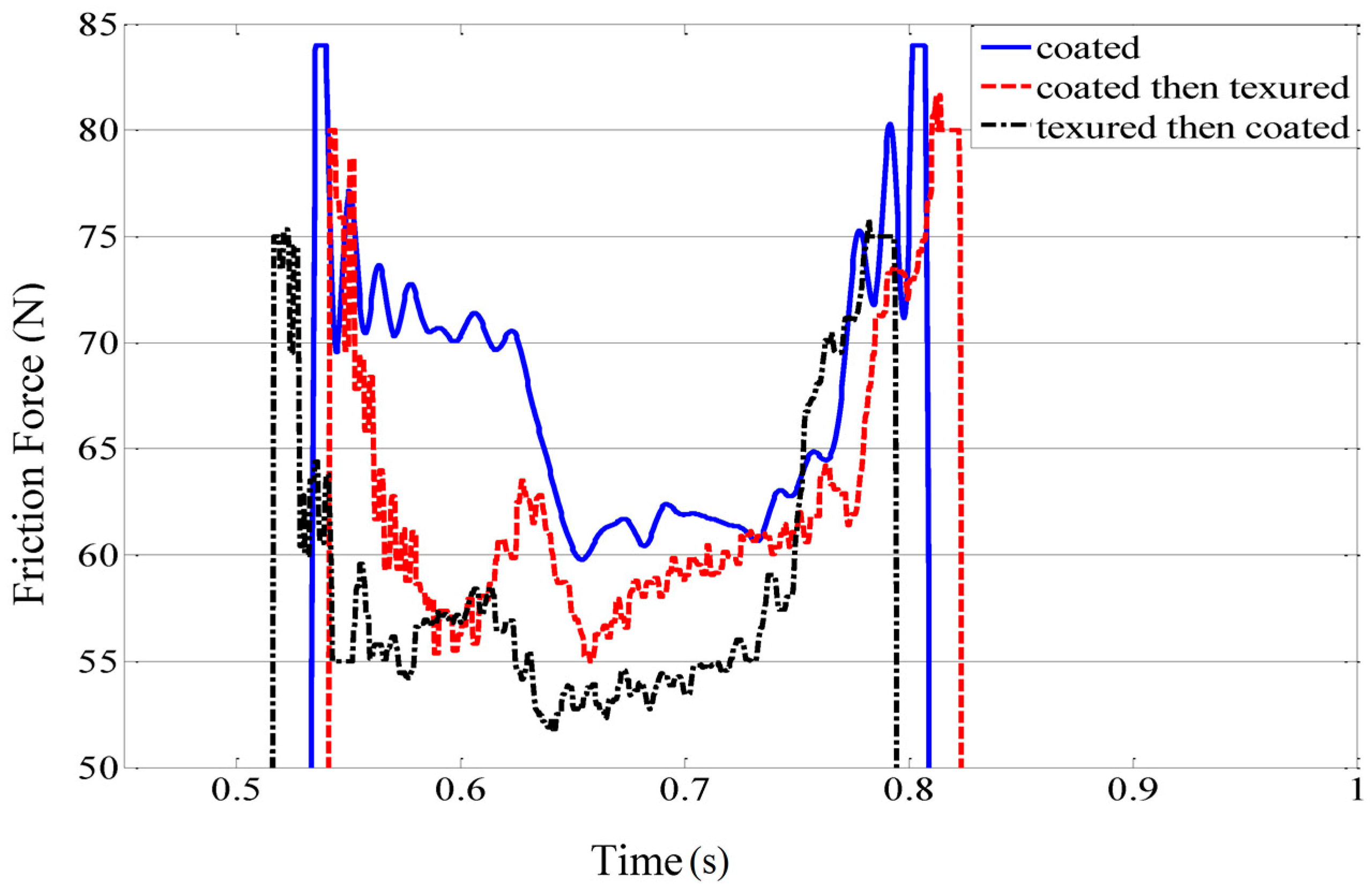 Figure 6. Magnified picture of friction force versus time at speed of 600 rpm for coated, coated and textured, and textured and coated rings.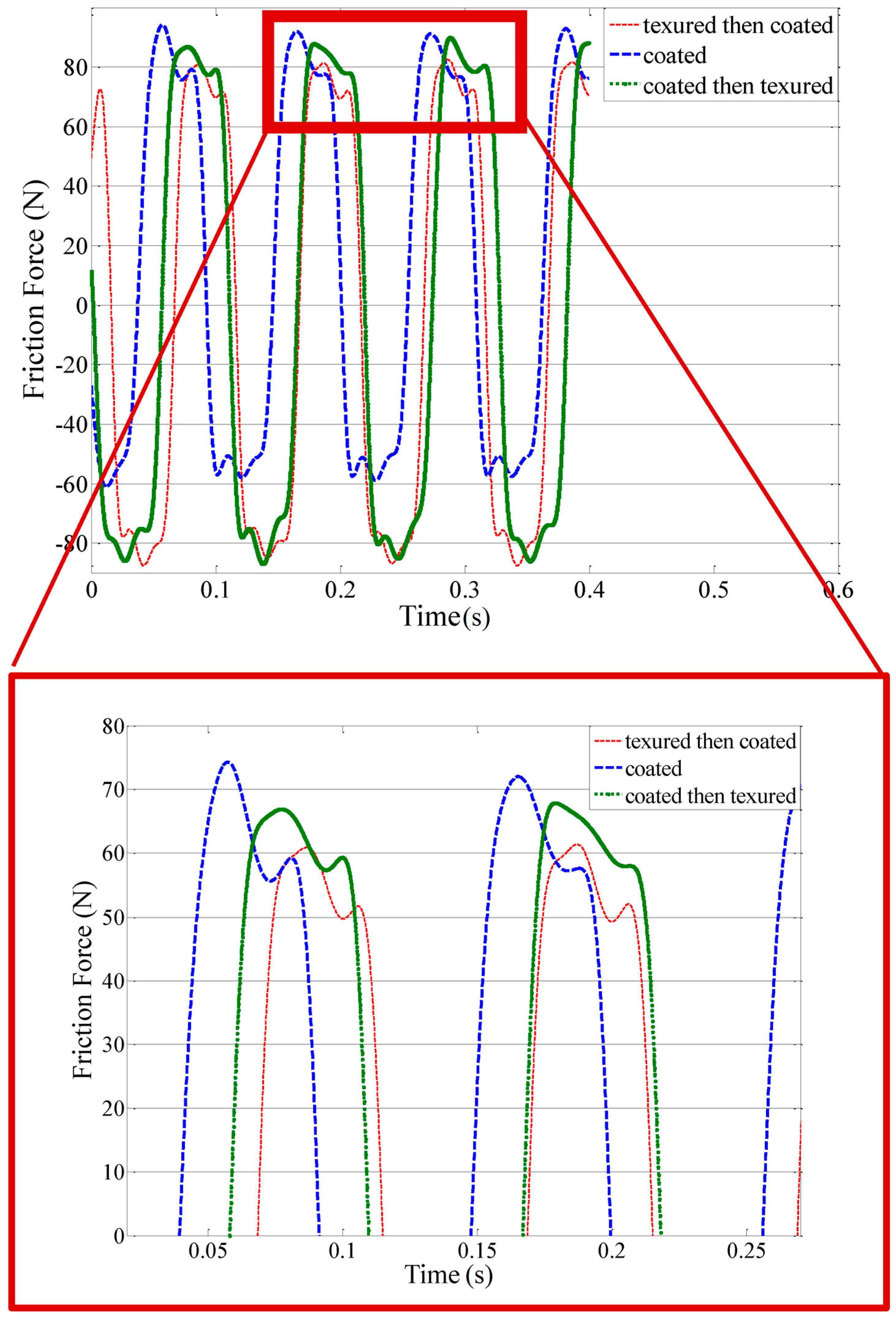 Figure 7. Running-in behavior of textured, coated, coated-textured, and textured-coated piston rings.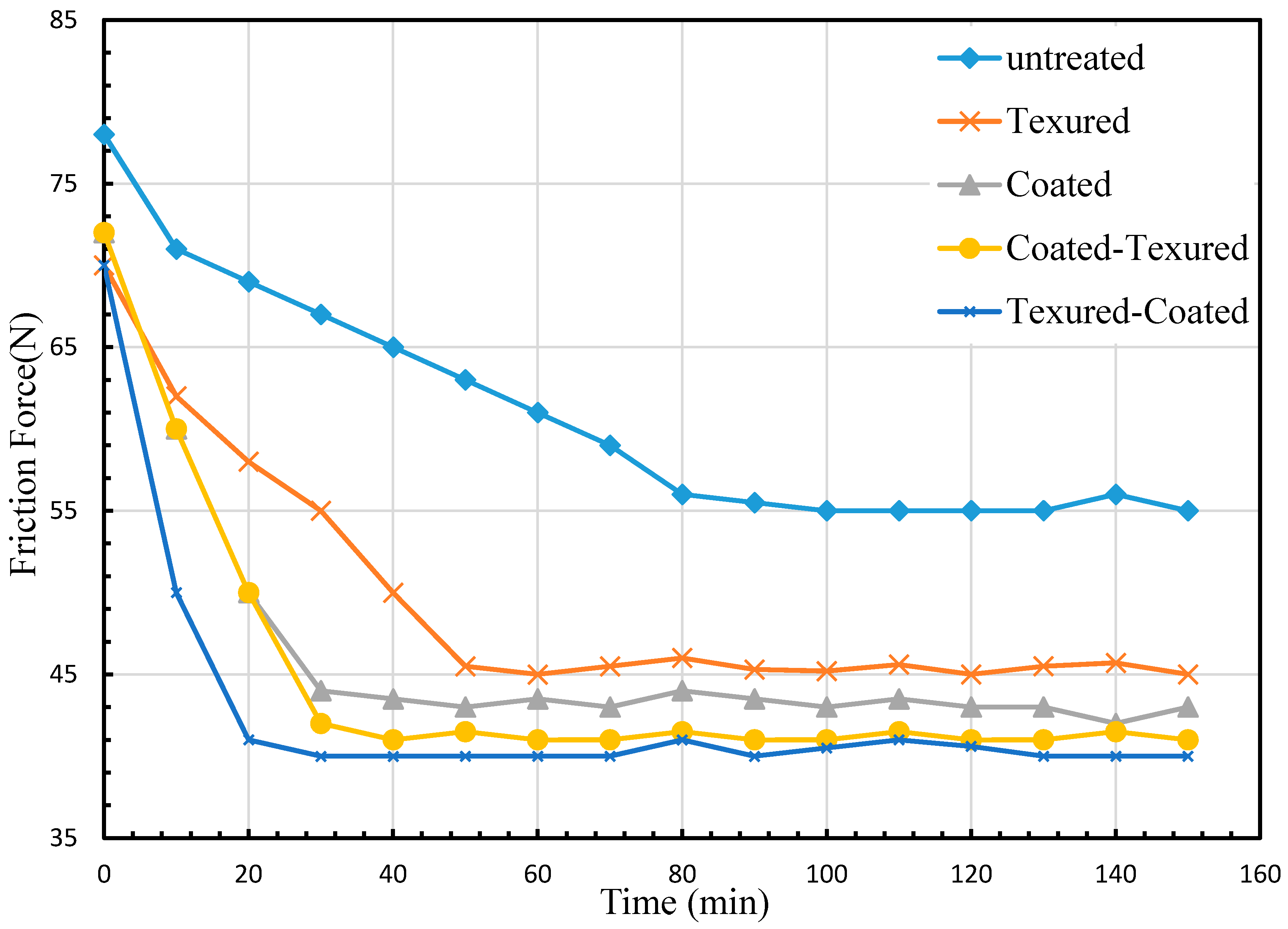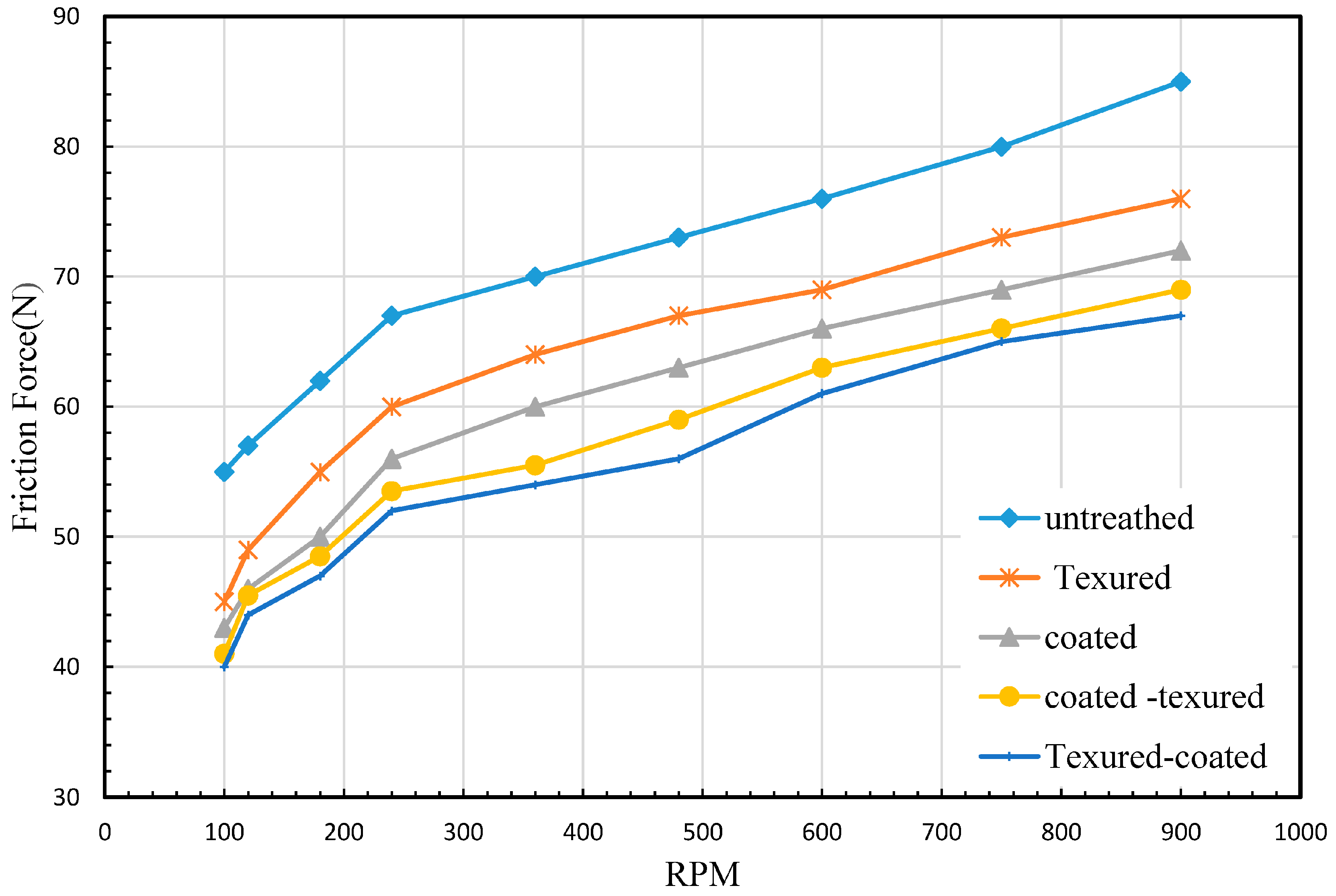 Table 1.
Geometric parameters of lasered pockets [
14
].
Parameters
Value
Pocket shape
Trapezoidal
Characteristic length

a

= 0.6 mm;

b

= 0.36 mm;

h

= 0.75 mm
Pocket depth
3.9–4.2 µm
Pocket spacing
2.8° (circumferentially)
Total no. of pockets
516
Area ratio
25.3%
| Sample Number | Surface Treatment |
| --- | --- |
| 1 | Coated |
| 2 | Textured |
| 3 | Coated and then textured |
| 4 | Textured and then coated |
| 5 | Plain |
| Surface Treatment | Running-In Time (min) | Reduction in Running-In Time Compared to Conventional Rings | Initial Friction Force (N) | Steady-State Friction Force (N) |
| --- | --- | --- | --- | --- |
| None | 75 | 0 | 78 | 55 |
| Textured | 50 | 33% | 70 | 45 |
| Coated | 30 | 60% | 72 | 43 |
| Textured then coated | 27 | 61% | 70 | 40 |
| Coated then textured | 23 | 62% | 72 | 41 |

© 2018 by the authors. Licensee MDPI, Basel, Switzerland. This article is an open access article distributed under the terms and conditions of the Creative Commons Attribution (CC BY) license (http://creativecommons.org/licenses/by/4.0/).