Titanium Aluminium Nitride and Titanium Boride Multilayer Coatings Designed to Combat Tool Wear
1
School of Aerospace, Transport and Manufacturing, Surface Engineering and Nanotechnology Institute (SENTi), Cranfield University, Cranfield MK43 0AL, UK
2
Senior Manager (Development) Hindustan Aeronautics Limited Foundry and Forge Division Old Airport Road, PB No. 1791, Bangalore 560017, India
*
Author to whom correspondence should be addressed.
Academic Editor: James E. Krzanowski
Received: 17 November 2017 / Revised: 13 December 2017 / Accepted: 21 December 2017 / Published: 28 December 2017
Abstract
The lifetimes and the premature wear of machining tools impact on manufacturing efficiencies and productivities. A significant proportion of machining tool damage can be attributed to component wear. Here, titanium aluminium nitride (TiAlN) multi-layered with titanium diboride (TiB
2
) prepared by PVD (Physical Vapour Deposition) sputtering onto H-13 substrates are studied as potential wear-resistant coatings for forging die applications. The TiB
2
content has been altered and two-sets of coating systems with a bilayer thickness either less than or greater than 1 μm are investigated by tribological and microstructural analysis. XRD analysis of the multilayers reveals the coatings to be predominately dominated by the TiAlN (200) peak, with additional peaks of TiN (200) and Ti (101) at a TiB
2
content of 9%. Progressive loads increasing to 100 N enabled the friction coefficients and the coating failure at a critical load to be determined. Friction coefficients of around 0.2 have been measured in a coating containing 9% TiB
2
at critical loads of approximately 70 N. Bi-directional wear tests reveal that bilayers with thicknesses greater than 1 μm have frictional coefficients that are approximately 50% lower than those where the bilayer is less than 1 μm. This is due to the greater ability of thicker bilayers to uniformly distribute the stress within the layers. There are two observed frictional coefficient regimes corresponding to a lower and higher rate of material loss. At the lower regime, with TiB
2
contents below 20%, material loss occurs mainly via delamination between the layers, whilst at compositions above this, material loss occurs via a break-up of material into finer particles that in combination with the higher loads results in greater material loss. The measured wear scar volumes for the TiAlN/TiB
2
multilayer coatings are approximately three times lower than those measured on the substrate, thus validating the increased wear resistance offered by these composite coatings.
View Full-Text
►

▼

Figures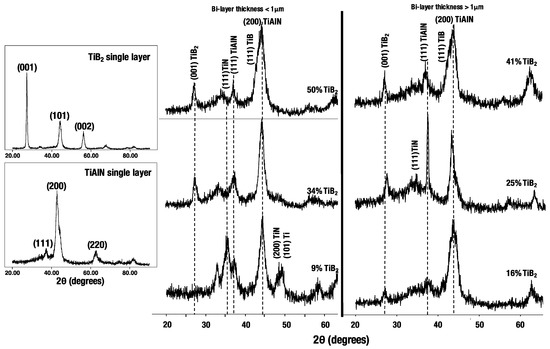 Figure 1
This is an open access article distributed under the
Creative Commons Attribution License
which permits unrestricted use, distribution, and reproduction in any medium, provided the original work is properly cited (CC BY 4.0).

Share & Cite This Article
MDPI and ACS Style
Rao, J.; Sharma, A.; Rose, T. Titanium Aluminium Nitride and Titanium Boride Multilayer Coatings Designed to Combat Tool Wear. Coatings 2018, 8, 12.
Note that from the first issue of 2016, MDPI journals use article numbers instead of page numbers. See further details here.
Related Articles
Comments
[Return to top]