Open Access This article is
freely available
re-usable
Article
Silica-Based Sol-Gel Coating on Magnesium Alloy with Green Inhibitors
Department of Coatings and Polymeric Materials, North Dakota State University, Fargo, ND 58102, USA
*
Author to whom correspondence should be addressed.
Received: 28 April 2017 / Accepted: 19 June 2017 / Published: 22 June 2017
Abstract
:
In this work, the performances of several natural organic inhibitors were investigated in a sol-gel system (applied on the magnesium alloy Mg AZ31B substrate). The inhibitors were quinaldic acid (QDA), betaine (BET), dopamine hydrochloride (DOP), and diazolidinyl urea (DZU). Thin, uniform, and defect-free sol-gel coatings were prepared with and without organic inhibitors, and applied on the Mg AZ31B substrate. SEM and EDX were performed to analyze the coating surface properties, the adhesion to the substrate, and the thickness. Electrochemical measurements, including electrochemical impedance spectroscopy (EIS) and anodic potentiodynamic polarization scan (PDS), were performed on the coated samples to characterize the coatings' protective properties. Also, hydrogen evolution measurement—an easy method to measure magnesium corrosion—was performed in order to characterize the efficiency of coating protection on the magnesium substrate. Moreover, scanning vibrating electrode technique (SVET) measurements were performed to examine the efficiency of the coatings loaded with inhibitors in preventing and containing corrosion events in defect areas. From the testing results it was observed that the formulated sol-gel coatings provided a good barrier to the substrate, affording some protection even without the presence of inhibitors. Finally, when the inhibitors' performances were compared, the QDA-doped sol-gel was able to contain the corrosion event at the defect.
Keywords:
sol-gel coating; magnesium; magnesium protection; organic inhibitors; corrosion inhibitors
1. Introduction
Sol-gel coatings have been widely used as a surface treatment method, due to their ability to provide unique advantages (both with processing and film properties) over many other conventional coating systems. Their low processing temperature, ease of handling, control of molecular structure and coating properties, and ability to coat complex shapes, etc., makes them an ideal treatment/coating method [
1
,
2
]. In the past, organic (as well as organic-inorganic (hybrid)) coatings have been designed with synergistic properties [
3
]. Numerous functional properties, such as corrosion protection, controlled porosity, anti-reflection, electrochromic, self-cleaning, anti-fogging, superhydrophobicity, and superhydrophilicity have been achieved using sol-gel routes, with applications including coatings for architectural, automotive, electronics, controlled drug release, orthopedic implant, and protection of cultural heritage [
4
,
5
,
6
,
7
,
8
].
The main limitation of sol-gel coatings is their inherent low thickness. Sol-gel coatings are typically in the nano to few microns thickness range. Thick coatings are susceptible to cracking, due to the stress generated during drying and thermal treatment [
9
]. Stresses can be generated due to shrinkage and thermal expansion mismatch [
10
]. Multiple layers have increased thickness as well as enhanced corrosion protection [
11
,
12
,
13
,
14
]. In addition, coatings can also be loaded with inhibitors, in order to enhance their performance [
15
]. For example, TiO
2
nanocontainers loaded with 8-hydroxyquinoline in sol-gel coatings were reported to improve corrosion protection properties of aluminum alloy AA 2024T3 [
12
]. Use of Cerium (Ce
3+
), lanthanum (La
3+
) cations, salicylaldoxime, and 8-hydroxyquinoline via hydroxyapatite reservoir, or the use of layered double hydroxides loaded with 2-mercaptobenzothiazolate, phosphate, and vanadate to protect AA 2024-T3 have also been reported [
16
,
17
].
Limited literature exists on the use of organic corrosion inhibitors for magnesium (Mg) protection. Mg-based alloys have gained significant attention for their potential role in areas requiring light-weight applications [
18
,
19
,
20
]. Drive for low emission and improved gas mileage have challenged future usage of aluminum and steel alloys. However, high reactivity of Mg has still impeded complete substitution for aluminum and steel, and any future replacement will strongly depend upon its surface control from excess reactivity [
21
]. Corrosion inhibitors, due to their nature, have huge significance in reducing the reactivity of Mg surfaces. Organic corrosion inhibitors (OCR) are less toxic, with better biodegradability compared to their inorganic counterpart, and little research has been performed on their identification and testing for protection of magnesium substrates. Karavai et al. [
22
] demonstrated the ability of 1,2,4-triazone to inhibit and confine the corrosion at the defects in a sol-gel system for Mg AZ31. Galio observed that 8-hydroxyquinoline helps in maintaining the barrier properties of a sol-gel coated AZ31 [
23
]. Diethylenediamine at low concentrations were also demonstrated to inhibit corrosion of AZ31 alloys [
24
]. Similar observations were made for Mg ZE41 alloys [
25
]. Kartsonakis et al. [
26
,
27
,
28
] observed that 2-mercaptobenzothiazole/5-amino-1,3,4-thiadiazole-2-thiol, entrapped in TiO
2
/ cerium molybdate, could improve corrosion protection of the Mg ZK10 alloy. The self-repairing properties of polyaniline (in a sol-gel coated Mg AZ31) have also been reported [
29
]. To contribute to the existing literature (in search for better corrosion protection of Mg), four organic inhibitors were loaded in a sol-gel system and tested for their corrosion inhibiting capabilities. Tests such as electrochemical impedance spectroscopy (EIS), anodic potentiodynamic polarization scan (PDS), hydrogen evolution measurement, and SVET were performed to characterize coating performances.
2. Experimental
2.1. Sol-Gel Formulation
The precursor sol-gel molecules (as shown in
Figure 1
) were 3-Glycidoxypropyltrimethoxysilane (GCPTS) and N-[3-(Trimethoxysilyl) propyl] ethylenediamine (TMSPED), both purchased from Sigma-Aldrich
®
(St. Louis, MO, USA). The epoxy and amine groups in the two molecules could also possibly react to form an epoxy-amine system in addition to sol-gel formation. 4.72 g of GCPTS and 2.22 g of TMSPED were initially added to 5 mL of solvent. The solvent (purchased from VWR international
®
, Batavia, IL, USA, Cat No. BDH1156-4LP) consisted of a mixture of methanol, ethanol, and isopropanol in the weight ratio of ~5:90:5. The precursors and solvent mixture were sonicated for 30 min in a water bath (this mixture is labeled as SG). After, ultrasonication 10 ml of ultra-pure 18 MΩ water was added slowly to 4 mL of SG; to this, 1 mL 1M acetic acid was added to facilitate sol-gel hydrolysis and condensation. For sol-gel with inhibitors, 4 mL of the SG, 9.5 mL water, 1 mL of 1 M acetic acid, and 0.5 mL of 0.1 M inhibitor were used. The total volume of mixture in all the systems was, therefore, the same. Inhibitors used were: quinaldic acid (QDA), betaine (BET), dopamine hydrochloride (DOP), and diazolidinyl urea (DZU). The choice of inhibitors was based on previous research and current laboratory trials (
Figure 2
). Potentiodynamic scans (PDS) on Mg AZ31 were performed in 3.5 wt % NaCl electrolyte, containing 0.01 M and 0.1 M inhibitor. Quinaldic acid (QDA) have been shown to inhibit corrosion of mild steel [
30
] and aluminum alloy AA 2024 T3 [
31
,
32
]. A porous poly(ether imides) coating on magnesium alloy AZ31 (loaded with QDA) was able to inhibit Mg corrosion, in contrast to a dense layer [
33
]. Both dopamine (DOP) and betaine (BET) displayed cathodic inhibition at two different concentrations, as seen in
Figure 2
. Dopamine is known to self polymerize [
34
,
35
], possibly resulting in the observed inhibition, whereas betaine has also been reported to be inhibitive [
36
]. Diazolidinyl urea (DZU) did not display any inhibition during the trials. However, based on its structure it was choosen to be loaded in the sol-gel system. Coatings were smooth, with no observed aggregate/precipitate of the inhibitors.
2.2. Coatings Preparation
Coatings were applied on the Mg alloy substrate Mg AZ31B (purchased from Magnesium Elektron
®
, Madison, WI, USA, with the specification AZ31B-F ASTM B107 HT-13021563). The Mg alloy was received in the form of a cylindrical rod with a 3.8 cm diameter. The cylindrical Mg alloy was sliced and cold mounted using an epoxy resin. The mount was such that only one face of the alloy was exposed, whereas the reverse side was protected (but connected with a copper wire) to facilitate electrical connection during electrochemical measurements.
Figure 3
a displays the Mg sample in the final form before coating. The exposed alloy surface was then polished up to 800 grit SiC paper. After polishing, the samples were washed in 18 MΩ ultra-pure water, followed by acetone, and then dried using an air drier and treated for 60 s in 5% HF solution. The sol-gel coatings were then applied on the treated surfaces, using the drop casting method. The samples were tilted at 45°, and the sol-gel liquid mixture was dropped on the surface using a micro pipette until the sample was covered completely and uniformly by the liquid. Any excess liquid oozed down under gravity. After 5 min, one more layer was added on top of this layer. Thus, two layers were applied. After an hour of room temperature exposure, the coated samples were dried in an oven at 60 °C for 20 min. Coatings were then rested overnight before any tests were performed. Coating without inhibitor was labeled as SG-No inhibitor, whereas coatings loaded with quinaldic acid, betaine, dopamine hydrochloride, and diazolidinyl urea were labeled as SG-QDA, SG-BET, SG-DOP, and SG-DZU, respectively. Surface morphology, composition, adhesion, and coating thickness were analyzed using SEM and EDX. The sample cross section was polished, and the surface was gold sputtered prior to SEM. All the sol-gel coatings, both without inhibitor (SG-no inhibitor) as well as inhibitor-loaded (SG-inhibitors), were tested for their ability to protect magnesium, both electrochemically and via hydrogen evolution measurement.
2.3. Coating Characterization
Electrochemical measurements performed on coatings were anodic potentiodynamic polarization scan (PDS), electrochemical impedance spectroscopy (EIS), and SVET. The first two techniques were used to characterize coatings as-prepared, whereas SVET measurements were performed to test the ability of the inhibitors to suppress or confine corrosion at defects. For PDS and EIS, measurements were performed using the conventional 3-electrode electrochemical set-up (with the coated substrate as the working electrode (WE)), a platinum mesh as the counter electrode (CE), and a saturated calomel electrode (SCE) as the reference electrode (as is seen in
Figure 3
b). Measurements were performed with 3.5% NaCl exposed to 7.07 cm
2
of the working electrode. A Gamry™ potentiostat (IFC 1000) was used for the measurements. Data were acquired using Gamry Framework version 6.21. For EIS experiments a potential perturbation of 10 mV (rms) was applied and the impedance response from 10
5
to 10
−2
Hz was measured with an acquisition rate of 10 points per decade. EIS perturbs the sample/coated substrate using a small AC potential. Typically, a sine wave of amplitude ±10 mV (rms) is applied on a system with respect to its open circuit potential over a wide range of frequency, and the response of the current is measured at each frequency. Barrier properties, water uptake, and diffusion rate of organic coating (or the various processes involved during corrosion) can be measured. Anodic PDS was performed by scanning the potential of the working electrode from OCP to 0.5 V, at a scan rate of 1 mV/s. In polarization experiments such as PDS, the potential of the substrate under interest is scanned at a selected rate over a potential range of interest, and the current response is monitored (which can provide corrosion-related information such as corrosion current, corrosion potential, and corrosion rate, etc.).
SVET experiments were performed at OCP to measure the current density distribution in and around a defect in coating. SVET is a widely used technique for studying local corrosion [
37
,
38
,
39
]. A schematic of the SVET is shown in
Figure 3
c. The instrument was purchased from Applicable Electronics, New Haven, CT, USA. An artificial defect was created to study the effect of inhibitors on coating performance. SVET probe vibrates and scans the area of interest immersed in an electrolyte, and measures current density distributions above the substrate. The substrate is generally at OCP, though measurements can also be made at an applied external potential. The current density distribution/mapping provides precise information on the location of local cathodes and anodes. Negative current density indicates cathodic regions, whereas positive current density indicates anodic regions (and, hence, corrosive and passive regions can be identified and located). Details of the experiment and measurement procedure are provided in reference [
40
]. The electrolyte used during SVET measurements was 0.5% NaCl.
Hydrogen evolution measurement (HEM) was other technique used for studying the performance of the coated magnesium alloy. HEM is a simple technique for studying and quantifying Mg corrosion [
41
,
42
]. Since 1 mole of hydrogen is generated for each mole of Mg reacted, higher hydrogen evolution indicates higher Mg corrosion and vice versa [
43
]. Any form of surface protection or reduced Mg surface reactivity would, therefore, decrease the amount of hydrogen evolved from Mg that is in direct contact with an aqueous electrolyte. The efficiency of coating on magnesium can therefore be studied using this technique [
44
].
3. Results and Discussion
4. Conclusions
In search of a viable strategy for magnesium corrosion protection, a silica based sol-gel system was formulated, and the corrosion inhibiting performance of a few organic inhibitors loaded in the sol-gel system was studied on Mg AZ31 substrate. Coatings were defect-free and provided enhanced protection, as observed from the PDS and EIS results (hydrogen evolution measurements also complemented findings from the electrochemical measurements). Of the four inhibitors tested using SVET under defect condition, only quinaldic acid (QDA) displayed improvement compared to the control (SG-No inhibitor) and maintained coating passivity during the 24-hour exposure period, with no measured anodic activity outside the defect.
Acknowledgment
This work was supported by funding provided by the State of North Dakota and NSF EPSCoR Research Infrastructure Improvement Program Track-1 (RII Track-1) Grant Award IIA-1355466. The authors also thank Scott Payne, Electron Microscopy Center, NDSU, for carrying out SEM/EDX.
Author Contributions
Vinod Upadhyay and Dante Battocchi conceived and designed the experiments; Zachary Bergseth and Brett Kelly performed global electrochemical, and hydrogen evolution experiments. Vinod Upadhyay performed SVET experiments. Vinod Upadhyay and Dante Battocchi analyzed the data and wrote the paper.
Conflicts of Interest
The authors declare no conflict of interest.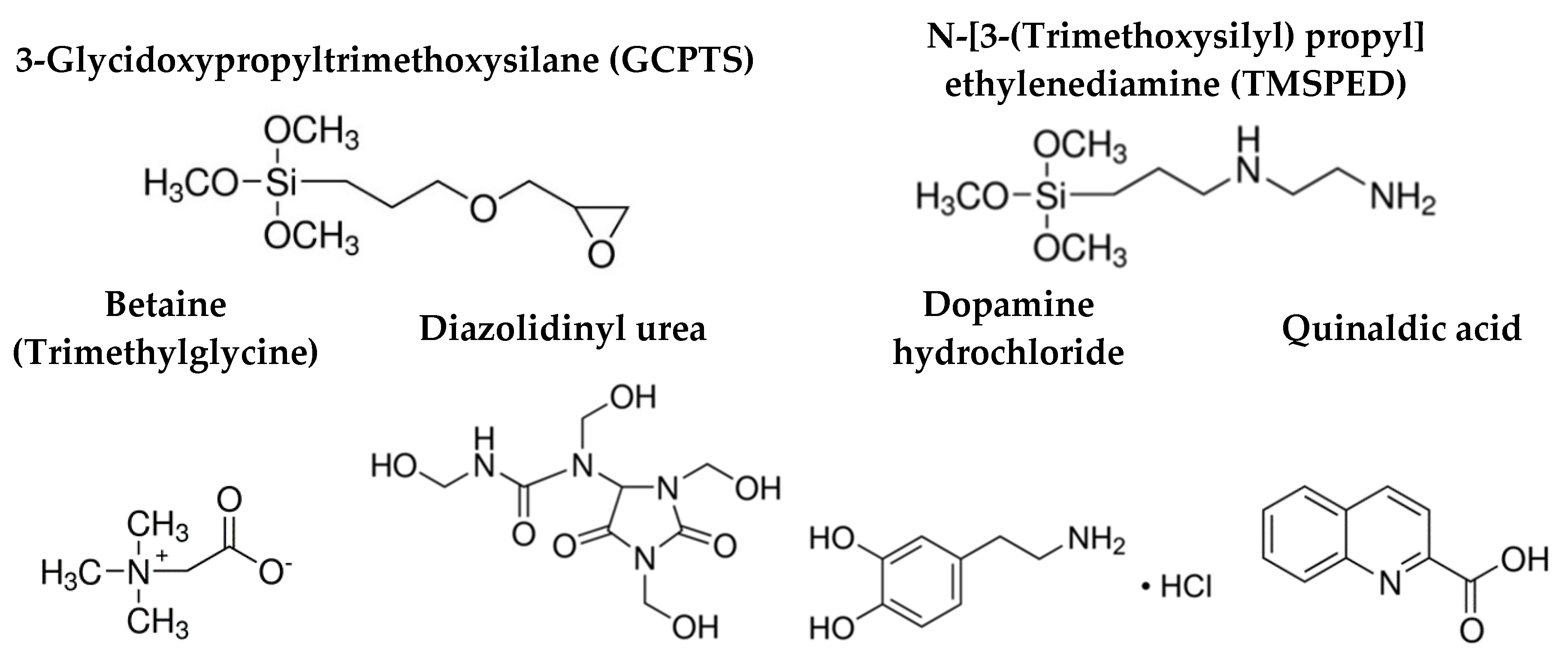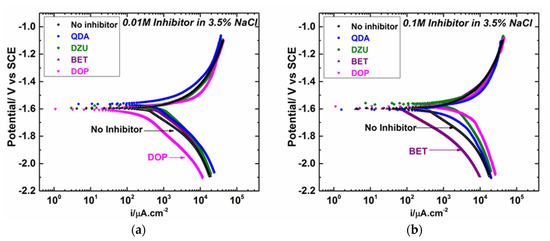 Figure 2. PDS plots of Mg AZ31 in 3.5 wt % electrolyte, containing (a) 0.01 M inhibitor and (b) 0.1 M inhibitor.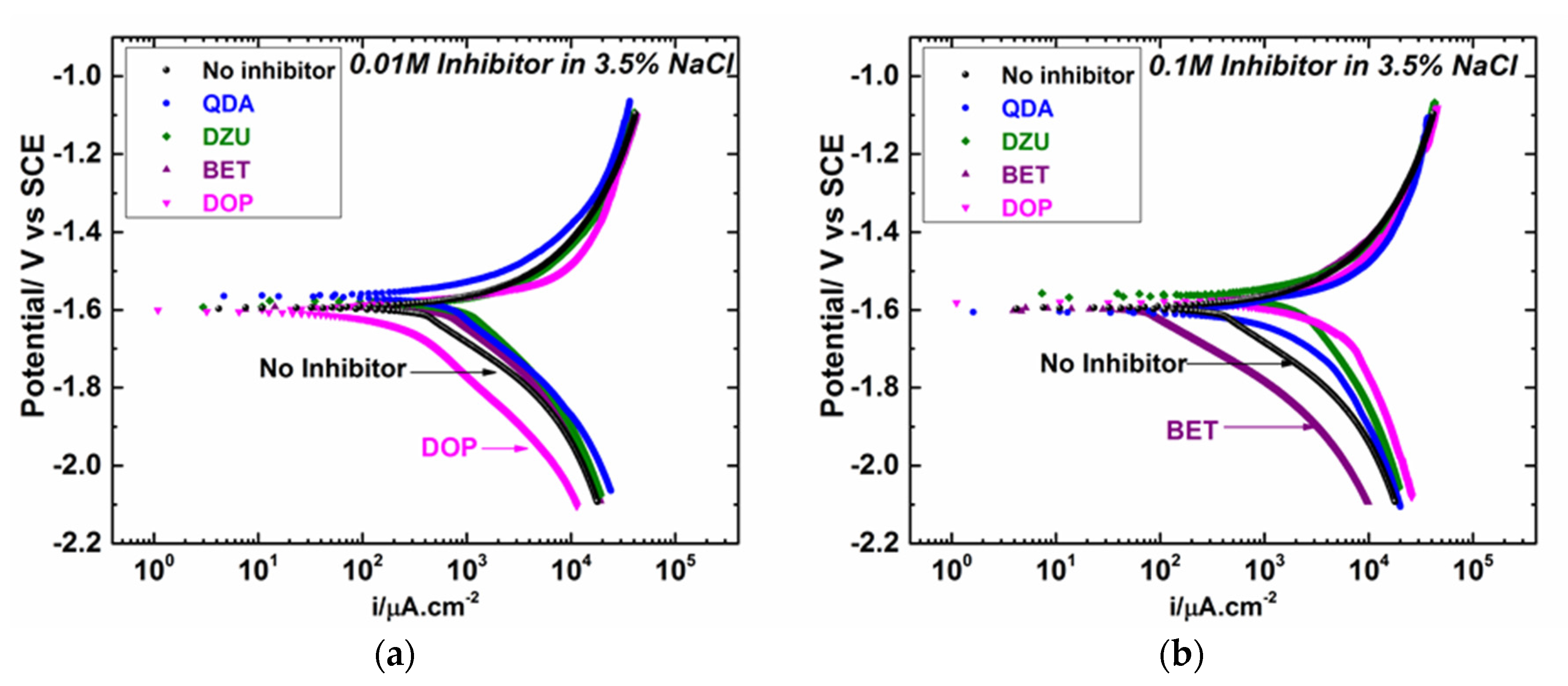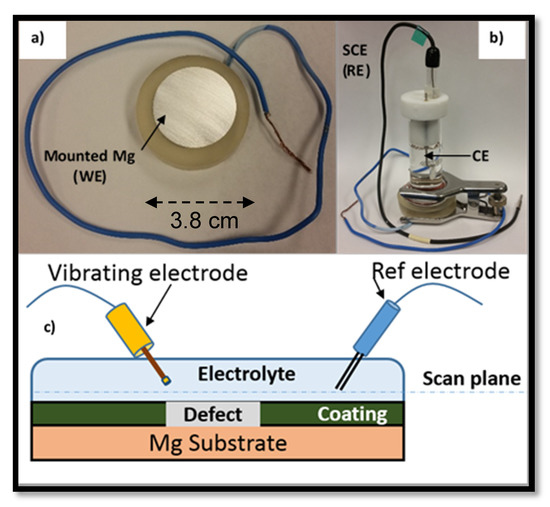 Figure 3. (a) Mounted magnesium AZ31 sample; (b) three electrode electrochemical configurations for EIS and PDS measurements; and, (c) schematic of SVET measurement.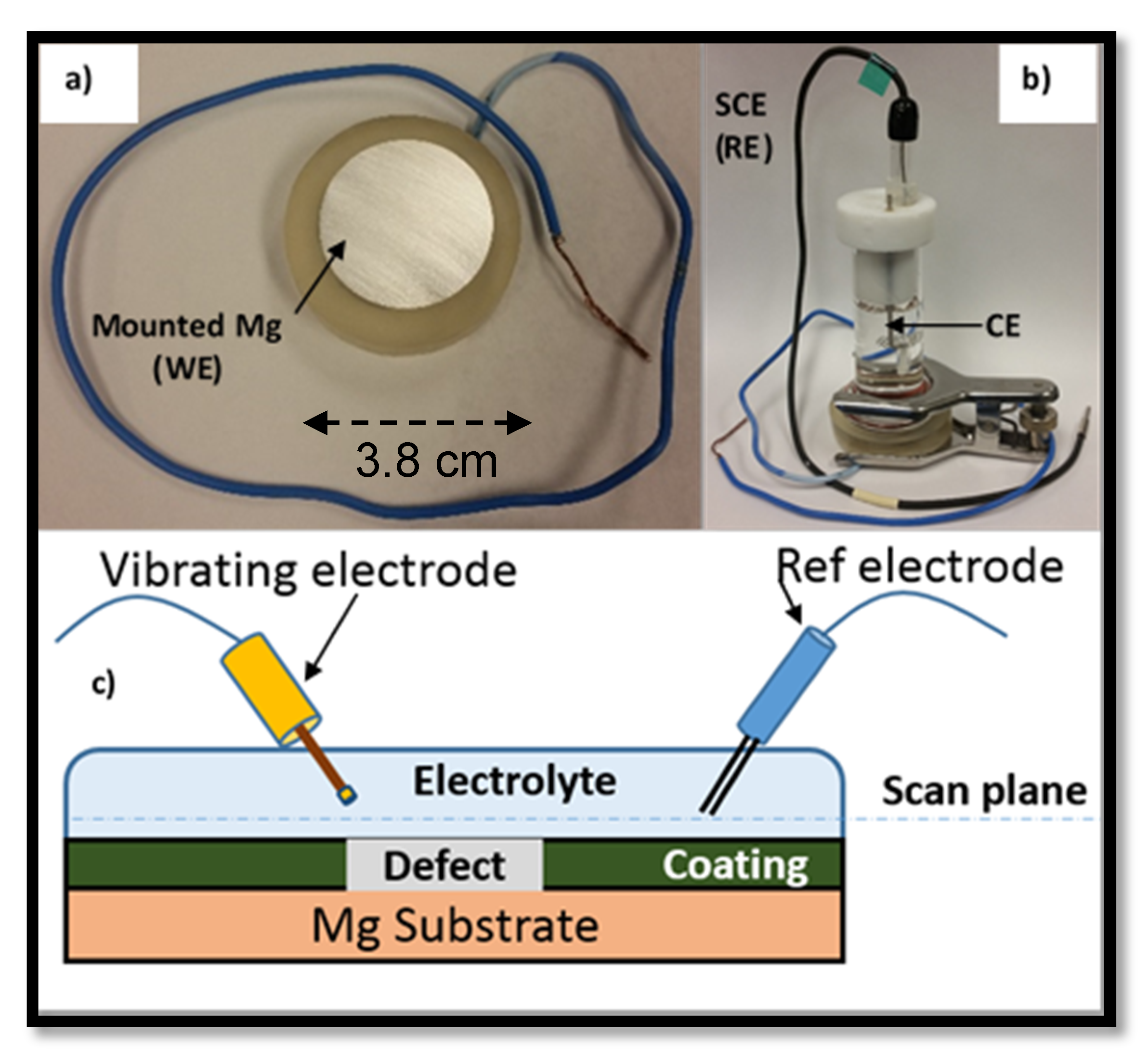 Figure 4. SEM images (a) of the side view at higher magnification (×12,000); (b) at lower magnification (×3000); (c) the top view; and, (d) the EDX elemental graph (of sol-gel coating).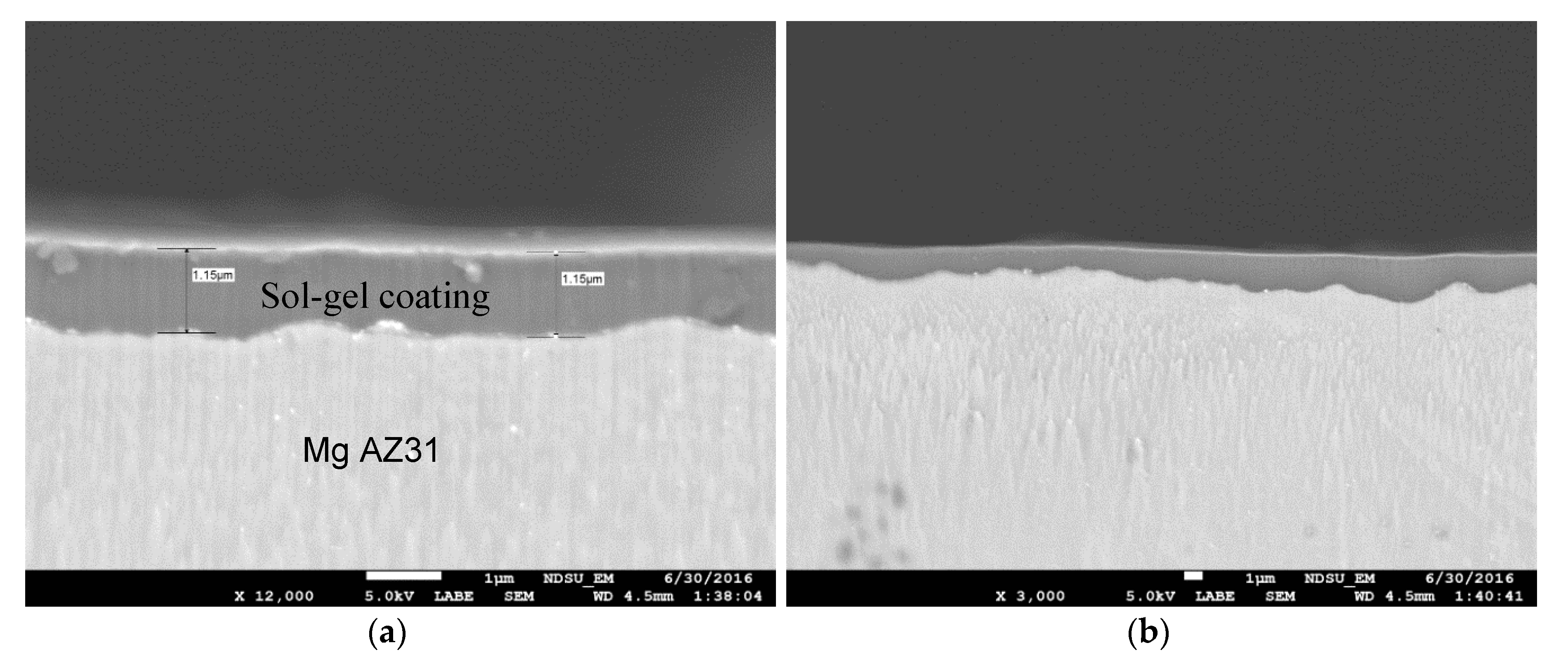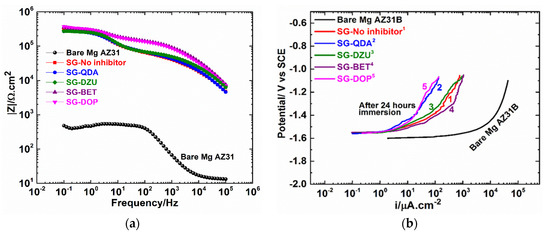 Figure 5. (a) EIS Bode modulus plots and (b) anodic polarization curves, of coatings with and without inhibitors.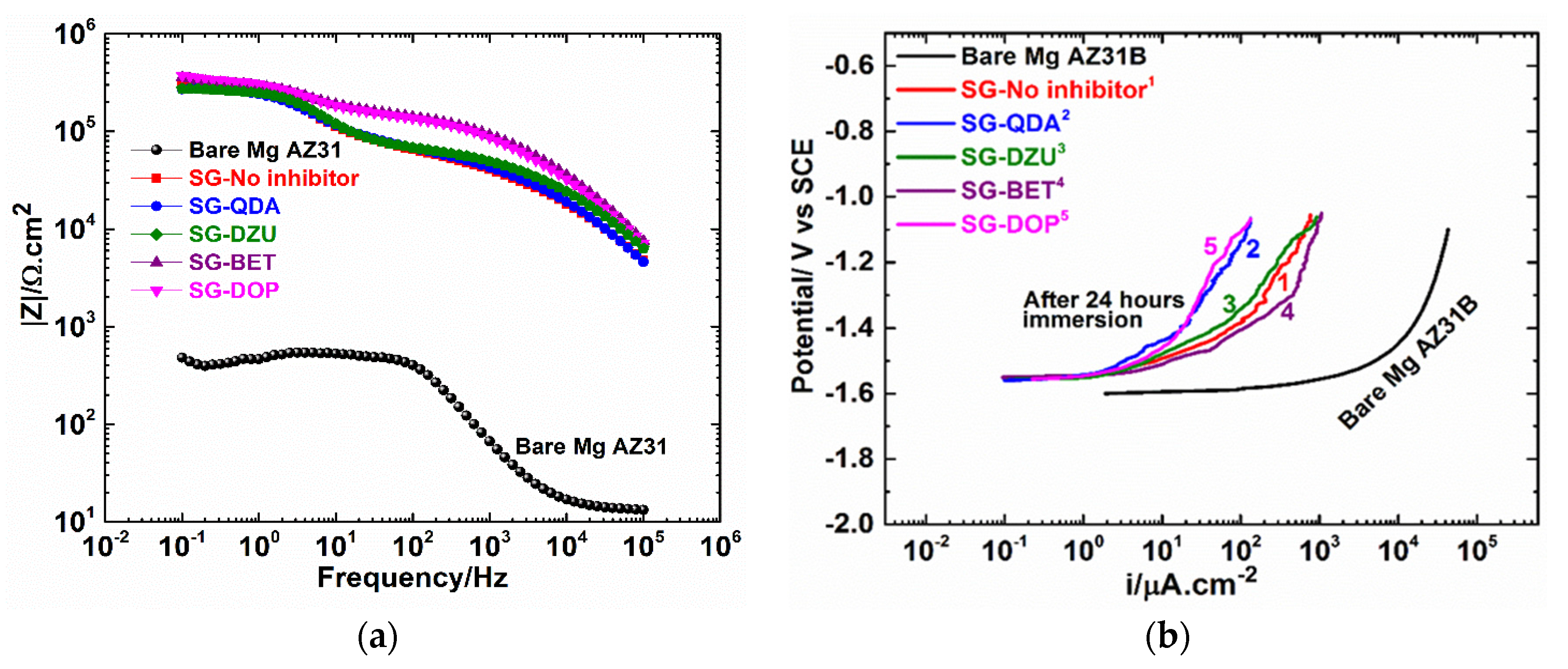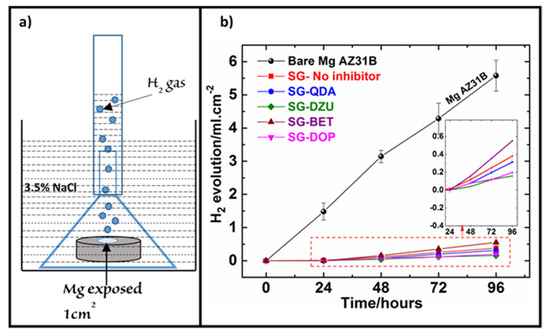 Figure 6. (a) Hydrogen evolution measurement set-up and (b) hydrogen evolution as a function of time for the inhibitors loaded in the sol-gel system.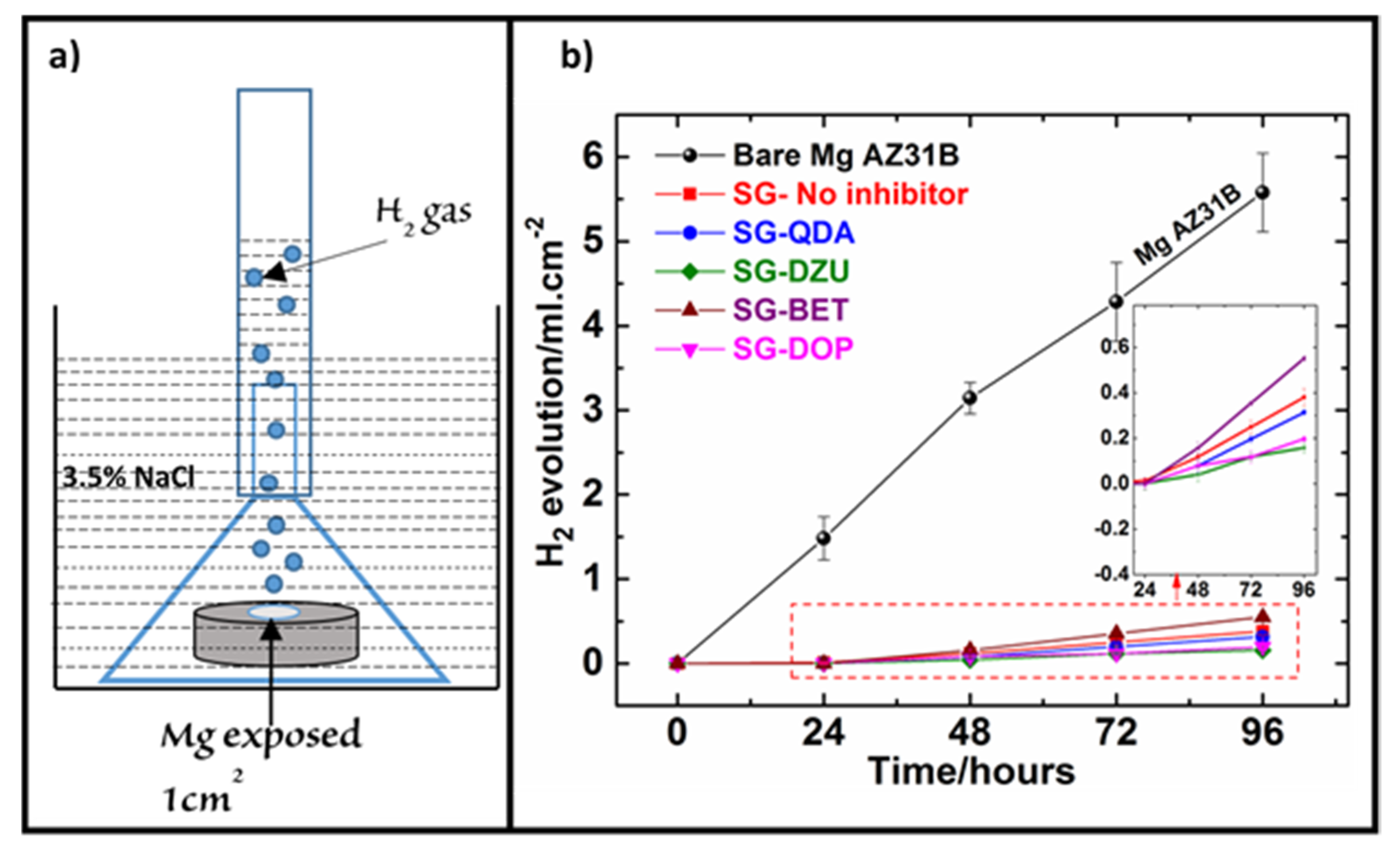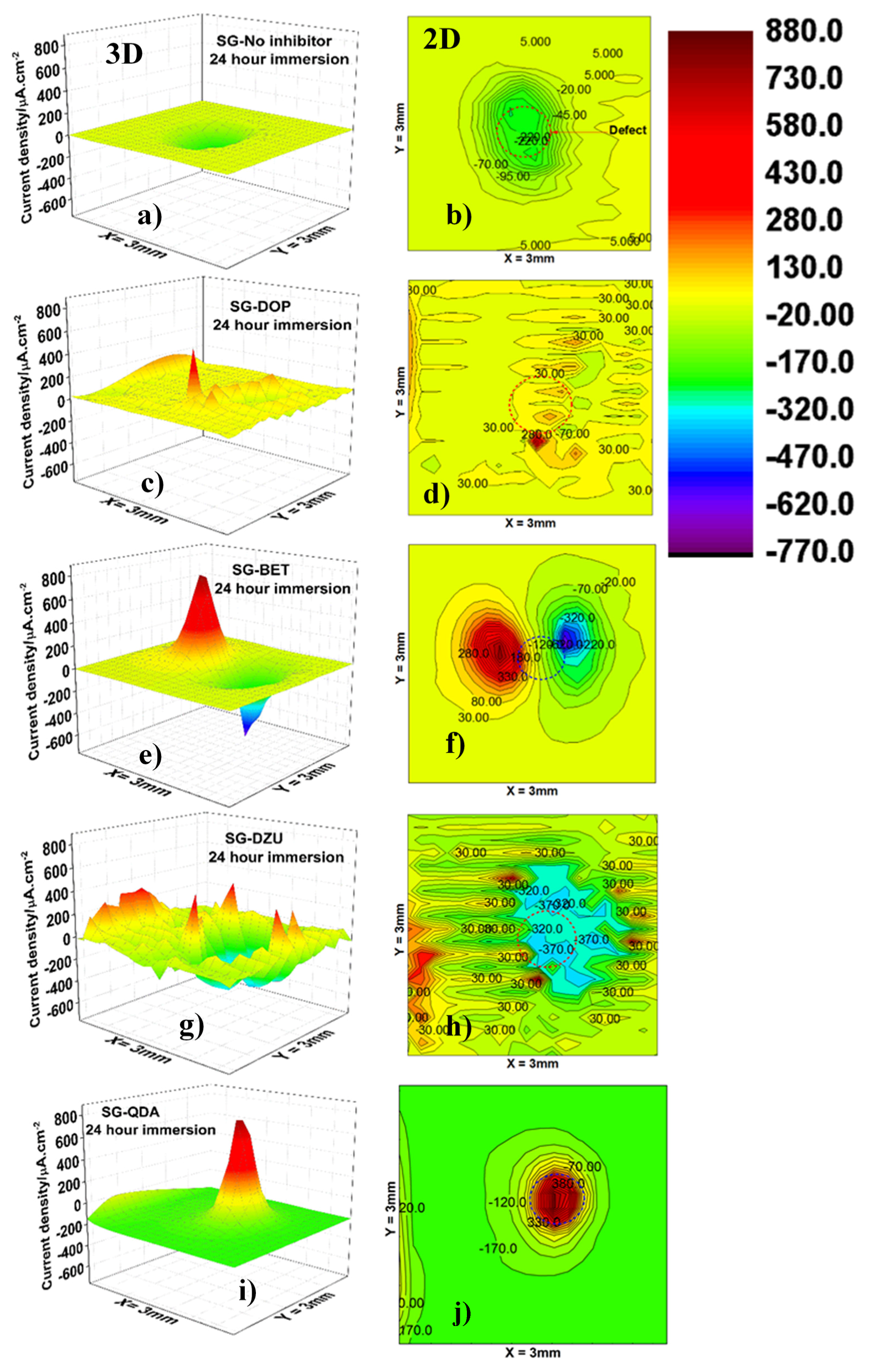 © 2017 by the authors. Licensee MDPI, Basel, Switzerland. This article is an open access article distributed under the terms and conditions of the Creative Commons Attribution (CC BY) license (http://creativecommons.org/licenses/by/4.0/).