Synthesis of Covalently Cross-Linked Colloidosomes from Peroxidized Pickering Emulsions
1
Department of Coatings and Polymeric Materials, North Dakota State University, NDSU Dept. 2760, P.O. Box 6050, Fargo, ND 58108-6050, USA
2
Department of Organic Chemistry, Lviv Polytechnic National University, vul. S. Bandery, 12, Lviv 79013, Ukraine
*
Author to whom correspondence should be addressed.
Academic Editor: Jean-François Berret
Received: 29 September 2016 / Revised: 19 October 2016 / Accepted: 20 October 2016 / Published: 25 October 2016
Abstract
A new approach to the formation of cross-linked colloidosomes was developed on the basis of Pickering emulsions that were stabilized exclusively by peroxidized colloidal particles. Free radical polymerization and a soft template technique were used to convert droplets of a Pickering emulsion into colloidosomes. The peroxidized latex particles were synthesized in the emulsion polymerization process using amphiphilic polyperoxide copolymers poly(2-
tert
-butylperoxy-2-methyl-5-hexen-3-ine-
co
-maleic acid) (PM-1-MAc) or poly[N-(
tert
-butylperoxymethyl)acrylamide]-
co
-maleic acid (PM-2-MAc), which were applied as both initiators and surfactants (inisurfs). The polymerization in the presence of the inisurfs results in latexes with a controllable amount of peroxide and carboxyl groups at the particle surface. Peroxidized polystyrene latex particles with a covalently grafted layer of inisurf PM-1-MAc or PM-2-MAc were used as Pickering stabilizers to form Pickering emulsions. A mixture of styrene and/or butyl acrylate with divinylbenzene and hexadecane was applied as a template for the synthesis of colloidosomes. Peroxidized latex particles located at the interface are involved in the radical reactions of colloidosomes formation. As a result, covalently cross-linked colloidosomes were obtained. It was demonstrated that the structure of the synthesized (using peroxidized latex particles) colloidosomes depends on the amount of functional groups and pH during the synthesis. Therefore, the size and morphology of colloidosomes can be controlled by latex particle surface properties.
View Full-Text
►

▼

Figures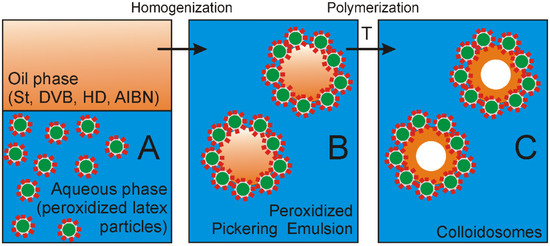 Figure 1
This is an open access article distributed under the
Creative Commons Attribution License
which permits unrestricted use, distribution, and reproduction in any medium, provided the original work is properly cited (CC BY 4.0).

Share & Cite This Article
MDPI and ACS Style
Popadyuk, N.; Popadyuk, A.; Tarnavchyk, I.; Budishevska, O.; Kohut, A.; Voronov, A.; Voronov, S. Synthesis of Covalently Cross-Linked Colloidosomes from Peroxidized Pickering Emulsions. Coatings 2016, 6, 52.
Note that from the first issue of 2016, MDPI journals use article numbers instead of page numbers. See further details here.
Related Articles
Comments
[Return to top]