Open Access This article is
freely available
re-usable
Article
Correlation of Growth and Surface Properties of Poly(
p
-xylylenes) to Reaction Conditions
1
Department of Applied Sciences and Mechatronics, Munich University of Applied Sciences, Munich D-80335, Bavaria, Germany
2
Walter Schottky Institut, Technische Universität München, Am Coulombwall, Garching D-85748, Bavaria, Germany
*
Author to whom correspondence should be addressed.
Academic Editor: Alessandro Lavacchi
Received: 2 March 2015 / Accepted: 30 April 2015 / Published: 8 May 2015
Abstract
:
Parylene, a non-critical, non-toxic layer material, which is not only a candidate for low-
K
dielectrics, but also well suited for long-term applications in the human body, has been deposited by (plasma-enhanced) chemical vapor deposition of the monomeric species. To that end, a specially-designed reactor exhibiting a cracker tube at its entrance, which serves as the upstream control, and a cooling trap in front of the downstream control has been applied. The process of polymerization has been traced and is explained by evaporating the dimeric species followed by dissociation in the cracker at elevated temperatures and, eventually, to the coating of the polymeric film in terms of thermodynamics. Alternatively, the process of dissociation has been accomplished applying a microwave plasma. In both cases, the monomerization is controlled by mass spectrometry. The window for surface polymerization could be clearly defined in terms of a factor of dilution by an inert gas for the chemical vapor deposition (CVD) case and in the case of plasma-enhanced chemical vapor deposition (PECVD), additionally by the power density. The characterization of the layer parameters has been carried out by several analytical tools: scanning electron microscopy and atomic force microscopy to determine the surface roughness and density and depth of voids in the film, which influence the layer capacitance and deteriorate the breakdown voltage, a bulk property. The main issue is the conduct against liquids between the two borders' hydrophilic and hydrophobic conduct, but also the super-hydrophobic character, which is the condition for the Lotus effect. The surface tension has been evaluated by contact angle measurements. Fourier-transform infrared spectroscopy has proven the conservation of all of the functional groups during polymerization.
Keywords:
plasma-enhanced chemical vapor deposition; xylylene; parylene; morphology
PACS classifications:
05.70.-a; 07.20.Hy; 07.30.Kf; 0.75+h; 64.70.Fx
1. Introduction
Chemical vapor deposition is performed with excited gaseous species that chemically react on a cold surface to form a new compound. In most cases, two different gaseous precursors flow into the reactor, where the reaction occurs. For example, to deposit SiN, SiH and NH are activated, either thermally or by plasma, to form radicals that can react to form the desired coating. In most cases, a carrier gas, often hydrogen, which has a very large mean velocity, is used as a diluent to ensure stable, homogeneous reaction conditions; such conditions allow deposition to occur at very low deposition rates. Because the molecular speed of helium is similar to that of hydrogen, other research groups favor this ambient gas. The low density of the film-building reactants shifts the reaction path to surface polymerization (sometimes referred to as vapor deposition polymerization [
1
] or transport polymerization [
2
]), and this shift is reflected by shiny, transparent films. In contrast, if the reactants are present at high densities, parasitic volume polymerization leads to agglomeration in the vapor [
3
], which is incorporated into the layers and causes roughness and opacity [
4
,
5
]. Instead of reacting at the surface, at sufficiently high densities, collisions between activated molecules are very likely to happen, and volume polymerization competes effectively with surface polymerization. In contrast to the latter reaction, the volume polymerization is characterized by very small aggregates, which leads to grainy, opaque layers. The dimensions of these grains cover a range of three orders of magnitude, beginning on the lower nanoscale up to some micrometers in size. By the formation of these particles, the characteristics of the surface properties can be completely changed. In particular, the phenomenon of super-hydrophobic surfaces, as well as the commonly-known Lotus effect are suspected to be closely connected to the occurrence of nanoscale roughness [
6
,
7
,
8
,
9
].
For the polymerization of
p
-xylylene, with its commercial name parylene, which is widely used as a coating material for medical purposes [
10
,
11
], but also for isolating purposes with a pinhole-free film that is impermeable to water vapor and other gases, even at very low thicknesses [
12
,
13
], several reactions have to be investigated: "conventional" chemical vapor deposition happens by expanding at least one reactive gas in a vacuum reactor, which is either subjected to thermolysis or to a second gas, resulting in a chemical reaction. In contrast to these processes, parylene is mostly deposited by the Gorham process, which requires evaporation of a precursor, and temperatures between 130 and 150 C are involved [
14
]. Second, the precursor has to be fragmented into reactive intermediates, which subsequently react in the third step to the polymeric chain.
Due to the inevitable evaporation during the heating ramp, which causes an irreproducible layer growth, very thin layers with reproducible accuracy are not accessible. This issue has been addressed either through the use of a heating system with a low thermal capacity of the heating system [
15
,
16
] or through the use of very small amounts of the precursor; see, e.g., [
17
,
18
,
19
,
20
]. Using this route, Stahl showed that the deposition of 50 nm-thick films is possible. In this case, the pressure and the number density increase from zero to a certain saturation level after having reached the final evaporation temperature. When the amount of precursor is exhausted, the pressure and the number density decrease, which can drastically reduce the reaction rate (these surface reactions follow first-order kinetics). Mechanistically, pressure (and number density) start and end at zero, which causes an even stronger reduction of the reaction rate for a reaction of third order [
21
]. Preparatively, the number densities of the chain-building monomers and oxygen will become equal, and eventually, the latter will surpass the number density of the monomers. Consequently, the composition and properties of the interfaces will deviate from those of the bulk material. Thus, the vertical homogeneity deteriorates.
With our version of an improved Gorham process [
14
], we could deposit layers far below 1 μm in thickness very precisely [
22
]. To avoid the inevitable and irreproducible coating during the process of heating up to the final temperature, the reactor is maintained under an increased pressure of 40 Pa of argon gas, which inhibits the evaporation of diparylene. When the vaporizer has reached its target temperature, the pressure of the supporting gas is abruptly reduced to its target value, e.g., 5 Pa, and the coating process begins immediately at a constant deposition rate [
23
].
The evaporation step is followed by generating the reactive monomers
en route
as the dimers pass through a cracking tube driven at temperatures between 450 and 750 C (
cf
., Equation (1), [
24
,
25
,
26
]).
Only these monomers should be adsorbed by the "cold" surfaces to form polymeric chains in the next step; "cold" refers to temperatures less than 40 C [
19
,
27
] or even less (below 30 C, according to Odian [
2
], the so-called "ceiling" temperature [
28
,
29
]).
To deposit layers with vertical homogeneity, most industrial films are coated in a flow reactor, especially if plasmas are used. A flow reactor has been used in this work. Only with this reactor can plasma-supported reactions and thermally activated processes be compared. According to Yasuda, the first reaction is called activation [Equation (1.1)], and the second one is the passivation [Equation (1.2);
Figure 1
].

Figure 1.
CVD process: (Left) The three-dimensional dimeric species (di-
p
-xylylene)—which contains two ethylene bridges in each
p
-position—is cracked (1: activation) to form the monomer (middle) (
p
-xylylene radical), which forms polymeric chains of
poly
-
p
-xylylene (2, right, passivation) [
14
]. This reaction can occur either in the gas (volume polymerization) or on the cold surface (surface polymerization).

The activation process is expected to roll from left to right with increasing temperature or with the optimum of
ρ
in plasmas.
Either thermal or plasma processes are required to ensure a certain density of chain-forming radicals. From the temperature-dependent equilibrium, measured by mass spectrometry, the energy of dissociation can be calculated to be 1.68 eV [
23
]. In a low-temperature plasma, activation,
i.e.
, fragmentation into radicals and ionization, happens by collisional impact between rapidly moving electrons and almost inert neutrals. Therefore, the extent of activation is measured by the ratio of the high frequency power to the flow of molecules
F
, which equals the ratio of energy input to the number densityof molecules:
and
n
scales with partial pressure . For low power input or high monomer flow, resp., the ratio remains relatively small; this is called the monomer-sufficient region. By raising the power or reducing the flow, the deposition rate can be increased easily. For large power input or low monomer flow, resp., further fragmentation reactions become superior to simple formation of chain-building radicals, resulting in a decline of the deposition rate. These two regimes are separated by a third section, the competition region. This region is distinguished by a constant deposition rate. Compared to radio frequency discharges where processes across the sheath have to be considered, the splitting into three regimes should be readily checked and confirmed in microwave discharges lacking high-voltage sheaths [
4
,
18
].
Hence, one of the main issues of this work is the correlation of several properties of the bulk and of the surface of the polymeric film with the activation process and the density of the reactive species, which has been the subject of various previous papers [
23
,
30
,
31
].
Here, we will concentrate on the properties of the polymeric coatings, which were deposited with various conditions of pressure (number density) and flow, which define an upper limit for smooth, translucent coatings, caused by the onset of volume polymerization. This border is also drawn by too high of a microwave power, which causes a destruction of the benzene ring structure, indicated and proven by IR spectroscopy. The term "plasma enhanced" is also discussed in terms of yield and a bulk property (layer thickness). However, the most prominent features are the surface morphology and the surface energy, which determine the behavior against water and nonpolar solvents, simply regarded as a hydrophobic or hydrophilic character, and, moreover, the super-hydrophobic conduct, as well, which is eventually treated.
2. Experimental Section
The apparatus consists of a microwave reactor (parallelepiped) of 91 L (40 × 40 × 57 cm) to which the evaporator is flanged via a gate (Plasma Parylene Systems, Rosenheim, Germany,
Figure 2
).
Pulsed microwave power (2.45 GHz) is generated within a commercially available R26 wave guide as a resonant cavity and is coupled to the reactor via a quartz window, which is arranged at the center of one side (4 in. in diameter). Several instruments for plasma diagnostics are connected to the reactor via KF 40 flanges: an energy-dispersive mass spectrometer for residual gas analysis and reaction control (Hiden HAL EPQ 300, Kochel am See, Germany), a Langmuir probe (Ruhr-Universität Bochum, Germany) and an optical emission spectrometer (OMA III, Princeton Applied Research, Oak Ridge, TN). They are described in detail elsewhere [
32
,
33
].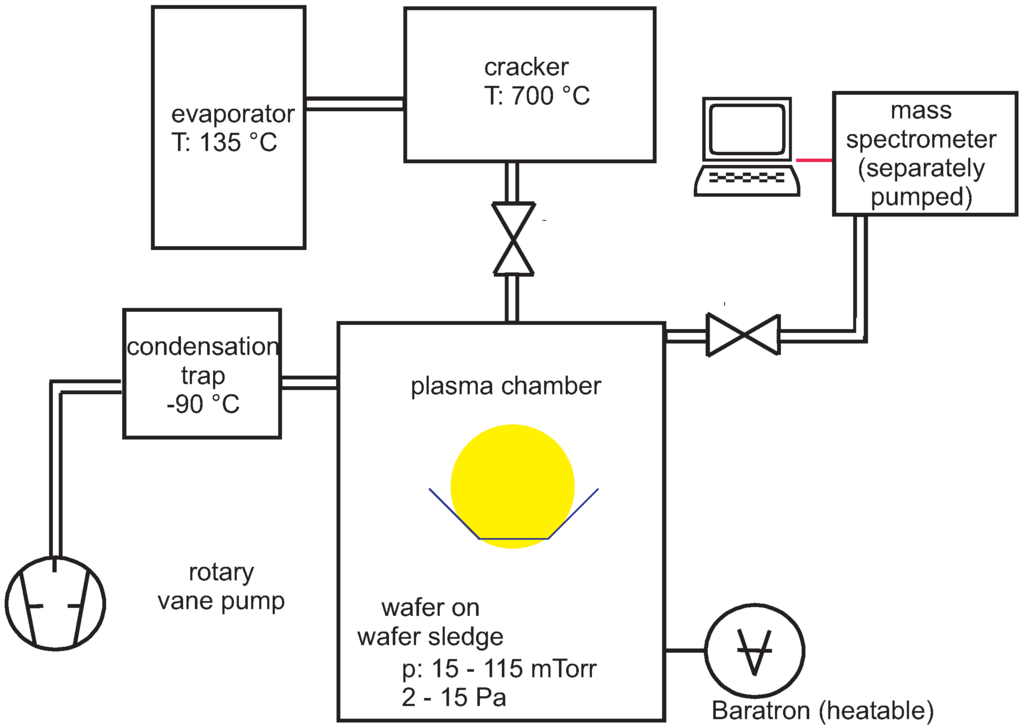 Figure 2. Sketch of the reactor with microwave source and microwave window and pumping system (condensation trap and rotary pump). Not shown are the diagnostic ports for optical emission spectroscopy and the Langmuir probes.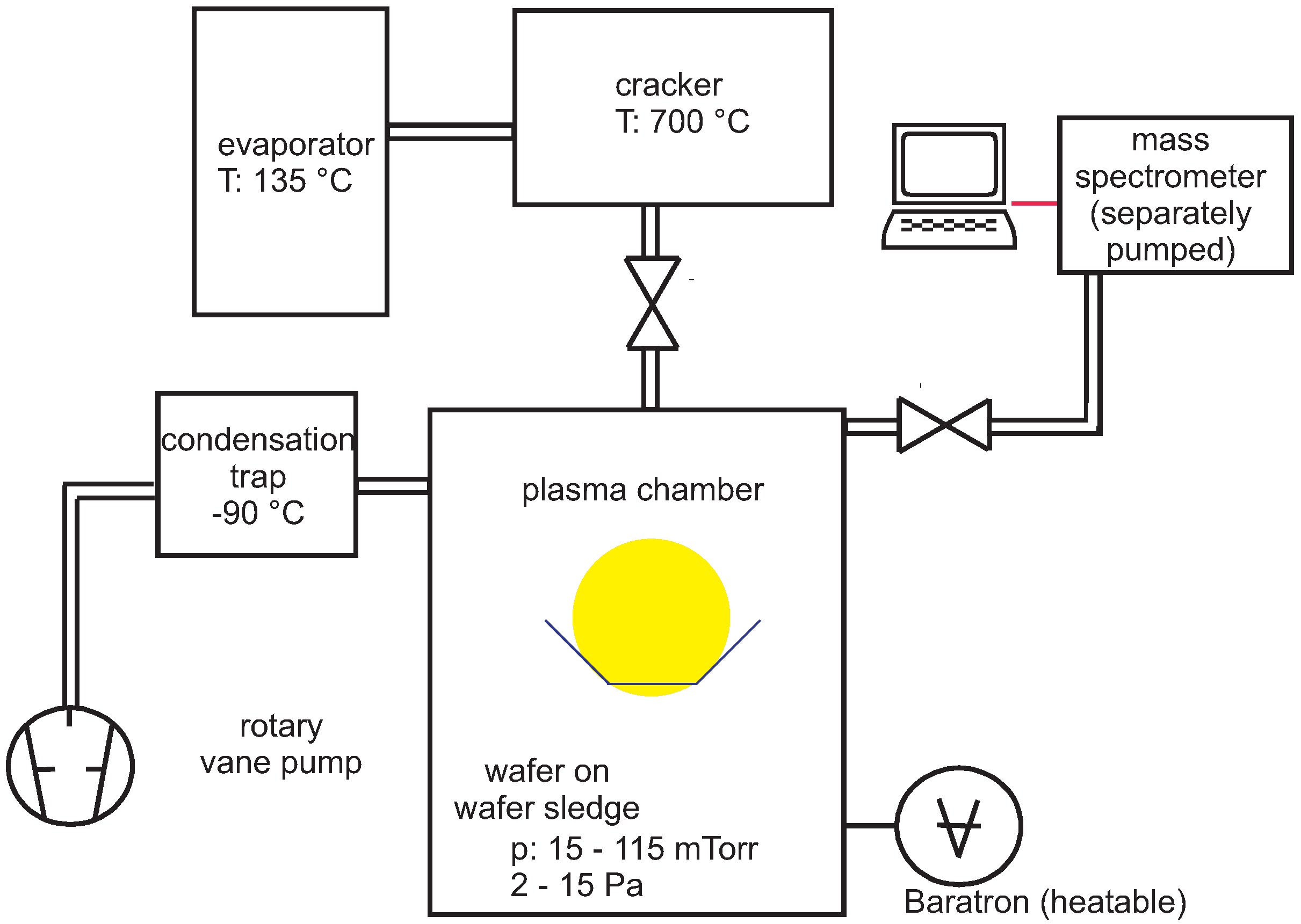 Between the pump and the exhaust, a cold trap is installed to catch abundant mono-parylene and non-reacted diparylene. The evaporator itself consists of a heating element and a relatively small container for the dimeric parylene. The system is extensively described in [
23
,
30
].
The coating process consists of evaporation of the dimer at a temperature between 110 and 130 C for the N-derivate and 135 and 150C for the C-derivate, which is subsequently decomposed into its monomeric species at temperatures beyond 620 C (source: Plasma Parylene Systems, Rosenheim, Germany). Upon entering the deposition chamber, the deposition process takes place as polymerization. Since vapor pressure solely depends on temperature, by this procedure, the flow of the monomeric species is kept constant at approximately 9 sccm. This process can be supported by a microwave plasma, which is easily ignited, even at higher discharge pressures. Pumping by a rotary pump is supported by a condensation trap, which is operated at −90 C. Base pressures are typically between 0.5 and 1 mTorr (0.2 Pa) and coating pressures (with or without a plasma) between 20 and 800 mTorr (3 and 100 Pa), controlled downstream by a valve (VAT, Switzerland). In some cases, the vapor is diluted by argon. For the unsubstituted cyclophane, at a 130 C evaporation temperature and a 700 C cracker temperature, the pressure in the reactor is 6 mTorr with pumping speed at maximum, measured with the heated Baratron B270 from MKS, without diluent gas. The vapor pressure of the C derivate is slightly higher, at a 110 C evaporation temperature and a 700 C cracker temperature; the pressure in the reactor is 7.5 mTorr. It is this value with which we start, the total pressure being reached by diluting with argon. Mass flow controllers of MKS (Munich, Germany) are used for O and CF for copolymerization; the parylene layers are attacked by an oxygen plasma generated in the microwave plasma system 100-E by Technics Plasma (Kirchheim, Bavaria, Germany).
The substrates to be coated are glass carriers for microscopy and three-dimensional medical tools, mostly capillaries and pipes, but also stents. Since, for diagnostic purposes, the addition of inert gas is required, we had to measure the deposition rate as a function of the fluxes of monomeric species and inert gas (argon) [
30
,
32
]. The deposited layers are analyzed by inspection with SEM, AFM with a micro-cantilever of OMCL-RC Olympus as a scanning tip and impedance analysis (low frequency and high frequency), applying electrochemical impedance spectroscopy (4192 A Impedance Analyzer of Hewlett-Packard), and by determination of the contact angle with two different liquids (HO as a prototype for a polar solvent and CHI as a prototype for a highly polarizable, but almost nonpolar solvent). Here, the so-called pendant-drop method is applied: The contact angle of a drop lying atop the substrate is measured. Applying the procedure according to Owens and Wendt, the total surface energy and their polar and dispersive fractions can be evaluated [
34
]. To check the integrity of the molecular structure during deposition and to look for new functional groups, several films have been analyzed applying Fourier-transformed IR spectroscopy (Bruker, Inc., Billerica, MA, USA).
3. Results and Discussion
4. Conclusions
The behavior of parylene films that were deposited with CVD and PECVD has been investigated. We can group these results into two categories, thermally-activated CVD, typically driven at a dissociation temperature of C, and plasma-activated CVD, typically driven below a microwave power density of 1.5 W/L. The upper limit for the second method is set by the onset of the destruction of the monomers (benzene rings) whose structure elements cannot be detected by IR spectroscopy any more.
The efficiency of polymerization depends on the density of active and functional monomers. Beyond 400 C, thermal activation generates active monomers. Plasma activation of functional monomers is limited to about 1.5 W/cm. Due to the decline of electron temperature and plasma density with rising pressure, this effect becomes less pronounced with increasing pressure.
The surface quality is very sensitive to changes of the plasma parameters studied, especially the degree of dilution with an inert gas, by which the type of polymerization can be changed from a reaction that mainly happens in the vapor to a reaction that mainly occurs on the surface. Most of the deposits are expected to act hydrophobically, which they actually do, but the surface can be made hydrophilic either by sole plasma monomerization without thermal support where a real coincidence between plasma density and hydrophilic behavior is observed or by a subsequent oxygen treatment. In this case, the film is slowly removed by oxidation. The hydrophilic surface remains stable for at least four weeks. A third path is opened with copolymerization, with oxygen yielding high performance low contact angles against water for both of the excitation methods.
Plasma-assisted copolymerization with CF also changes the nature of the deposit, this time to super-hydrophobic behavior. The surface remains relatively smooth, indicating that the process still remains in the regime of surface polymerization. The same amount of CF, added to a CVD process, shifts the process into the regime of volume polymerization, which is evidence by a rough surface.
Acknowledgment
This paper comprises some works of Stanislav Dribinskiy, Florian Schamberger and Astrid Ziegler. Thanks are due to Rosi Heilmann from Technische Universität München, who took the AFM micrographs. Financial support of the federal secretary of education and research under Numbers 1715X04 and 1753X08 is gratefully acknowledged.
Author Contributions
M.-C.A. and G.F. conceived and designed the experiments; A.R. performed the experiments; A.R. and G.F. analyzed the data; the work has been carried out in the Laboratory for Surface Refinement and Thin Film Technology of Munich University of Applied Sciences and in Walter Schottky Institute of Technische Universität München which is directed by M.-C.A.; A.R. and G.F. wrote the paper.
Conflicts of Interest
The authors declare no conflict of interest.
References
Fortin, J.B.; Lu, T.-M.

The Growth and Properties of Parylene Thin Films

; Kluver Academic Publishers: Dordrecht, Netherlands, 2004. [Google Scholar]
Odian, G.

Principles of Polymerization

, 4th ed.; Wiley-Interscience: New York, NY, USA, 2004. [Google Scholar]
Zhang, X.; Dabral, S.; Chiang, C.; McDonald, J.F. Crystallinity properties of parylene-N affecting its use as an ILD in submicron integrated circuit technology.

Thin Solid Films

1995,

270

, 508–512. [Google Scholar] [CrossRef]
Yasuda, H.

Plasma polymerization

; Academic Press Inc.: New York, NY, USA, 1985. [Google Scholar]
Yang, G.R.; Ganguli, S.; Karcz, J.; Gill, W.N.; Lu, T.M. High deposition rate parylene films.

J. Cryst. Growth

1998,

183

, 385–390. [Google Scholar] [CrossRef]
Franz, G. Plasma roughening of polished SiC substrates.

Mater. Sci. Semicond. Process.

2003,

5

, 525–531. [Google Scholar] [CrossRef]
Tserepi, A.D.; Vlachopoulou, M.-E.; Gogolides, E. Nanotexturing of poly(dimethylsiloxane) in plasmas for creating robust super-hydrophobic surfaces.

Nanotechnology

2006,

17

, 3977–3983. [Google Scholar] [CrossRef]
Kokkoris, G.; Constantoudis, V.; Angelikopoulos, P.; Boulousis, G.; Gogolides, E. Dual nanoscale roughness on plasma-etched Si-surfaces: Role of etch inhibitors.

Phys. Rev. B

2007,

76

. [Google Scholar] [CrossRef]
Lu, B; Lin, J.C.-H.; Liu, Z; Lee, Y.-K.; Tai, Y.-C. Highly flexible, transparent and patternable parylene-C superhydrophobic films with high and low adhesion. In Proceedings of 24th International Conference MEMS, Cancun, Mexico, 23–27 January 2011; pp. 1143–1146.
Morris, J.R. Electrosurgical instrument having a parylene coating. U.S. Patent 5,380,320 A, 9 November 1993. [Google Scholar]
Vitek Research Corporation. Parylene coating. Available online: http://vitekres.com/coatings/parylene-coatings (accessed on 5 May 2015).
Hanyaloglu, B.; Aydinli, A.; Oye, M.; Aydil, E.S. Low dielectric constant Parylene-F-like films for intermetal dielectric applications.

Appl. Phys. Lett.

1999,

74

, 606–608. [Google Scholar] [CrossRef][Green Version]
Juneja, S.; Ten Eyck, G.A.; Bakruand, H.; Lu, T.-M. Pressure dependent Parylene-N pore sealant penetration in porous low-

κ

dielectrics.

J. Vac. Sci. Technol. B

2005,

23

, 2232–2235. [Google Scholar] [CrossRef]
Gorham, W.F. A new, general synthetic method for preparation of linear poly-pxylylenes.

J. Polym. Sci. A

1966,

4

, 3027–3039. [Google Scholar] [CrossRef]
Demirel, M.C.; Cetinkaya, M.; Singh, A.; Dressick, W. A Non-covalent method for depositing nanoporous metals via spatially organized poly(p-xylylene) films.

Adv. Mater.

2007,

19

, 4495–4499. [Google Scholar] [CrossRef]
Cetinkaya, M. Synthesis and Characterization of Nanostructured Poly-(p-xylylene) Films. Ph.D. Thesis, Pennsylvania State University, Pittsburgh, PA, USA, 2008. [Google Scholar]
Stahl, U. Entwicklung eines Verfahrens zur Stabilisierung von Polymerschichten auf OFW-Sensoren für die Analytik von organischen Gasen. Ph.D. Thesis, Techn. University of Karlsruhe, Karlsruhe, Germany, 1999. [Google Scholar]
Lin, T.J.; Chun, B.H.; Yasuda, H.K.; Yang, D.J.; Antonelli, J.A. Plasma polymerized organosilanes as interfacial modifiers in polymer-metal systems.

J. Adhes. Sci. Technol.

1991,

5

, 893–901. [Google Scholar] [CrossRef]
Ishaque, M. Poly(

p

-xylylene): Synthesen, Strukturen, Eigenschaften und spezielle Anwendungsgebiete. Ph.D. Thesis, Philipps-Universität, Marburg/Lahn, Germany, 1999. [Google Scholar]
Yasuda, H.; Chun, B.H.; Cho, D.L.; Lin, T.J.; Yang, D.J.; Antonelli, J.A. Interface-engineered parylene C coating for corrosion protection of cold-rolled steel.

Corrosion

1996,

52

, 169–176. [Google Scholar] [CrossRef]
Ganguli, S.; Agrawal, H.; Wang, B.; McDonald, J.F.; Lu, T-M.; Yang, G.-R.; Gill, W.N. Improved growth and thermal stability of parylene films.

J. Vac. Sci. Technol. A

1997,

15

, 3138–3142. [Google Scholar] [CrossRef]
Franz, G.; Schamberger, F.; Voss, D. Druckgesteuerte Abscheiderate. German Patent Disclosure DE 2012 014 915.8, 29 July 2012. [Google Scholar]
Franz, G.; Schamberger, F. Evaporation and thermal cracking of dimeric parylenes.

J. Vac. Sci. Technol. A

2013,

31

, 061602:1–061602:8. [Google Scholar] [CrossRef]
Kammer, S.; Wien, S.; Koch, K.P.; Robitzki, A.; Stieglitz, T. Untersuchungen zur Abscheidung von Parylen C als Kapselungsmaterial für biomedizinische Mikroimplantate — Coating material of parylene C as encapsulation material for biomedical micro-implants.

Biomedizin. Technol.

2002,

47

, 823–830. [Google Scholar] [CrossRef]
Greiner, A.; Mang, S.; Schäfer, O.; Simon, P. Poly(1,4-xylylene)s: Synthesis, polymer analogeous reactions, and perspectives on structure-property relationsships.

Acta Polym.

1997,

48

, 1–15. [Google Scholar] [CrossRef]
Simon, P.; Mang, S.; Hasenhindl, A.; Gronski, W.; Greiner, A. Poly(1,4-xylylene) and its derivatives by chemical vapor deposition: Synthesis, mechanism, and structure.

Macromolecules

1998,

31

, 8775–8780. [Google Scholar] [CrossRef]
Ishaque, M.; Agrarwal, S.; Greiner, A. Synthesis and properties of novel poly(p-xylylene)s with aliphatic substituents.

e-Polymers

2002,

31

, 442–451. [Google Scholar] [CrossRef]
Falbe, J.; Regitz, M.

Römpp Chemie Lexikon

; Georg Thieme Verlag: Stuttgart, Germany, 1995. [Google Scholar]
Gerhartz, W.; Elvers, B.

Ullmanns Enzyklopädie der technischen Chemie 15

, 4th ed.; Verlag Chemie: Weinheim/Bergstraße, Germany, 1992; p. 432. [Google Scholar]
Franz, G.; Rauter, F.; Dribinskiy, S.F. Characterization of microwave plasmas for deposition of polyparylene.

J. Vac. Sci. Technol. A

2009,

27

, 1035–1041. [Google Scholar] [CrossRef]
Schamberger, F.; Ziegler, A.; Franz, G. Influence of film thickness and chemical vapor deposition rate on surface quality of polyparylene coatings.

J. Vac. Sci. Technol. B

2012,

30

, 051801:1–051801:6. [Google Scholar] [CrossRef]
Franz, G.; Kelp, A.; Meßerer, P. Analysis of chlorine-containing plasmas applied in III/V semiconductor processing.

J. Vac. Sci. Technol. A

2000,

18

, 2053–2061. [Google Scholar] [CrossRef]
Franz, G. Comprehensive analysis of capacitively coupled chlorine-containing plasmas.

J. Vac. Sci. Technol. A

2005,

23

, 369–387. [Google Scholar] [CrossRef]
Kaelble, D.H.

Physical Chemistry of Adhesion

; John Wiley: New York, NY, USA, 1971. [Google Scholar]
Rogojevic, S.; Moore, J.A.; Gill, W.N. Modeling vapor deposition of low-K polymers: Parylene and polynaphtalene.

J. Vac. Sci. Technol. A

1999,

17

, 266–274. [Google Scholar] [CrossRef]
Blackburn, E.V.; Timmons, C.J. The photocyclisation of stilbene analogues.

Quart. Rev.

1969,

23

, 482–503. [Google Scholar] [CrossRef]
Beach, W.F. A Model for the Vapor deposition polymerization of

p

-Xylylene.

Macromolecules

1978,

11

, 72–76. [Google Scholar] [CrossRef]
Olson, R. Xylylene polymers. In

Encyclopedia of Polymer Science and Engineering

, 2nd ed.; Wiley: New York, NY, USA, 1989; Volume 17, pp. 990–1024. [Google Scholar]
Mitu, B.; Bauer-Gogonea, S.; Leonhartsberger, H.; Lindner, M.; Bauer, S.; Dinescu, G. Plasma-deposited parylene-like thin films: process and material properties.

Surf. Coat. Technol.

2003,

174–175

, 124–130. [Google Scholar]
Streitwieser, A., Jr.; Ward, H.R. Organic compounds in microwave discharges: II. Initial studies with toluene and related hydrocarbons.

J. Am. Chem. Soc.

1963,

85

, 539–542. [Google Scholar] [CrossRef]
Wertheimer, M.R.; Moisan, M. Comparison of microwave and lower frequency plasmas for thin film deposition and etching.

J. Vac. Sci. Technol. A

1985,

3

, 2643–2649. [Google Scholar] [CrossRef]
Moisan, M.; Barbeau, C.; Claude, R.; Ferreira, C.M.; Margot, J.; Paraszczak, J.; Sá, A.B.; Sauvé, G.; Wertheimer, M.R. Radio frequency or microwave plasma reactors? Factors determining the optimum frequency of operation.

J. Vac. Sci. Technol. B

1991,

9

, 8–25. [Google Scholar] [CrossRef]
Cassie, A.B.D.; Baxter, S. Wettability of porous surfaces.

Trans. Faraday Soc.

1944,

40

, 546–550. [Google Scholar] [CrossRef]
Wenzel, R.N. Resistance of solid surfaces to wetting by water.

Ind. Eng. Chem.

1936,

28

, 988–994. [Google Scholar] [CrossRef]
Hwang, K.S.; Park, J.H.; Lee, J.H.; Yoon, D.S.; Kim, T.S.; Han, I.; Noh, J.H. Effect of atmospheric-plasma treatment for enhancing adhesion of Au on parylene-C-coated protein chips.

J. Korean Phys. Soc.

2004,

44

, 1168–1172. [Google Scholar]
Senkevich, J.J.; Mitchell, C.J.; Vijayaraghavan, A.; Barnat, E.V.; McDonald, J.F. Unique structure/properties of chemical vapor depositied parylene E.

J. Vac. Sci. Technol. A

2002,

20

, 1445–1451. [Google Scholar] [CrossRef]
Coburn, J.W.; Winters, H.F. Plasma etching—A discussion of mechanisms.

J. Vac. Sci. Technol.

1979,

16

, 391–403. [Google Scholar] [CrossRef]
Shin, Y.S.; Cho, K.; Lim, S.H.; Chung, S.; Park, S.-J.; Chung, C.; Han, D.-C.; Chang, J.K. Pdms-based micro PRC chip with parylene coating.

J. Micromech. Microeng.

2003,

13

, 768–774. [Google Scholar] [CrossRef]
Pruden, K.G.; Sinclair, K.; Beaudoin, S. Characterization of parylene-N and parylene-C photooxidation.

J. Polym. Sci. Part A Polym. Chem.

2003,

41

, 1486–1496. [Google Scholar] [CrossRef]
Zhuang, Y.X.; Menon, A. Wettability and thermal stability of fluorocarbon films deposited by deep reactive ion etching.

J. Vac. Sci. Technol. A

2005,

23

, 434–439. [Google Scholar] [CrossRef]
Yeo, J.; Choi, M.J.; Kim, D.S. Robust hydrophobic surfaces with various micropillar arrays.

J. Micromec. Microeng.

2010,

20

. [Google Scholar] [CrossRef]
Bi, X.; Crum, B.P.; Li, W. Super hydrophobic parylene-C produced by consecutive O2 and SF6 plasma treatment.

J. Microelectromech. Sys.

2014,

23

, 628–635. [Google Scholar] [CrossRef]
Liston, E.M.; Martinu, L.; Wertheimer, M.R. Plasma surface modification of polymers for improved adhesion: A critical review.

J. Adhesion Sci. Technol.

1993,

7

, 1091–1127. [Google Scholar] [CrossRef]
Liston, E.M. Plasma treatment for improved bonding: A review.

J. Adhesion

1989,

30

, 199–218. [Google Scholar] [CrossRef]
Tsougeni, K.; Petrou, P.S.; Tserepi, A.; Kakabakos, S.E.; Gogolides, E. Nano-texturing of poly(methyl metacrylate) polymer using plasma processes and applications in wetting control and protein absorption.

Microelectron. Eng.

2009,

86

, 1424–1427. [Google Scholar] [CrossRef]
© 2015 by the authors; licensee MDPI, Basel, Switzerland. This article is an open access article distributed under the terms and conditions of the Creative Commons Attribution license (http://creativecommons.org/licenses/by/4.0/).