Open Access This article is
freely available
re-usable
Review
Titanium Nitride and Nitrogen Ion Implanted Coated Dental Materials
1
Dental Biomaterials Research and Development Chair, College of Dentistry, King Saud University, Riyadh 11545, Saudi Arabia
2
School of Dentistry, Marquette University, Milwaukee, WI 53233, USA
3
Dental Biomaterials, School of Dentistry, Marquette University, Milwaukee, WI 53233, USA
4
Department of Biomaterials, School of Dentistry, University of Athens, Athens, Greece
*
Author to whom correspondence should be addressed.
Received: 4 May 2012; in revised form: 2 July 2012 / Accepted: 3 July 2012 / Published: 26 July 2012
Abstract
:
Titanium nitride and/or nitrogen ion implanted coated dental materials have been investigated since the mid-1980s and considered in various applications in dentistry such as implants, abutments, orthodontic wires, endodontic files, periodontal/oral hygiene instruments, and casting alloys for fixed restorations. Multiple methodologies have been employed to create the coatings, but detailed structural analysis of the coatings is generally lacking in the dental literature. Depending on application, the purpose of the coating is to provide increased surface hardness, abrasion/wear resistance, esthetics, and corrosion resistance, lower friction, as well as greater beneficial interaction with adjacent biological and material substrates. While many studies have reported on the achievement of these properties, a consensus is not always clear. Additionally, few studies have been conducted to assess the efficacy of the coatings in a clinical setting. Overall, titanium nitride and/or nitrogen ion implanted coated dental materials potentially offer advantages over uncoated counterparts, but more investigation is needed to document the structure of the coatings and their clinical effectiveness.
Keywords:
titanium nitride; nitrogen ion implantation; dental materials; implants; endodontics; orthodontics; dental instruments
1. Introduction
Titanium nitride (TiN) and nitrogen ion implanted coatings have been used in industry for quite some time with eventual cross-over to dental applications in the mid-1980s. Since this time, these coatings have been applied to dental materials used in implant dentistry, orthodontics, endodontics, prosthodontics, and periodontics. Depending on application, the purpose of the coating is to provide increased surface hardness, abrasion/wear resistance, and corrosion resistance, lower friction, as well as greater beneficial interaction with adjacent biological and material substrates. A review of titanium nitride coatings in clinical dentistry was published in 1992 by Mezger and Creugers [
1
]. Taking into consideration that much has changed in dentistry and coating technology since 1992, the objective of this article was to provide a review of the literature of titanium nitride and nitrogen-ion implanted coated dental materials, focusing on coating methodologies, structural analysis, and an examination of coating applications and properties in the aforementioned disciplines.
2. Coating Methodologies and Structural Analysis
2.1. Coatings in Implant Dentistry
In conclusion, the application of TiN coating on Ti implants provides antibacterial activity without compromising the osseointegrative properties of the Ti surface. In addition, it enhances the wear resistance of Ti abutments. Further research appears warranted, especially clinical research to assess the efficacy of the coatings long term.
2.2. Coatings in Orthodontics
In conclusion, while ion implanted arch wires have continually been gaining popularity due to their hypothesized reduction in friction, increase in rate of tooth movement and decrease in release of nickel ions, results are often contradictory and thus inconclusive. More clinical testing should be performed to determine with confidence whether surface-treated arch wires have the hypothesized benefits.
2.3. Coatings in Endodontics
Endodontic treatment involves the removal of infected nerve tissue within the pulp chamber and canals of the tooth. Due to the small size of the canals, endodontic files are used to shape and clean the canals along with specific chemicals to ensure the disinfection of the canals. Following its introduction to orthodontics, the benefits of NiTi in endodontic applications was first published in 1988 [
71
]. NiTi's superelastic characteristic allows for greater flexibility and elasticity to that of an ordinary metal/alloy; as a result it has superior ability compared to stainless steel to negotiate root canals without causing undesirable shapes where bacteria may reside. Although NiTi endodontic files show some ideal qualities, after repeated use, increased wear, lower cutting efficiency and reaching a cyclic fatigue limit can be problematic for the practitioner. Surface treatments, including TiN and N ion implantation, have been developed to help control these factors.
Figure 2
displays a file that has a titanium nitride coating compared to an uncoated file.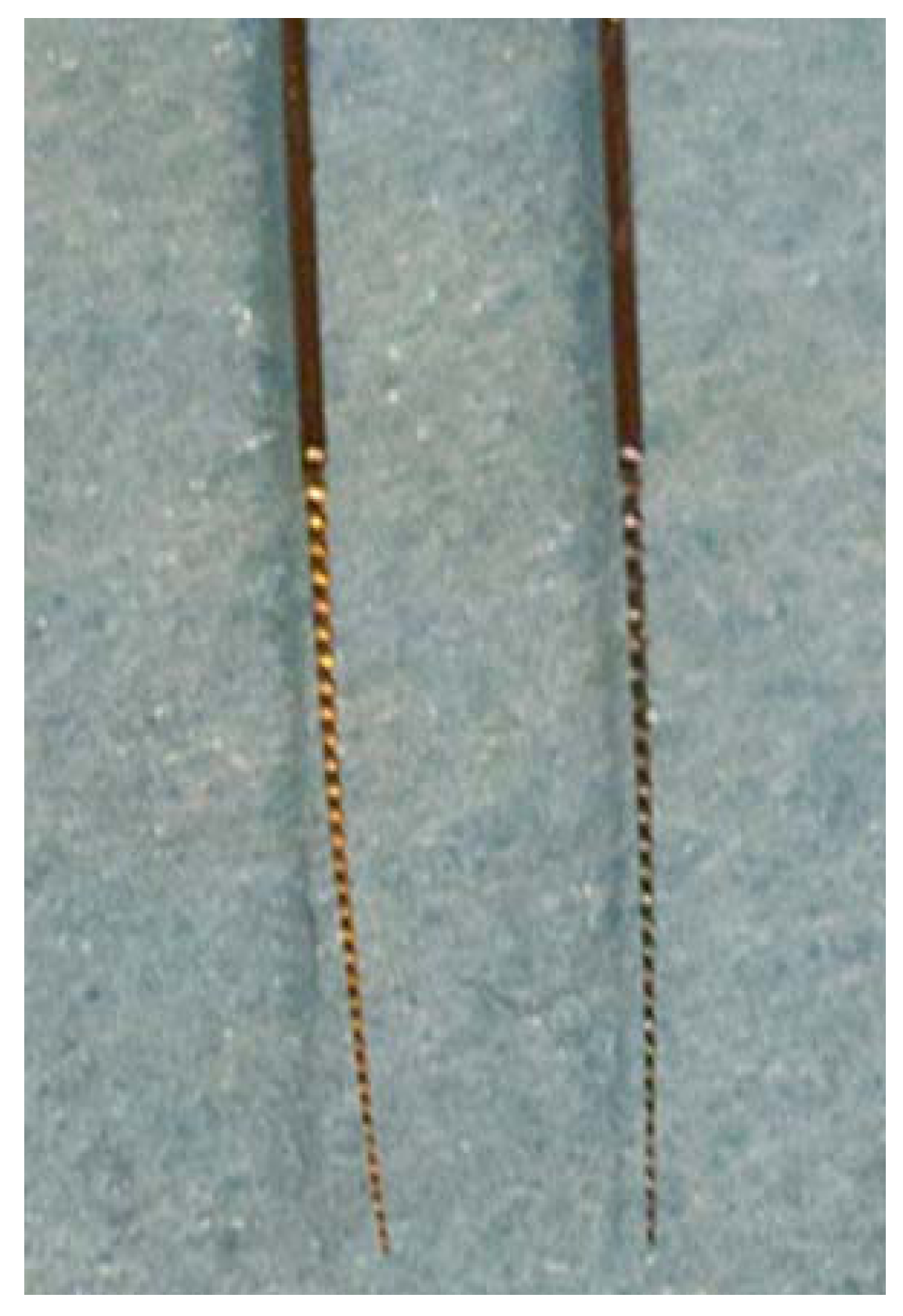 As with other applications, some of the purported advantages associated with surface treatment include increased surface hardness, cutting efficiency, corrosion resistance, and cyclic fatigue resistance. Several studies have supported these statements. Rapisarda
et al.
[
41
] found both nitrogen ion implanted and thermally nitride files possessed greater wear resistance and had increased cutting capacity compared to uncoated controls. In a more qualitative study via SEM by the same authors [
35
], they found nitrogen ion implanted instruments did not manifest the typical signs of wear and surface changes that affected untreated NiTi files when used to instrument acrylic endodontic training blocks. Similarly, Schäfer [
17
] showed files that had undergone physical vapor deposition had increased cutting efficiency compared to uncoated files. Further, repeated sterilization cycles via autoclaving or exposure to sodium hypochlorite prior to sterilization did not alter the cutting efficiency of PVD-coated NiTi files but it did affect the non-coated files [
18
]. In this study, the greater cutting efficiency of PVD-coated files was noted among the non-sterilized groups. Bonaccorso
et al.
[
7
] observed greater pitting potentials of PVD-coated files tested in NaCl, indicating increased corrosion resistance. Gavini
et al.
[
36
] observed greater cyclic fatigue lifetimes in NiTi files processed via nitrogen ion implantation.
A potential issue when NiTi is subjected to coating treatments is whether the coating procedure will alter the phase transformation behavior of the files. For this reason, low temperature or even room temperature coating procedures have been advocated and shown to minimally affect phase transformation. Li
et al.
[
34
] found phase transformation temperatures and enthalpies between as-received and room temperature plasma immersion ion implantation files were similar, indicating the procedure should not affect superelastic properties.
Not all articles have provided positive results with coating endodontic files. Wolle
et al.
[
37
] compared Ni and Ar ion implanted files for fatigue resistance using curved canals in resin blocks. Results showed that argon implantation moderately improved the performance of the files, but nitrogen implanted files performed worse than uncoated files in the fatigue test. It was theorized that the reduction in file performance was caused by nitrogen diffusion in the grain boundaries, instead of the desired improvement caused by titanium nitride formation. Alves-Claro
et al.
[
32
] observed a decrease in hardness for NiTi files following plasma immersion nitrogen ion implantation, although they stated that wear resistance was increased.
Overall, the majority of articles presented suggest TiN coating of endodontic files leads to an increase in beneficial properties without necessarily sacrificing its superelastic qualities. However, it should be noted that these studies have all been
in vitro
, therefore the clinical success of coated NiTi endodontic instruments remains untested.
2.4. Coatings in Prosthodontics
Better marginal adaptation was found clinically with the application of TiN coating on titanium. For magnetic stainless steel alloys, better corrosion resistance and adequate bond strengths were found with the application of TiN as a coating. In addition, TiN coatings on Au-Pd-Ag alloys did increase the bond strength to composite resin and the coating of TiN to a nickel-based alloy improved biocompatibility. Overall, with all of these benefits in mind, it is clear that many dental alloys have marked improvements with the application of TiN coatings.
2.5. Coatings in Dental Instrumentation
Periodontal therapy includes the removal of hard and soft deposits from root surfaces. As a result, many dental instruments used in oral hygiene control must be sufficiently hard and resistant to wear and dulling. Naturally, coating dental instruments with titanium nitride coatings has been investigated as a means of developing instruments with better edge retention. Sisera
et al.
[
64
] compared TiN coated curettes to a cryogenically treated stainless steel instrument and uncoated stainless steel control in a study involving root planing of bovine teeth. All three materials held their cutting capacity for up to 1010 strokes, however, sterilization of the instruments was found to decrease cutting edge retention. Clinically, the cutting efficacy of the curettes is important for removal of subgingival biofilm, calculus, and endotoxins from the root surface. Aspriello
et al.
[
65
] showed the use of a curette followed by a TiN coated ultrasonic instrument created root surfaces free from smear layers, which presumably would promote early wound healing. Sawase
et al.
[
42
] measured surface hardness and abrasion resistance of different hygiene instruments, some with a TiN coating. The TiN coated titanium possessed a hardness approximately twelve times that of non-coated titanium. Further, abrasion resistance was greater in the TiN coated group compared to pure titanium.
Certain dental instruments are used to place restorative materials and may be used mechanically but may also contact restorative materials. Thus, titanium nitride has been researched as a coating to stainless steel dental instruments to improve properties of adhesion of the restorative material, contamination and discoloration of the restorative material, and wear resistance [
66
]. With regard to adhesion of restorative materials, TiN coatings have been suggested and marketed to be low-stick and improve this quality over traditional stainless steel instruments due to its low coefficient of friction and higher contact angle. For composite resins and glass ionomers, TiN coated stainless steel instruments produced no decrease in adhesion compared to non-coated, clean, polished stainless steel instruments. When considering discoloration of the restorative material, TiN coated stainless steel instruments produced no discoloration of the restoration, whereas non-coated stainless steel instruments did discolor composite resin samples [
66
]. When compared with non-coated stainless steel instruments, TiN coated instruments had better wear resistance to unpolymerized composite resin [
67
]. Further, this coating was shown to be harder, smoother and uncracked compared to alumina coated stainless steel instruments and non-coated stainless steel instruments after sterilization and ultrasonic cleaning cycles. In order to improve wear resistance of tungsten carbide (WC-Co) instruments, TiN has been suggested as an interlayer prior to diamond deposition on these dental instruments. In this case, TiN acts as a diffusion barrier between cobalt and carbon species to increase the adhesion of diamond films which are desired for their wear resistance [
68
]. When compared to tungsten carbide instruments without an interlayer of TiN, the instruments with TiN present increased the lifetime of the instrument and had better wear resistance [
68
].
3. Conclusions
Titanium nitride and/or nitrogen ion implanted coated dental materials have been investigated within many different dental disciplines for a few decades. Despite this, commercially-available materials primarily consist of coated orthodontic archwires. Though much research has determined the effect of the coatings on hardness, wear resistance, corrosion, friction, bone adaption, and bacterial adherence, very few clinical studies are available to ascertain their effectiveness
in vivo
.
Acknowledgments
The authors thank Neill H. Luebke and the Ormco Corporation for providing the coated endodontic file and orthodontic wires, respectively, displayed in the figures.
© 2012 by the authors; licensee MDPI, Basel, Switzerland. This article is an open-access article distributed under the terms and conditions of the Creative Commons Attribution license (http://creativecommons.org/licenses/by/3.0/).