Open Access This article is
freely available
re-usable
Review
Antibiotic-Resistant Septicemia in Pediatric Oncology Patients Associated with Post-Therapeutic Neutropenic Fever
1
Departamento de Microbiología del Centro de Investigación en Ciencias de la Salud (CICSA), FCS, Universidad Anáhuac México Campus Norte, Cuidad de México 52786, Mexico
2
Coordinación Ciclos Clínicos, Facultad de Ciencias de la Salud, Universidad Anáhuac México Campus Norte, Cuidad de México 52786, Mexico
3
Departamento de Microbiología y Parasitología, Facultad de Medicina, Universidad Nacional Autónoma de México, Ciudad de México 04510, Mexico
4
Director Facultad de Ciencias de la Salud, Universidad Anáhuac México, Cuidad de México 52786, Mexico
5
Laboratorio de Medicina Genómica, Hospital Regional "Primero de Octubre", ISSSTE, Av. Instituto Politécnico Nacional 1669, Lindavista, Gustavo A. Madero, Ciudad de Mexico 07300, Mexico
*
Author to whom correspondence should be addressed.
Received: 18 June 2019 / Accepted: 17 July 2019 / Published: 30 July 2019
Abstract
:
Death in cancer patients can be caused by the progression of tumors, their malignity, or other associated conditions such as sepsis, which is a multiphasic host response to a pathogen that can be significantly amplified by endogenous factors. Its incidence is continuously rising, which reflects the increasing number of sick patients at a higher risk of infection, especially those that are elderly, pediatric, or immunosuppressed. Sepsis appears to be directly associated with oncological treatment and fatal septic shock. Patients with a cancer diagnosis face a much higher risk of infections after being immunosuppressed by chemotherapy, radiotherapy, or anti-inflammatory therapy, especially caused by non-pathogenic, Gram-negative, and multidrug-resistant pathogens. There is a notorious difference between the incidence and mortality rates related to sepsis in pediatric oncologic patients between developed and developing countries: they are much higher in developing countries, where investment for diagnosis and treatment resources, infrastructure, medical specialists, cancer-related control programs, and post-therapeutic care is insufficient. This situation not only limits but also reduces the life expectancy of treated pediatric oncologic patients, and demands higher costs from the healthcare systems. Therefore, efforts must aim to limit the progression of sepsis conditions, applying the most recommended therapeutic regimens as soon as the initial risk factors are clinically evident—or even before they are, as when taking advantage of machine learning prediction systems to analyze data.
Keywords:
childhood cancer; septicemia; multidrug-resistant (MDR) bacteria; extensively drug-resistant (XDR) bacteria; pandrug-resistant (PDR) bacteria; post-therapeutic neutropenic fever; Mexico
1. Introduction
The World Health Organization (WHO) defines cancer as the uncontrolled growth and spread of cells that can affect any tissue in the body. According to data from the WHO, during 2015, 1 out of 6 deaths worldwide was related to cancer, and the WHO predicts a 70% increase in cancer cases during the next two decades. Cancer is a condition mainly associated with populations above 50 years old (87% of cases) [
1
,
2
].
Death in cancer patients can be caused by the tumor progression, their malignity, or by other associated conditions (e.g., sepsis). Sepsis is particularly important, as it appears to be directly associated with oncology therapy and fatal septic shock [
3
]. According to Cara B. Thurman et al., patients with cancer diagnosis face a much higher risk of infections after being immunosuppressed by chemotherapy, radiotherapy, or anti-inflammatory therapy. Additionally, these high-risk treatments demand in-hospital administration, thus increasing the potential for nosocomial infections [
4
]. In this manner, severe complications decrease the poor survival rates for pediatric cancer patients.
Fever is the primary reason pediatric oncology patients present to the emergency services; some studies have revealed that 0.9%–39% of febrile nonneutropenic oncology patients are bacteremic, and it has been estimated that 7.3% of oncology patients who are admitted to emergency services have positive bacterial blood cultures. The factors that increase the risk of sepsis development include URI (upper respiratory infection), with an increase of sepsis risk by 2.3 times, neuroblastoma by 3.6 times, other cancer diagnoses by 4.5 times, and tunneled externalized CVC (central venous catheter) by 5 times.
The hallmark of immunosuppressed patients undergoing cancer treatment is neutropenia, defined as a granulocyte count below 500 cells per cubic millimeter [
5
]. When this white blood cell count is accompanied by episodes of fever above 38 °C, it is said that the patient suffers from a neutropenic fever. The empirical use of more powerful antibiotics and antifungals, as well as the improvement of post-therapeutic techniques, have reduced neutropenic fever mortality rates in children to 7% worldwide [
6
,
7
]; however, the emergence of multidrug-resistant pathogens still represents a challenge for immunosuppressed oncological patients, particularly increasing the infant mortality rate.
Here we provide an overview of antibiotic-resistant sepsis development during chemotherapy in the pediatric oncological patients with neutropenic fever, with emphasis on the nosocomial infections caused by multidrug-resistant (MDR), extensively drug-resistant (XDR), and to pandrug-resistant (PDR) bacteria.
2. Background
Although the association between cancer and infection is well known, few studies have been performed to determine how harmful it is. A study published in 2004 evaluated data from six states of the United States in order to establish a relationship between oncological hospitalizations and sepsis. Its results showed that sepsis is a very common and severe complication among oncological patients. They are three times more likely to develop it [
8
]; 4.9% of the 2.5 million cancer-related hospitalizations per year in the United States develop sepsis. Additionally, sepsis is responsible for 36.7% of mortality in hospitalized cancer patients, and 8.5% of the total cancer-related deaths.
Neutropenic fever's etiological agents have changed over a long period of time. During the 1970s, Gram-negative bacteria were the most common pathogens involved with sepsis, however, starting in the 1990s there was a transition to Gram-positive bacteria—most commonly those belonging to
Staphylococcus
. Recently, the predominance of Gram-negative microorganisms has come back, mainly characterized by
Klebsiella
and
E. coli
strains [
7
]. These epidemiological changes are associated with different approaches used in patients with cancer, such as the prophylactic use of fluoroquinolones and the in-hospital use of intravascular catheters. Additionally, it should be noted that the increase of severe mucositis incidence is also associated with the use of chemotherapy [
9
].
3. Statistics and Socio-Economic Gaps
Childhood cancer appears before the age of 15. Today, in developed countries, the 5-year survival rate is between 80%–90% of patients—a huge improvement when compared to the 30% reported 40 years ago. Investment on infrastructure and post-treatment care for pediatric oncologic patients has increased this survival rate by making available the means to reduce the cytotoxic impact of chemotherapy, immunosuppression, complications of hematopoietic stem cells transplantation (HSCT), radiotherapy, and aggressive surgical intervention.
4. Role of Post-therapeutic Oncological Support Services Unit
Multidisciplinary teams, consisting of doctors, nurses, social workers, children's life specialists, schoolteachers, psychologists, religious experts, and others, are fundamental for the treatment of pediatric cancer. When we talk about post-therapeutic care, the role of nurses is of vital importance as they are considered the coordinators of the entire care of the patient. The staff of the intensive care unit must be focused on preventing risks threatening patients' lives. They should count on adequate facilities and highly specialized staff in the post-therapeutic care of pediatric oncology patients.
5. Multidrug-Resistant Post-Therapeutic Infections
6. A Brief Look at the Pathophysiology of Sepsis
Immunosuppression associated with infection becomes more critical if it is due to a multidrug-resistant (MDR) or extensively drug-resistant (XDR) bacterium, and it results in a worse prognosis if it is due to pandrug-resistant (PDR) bacteria. The immunosuppression observed in cancer patients represents an important risk factor for developing sepsis, leading to higher mortality rates and higher costs for the healthcare sector.
In a meta-analysis of the 30 most important studies on multi-organ failure from the past decades, the ideal criteria as a detector of dysfunction in each organ are described. Four scales have been proposed for multi-organ failure, all of them including all six systems: cardiovascular, respiratory, liver, hematopoietic, renal, and neurological. This has several advantages: (1) it results from the physiological alterations of six organs; (2) it correlates with mortality since day one; (3) it shows that mortality correlates with the number of failed organs and their degree of dysfunction; (4) it shows early anomalies as well as changes after admission.
This infection takes high relevance when it is caused by drug-, multidrug-, or pandrug-resistant nosocomial bacteria, and when it is caused by medical procedures or long in-hospital stay.
7. Big Data Analysis to Predict or Identify Sepsis Development
The term "big data" refers to information collected on a large scale and evaluated to obtain new insights or forms of usefulness [
49
]. The growing evolution of big data analysis techniques makes it necessary to develop platforms capable of analyzing perioperative risks dynamically and in real time, starting from large amounts of newly generated information or that stored in electronic clinical files. This data is characterized by its high dimensionality, sparsity, and heterogeneity. Data-driven deep-learning approaches, also known as DNNs (deep neural networks), are methods to approximate parametric functions by using algorithms and training data [
50
].
New diagnostic methods developed based on automatic learning algorithms for the analysis of big data obtained from pediatric patients with serious illness have allowed us to differentiate between sepsis and the systemic inflammatory response syndrome (SIRS)—two common conditions that affect children with cancer. Both pathologies have similar pathophysiological and clinical patterns, but different causes. With this approach, it has been possible diminish the risk of mistreatment in actual septic cases and to reduce 20.6% of the in-hospital stay time and 12.4% of in-hospital mortality [
51
,
52
,
53
].
8. Conclusions
Childhood cancer is a serious global health problem that is on the rise, especially affecting underdeveloped countries, which have the highest incidence of the disease and the worst prognosis of survival. In this matter, one of the great obstacles faced by underdeveloped countries is the post-therapeutic management of the patient. After chemotherapy, and as a secondary effect of it, the patient suffers from immunosuppression. This generates a critical period of susceptibility to infectious processes. Although in many cases childhood cancer can be curable, one of the main causes of death is due to the development of sepsis, mainly associated to post-therapeutic neutropenia. This condition is worsened when the etiological agents responsible are multidrug-resistant bacteria—especially Gram-negative ones.
The uncontrolled widespread use of antibiotics, mainly ciprofloxacin and ceftazidime, amikacin, or imipenem/cilastatin in immunosuppressed patients, have induced a high selection pressure on the microorganisms and have been the driving force for the changes in the epidemiology of pathogens. Currently, mainly Gram-negative pathogens such as
Klebsiella
and
E. coli
are found in oncologic pediatric patients with sepsis. However, there are no studies on Latin American populations identifying the accurate etiology of sepsis among these patients. The treatment of cancer should be multi-disciplinary, with emphasis on intensive therapy to prevent and decrease the risk of new or recurrent infections.
Considering the current pediatric cancer control studies, even if healing and detection rates have increased, this trend only is applicable for developed countries; underdeveloped countries lack or do not have access to the advanced technologies used in prevention, early child cancer detection, and the post-therapeutic management of cancer patients. One of the clear strategies that must be implemented by the healthcare sector is adequately distribution the necessary resources to this condition, in order to facilitate the early detection and efficient prevention of sepsis-associated complications.
A second strategy to be considered is increasing the financing of new specialists in pediatric oncology and medical centers, including the incorporation of new medical personnel and adequate academic training to optimize treatments and post-therapeutic care, increasing survival and quality of life for oncologic pediatric patients.
Starting from the premise that prevention is always better than treatment, it is much more practical to take post-therapeutic care measures than to treat patients with a severe sepsis event with a reserved prognosis. As part of the strategies to reduce mortality from this disease, the countries involved must invest in the research and monitoring of multidrug-resistant pathogens.
There are no studies within the Mexican population that estimate sepsis incidence in childhood patients with a cancer diagnosis. However, a significant association between immunosuppression and the frequent development of sepsis in these patients has been established. New studies should be undertaken to clarify the pathology of childhood cancer and its treatment as a risk factor for developing new infectious entities or sepsis.
Machine-learning models must be considered as an alternative to ensure timely diagnosis and antibiotic treatment of sepsis in pediatric oncologic patients during post-therapeutic care, increasing survival rates and reducing sepsis-related costs.
Even if immunosuppression in pediatric patients has been associated with sepsis development, morbidity and mortality statistics can be yet improved, along with patient quality of life, by the creation and optimization of multidisciplinary teams focused on prevention, treatment, and post-therapeutic care. Their efforts must aim to limit the progression of sepsis conditions, applying the most recommended therapeutic regimens even before the initial risk factors are clinically evident.
Author Contributions
R.V.L.: Contributed to the conception and design of this project, general supervision of the research group, and gave final approval of this manuscript. O.R.R.: Involved in drafting the manuscript, A.I.M.: Involved in drafting the manuscript, J.E.U.F.: Involved in drafting the manuscript, A.P.B.: Involved in drafting the manuscript, G.L.O.O.: Involved in drafting the manuscript, J.A.A.V.: Involved in drafting the manuscript, I.A.A.V.: Involved in drafting the manuscript, J.M.F.C.: Involved in drafting the manuscript, S.G.S.-G.: Contributed substantially to drafting of the manuscript, T.B.F.: Involved in drafting the manuscript, J.A.G.-B.: Involved in drafting the manuscript. All authors read and approved the final manuscript.
Funding
The APC was funded by CICSA (Centro de Investigación en Ciencias de la Salud) de la Facultad de Ciencias de la Salud de la Universidad Anáhuac México.
Acknowledgments
We are grateful for the contribution of Diego Abelardo Alvarez Hernández, for comments that greatly improved the manuscript. The authors also thank Loredana Lorenzoni Lazo de la Vega for their support in bioethics concepts and information.
Conflicts of Interest
The authors declare no conflict of interest.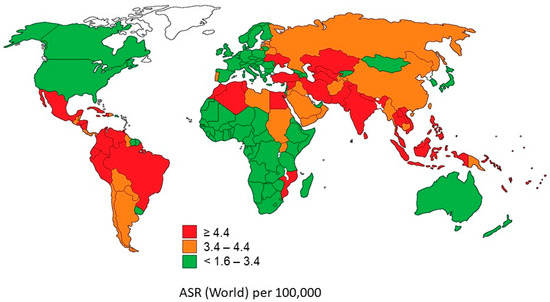 Figure 1.
Estimated ASR (age-standardized mortality rates) World in 2018, all cancers, both sexes, age 0–19. Based on the International Agency for Research on Cancer, "Global Cancer Observatory."
https://gco.iarc.fr/
[
13
].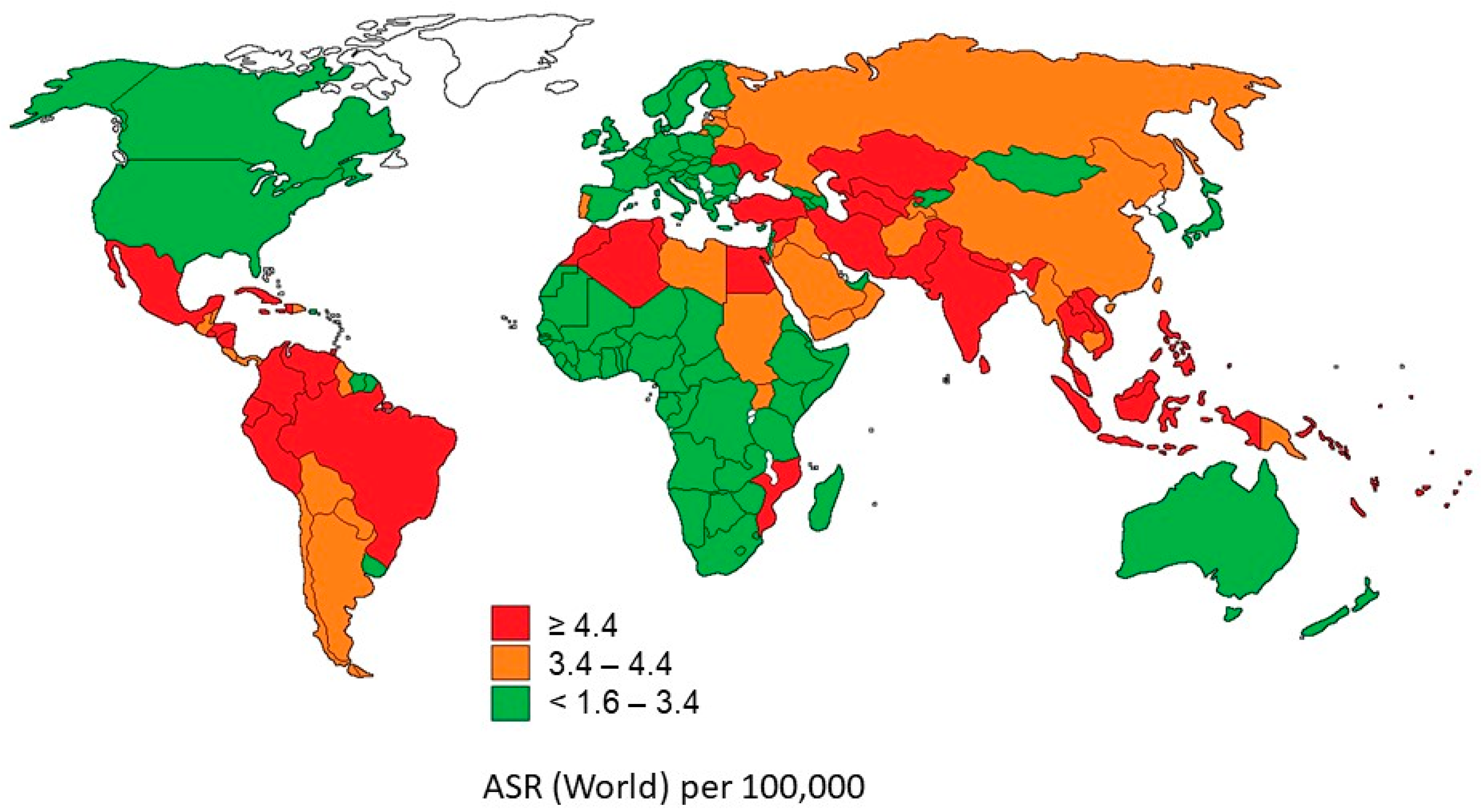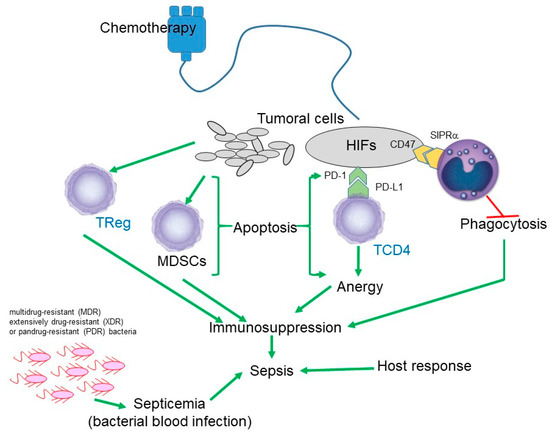 Figure 2. Schematic representation of the immunosuppressive effect produced both by the cancer cells themselves and by chemotherapy. HIF: hypoxia-inducible factor; MDSC: myeloid-derived suppressor cell; PD1: programmed cell death-1; PDL1: programmed cell death-1 ligand; SIRPα: signal-regulatory protein alpha; TReg: regulatory T cell; TCD4: T lymphocyte CD4 or helper.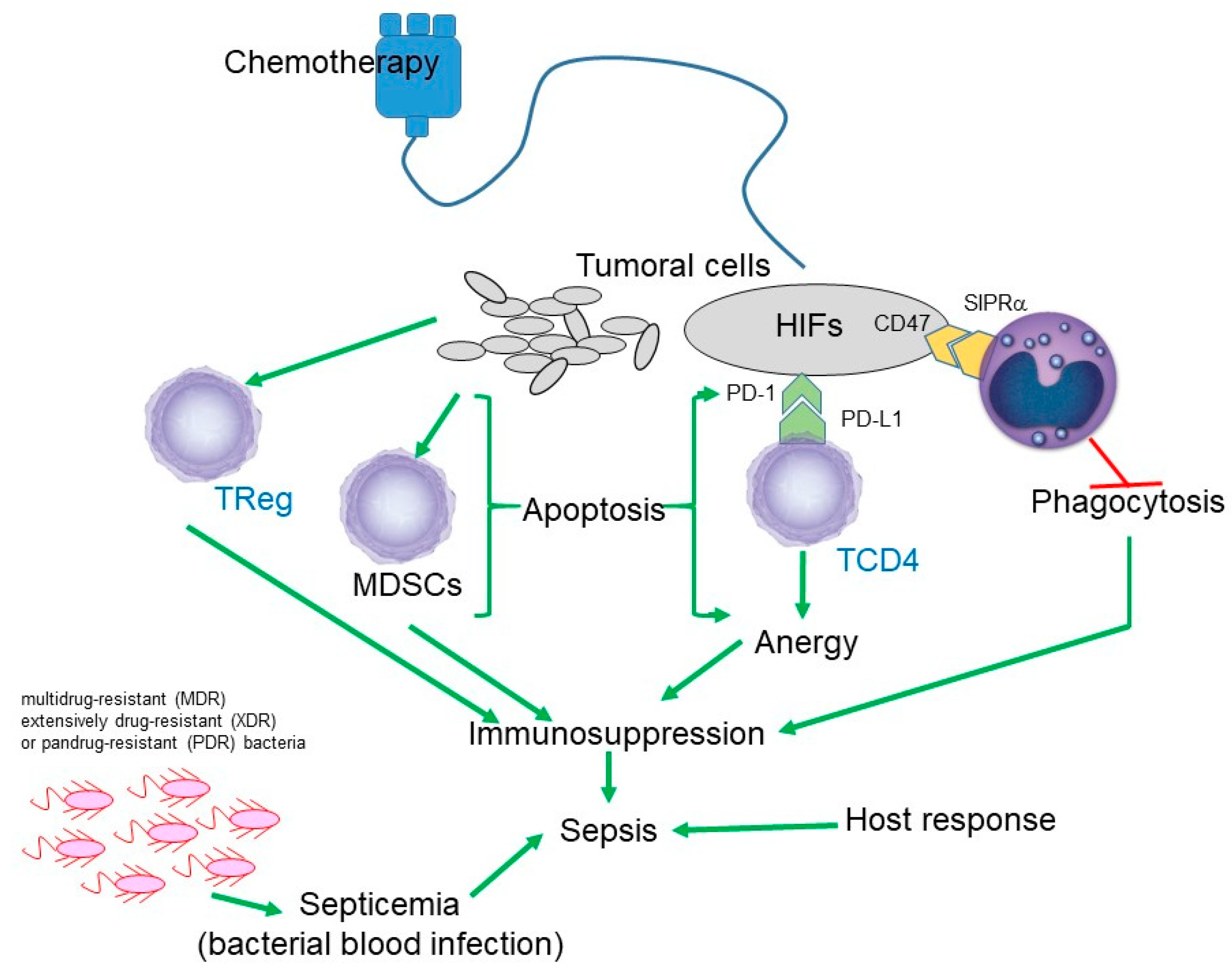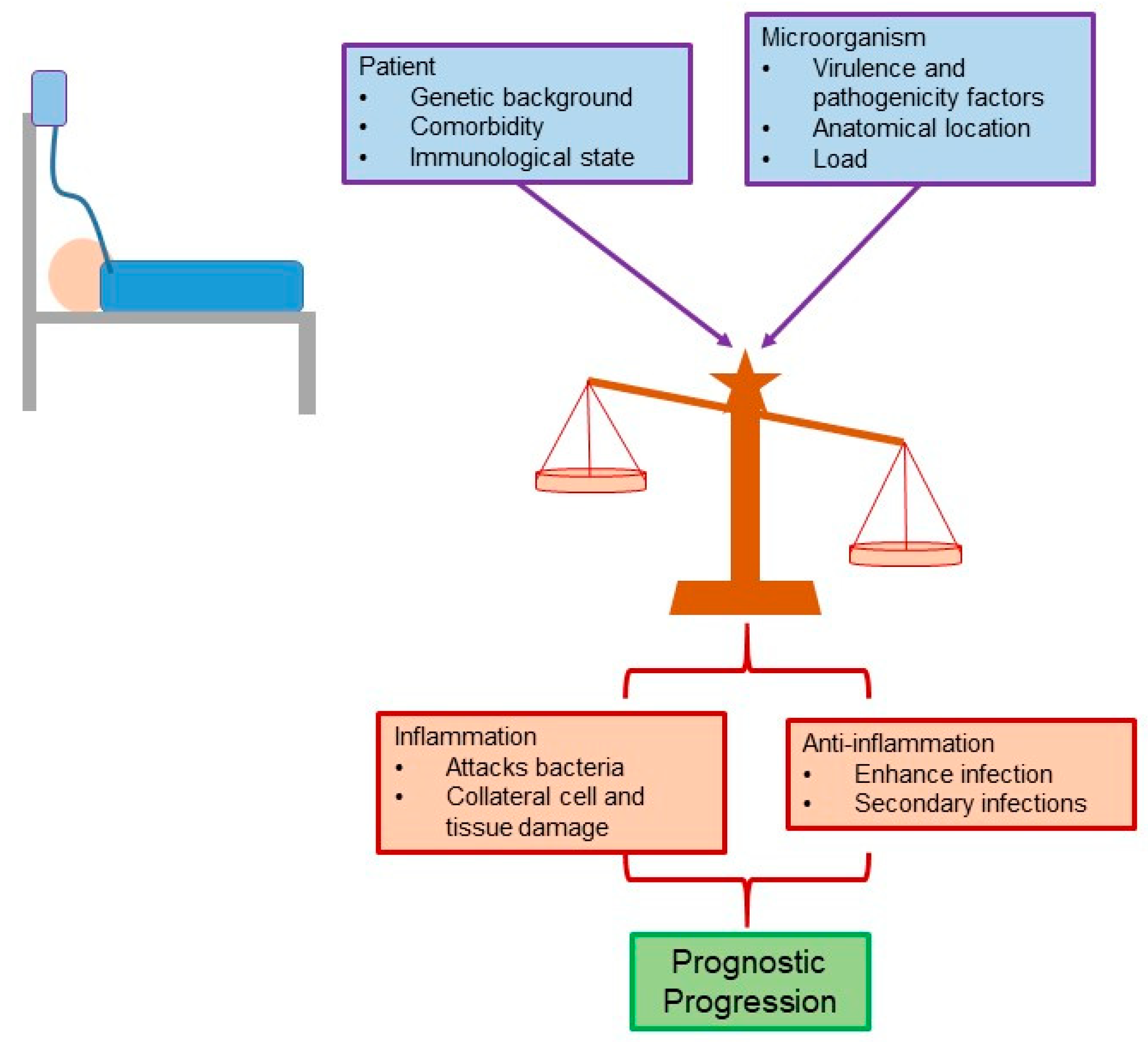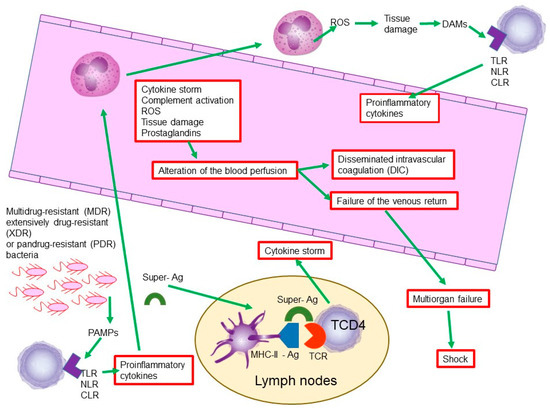 Figure 4. A brief look at the molecular and cellular mechanisms involved in the pathophysiology of sepsis. CLR: C-type lectin receptor; DAMP: damage-associated molecular pattern; MHC-II: histocompatibility complex class II; NLR: NOD-like receptor; PAMP: pathogen-associated molecular pattern; ROS: reactive oxygen species; TCR: T-cell receptor; TLR: Toll-like receptor.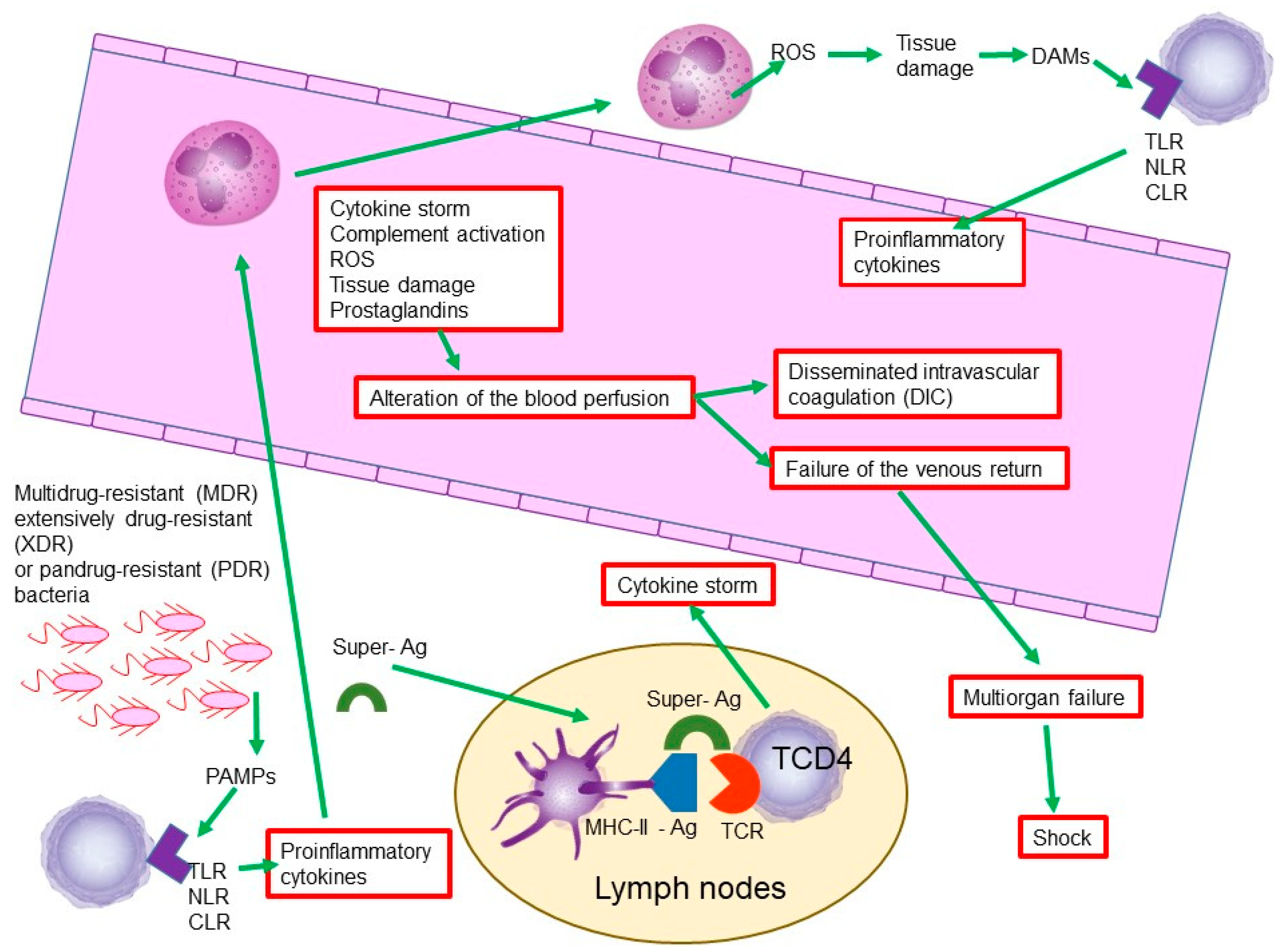 © 2019 by the authors. Licensee MDPI, Basel, Switzerland. This article is an open access article distributed under the terms and conditions of the Creative Commons Attribution (CC BY) license (http://creativecommons.org/licenses/by/4.0/).