Open Access This article is
freely available
re-usable
Review
Iron Oxide Nanoparticles for Biomedical Applications: A Perspective on Synthesis, Drugs, Antimicrobial Activity, and Toxicity
1
Department of Pediatric Dentistry and Public Health, School of Dentistry, Araçatuba, São Paulo State University (Unesp), 16015-050 Araçatuba/São Paulo, Brazil
2
Graduate Program in Dentistry (GPD-Master's Degree), University of Western São Paulo (UNOESTE), 19050-920 Presidente Prudente/São Paulo, Brazil
*
Author to whom correspondence should be addressed.
Received: 16 April 2018 / Accepted: 7 June 2018 / Published: 9 June 2018
Abstract
:
Medical applications and biotechnological advances, including magnetic resonance imaging, cell separation and detection, tissue repair, magnetic hyperthermia and drug delivery, have strongly benefited from employing iron oxide nanoparticles (IONPs) due to their remarkable properties, such as superparamagnetism, size and possibility of receiving a biocompatible coating. Ongoing research efforts focus on reducing drug concentration, toxicity, and other side effects, while increasing efficacy of IONPs-based treatments. This review highlights the methods of synthesis and presents the most recent reports in the literature regarding advances in drug delivery using IONPs-based systems, as well as their antimicrobial activity against different microorganisms. Furthermore, the toxicity of IONPs alone and constituting nanosystems is also addressed.
Keywords:
biotechnology; drug delivery; iron oxide nanoparticles; magnetic nanoparticles
1. Introduction
The development of nanotechnology has provided resources to various applications in the medical field, leading to significant advances in terms of diagnosis, biological detection, therapy and drug delivery [
1
,
2
,
3
,
4
,
5
]. In this context, magnetic nanoparticles comprise important characteristics that make them attractive for a variety of biomedical applications, including contrast agents in magnetic resonance imagining (MRI) [
6
], cell separation and detection [
7
,
8
], treatment for hyperthermia [
9
] and drug delivery [
10
]. Specifically, iron oxide magnetic nanoparticles (IONPs) are physically and chemically stable, biocompatible and environmentally safe [
11
], thus presenting unique characteristics for clinical applications. However, when IONPs (Fe
3
O
4
(magnetite) or γ-Fe
2
O
3
(maghemite)) reach smaller sizes (about 10–20 nm for iron oxide), superparamagnetic properties become evident, so that the particles reach a better performance for most of the aforementioned applications [
11
,
12
].
Despite the growing body of evidence attesting their biomedical usefulness, superparamagnetic IONPs are still in early stage of clinical investigation, with studies pointing out to the need for their improvement prior to their commercialization. Most of clinical trials with IONPs have been developed within the last decade, being MRI imaging the main application assessed [
13
,
14
]. The number of clinical trials indexed on
clinicaltrials.gov
[
14
] under the term 'iron oxide nanoparticles' comprises fourteen protocols. Of these, four are completed, four are still active, one was withdrawn, four were suspended or terminated, and one has an unknown status. Published data from one of those clinical trials showed that IONPs succeeded to act as contrast agent for MRI for the assessment of cellular myocardial inflammation following acute myocardial infarction, with no described adverse effects to the patients [
15
].
Issues related to biocompatibility, toxicological and immunological parameters are other challenges that need to be addressed. Data on methods of synthesis show that IONPs functions are directly related to size, shape, coating and stability of these nanoparticles [
16
]. As an example, large nanoparticles (>200 nm) are easily cleared by the reticuloendothelial system [
17
,
18
], while particles smaller than 10 nm are easily excreted from the body through existent pores of the kidney's basal lamina [
19
], what reduces their blood-circulating time. Further, hydrophobic and negatively charged nanoparticles tend to suffer proteic opsonization and are quickly recognized by phagocytic cells [
20
], also resulting in faster clearance. These and other IONPs limitations, such as oxidation and cell toxicity, can be overcome by an adequate surface-coating, implying that the success of a IONPs-based nanosystem is also directly related to the properties of the coating material. Different organic and inorganic coatings, including natural and synthetic polymers [
21
,
22
,
23
], surfactants [
24
], gold [
25
], silica [
26
] and peptides [
27
] have been investigated in studies showing that shape, spatial configuration and nature of the coating play an important role on the nanosystem's performance.
This review provides conceptual information on methods of IONPs synthesis, addressing the main advantages and disadvantages, and drugs bound to IONPs in the production of drug-delivery nanosystems. The latest updates on bioapplications, translational advances, and the employment of IONPs on antimicrobial therapeutic alternatives are also covered, bringing new perspectives on IONPs investigations. Finally, a set of considerations is made on IONPs toxicological aspects, as well as advances on coating strategies to elaborate more biocompatible nanosystems.
2. Synthesis of IONPs
There are three main routes for the synthesis of IONPs: chemical, physical and biological. These have been investigated in order to produce more stable, soluble, biocompatible, and shape and size-controlled nanoparticles [
28
]. This review presents an overview on the most common methods of synthesis, highlighting advantages and disadvantages of each method.
2.2. Physical Routes
2.2.1. Pyrolysis Method
In pyrolysis method, gaseous (aerosol) organometallic precursors are exposed to laser radiation that transmits energy in a selective way, according to the chemicals wavelength, thus generating IONPs [
61
]. This route produces pure and homogeneous samples with good size control and shape distribution. It is less expensive than other methods, since it operates at atmospheric pressure [
35
,
62
]. Factors such as precursors concentration, working pressure and laser intensity directly interfere with size and magnetization of the resulting nanoparticles [
63
].
2.2.2. Laser Ablation Synthesis in Solution (LASiS)
This synthesis is triggered when a pulsed laser beam reaches the target material immersed in liquid solution, causing changes in the composition of the ablation target and in the liquid solution [
64
]. Although LASiS is an interesting technique for materials of different structures and compositions, this method carries problems depending on the solvent used, such as the difficulty of controlling particle size and their clustering [
64
]. Recent experiments, however, revealed that the use of laser ablation on phosphonates aqueous solution and bulk iron was successful in decreasing the size of FeO
x
crystal to few atom clusters [
65
].
2.3. Biological Route
Biosynthesis
Biosynthesis stands out as a simple, low-cost and eco-friendly route of IONPs production [
66
], in which plant extracts or microbial-derived products with reducing potential interact with iron precursors under stirring. The main reaction involved in this process is reduction/oxidation, and the resulting nanoparticles usually display good biocompatibility [
16
,
29
,
66
]. The IONPs biosynthesis can use iron-reducing bacteria such as
Geobacter metallireducens
[
67
] but may include many other possibilities. One example is the synthesis by the enzyme lumazine synthase (produced both by fungi and bacteria), which serves as a biological nanoreactor, synthesizing IONPs inside narrow-diameter capsid templates [
68
].
3. IONPs Coating and Functionalization
Core-shell nanosystems are often employed to attach different drugs to IONPs. The nanoparticle corresponds to the core, while shell represents the surface coating for nanoparticle functionalization, improving its stability, pharmacokinetics, biodistribution and biocompatibility [
69
]. Synthetic and natural polymers, organic surfactants, inorganic compounds and bioactive molecules can function as shell of IONPs, as summarized in
Figure 1
.
3.1. Synthetic and Natural Polymers
Polymers are the most common surface coating used in IONPs, since they can prevent oxidation and confer stability to the nanoparticles [
70
]. The polymer nature can be synthetic, encompassing polyethylene glycol, poly(vinylpyrrolidone), polyvinyl alcohol and poly(lactic-co-glycolic acid) [
28
,
29
,
35
], or natural, as in the case of chitosan.
3.2. Organic Surfactants
Surfactants (e.g., oleic acid, lauric acid) are extensively used to functionalize IONPs [
54
], mainly when synthesized in organic solutions. IONPs coated with dimercaptosuccinic acid (DMSA) have an anionic surface, which avoids opsonization and clearance by the reticuloendothelial system, with consequent reduction of cell toxicity [
25
,
70
]. Oleic acid and trisodium citrate are also capable of stabilizing nanoparticles by creating repulsive forces (mainly steric repulsion) to balance the magnetic and van der Waals attractive forces [
94
].
However, the long hydrocarbon chains of the surfactants make the nanoparticles hydrophobic, hindering their application in vivo, and require measures to prevent or reverse this aspect [
94
,
95
]. Investigations to overcome these limitations led to experiments with surfactant-functionalized IONPs through hydrophobic interactions, demonstrating that lower values of surfactants' critical micelle concentrations were associated with more efficient coating of the IONPs, with greater dispersion in solutions and lower nanoparticle clustering [
24
].
3.4. Bioactive Molecules
In this category are included bioactive structures such as lipids, peptides, and proteins [
29
,
70
,
103
]. In IONPs-based nanosystems functionalized with peptides, the biomolecules are able to maintain the stability of the nanostructures, as well as the magnetic properties of the IONPs [
27
,
104
].
Human and bovine serum albumin (HSA and BSA) are also used in biomedical and pharmaceutical applications, and can be attached to IONPs by desolvation [
105
]. BSA-coated IONPs has a negatively charged surface that avoids electrostatic interactions with negative biological elements such as plasma and blood cells, therefore maintaining IONPs stability [
106
].
While for matrix-dispersed structures IONPs are distributed in a matrix, thus preventing aggregation, in shell-core-shell they are confined between two functional materials [
28
,
29
]. In turn, Janus particles possess two compartments, one being the IONPs with magnetic properties and the other, composed by different functional molecules [
107
].
4. Drugs Bound to IONPs
Magnetic nanoparticles have greater reactive area and ability to cross biological barriers than their micrometric counterparts, which favors their use in drug delivery systems. In this context, different classes of drugs can be directly bound to IONPs or to core-shell nanosystems, as shown in
Figure 2
. Such binding can occur by adsorption, dispersion in the polymer matrix, encapsulation in the nucleus, electrostatic interactions and covalent attachment to the surface [
5
,
108
], aiming to improve their pharmacological properties. IONPs have been used as carriers of anticancer, alternative, immunosuppressive, anticonvulsant, anti-inflammatory, antibiotic and antifungal agents.
5. Antimicrobial Activity of IONPs-Based Nanosystems
6. IONPs Toxicity
Conflicting evidence regarding the toxicity of IONPs has been reported in in vitro and in vivo studies [
213
,
214
,
215
,
216
]. Factors inherent to nanosystems involving IONPs tend to directly interfere with their toxicity. For instance, changes in nanoparticle size and shape were shown to play an important role on cell toxicity, with rod-shaped or nano-sized IONPs being more toxic than sphere-shaped and micrometric particles, respectively [
217
]. The configuration of the nanosystem can also influence IONPs toxicity. A Janus microsphere encapsulating mesenchymal stem cells (MSC) and IONPs in two different compartments was proven to facilitate the magnetization and movement of the microspheres (due to the higher load capacity of IONPs), and to reduce cell toxicity, since the IONPs' derived toxic chemicals were isolated from the MSC compartment [
107
]. Furthermore, the surface charge of IONPs may affect cell cytotoxicity and genotoxicity. Positively charged IONPs were shown to be more toxic, since they undergo nonspecific interactions and adsorptive endocytosis with the negatively charged cell membrane, thus increasing their intracellular accumulation and affecting cell membrane integrity [
218
]. Other factors such as concentration, type of coating, form of administration, as well as the cell line may explain the different results for IONPs toxicity [
21
,
22
,
23
,
25
,
26
,
66
,
71
,
72
,
96
,
97
,
98
,
163
,
214
,
215
,
219
,
220
,
221
,
222
,
223
,
224
,
225
,
226
,
227
,
228
,
229
,
230
,
231
,
232
,
233
,
234
,
235
,
236
,
237
,
238
,
239
,
240
,
241
,
242
,
243
,
244
,
245
,
246
,
247
,
248
], as shown in
Table 1
.
6.1. Mechanisms of IONPs Toxicity
The toxicity of IONPs for different cell lines may be partially explained by the production of ROS, which causes cellular oxidative stress [
249
]. When uptaken by cells via endocytosis, IONPs tend to accumulate in the lysosomes and are degraded in iron ions (
Figure 3
). In theory, the ions could cross the membranes and reach regions such as the cell nucleus and mitochondria, reacting with hydrogen peroxide and oxygen, thus generating ROS [
250
,
251
] (
Figure 3
).
Despite oxidative stress is the most well-studied hypothesis of toxicity and cell damage, iron overload caused by exposure to IONPs can also generate serious deleterious effects and lead to cell death [
246
,
250
,
251
]. On the other hand, magnetite was shown to be responsible for increasing the level of lipid peroxidation and decreasing antioxidant enzymes of human lung alveolar epithelial cells (A-549), displaying a concentration-dependent toxicity in vitro [
252
]. In addition, a high dose of IONPs (with consequent iron excess) promoted elevated lipid metabolism, breakage of iron homeostasis and exacerbated loss of liver functions, being considered a risk factor for cirrhosis in a mice-model study [
253
].
6.2. Influence of Coatings on IONPs Toxicity
The surface coating of IONPs is a widely used procedure in order to make these nanoparticles biocompatible and non-toxic, supposedly due to lower number of oxidative sites, with consequent less DNA damage [
254
]. In this sense, a well referenced in vitro study showed that uncoated IONPs produced greater toxicity for rat fibroblast cells when compared to nanoparticles coated with polyvinyl alcohol, due to changes in the protein functions and cellular ion balance caused by gas vesicles after exposure to uncoated particles [
255
]. Additionally, uncoated IONPs were shown to increase intracellular density (greater ROS production), which might lead to relevant morphological cellular alterations, whereas protein-coated IONPs reached densities capable of causing tolerable changes [
256
]. Also, the use of lauric acid, protein corona of BSA, or dextran as shells for IONPs did not promote genotoxic effects on human granulosa cells [
257
].
Coating with polymers and essential oils can also reduce the toxic effects of IONPs. PLGA-functionalized IONPs were able to reduce the destructive effects on lysosomes, mitochondria, golgi body and endoplasmic reticulum compared with uncoated nanoparticles, which induced the cells to autophagy [
258
]. In turn, IONPs functionalized with patchouli essential oil promoted low cytotoxicity on mammalian cells and good biodistribution after intraperitoneal injection in mice [
103
].
Despite the remarkable advantages of IONPs coating, some divergences have been reported in the literature. Previous data showed that the coating of IONPs with D-mannose or poly-l-lysine was not able to prevent their toxicity in murine neural stem cells, as these nanoparticles demonstrated negative effects on the mithocondrial homeostasis [
259
]. This emphasizes the importance of conducting additional tests other than cell viability for a more complete assessment of the toxic effects of these nanosystems.
7. Conclusions and Perspectives
Microorganisms resistant to conventional treatments evolve faster than the creation of new drugs and antibiotics. Within this context, IONPs bear great potential for use in nanosystems capable of overcoming the physical barriers of the microbial biofilm matrix in delivering the drugs directly to the target. The next steps consist in further exploring the magnetic properties of IONPs to improve the drug effect using lower concentrations, thus reducing side effects and toxicity.
The various methods of synthesis have allowed the creation of nanoparticles with different sizes, structures, dispersions and surface modifications. However, as wide variations have been reported among different research protocols, a direct comparison of the results obtained cannot be done. This aspect points out to the need for a refinement/standardization of protocols of synthesis and functionalization prior to in vivo testing, aiming to produce nanoparticles with adequate stability, size-control, biocompatibility and bioavailability.
Despite the growing body of scientific evidence on the use of IONPs in drug delivery systems, not all relevant drugs of medical/dental interest have been investigated, either alone or in combination with IONPs. In this sense, the conception of novel IONPs-based nanosystems able to carry multiple drugs simultaneously, and with adequate release control on the target tissues could be beneficial in several clinical situations. These include the prevention/control of diseases associated with multiple microorganisms (e.g., bacteria and fungi), as well as conditions that require different categories of drugs (e.g., anti-inflammatories, antibiotics and antifungals).
Finally, regarding the applicability of IONPs-based nanosystems, most of clinical trials conducted so far have focused on MRI, so that clinical assessment of applications other than MRI is expected in the near future. For such purpose, large and industrial-scale production of IONPs-based nanosystems is an important challenge to be overcome.
Author Contributions
Study was conceived and designed by D.R.M., J.P.P. and A.C.B.D.; review was performed by L.S.A., A.P.M.V. and T.M.T.d.L.; results were critically analyzed by D.R.M., J.P.P., A.C.B.D., L.S.A., A.P.M.V. and T.M.T.d.L.; manuscript was drafted and revised by D.R.M., J.P.P., A.C.B.D., L.S.A., A.P.M.V. and T.M.T.d.L.
Funding
This research received no external funding.
Acknowledgments
The authors thank Francisco Nunes de Souza Neto for TEM and SEM analysis, and Bruno Henrique Ramos de Lima and
nChemi
Company (São Carlos, SP, Brazil) for providing the colloidal suspensions of IONPs used in
Figure 4
.
Conflicts of Interest
The authors declare no conflict of interest.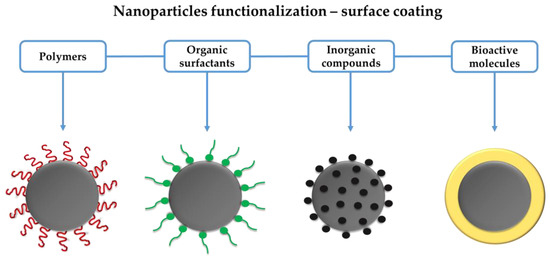 Figure 1. Schematic illustration of the main shells for functionalization of iron oxide nanoparticles (IONPs). Grey circles represent the core of IONPs.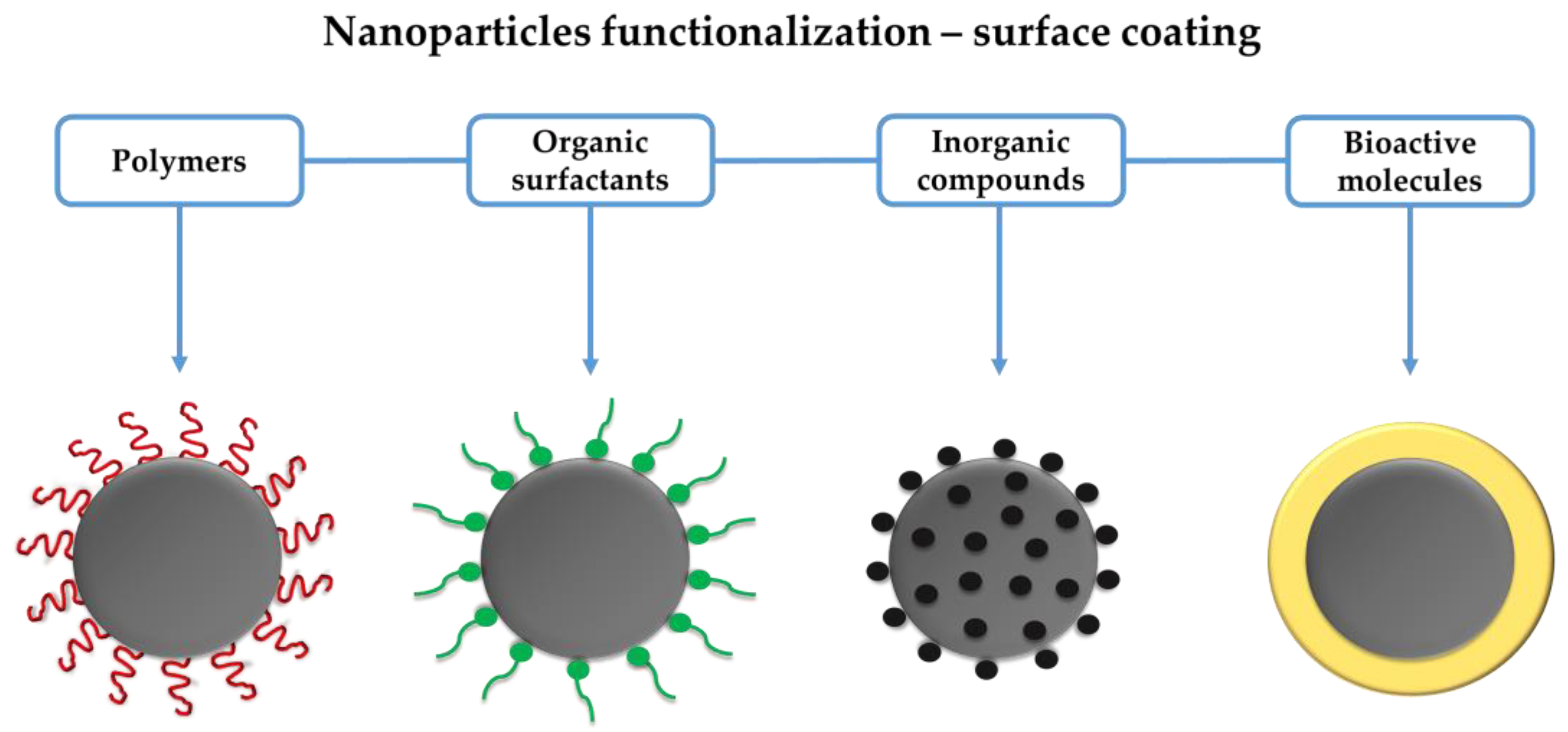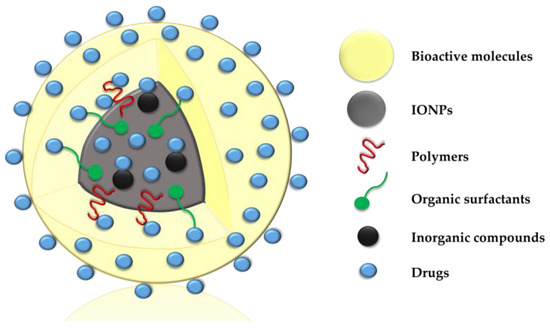 Figure 2. Schematic illustration of drugs directly bound to iron oxide nanoparticles (IONPs) or to core-shell nanosystems.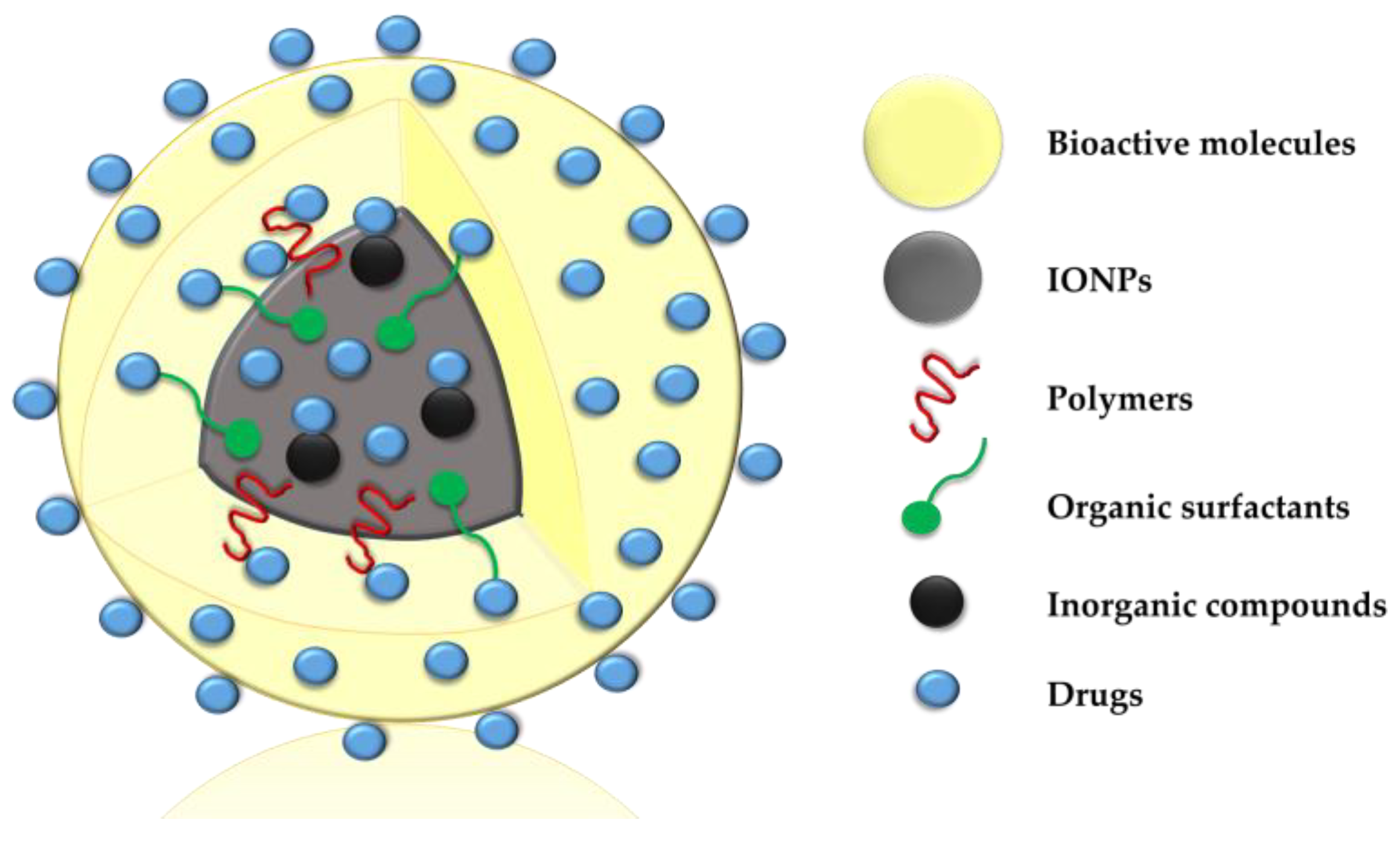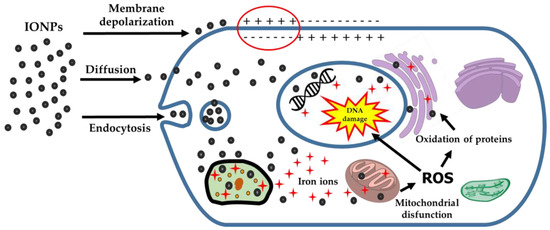 Figure 3. Main mechanisms of action by which systems based on iron oxide nanoparticles (IONPs) generate cell toxicity. ROS: reactive oxygen species.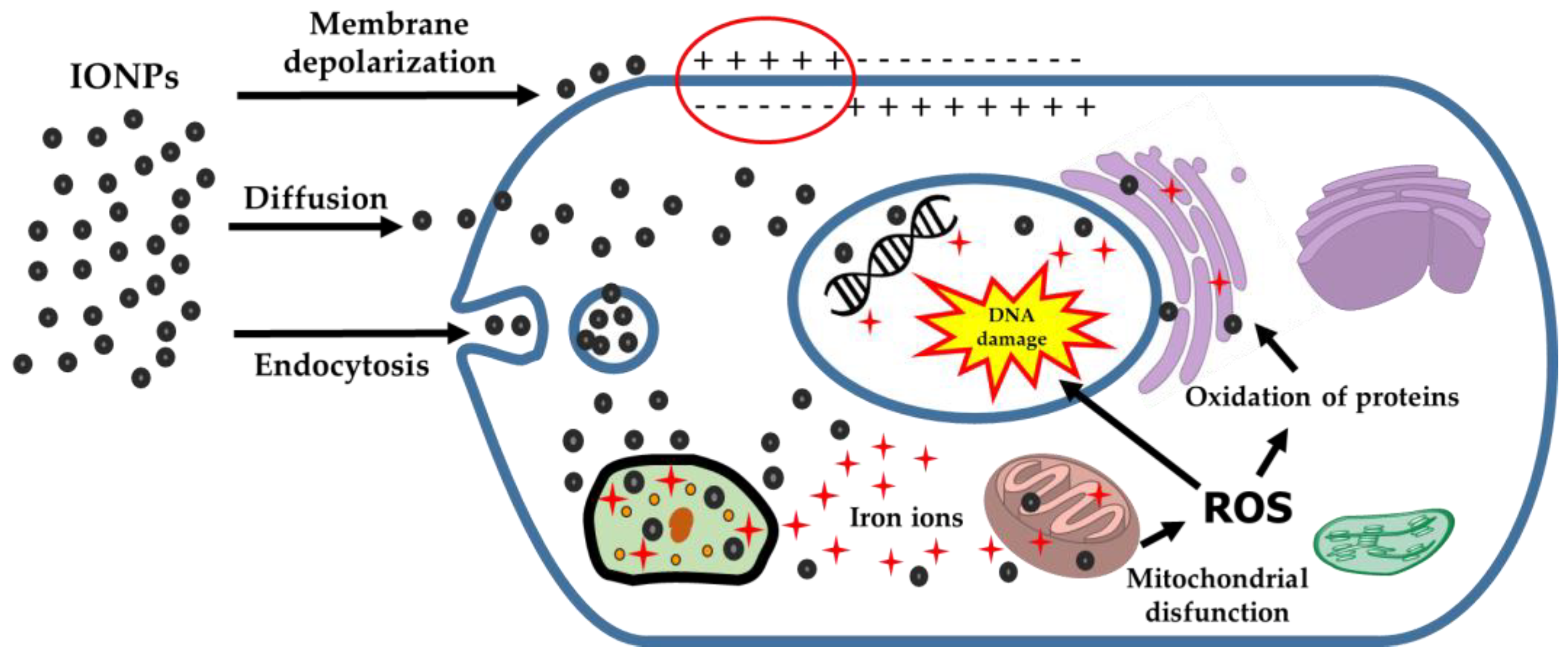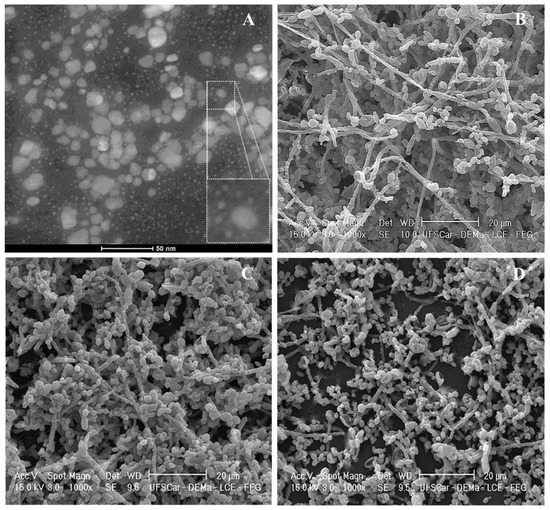 Figure 4.
(
A
) Transmission electron microscopy image obtained from a miconazole (MCZ)-carrier nanosystem based on iron oxide nanoparticles (IONPs) and chitosan (CS); increased image at the bottom right corner shows the core of a CS-coated IONP, with MCZ particles adhered to CS; (
B
) Scanning electron microscopy (SEM) image of untreated dual-species biofilm of
C. albicans
and
C. glabrata
(48 h). SEM images of dual-species biofilms treated for 24 h with 78 µg/mL MCZ (
C
) or MCZ-containing nanosystem at 78 µg/mL (
D
). Source: the authors (unpublished data).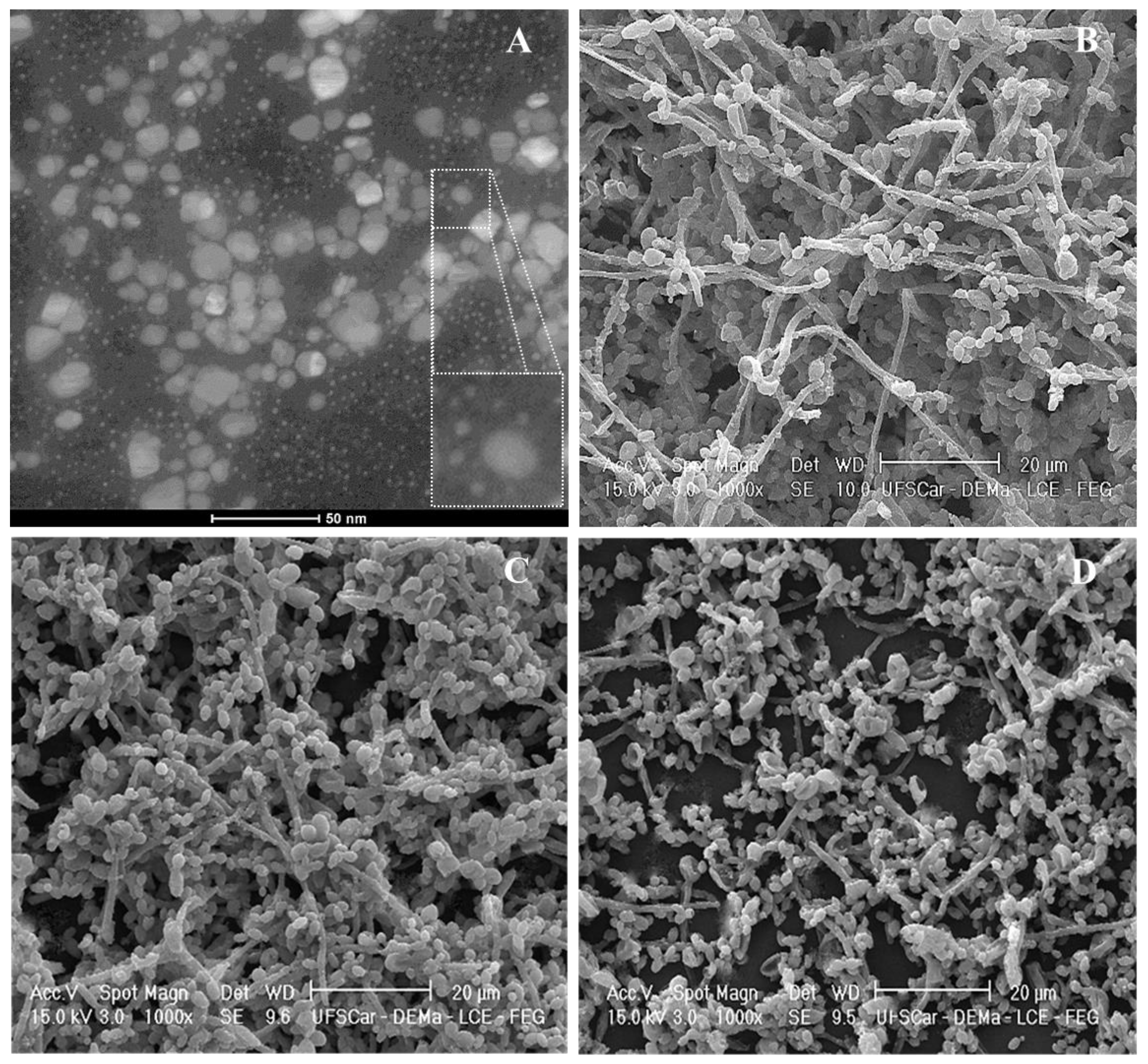 Table 1. Summary of studies assessing the toxicity of iron oxide magnetic nanoparticles (IONPs) carried out between 2014 and 2018.
Reference
Year
Coating
Concentration
Cell Line or in Vivo Model
Study Model
Toxicity
[221]
2014
Manganese (Mn)
5, 10, 20, 50 and 100 mg/L (in vitro); 150 µmol/kg Fe/kg body weight (in vivo)
Murine Balb/3T3 fibroblasts (in vitro) and CD1 female mice (8 weeks old) (in vivo)
In vitro/In vivo
Dose-dependent toxicity
[222]
2014
Poly(lactic-

co

-glycolic acid) (PLGA) + 5-Fluorouracil
50, 100 and 200 µΜ
Human prostate cancer cell line DU145
In vitro
Non toxic
[26]
2014
Silica shell (Fe3O4/SiO2 NPs)
0.5, 1, 2.5 and 5 nM
A549 and HeLa cells
In vitro
Silica coating diminished Fe3O4 cytotoxic and genotoxic effects
[21]
2014
Poly-(ethylene glycol) (PEG) (PEGylated IONPs)
100 and 500 ppm Fe
Bovine vascular smooth muscle cells (VSMCs)
In vitro
PEGylated IONPs showed less cytotoxicity than uncoated IONPs
[223]
2014
-
1, 3 and 5 mg/mL
Epithelial cell and cancer cell lines; ECR 116 (NCBI code: C570)
In vitro
Non toxic
[224]
2014
Aminodextran (AD), 3-aminopropyltriethoxysilane (APS) and dimercaptosuccinic acid (DMSA)
0.05, 0.1, and 0.5 mg/mL
HeLa (human cervical adenocarcinoma)
In vitro
Non toxic
[225]
2015
-
214 mg/L
Neuronal cell line (Rat pheochromocytoma-PC12 cells)
In vitro
Neurocytotoxic
[226]
2015
-
25, 50, 75 and 100 mg/L
Human hepatoma cells (Hep G2)
In vitro
Toxic (reduced cell viability with oxidative damage)
[227]
2015
Polyhydroxybutyrate (PHB)
29–500 μM
MCF-7, SKBR-3 and HeLa human breast and ovarian cancer cell lines
In vitro
Non toxic
[228]
2015
Curcumin (Cur)
IONPs: 120 mg/L
Cur: 40 mg/L
Wild type MDKC and human neuroblastoma cells
In vitro
Non toxic
[229]
2015
L-DOPA (L-3,4-dihydroxyphenylalanine)
0–0.05 mg/mL (in vitro) and 2.5 mg/mouse (approximately 125 g/kg body weight) (in vivo)
Normal mouse L929 fibroblasts/C57BL/6 mice
In vitro/in vivo
Non toxic
[230]
2015
Polyacrylic acid (PAA) and non-coated
4, 20 and 100 mg/L
Human T lymphocytes
In vitro
Non genotoxic
[231]
2015
-
200 and 400 mg/L (in vitro), and 200 mg/L (in vivo)
Mouse fibroblast cell (in vitro) and wistar rat's liver and kidney (in vivo)
In vitro/In vivo
Non toxic
[232]
2015
Alginate (Alg)/Alg + D-galactosamine (GA)
0–1000 mg/L
Liver cancer/hepatocellular carcinoma (HepG2) cell line
In vitro
Non toxic
[233]
2015
Uncoated (U-Fe3O4) and oleate-coated Fe3O4 (OC-Fe3O4)
10.8, 21.6 and 108 mg/L
Human lymphoblastoid TK6 cells and primary human blood cells
In vitro
U-Fe3O4 was not toxic; OC-Fe3O4 was cytotoxic in a dose-dependent manner and genotoxic
[71]
2015
Bare (uncoated) SPION (BS) and PEG (PEG-SPION (PS))
50.8 mg/kg b w for PS and 16.3 mg/kg b w for BS
BALB/c Swiss Albino mice
In vivo
PEGylation reduced the toxicity of BS (Low toxicity)
[234]
2015
Cobalt
75, 150, 250, 500, 750 and 1,000 mg/L
MCF-7 cell lines
In vitro
Moderate toxicity to cancer cells
[235]
2016
Rhamnose
0,1,2, 5, 10, 25, 50 and 100 µg Fe mL−1 for cancer cell lines, and 15.63 to 1000 µgFemL−1 for fibroblasts cell lines
Human glioblastoma cell lines (T98G and U251MG) and the human urinary bladder carcinoma cell line (ECV304), mouse fibroblast (BALB/3T3) cell line and its clone (A31-1-1).
In vitro
Moderate toxicity to tumoral cell lines and non toxic to fibroblast cells
[96]
2016
Silica and oleic acid
5–300 mg/L
Human neuroblastoma SHSY5Y and glioblastoma A172
In vitro
Low citotoxicity/oleic acid-coated IONPs with less citotoxicity than silica-coated IONPs
[163]
2016
Mitoxantrone (MTO)
0.0001–0.1 mg/L
Human primary tubular epithelial cells (hTEC)
In vitro
Moderate toxicity (depends on the drug loaded to the SPION)
[25]
2016
2,3-dimercaptosuccinic acid (DMSA)
15, 30, 60 e 80 mg/L (IONPs)
human mesenchymal stem cells from dental pulp tissues
In vitro
Non toxic
[236]
2016
No coating and curcumin-coating
1–1000 mg/L
Human umbilical vein endothelial cells (HUVECs)
In vitro
Curcumin-coated IONPS were less toxic than uncoated IONPs
[237]
2016
Polyacrylic acid-

co

-maleic acid (PAM) + tissue plasminogen activator (tPA)
30 μg Fe/mL
Human umbilical vein endothelial cells (HUVECs)
In vitro
Low toxicity
[238]
2016
Polymer (converted from Poly(lactic-

co

-glycolic acid) nanoparticles)
0.005–0.32 mg/mL
SKOV3 human ovarian cancer cells and NIH/3T3 murine fibroblasts
In vitro
Low toxicity
[22]
2016
Chitosan + Gemcitabine
IC50 for SKBR-3 (4.8 µM) and MCF-7 (1.5 µM)
SKBR-3 and MCF-7 breast cancer cells
In vitro
More cytotoxic to the tested breast cancer cell lines than free gemcitabine
[239]
2016
-
10, 25, 50, 75, and 100 mg/L
Human peripheral lymphocytes
In vitro
Moderate toxicity
[215]
2016
-
0–1000 mg/L
Human whole blood cultures
In vitro
Dose-dependent toxicity
[240]
2016
-
65 ng/mL (in vitro), and 520 µg Fe3O4/kg and 20.8 µg Fe3O4/kg (in vivo)
Mouse embryonic fibroblasts NIH3T3 (in vitro) and Wistar rats (in vivo)
In vitro/In vivo
Non toxic at a desirable concentration
[23]
2016
PEG350 and PEG2000
50–200 mg/L (in vitro)/12.5, 25 and 50 mg/kg/day (in vivo)
Monkey kidney ephitelium (Vero), dog kidney fibroblasts (MDKC) and mouse embryonic fibroblast (NIH-3 T3) (in vitro) and Swiss albino male mice (in vivo)
In vitro/In vivo
SPION-PEG2000 showed no toxicity in vitro, but lead to liver and kidney injury in vivo. In vitro, SPION-PEG350 showed no toxicity up to 100 µg/mL
[241]
2016
c(RGDyK) + dopamine
1.50, 2.07, 2.87, 3.97, 5.49, 7.59 and 8.50 g/kg
Kunming mice of SPF grade
In vivo
Non toxic
[242]
2017
Poly-(ethylene glycol) (PEG) and polyethylenimine (PEI) polymers + folic acid (FA-IONPs)
Doxorubicin + FA IONPs (DOX@FA-IONPs)
0.2–10 mg/L
MCF7 cells
In vitro
FA-IONPs show low cytotoxicity and DOX@FA-IONPs is more cytotoxic than free DOX
[243]
2017
Tri-block copolymer: poly(ε-caprolactone)-poly(ethylene glycol)-poly(ε-caprolactone) (PCL-PEG-PCL, PCEC)
0, 0.5, 1, 2, 5 and 10%
NIH 3T3 cells
In vitro
The PCEC coating reduced Fe3O4 NPs toxicity
[97]
2017
SiO2 (FemOn-SiO2 composite and SiO2-FemOn core-shell IONPs)
0.7, 7.0 and 70.0 µg
Human umbilical vein endothelial cell culture (cultured HUVECs)
In vitro
Dose-dependent toxicity in the presence of silica. Bare IONPs were less toxic
[244]
2017
Chitosan (CS) + calf-thymus DNA (DNA)
-
Human foreskin fibroblast cell line (HFFF2)
In vitro
Non toxic
[245]
2017
Zinc/Cobalt
10, 100, 250 and 500 μM
Primary human bone marrow-derived mesenchymal stem cells (hMSCs) and human osteosarcoma-derived cells (MG-63)
In vitro
The levels of toxicity do not compromise the biocompatibility
[246]
2017
-
10, 25, 50, 100, and 200 mg/mL (0.3 mL/egg in airspace)
Fertilized eggs of White leghorn (Gallus gallus domesticus)
In vivo
Neurotoxic in lower doses and 100% mortality at 200 mg/mL dose
[72]
2017
Polyvinylpirrolidone
1, 10, 25, 50 and 100 μg/mL
Human neuroblastoma (SH-SY5Y cell line)
In vitro
Dose-dependent toxicity
[98]
2018
Luminescent ruthenium (II) complex encapsulated with silica shell + amine group (APTMS)-Fe3O4@SiO2@[Ru(Phen)3] 2+@SiO2@NH2
10, 50 and 100 μg/mL
Cancer cell (B16F10) and normal cell (CHO)
In vitro
Low cytotoxicity
[66]
2018
-
0.1, 0.5, 1, 2.5, 5 and 7.5 mg/mL
MCF7 and 3T3 cell lines
In vitro
Dose-dependent toxicity
[219]
2018
Polyethylenimine (PEI) and polyethylene glycol (PEG)
3.125–100 µg/mL (in vitro)/Up to 5mg/kg (in vivo)
RAW264.7 macrophages and non-phagocytic SKOV-3 ovarian cancer cells (in vitro)/SKOV-3 tumor bearing nude mice and BALB/c mice (in vivo)
In vitro/In vivo
PEI-coated-IONPs were toxic in vitro with dose-dependent toxicity in vivo/PEG-coated-IONPs presented low toxicity
[247]
2018
Polyamidoamine (PAMAM) dendrimer (Fourth generation—G4)

Acute toxicity:

25, 50 and 100 mg/kg

Chronic toxicity:

0.5, 1, 5 and 10 mg/Kg
BALB/c mice
In vivo
Acceptable toxicity
[248]
2018
Chitosan (CS)-dextran (DX)
1, 5, 10, 50, and 150 µg/mL
Rat C6 glioma, human U87 glioma, and human cervix carcinoma HeLa cells
In vitro
Dose and time-dependent toxicity

© 2018 by the authors. Licensee MDPI, Basel, Switzerland. This article is an open access article distributed under the terms and conditions of the Creative Commons Attribution (CC BY) license (http://creativecommons.org/licenses/by/4.0/).