Bacteriophages and Biofilms
1
AmpliPhi Biosciences, Glen Allen, VA 23060, USA
2
Public Health England, Porton Down, Salisbury SP4 0JG, UK
3
Gavin Hughes—The Surgical Materials Testing Laboratory, Bridgend, South Wales CF31 1RQ, UK
4
Maria Werthén, Mölnlycke Health Care AB, SE-402 52 Gothenburg, Sweden
5
Department of Biomaterial Science, University of Gothenburg, SE-405 30 Gothenburg, Sweden
*
Author to whom correspondence should be addressed.
Received: 25 April 2014 / Revised: 6 June 2014 / Accepted: 10 June 2014 / Published: 25 June 2014
Abstract
Biofilms are an extremely common adaptation, allowing bacteria to colonize hostile environments. They present unique problems for antibiotics and biocides, both due to the nature of the extracellular matrix and to the presence within the biofilm of metabolically inactive persister cells. Such chemicals can be highly effective against planktonic bacterial cells, while being essentially ineffective against biofilms. By contrast, bacteriophages seem to have a greater ability to target this common form of bacterial growth. The high numbers of bacteria present within biofilms actually facilitate the action of bacteriophages by allowing rapid and efficient infection of the host and consequent amplification of the bacteriophage. Bacteriophages also have a number of properties that make biofilms susceptible to their action. They are known to produce (or to be able to induce) enzymes that degrade the extracellular matrix. They are also able to infect persister cells, remaining dormant within them, but re-activating when they become metabolically active. Some cultured biofilms also seem better able to support the replication of bacteriophages than comparable planktonic systems. It is perhaps unsurprising that bacteriophages, as the natural predators of bacteria, have the ability to target this common form of bacterial life.
View Full-Text
►

▼

Figures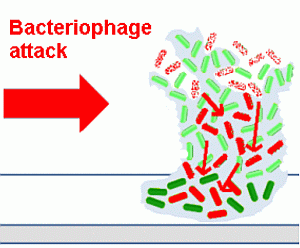 Graphical abstract

Share & Cite This Article
MDPI and ACS Style
Harper, D.R.; Parracho, H.M.R.T.; Walker, J.; Sharp, R.; Hughes, G.; Werthén, M.; Lehman, S.; Morales, S. Bacteriophages and Biofilms. Antibiotics 2014, 3, 270-284.
Related Articles
Comments
[Return to top]