Open Access This article is
freely available
re-usable
Review
Developing Protein-Based Nanoparticles as Versatile Delivery Systems for Cancer Therapy and Imaging
1
Department of Molecular Sciences, Macquarie University, Sydney 2109, Australia
2
College of Pharmacy, Korea University, 2511 Sejong-ro, Sejong 30019, Korea
3
Australian Research Council Centre of Excellence for Nanoscale BioPhotonics, Macquarie University, Sydney, NSW 2109, Australia
*
Author to whom correspondence should be addressed.
Received: 19 August 2019 / Accepted: 12 September 2019 / Published: 16 September 2019
Abstract
:
In recent years, it has become apparent that cancer nanomedicine's reliance on synthetic nanoparticles as drug delivery systems has resulted in limited clinical outcomes. This is mostly due to a poor understanding of their "bio–nano" interactions. Protein-based nanoparticles (PNPs) are rapidly emerging as versatile vehicles for the delivery of therapeutic and diagnostic agents, offering a potential alternative to synthetic nanoparticles. PNPs are abundant in nature, genetically and chemically modifiable, monodisperse, biocompatible, and biodegradable. To harness their full clinical potential, it is important for PNPs to be accurately designed and engineered. In this review, we outline the recent advancements and applications of PNPs in cancer nanomedicine. We also discuss the future directions for PNP research and what challenges must be overcome to ensure their translation into the clinic.
Keywords:
drug delivery; nanomedicine; cancer therapy; cancer imaging; virus-like particles; protein-based nanoparticles; synthetic biology
Author Contributions
Conceptualization, F.S., and A.C.; writing—original draft preparation, F.S., and N.U.K.; writing—review and editing, A.S., and A.C.; funding acquisition, A.C.
Funding
F.S. is supported by an international Macquarie University Research Excellence Scholarship (iMQRES) and a Commonwealth Scientific and Industrial Research Organization (CSIRO) scholarship (50068016). A.C. is supported by a Cancer Institute's New South Wales Early Career Fellowship (ECF171114). A.C. and A.S. acknowledge the support of the Australian Research Council (CE140100003).
Conflicts of Interest
The authors declare no conflict of interest.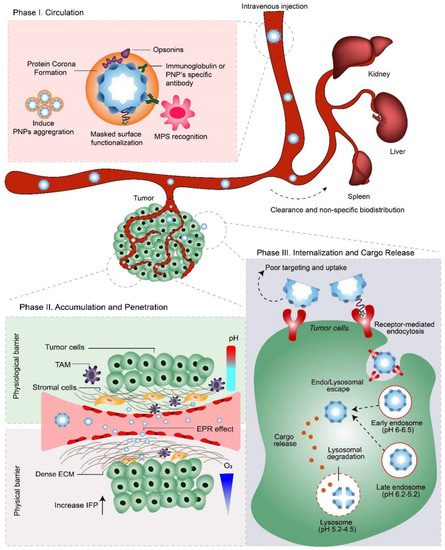 Figure 1. The three phases of PNP delivery and the pathophysiological barriers they encounter after systemic administration (i.e., intravenous injection). Phase I: 'Circulation.' After entering the bloodstream, protein corona formation on PNPs can evoke recognition by the mononuclear phagocytic system (MPS), leading to their clearance via MPS-rich organs; e.g., liver, kidney, and spleen. Therefore, to enable therapeutic concentrations of the NDDS to interact with tumors, PNPs must evade the MPS, while retaining their stability during blood circulation. Phase II: 'Accumulation and Penetration.' PNPs must extravasate from the bloodstream via leaky vasculature into the tumor, where they must overcome physical and physiological barriers to penetrate deep into the tumor microenvironment. Phase III: 'Internalization and Cargo Release.' Following endocytosis, PNPs are trafficked into endo/lysosomes and finally degraded to release their therapeutic cargo. Depending on their cargo's mode-of-action, PNPs may need to escape (and avoid degradation) from endo/lysosomal compartments to the cytosol. TAM= tumor-associated macrophages; EPR effect = enhanced permeability and retention effect; ECM = extracellular matrix; IFP = interstitial fluid pressure.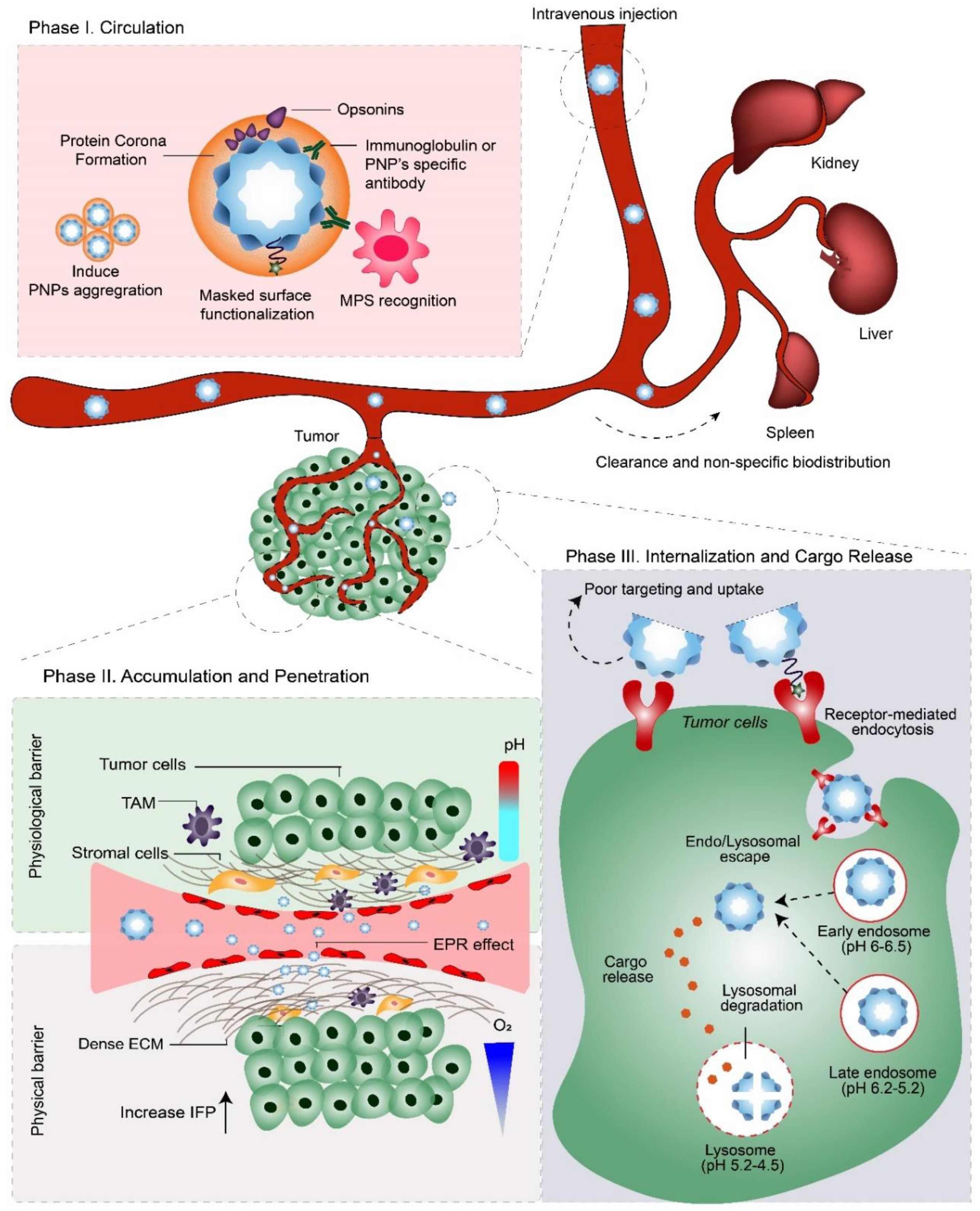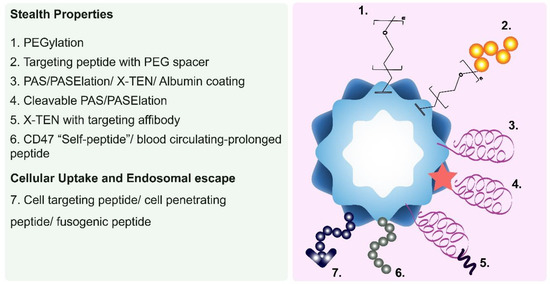 Figure 2. Illustration showing the various outer surface modifications used to make 'stealth' PNPs, and/or enhance their cellular targeting, uptake, and intracellular trafficking.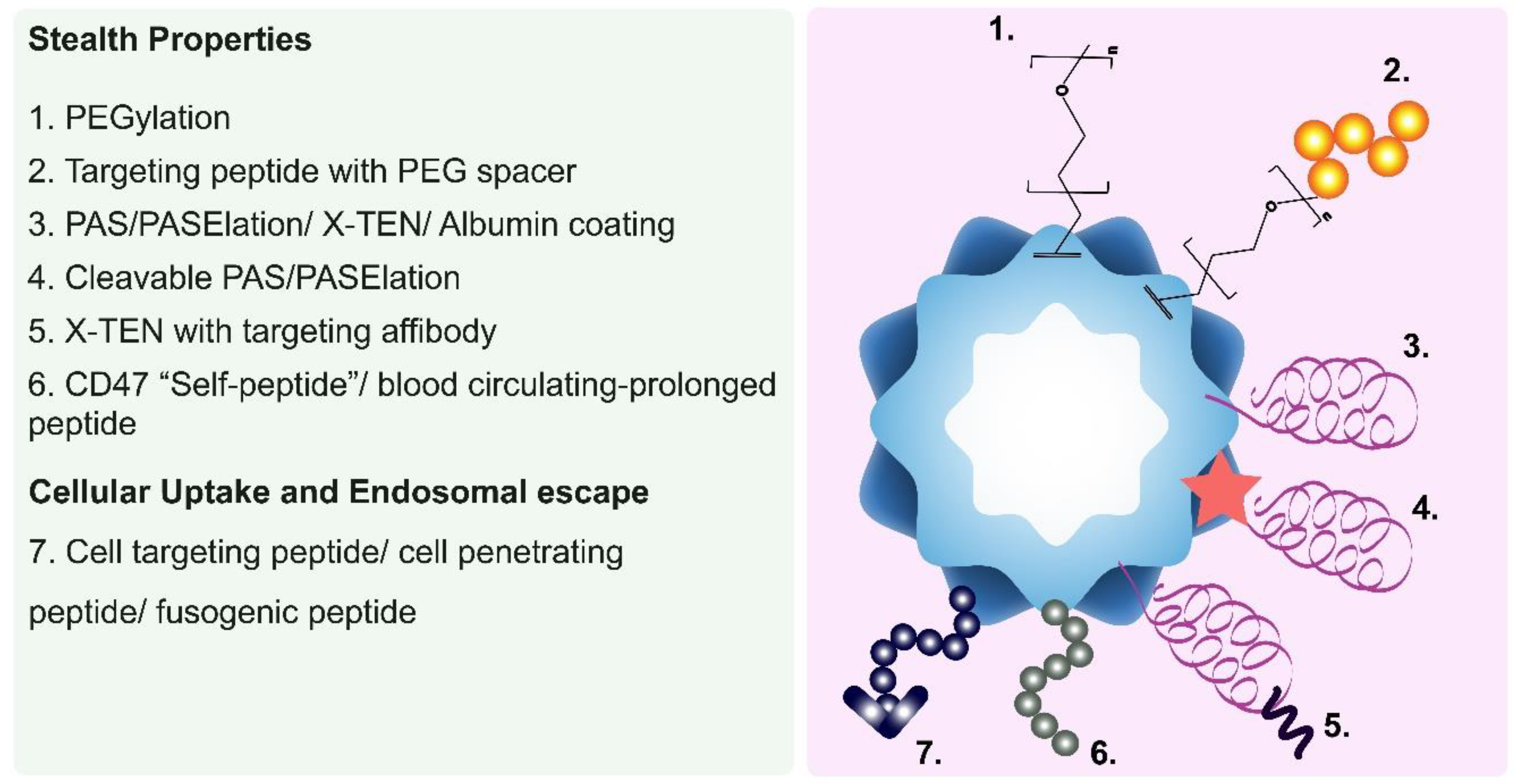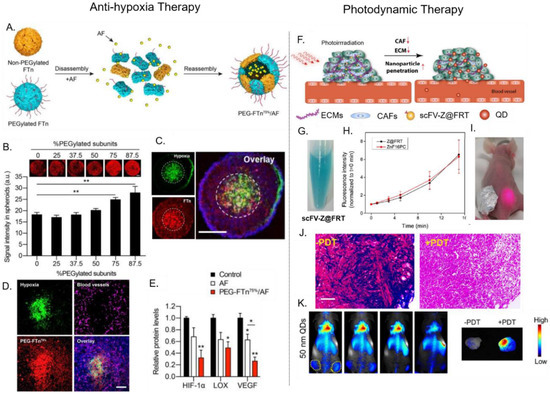 Figure 3.
Examples of PNP-mediated drug delivery for different cancer therapies. (
Left panel
) Anti-hypoxia therapy: ferritin-mediated delivery of the HIF-1α inhibitor, Acriflavine (AF). (
A
) AF is encapsulated within PEGylated ferritin (FTn) via assembly-disassembly method. (
B
) Fluorescence microscopy showed that the PEGylation density of FTn affected its ability to penetrate 3D lung cancer tumor spheroids. (
C
) FTn with a PEG coverage of ≥75% (PEG–FTn
75%
) showed deep penetration and accumulation within inner hypoxic areas of tumor spheroids. (
D
) Tumor sections from orthotropic lung tumor-bearing mice showed that PEG–FTn
75%
successfully penetrated inner hypoxic areas in tumors after systemic injection. (
E
) Delivery of AF using PEG–FTn
75%
significantly reduce HIF
5
-1α, LOX, and VEGF expression in vivo. Adapted from [
27
], with permission from American Chemical Society, 2019. (
Right Panel
) Photodynamic therapy (PDT): ferritin-mediated delivery of photosensitizers for photodynamic therapy. (
F
) Ferritin is used to target the delivery of photosensitizers into tumors to mediate PDT which kills cancer-associated fibroblasts (CAFs), weakens the extracellular matrix (ECM), and enhances the penetration of nanoparticles into the tumor. (
G
) ZnF16PC-loaded chain variable fragment (scFv)–ferritin for targeted PDT (
H
) Both the free photosensitizer ZnF16PC and ZnF16PC-loaded scFv–ferritin produced similar amounts of reactive oxygen species ROS upon irradiation in time dependent manner (
I
) Bilateral tumor bearing mice were used to compare the effect of PDT on the reduction of collagen level in the tumor ECM. The tumor covered with aluminum foil was not irradiated. (
J
) Tumor section from irradiated tumor and non-irradiated tumor. ECM levels were decreased by PDT in the irradiated tumor (Mason's trichome staining). (
K
) Increased accumulation of 50 nm quantum dots (QDs) in the irradiated tumor after PDT indicated that the decrease in ECM improves the penetration and accumulation of the NDDS in tumor tissue (Maestro II imaging system). Adapted from [
31
], with permission from American Chemical Society, 2018.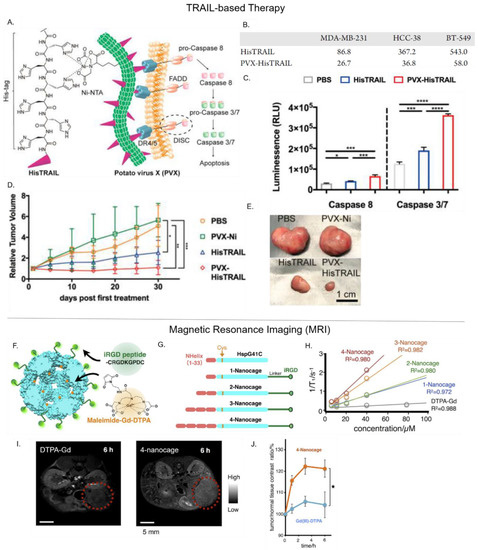 Figure 4.
Examples of PNP-mediated delivery of biotherapeutics and imaging agents. (
Upper panel
) TRAIL-based therapy: PVX-mediated delivery of the anti-cancer biotherapeutic HisTRAIL. (
A
) Schematic showing PVX–HisTRAIL-induced apoptosis via caspase dependent pathway. (
B
) IC
50
of free His-TRAIL and PVX–HisTRAIL against various cancer cell types (
C
). PVX–HisTRAIL activated caspase 8 and caspase 3/7. (
D
,
E
) In comparison to free HisTRAIL, PVX–HisTRAIL significantly regressed tumor growth in tumor-bearing mice after 30 days. Adapted from [
24
], with permission from American Chemical Society, 2019. (
Lower Panel
) Magnetic resonance imaging (MRI): Hsp-mediated delivery of the MRI contrast agent Gd–DTPA. (
F
) Design of Hsp variants for Gd–DTPA delivery. (
G
) Hsp was modified with a C-terminal iRGD to target pancreatic cancer cells. To generate variants of different sizes, hydrophobic peptides repeats were attached at the N-terminus of Hsp, resulting in: 1-nanocage, 2-nanocage, 3-nanocage, and 4-nanocage. (
H
) Relaxivity values (at 1.5 Tesla) for each iRGD–Hsp variant of free Gd–DTPA, in vitro. (
I
,
J
) In vivo MRI images (9.4 T) in transgenic mice bearing pancreatic tumors 6h after IV injection. The '4-nanocage' variant showed a significantly higher tumor-to-normal MRI contrast ratio than free Gd–DTPA. Adapted from [
38
], with permission from Elsevier, 2018.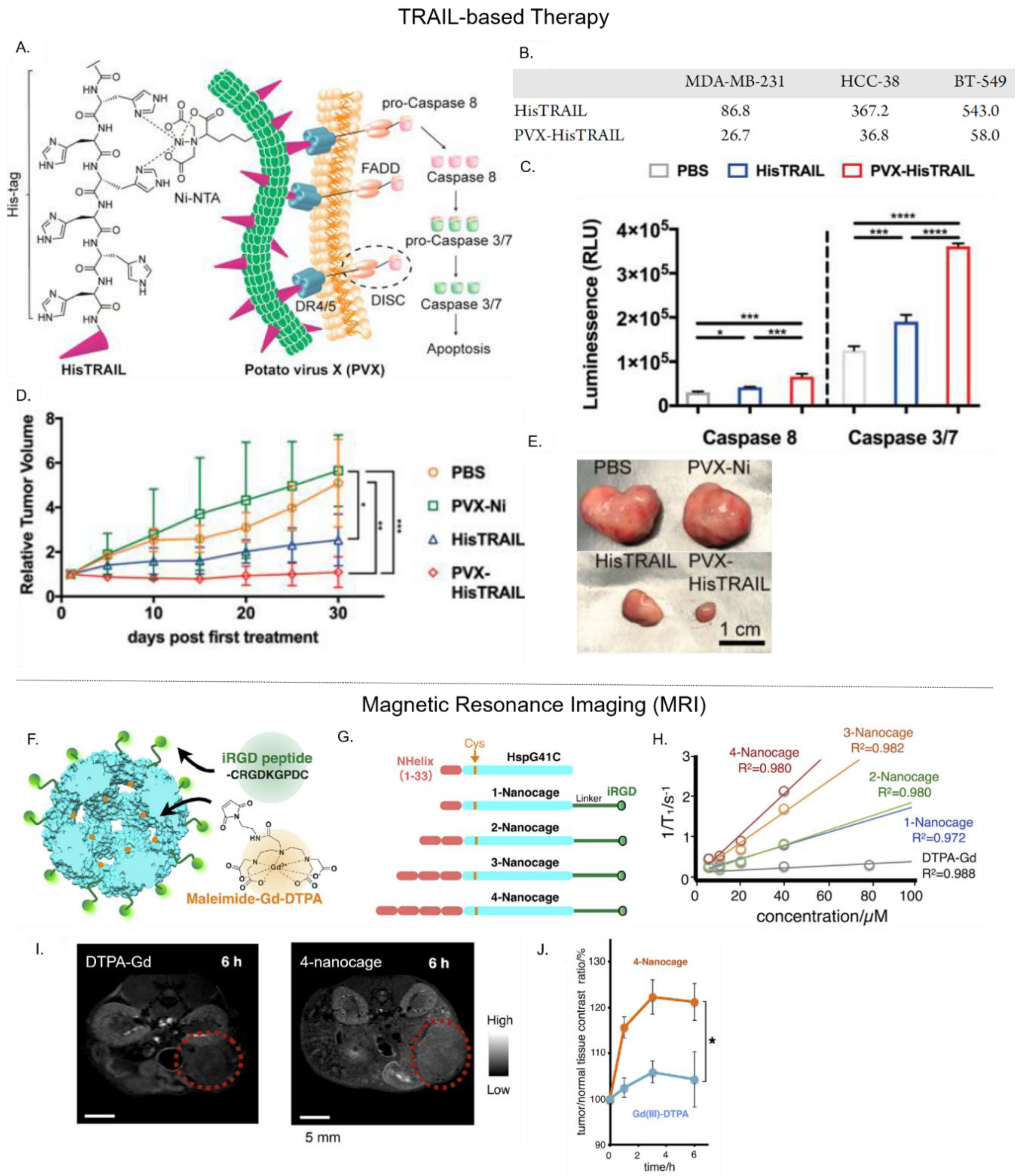 Table 1. Example of protein-based nanoparticles (PNPs) and their application in cancer therapeutics and imaging agent delivery (in this review).
Type
PNPs
Shape
Size (nm)
Half-Life
Application
Cargo
Functionalization
Ref.
Virus-like Particle (VLP)
Tobacco mosaic virus (TMV)
Cylindrical
300 × 18
30 min
Gene delivery
siRNA
TAT
[15]
-
-
RGD—PEG spacer
[16] *
-
-
Serum albumin—PEG
[17] *
MRI 1-NIRF 2 imaging
Dy3+, Cy7.5
PEG-DGEA targeting peptide
[18] *
MS2 bacteriophage
Icosahedral
26
N/A
Gene delivery
siRNA
SP94 targeting peptide H5YGW fusogenic peptide
[19]
Gene delivery
siRNA
TAT
[20] *
Cowpea mosaic virus (CPMV)
Pseudo-icosahedral
30–34
4–7 min
NIRF imaging
Alexa Fluor
PEG-E7p72 targeting peptide
[21]
Chemotherapy
Mitoxantrone
-
[22]
Cowpea chlorotic mottle virus (CCMV)
Icosahedral
28
N/A
Gene delivery
siRNA
M-lycotoxin L17E (penetrating peptide)
[23]
Potato virus X (PVX)
Filamentous
515 × 13
12.5 min
Protein delivery
TRAIL 3
-
[24] *
Simian Virus 40 (SV40)
Icosahedral
20–40
< than 5 min
NIRF Imaging
Ag2S-QD
PEG
[25] *
Non-Virus Like Particle (NVP)
Ferritin
Octahedral
12
1.1 h
Chemotherapy
DOX 4
Serum albumin coating
[26] *
Hypoxia targeting therapy
HIF 5-1α inhibitor (Acriflavine)
PEG
[27] *
Chemotherapy
Mitoxantrone
MMP-cleavable PASE
[28,29] *
Chemotherapy
Fe (II)-DOX
Nicked ferritin
[30]
PDT 6
ZnF16PC
FAP-scFv
[31] *
-
-
X-TEN + affibody
[32] *
PET 7
64CuS
-
[33] *
Encapsulin
Icosahedral
20–40
N/A
Chemotherapy
Aldox
SP94-targeting peptide
[34]
P22
Icosahedral
60
N/A
-
-
CD47-self peptide
[35]
Heat shock protein (Hsp)
Octahedral
24
N/A
Chemotherapy
OSU030312
iRGD
[36]
Gene delivery
siRNA
-
[37]
MRI
Gd–DTPA
iRGD
[38] *
Gas Vesicles
Tip-conned cylindrical
45 × 250
N/A
Ultrasound
Air
CD47, R8
[39]
Asterisk (*) indicated that the study was conducted in vivo. 1 MRI: magnetic resonance imaging, 2 NIRF = near infrared fluorescence, 3 TRAIL = tumor necrosis factor (TNF)-related apoptosis-inducing ligand, 4 DOX=doxorubicin, 5 HIF = hypoxia-inducible factor, 6 PDT = photodynamic therapy, 7 PET = positron emission tomography.
Purpose
Engineering Strategy
PNP Example in This Review
Prolong circulation half-life
PEGylation
TMV [16], SV40 [25]
Albumin coating
TMV [17,58], Ferritin [26]
CD47 "self-peptide"
P22 [35]
Blood-circulating peptide-1 (BCP-1)
Ferritin [61]
PAS/PASElation
Ferritin [28,29]
X-TEN
Ferritin [32]
Increase tumor accumulation
Tumor vasculature disruption (PDT)
Ferritin [71]
Elongated PNPs
TMV [69], PVX [82]
Improve tumor penetration and diffusion
Receptor-mediated transcytosis
Ferritin [27]
Elongated/High aspect ratio
TMV [69], PVX [82]
ECM degradation (via PDT)
Ferritin [31]
Enhance cellular uptake
Cell-targeting peptide (with PEG spacer)
TMV [16]
Cleavable-stealth coating
Ferritin [28]
Mediate endo/lysosomal escape
Cell-penetrating peptide
MS2 [20], TMV [15], CCMV [23]
Fusogenic peptide
MS2 [19]

© 2019 by the authors. Licensee MDPI, Basel, Switzerland. This article is an open access article distributed under the terms and conditions of the Creative Commons Attribution (CC BY) license (http://creativecommons.org/licenses/by/4.0/).