Osteoblast Biocompatibility and Antibacterial Effects Using 2-Methacryloyloxyethyl Phosphocholine-Grafted Stainless-Steel Composite for Implant Applications
1
Department of Orthopedic Surgery, Chang Gung Memorial Hospital, Keelung City 401, Taiwan
2
College of Medicine, Chang Gung University, Guishan District, Taoyuan City 333, Taiwan
3
Department of Chemical and Materials Engineering and Green Technology Research Center, Chang Gung University, Guishan District, Taoyuan City 333, Taiwan
4
Graduate institute of Biomedical Engineering, Chang Gung University, Guishan District, Taoyuan City 333, Taiwan
5
Department of Radiation Oncology, Chang Gung Memorial Hospital, Guishan District, Taoyuan City 333, Taiwan
6
Department of Safety, Health and Environment Engineering, Ming Chi University of Technology, Taishan District, New Taipei City 243, Taiwan
7
R&D Center for Membrane Technology, Chung Yuan Christian University, Chung Li District, Taoyuan City 320, Taiwan
*
Authors to whom correspondence should be addressed.
Received: 31 May 2019 / Revised: 23 June 2019 / Accepted: 26 June 2019 / Published: 28 June 2019
Abstract
Poor osteogenesis and bacterial infections lead to an implant failure, so the enhanced osteogenic and antimicrobial activity of the implantable device is of great importance in orthopedic applications. In this study, 2-methacryloyloxyethyl phosphocholine (MPC) was grafted onto 316L stainless steel (SS) using a facile photo-induced radical graft polymerization method via a benzophenone (BP) photo initiator. Atomic force microscopy (AFM) was employed to determine the nanoscale morphological changes on the surface. The grafted BP-MPC layer was estimated to be tens of nanometers thick. The SS-BP-MPC composite was more hydrophilic and smoother than the untreated and BP-treated SS samples.
Staphylococcus aureus
(
S. aureus
) bacteria binding onto the SS-BP-MPC composite film surface was significantly reduced compared with the pristine SS and SS-BP samples. Mouse pre-osteoblast (MC3T3-E1) cells showed good adhesion on the MPC-modified samples and better proliferation and metabolic activity (73% higher) than the pristine SS sample. Biological studies revealed that grafting MPC onto the SS substrate enhanced the antibacterial efficiency and also retained osteoblast biocompatibility. This proposed procedure is promising for use with other implant materials.
View Full-Text
►

▼

Figures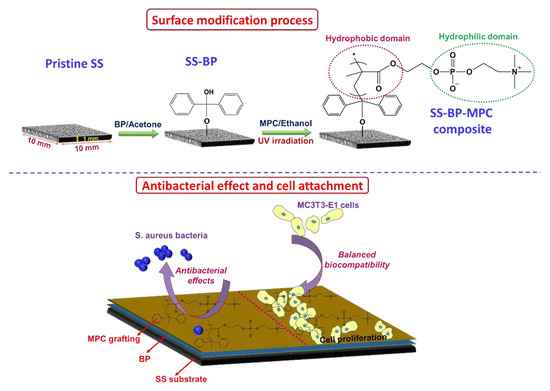 Graphical abstract
This is an open access article distributed under the
Creative Commons Attribution License
which permits unrestricted use, distribution, and reproduction in any medium, provided the original work is properly cited (CC BY 4.0).

Share & Cite This Article
MDPI and ACS Style
Chen, D.W.; Yu, H.-H.; Luo, L.-J.; Rajesh Kumar, S.; Chen, C.-H.; Lin, T.-Y.; Lai, J.-Y.; Jessie Lue, S. Osteoblast Biocompatibility and Antibacterial Effects Using 2-Methacryloyloxyethyl Phosphocholine-Grafted Stainless-Steel Composite for Implant Applications. Nanomaterials 2019, 9, 939.
Note that from the first issue of 2016, MDPI journals use article numbers instead of page numbers. See further details here.
Related Articles
Comments
[Return to top]