Amelioration of Experimentally Induced Arthritis by Reducing Reactive Oxygen Species Production through the Intra-Articular Injection of Water-Soluble Fullerenol
1
School of Chemistry and Materials Science, Nanjing University of Information Science and Technology, Nanjing 210044, China
2
School of Environmental Science and Engineering, Nanjing University of Information Science and Technology, Nanjing 210044, China
3
Center for Micro/Nano Science and Technology, National Cheng Kung University, Tainan 701, Taiwan
4
Department of Internal Medicine, National Cheng Kung University Hospital, College of Medicine, National Cheng Kung University, Tainan 701, Taiwan
5
Department of Anesthesia, An Nan Hospital, China Medical University, Tainan 709, Taiwan
6
Department of Anesthesia, China Medical University, Taichung 404, Taiwan
7
Department of Biochemistry and Molecular Biology, College of Medicine, National Cheng Kung University, Tainan 701, Taiwan
8
Department of Microbiology and Immunology, College of Medicine, National Cheng Kung University, Tainan 701, Taiwan
9
Department of Nursing, College of Nursing, Chung Hwa University of Medical Technology, Tainan 717, Taiwan
10
Graduate Institute of Medical Sciences, Chang Jung Christian, Tainan 711, Taiwan
11
Department of Orthopedics, College of Medicine, National Cheng Kung University, Tainan 701, Taiwan
12
Department of Orthopedics, National Cheng Kung University Hospital Dou-Liou Branch, College of Medicine, National Cheng Kung University, Yunlin 640, Taiwan
13
Department of Orthopedics, National Cheng Kung University Hospital, College of Medicine, National Cheng Kung University, Tainan 701, Taiwan
14
Department of Biomedical Engineering, National Cheng Kung University, Tainan 701, Taiwan
15
Medical Device R & D Core Laboratory, National Cheng Kung University Hospital, Tainan 701, Taiwan
*
Authors to whom correspondence should be addressed.
†
The authors contributed equally to this work.
Received: 24 May 2019 / Revised: 14 June 2019 / Accepted: 19 June 2019 / Published: 23 June 2019
Abstract
Accumulated evidence suggests a pathogenic role of reactive oxygen species (ROS) in perpetually rheumatoid joints. Therefore, the application of radical scavengers for reducing the accumulation of ROS is beneficial for patients with rheumatoid arthritis (RA). We synthesized water-soluble fullerenols that could inhibit the production of ROS and applied intra-articular (i.a.) injection in an experimental arthritis model to examine the anti-arthritic effect of the synthesized compound. RAW 264.7 cells were used to examine the activity of the synthesized fullerenol. Collagen-induced arthritis (CIA) was induced in Sprague–Dawley rats by injecting their joints with fullerenol. The therapeutic effects were evaluated using the articular index as well as radiological and histological scores. Dose-dependent suppression of nitric oxide (NO) production caused by the fullerenol was demonstrated in the RAW 264.7 cell culture, thus confirming the ability of fullerenol to reduce ROS production. In the fullerenol-injected joints, articular indexes, synovial expression of ROS, histological and radiological scores, pannus formation, and erosion of cartilage and bone were all reduced. Moreover, interleukin (IL)-1β and vascular endothelial growth factor (VEGF) levels were reduced, and fewer von Willebrand factor (vWF)-stained areas were identified in the fullerenol-treated joints than in control joints. The i.a. injection of fullerenol for reducing ROS production can ameliorate arthritis in joints by suppressing pro-inflammatory cytokine production and the angiogenesis process. Thus, the i.a. injection of fullerenol for reducing the production of ROS can be used as a pharmacological approach for RA patients.
View Full-Text
►

▼

Figures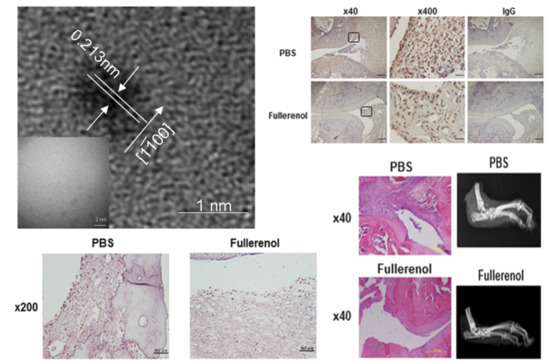 Graphical abstract
This is an open access article distributed under the
Creative Commons Attribution License
which permits unrestricted use, distribution, and reproduction in any medium, provided the original work is properly cited (CC BY 4.0).

Share & Cite This Article
MDPI and ACS Style
Kuo, W.-S.; Weng, C.-T.; Chen, J.-H.; Wu, C.-L.; Shiau, A.-L.; Hsieh, J.-L.; So, E.C.; Wu, P.-T.; Chen, S.-Y. Amelioration of Experimentally Induced Arthritis by Reducing Reactive Oxygen Species Production through the Intra-Articular Injection of Water-Soluble Fullerenol. Nanomaterials 2019, 9, 909.
Note that from the first issue of 2016, MDPI journals use article numbers instead of page numbers. See further details here.
Related Articles
Comments
[Return to top]