Impact of Tetrazolium Ionic Liquid Thermal Decomposition in Solvothermal Reaction on the Remarkable Photocatalytic Properties of TiO2 Particles
1
Department of Environmental Technology, Faculty of Chemistry, University of Gdansk, Wita Stwosza 63, 80-308 Gdansk, Poland
2
Department of Process Engineering and Chemical Technology, Chemical Faculty, Gdansk University of Technology, Narutowicza 11/12, 80-233 Gdansk, Poland
3
Institute of Physical Chemistry, Polish Academy of Sciences, Kasprzaka 44, 01-224 Warsaw, Poland
4
Department of Environmental Analysis, Faculty of Chemistry, University of Gdansk, ul. Wita Stwosza 63, 80-308 Gdansk, Poland
*
Author to whom correspondence should be addressed.
Received: 5 April 2019 / Revised: 28 April 2019 / Accepted: 11 May 2019 / Published: 15 May 2019
Abstract
Ionic liquids (ILs) could serve as a structuring agent, a solvent, or a source of dopant during solvothermal synthesis of semiconductors particles. To understand the role of IL during formation of TiO
2
particles, it is necessary to study the stability of this IL in solvothermal synthesis conditions, as well as studying the surface properties of formed TiO
2
particles. In view of this, the effect of the 2,3,5-triphenyltetrazolium chloride IL ([TPTZ][Cl]) thermal decomposition during the solvothermal reaction and IL content in the reaction system on photoactivity of TiO
2
microparticles has been systematically investigated. The samples obtained by using [TPTZ][Cl] exhibited remarkable photocatalytic properties in phenol degradation reaction under visible light. HPLC analysis of the solvothermal reaction medium and X-ray photoelectron spectroscopy (XPS) analysis of TiO
2
particles revealed that [TPTZ][Cl] was decomposed completely and was incorporated into the TiO
2
lattice. Generally, increasing the reaction time (1, 4, 12, and 24 h) promoted the TiO
2
microspheres formation, as well as raising the visible light-induced photocatalytic activity of the photocatalysts. Longer reaction time was also accompanied by an increase in the efficiency of 2,3,5-triphenyltetrazolium chloride decomposition. The properties of the photocatalysts were investigated by means of UV-VIS diffuse reflectance spectroscopy (DRS), BET surface area measurements, scanning electron microscopy (SEM), X-ray powder diffraction (XRD) analysis, and XPS.
View Full-Text
►

▼

Figures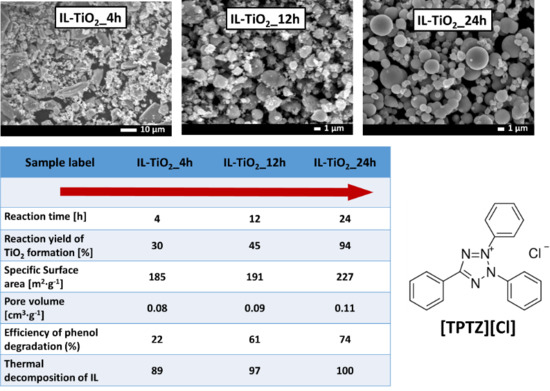 Graphical abstract
This is an open access article distributed under the
Creative Commons Attribution License
which permits unrestricted use, distribution, and reproduction in any medium, provided the original work is properly cited (CC BY 4.0).

Share & Cite This Article
MDPI and ACS Style
Paszkiewicz-Gawron, M.; Gołąbiewska, A.; Pancielejko, A.; Lisowski, W.; Zwara, J.; Paszkiewicz, M.; Zaleska-Medynska, A.; Łuczak, J. Impact of Tetrazolium Ionic Liquid Thermal Decomposition in Solvothermal Reaction on the Remarkable Photocatalytic Properties of TiO2 Particles. Nanomaterials 2019, 9, 744.
Note that from the first issue of 2016, MDPI journals use article numbers instead of page numbers. See further details here.
Related Articles
Comments
[Return to top]