Dibenzyl Disulfide Adsorption on Cationic Exchanged Faujasites: A DFT Study
1
Laboratoire de Physique et Chimie Théoriques, Faculté des Sciences et Technologies, CNRS, Université de Lorraine, Boulevard des Aiguillettes, 54500 Vandoeuvre-lès-Nancy, France
2
Laboratoire de Chimie Théorique et de Spectroscopie Moléculaire, Université d'Abomey-Calavi, 03 BP 3409 Cotonou, Benin
3
Institut de Chimie Moléculaire de Reims, Université de Reims Champagne-Ardenne, 51687 Reims, France
4
Chemistry (ALGC), Vrije Universiteit Brussel, Pleinlaan 2, B-1050 Brussel, Belgium
5
Laboratorio de Corrosión, Departamento de Ciencias Químicas, Facultad de Ciencias Exactas, Universidad Andres Bello, Av. República 330, 8370186 Santiago, Chile
*
Authors to whom correspondence should be addressed.
Received: 13 April 2019 / Revised: 26 April 2019 / Accepted: 30 April 2019 / Published: 8 May 2019
Abstract
Although dibenzyl disulfide (DBDS) is used as a mineral oil stabilizer, its presence in electrical transformer oil is associated as one of the major causes of copper corrosion and subsequent formation of copper sulfide. In order to prevent these undesirable processes, MY zeolites (with M = Li, Na, K, Cs, Cu or Ag) are proposed to adsorb molecularly DBDS. In this study, different MY zeolites are investigated at the DFT+D level in order to assess their ability in DBDS adsorption. It was found that CsY, AgY and CuY exhibit the best compromise between high interaction energies and limited S-S bond activation, thus emerging as optimal adsorbents for DBDS.
View Full-Text
►

▼

Figures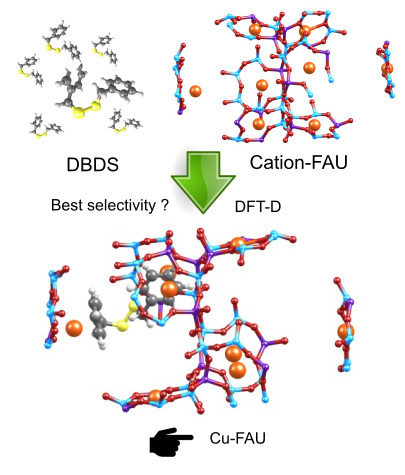 Graphical abstract
This is an open access article distributed under the
Creative Commons Attribution License
which permits unrestricted use, distribution, and reproduction in any medium, provided the original work is properly cited (CC BY 4.0).

Share & Cite This Article
MDPI and ACS Style
Hessou, E.P.; Ponce-Vargas, M.; Mensah, J.-B.; Tielens, F.; Santos, J.C.; Badawi, M. Dibenzyl Disulfide Adsorption on Cationic Exchanged Faujasites: A DFT Study. Nanomaterials 2019, 9, 715.
Note that from the first issue of 2016, MDPI journals use article numbers instead of page numbers. See further details here.
Related Articles
Comments
[Return to top]