Controlled Hydrothermal Growth and Li+ Storage Performance of 1D VOx Nanobelts with Variable Vanadium Valence
1
Department of Physics, School of Physics and Astronomy, Yunnan University, Kunming 650504, China
2
Yunnan Key Laboratory of Micro/Nano-Materials and Technology, Yunnan University, Kunming 650504, China
*
Authors to whom correspondence should be addressed.
Received: 29 March 2019 / Revised: 12 April 2019 / Accepted: 15 April 2019 / Published: 17 April 2019
Abstract
One-dimensional (1D) vanadium oxide nanobelts (VO
x
NBs) with variable V valence, which include V
3
O
7
·H
2
O NBs, VO
2
(B) NBs and V
2
O
5
NBs, were prepared by a simple hydrothermal treatment under a controllable reductive environment and a following calcination process. Electrochemical measurements showed that all these VO
x
NBs can be adopted as promising cathode active materials for lithium ion batteries (LIBs). The Li
+
storage mechanism, charge transfer property at the solid/electrolyte interface and Li
+
diffusion characteristics for these as-synthesized 1D VO
x
NBs were systematically analyzed and compared with each other. The results indicated that V
2
O
5
NBs could deliver a relatively higher specific discharge capacity (213.3 mAh/g after 50 cycles at 100 mA/g) and median discharge voltage (~2.68–2.71 V vs. Li/Li
+
) during their working potential range when compared to other VO
x
NBs. This is mainly due to the high V valence state and good crystallinity of V
2
O
5
NBs, which are beneficial to the large Li
+
insertion capacity and long-term cyclic stability. In addition, the as-prepared VO
2
(B) NBs had only one predominant discharge plateau at the working potential window so that it can easily output a stable voltage and power in practical LIB applications. This work can provide useful references for the selection and easy synthesis of nanoscaled 1D vanadium-based cathode materials.
View Full-Text
►

▼

Figures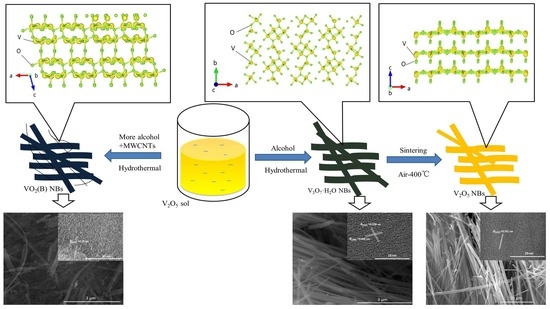 Graphical abstract
This is an open access article distributed under the
Creative Commons Attribution License
which permits unrestricted use, distribution, and reproduction in any medium, provided the original work is properly cited (CC BY 4.0).

Share & Cite This Article
MDPI and ACS Style
Jiang, Y.; Zhou, X.; Chen, X.; Wen, J.; Guan, L.; Shi, M.; Ren, Y.; Liu, Z. Controlled Hydrothermal Growth and Li+ Storage Performance of 1D VOx Nanobelts with Variable Vanadium Valence. Nanomaterials 2019, 9, 624.
Note that from the first issue of 2016, MDPI journals use article numbers instead of page numbers. See further details here.
Related Articles
Comments
[Return to top]