Extremely Polysubstituted Magnetic Material Based on Magnetoplumbite with a Hexagonal Structure: Synthesis, Structure, Properties, Prospects
1
Laboratory of Single Crystal Growth, South Ural State University (National Research University), 454080 Chelyabinsk, Russia
2
Center of shared research facilities, Moscow Institute of Physics and Technology (State University), 141701 Dolgoprudny, Russia
3
Faculty of Physics, Chelyabinsk State University, 454001 Chelyabinsk, Russia
4
Department of Electronic Materials Technology, National University of Science and Technology "MISIS", 119049 Moscow, Russia
5
Department of Design and Manufacture of Radio Equipment, South Ural State University (National Research University), 454080 Chelyabinsk, Russia
6
Institute of Radioelectronics and Information Technologies, Ural Federal University Named after the First President of Russia B.N. Yeltsin, 19 Mira Street, 620002 Ekaterinburg, Russia
7
Laboratory of Magnetic Films, Scientific and Practical Materials Research Centre of NAS of Belarus, 220072 Minsk, Belarus
*
Author to whom correspondence should be addressed.
Received: 1 March 2019 / Revised: 21 March 2019 / Accepted: 26 March 2019 / Published: 6 April 2019
Abstract
Crystalline high-entropy single-phase products with a magnetoplumbite structure with grains in the μm range were obtained using solid-state sintering. The synthesis temperature was up to 1400 °C. The morphology, chemical composition, crystal structure, magnetic, and electrodynamic properties were studied and compared with pure barium hexaferrite BaFe
12
O
19
matrix. The polysubstituted high-entropy single-phase product contains five doping elements at a high concentration level. According to the EDX data, the new compound has a formula of Ba(Fe
6
Ga
1.25
In
1.17
Ti
1.21
Cr
1.22
Co
1.15
)O
19
. The calculated cell parameter values were
a
= 5.9253(5) Å,
c
= 23.5257(22) Å, and
V
= 715.32(9) Å
3
. The increase in the unit cell for the substituted sample was expected due to the different ionic radius of Ti/In/Ga/Cr/Co compared with Fe
3+
. The electrodynamic measurements were performed. The dielectric and magnetic permeabilities were stable in the frequency range from 2 to 12 GHz. In this frequency range, the dielectric and magnetic losses were −0.2/0.2. Due to these electrodynamic parameters, this material can be used in the design of microwave strip devices.
View Full-Text
►

▼

Figures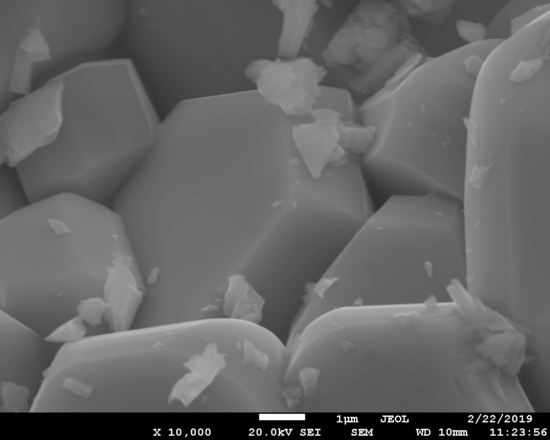 Graphical abstract
This is an open access article distributed under the
Creative Commons Attribution License
which permits unrestricted use, distribution, and reproduction in any medium, provided the original work is properly cited (CC BY 4.0).

Share & Cite This Article
MDPI and ACS Style
Vinnik, D.A.; Zhivulin, V.E.; Trofimov, E.A.; Starikov, A.Y.; Zherebtsov, D.A.; Zaitseva, O.V.; Gudkova, S.A.; Taskaev, S.V.; Klygach, D.S.; Vakhitov, M.G.; Sander, E.E.; Sherstyuk, D.P.; Trukhanov, A.V. Extremely Polysubstituted Magnetic Material Based on Magnetoplumbite with a Hexagonal Structure: Synthesis, Structure, Properties, Prospects. Nanomaterials 2019, 9, 559.
Note that from the first issue of 2016, MDPI journals use article numbers instead of page numbers. See further details here.
Related Articles
Comments
[Return to top]