Metal-Support Cooperative Effects in Au/VPO for the Aerobic Oxidation of Benzyl Alcohol to Benzyl Benzoate
1
Università degli Studi di Milano, Dipartimento di Chimica, Via C. Golgi 19, 20133 Milano, Italy
2
Institut pour la Maîtrise de l'Énergie–Université d'Antananarivo BP 566, 101 Antananarivo, Madagascar
3
Cardiff Catalysis Institute, School of Chemistry, Cardiff University, Main Building, Park Place, Cardiff, CF10 3AT, UK
4
Dipartimento di Chimica Industriale e dei Materiali, ALMA MATER STUDIORUM Università di Bologna, Viale Risorgimento 4, 40136 Bologna, Italy
*
Authors to whom correspondence should be addressed.
Received: 28 January 2019 / Revised: 11 February 2019 / Accepted: 15 February 2019 / Published: 20 February 2019
Abstract
This paper studies the cooperative effect of Au nanoparticles deposited on vanadyl pyrophosphate oxide (VPO) in the liquid phase oxidation of benzyl alcohol. VPO was prepared using the classical method by thermally treating VOHPO
4
·0.5H
2
O precursor in reacting atmosphere at 420 °C for a period of 72 h. Au nanoparticles were deposited by incipient wetness method. The catalysts were characterized by means of XRD, TEM, XPS and Raman. The bulk VPO catalyst contains vanadyl pyrophosphate phase ((VO)
2
P
2
O
7
), and a small amount of VOPO
4
. The catalytic system exhibits a high activity in the base-free liquid phase oxidation of alcohols compared to Au on activated carbon, classic catalyst used for this type of reaction. Au/VPO showed a high peculiar selectivity to benzyl benzoate (76%), an important product used in the pharmaceutical and perfume industries. This behavior might be ascribed to the presence of strong acid sites of VPO, as determined by liquid phase titration. Stability tests performed on Au/VPO showed a deactivation of 10% after the first run, but a constant conversion along the following five cycles. This phenomenon can be attributed to the increase of mean Au particle size (from 19.1 to 23.4 nm) after recycling tests as well as the partial leaching of Au and V in the reaction media. Moreover, XRD evidenced a modification in the VPO structure with the partial formation of VOHPO
4
·0.5H
2
O phase.
View Full-Text
►

▼

Figures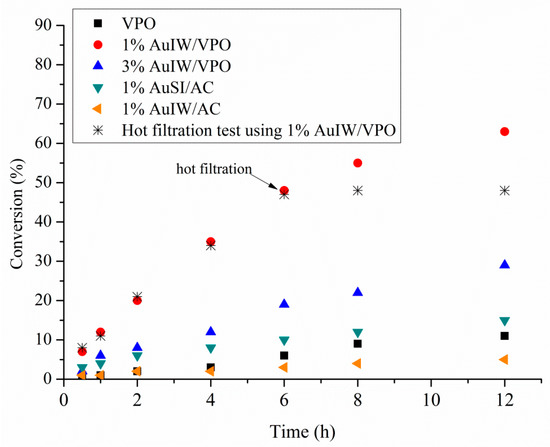 Figure 1
This is an open access article distributed under the
Creative Commons Attribution License
which permits unrestricted use, distribution, and reproduction in any medium, provided the original work is properly cited (CC BY 4.0).

Share & Cite This Article
MDPI and ACS Style
Campisi, S.; Ferri, M.; Chan-Thaw, C.E.; Sanchez Trujillo, F.J.; Motta, D.; Tabanelli, T.; Dimitratos, N.; Villa, A. Metal-Support Cooperative Effects in Au/VPO for the Aerobic Oxidation of Benzyl Alcohol to Benzyl Benzoate. Nanomaterials 2019, 9, 299.
Note that from the first issue of 2016, MDPI journals use article numbers instead of page numbers. See further details here.
Related Articles
Comments
[Return to top]