Open Access This article is
freely available
re-usable
Article
New Insights into the Interaction between Graphene Oxide and Beta-Blockers
1
College of Geology and Environment, Xi'an University of Science and Technology, Xi'an 710054, China
2
Shaanxi Provincial Key Laboratory of Geological Support for Coal Green Exploitation, Xi'an 710054, China
*
Author to whom correspondence should be addressed.
Received: 17 July 2019 / Accepted: 27 September 2019 / Published: 9 October 2019
Abstract
:
As a nano-adsorbent, magnetic graphene oxide (GO/Fe3O4) was synthesized to potentially adsorb propranolol (PRO) from water. The synthetic material was characterized by SEM, TEM, VSM, FTIR, XRD, zeta potential, and XPS. The environmental factors, such as pH, humic acid concentration, PRO concentration, and contact time, were investigated regarding their effect on the adsorption process. The kinetics data fitted the pseudo first-order and second-order kinetics equations. The Langmuir equation, the Freundlich equation, and the Sips equation were used to analyze the adsorption isotherms. Electrostatic attraction, hydrogen bonding, and the π–π interaction all contributed to the adsorption process of PRO onto GO/Fe3O4. The discovery of this study emphasized the feasibility of GO/Fe3O4 removal of PRO and expanded the scope of the application of GO.
Keywords:
magnetic graphene oxide; propranolol; Fe
3
O
4
; adsorption
1. Introduction
Graphene, as a member of the group of carbon materials, has attracted enormous attention from researchers since 2004 due to its excellent mechanical and physicochemical properties [
1
]. As its derivative, graphene oxide (GO) exhibits superior properties. Both GO and graphene have two-dimensional, sheet-like structures which are connected by carbon atoms through the hybridization of sp
2
and σ bonds to the surrounding carbon atoms to form a hexagonal honeycomb lattice [
2
,
3
,
4
]. Compared with graphene, GO has a large number of oxygen-containing functional groups at the edges and inside of the sheet, including hydroxyl groups, carbonyl groups, carboxyl groups, and epoxy groups, which allows GO to be operatively bonded to organic pollutants [
5
,
6
,
7
]. Therefore, GO is often used as an adsorbent in wastewater treatment.
The environmental residue of pharmaceutical and personal care products (PPCPs) has received increasing attention worldwide [
8
,
9
]. As a new type of pollutant, propranolol (PRO) is a beta-blocker for the treatment of cardiovascular disease [
10
]. After entering the water body as a parent compound, it cannot be completely removed by the traditional sewage treatment process [
11
,
12
]. Toxicity tests indicated that PRO remaining in water can cause damage to aquatic organisms and even harm human health [
13
,
14
,
15
,
16
]. Kyzas et al. studied the removal of PRO and atenolol from water by GO adsorption [
17
]. The results showed that the oxygen-containing functional groups on the surface of GO can effectively remove atenolol and PRO from water via electrostatic interaction and hydrogen bonding. However, the presence of these groups on the surface of GO has a double-sided effect. It is easily bonded to contaminants, but it is difficult for GO to be separated from water bodies due to the hydrophilicity of these groups [
18
,
19
]. After the adsorption process completes, it must be separated from the aqueous solution via filtration or centrifugation, which is complicated, time-consuming, and costly.
Magnetic separation is an effective way to solve this problem. Magnetic nanoparticles have received extensive attention due to their unique magnetic properties. A specific external magnetic field is applied, the magnetic material can be separated according to a specific path. The magnet disappears and the material can be easily dispersed into the solution again when the applied magnetic field is removed [
20
,
21
]. Based on this advantage, combining Fe
3
O
4
with GO not only preserves the high adsorption capacity of GO, but also allows it to be quickly separated from water. It is worth mentioning that the loading of Fe
3
O
4
particles makes the GO sheets less prone to aggregation, which is due to the presence of van der Waals forces between the GO layers [
22
,
23
]. Miao et al. showed that GO/Fe
3
O
4
has a high adsorption capacity for adsorbing tetracyclines [
24
]. He et al. formed GO-Fe
3
O
4
hybrid by covalent bonding to adsorb methylene blue and neutral red cationic dyes with a high adsorption capacity [
25
]. Huang et al. studied the adsorption of tetracycline, Cd, and arsenate (As(V)) on graphene oxide when they coexist, and the excellent property of GO/Fe
3
O
4
was mainly attributed to its high dispersibility, thin nanosheets and various functional groups [
26
]. The above researches indicated the possibility of using magnetic GO in the field of wastewater treatment in the future. As far as is known, however, there has been no literature on the removal of PRO from water by GO/Fe
3
O
4
.
In this study, GO was prepared using the modified Hummers method and GO/Fe3O4 was further synthesized in a one-step reaction. PRO was chosen as the target contaminant. The factors affecting PRO adsorption were systematically investigated, and the adsorption kinetics and adsorption isotherms for PRO were studied in detail. The objectives of this study were as follows: (1) prepare GO/Fe3O4 magnetic composites, (2) study the adsorption behavior of PRO onto GO/Fe3O4, and (3) discuss the possible adsorption mechanisms of this process.
2. Materials and Methods
2.1. Materials
Propranolol hydrochloride used in the experiment was purchased from Aladdin Reagent Co., Ltd. (Shanghai, China). Graphite powder was supplied by Guangdong Xilong Chem. Co. Ltd. (Shantou, China). The formic acid and acetonitrile were of HPLC grade. All other reagents, including humic acid (HA) and ferrous sulfate heptahydrate (FeSO4·7H2O), were analytical grade and used without any further purification. All solutions were prepared using distilled water.
2.2. Preparation of GO/Fe3O4
The preparation method of the material referred to our previous research [
27
].
Preparation of GO: 1 g each of potassium sulfate, phosphorus pentoxide, and graphite powder were vigorously stirred in 10 mL of concentrated sulfuric acid and kept at 80 °C for 5 h. It was then washed with distilled water to a neutral pH and dried at 60 °C in a vacuum oven. Potassium permanganate (4 g) and the above product were dissolved into concentrated sulfuric acid (40 mL) placed in an ice bath. After keeping at 35 °C for 2 h, distilled water (100 mL) was slowly added to the mixture, and the mixture was heated to 98 °C for 15 min. Hydrogen peroxide was added to neutralize excess potassium permanganate until the solution was a golden yellow. After settling, the supernatant was decanted, and the precipitant was washed with dilute hydrochloric acid and distilled water to a neutral pH. Finally, the mixture was dried at 60 °C and passed through a 200-mesh screen.
Preparation of GO/Fe3O4: GO (0.5 g) was dispersed into deionized water and sonicated for 30 min. Then, the mixture was kept in a N2 atmosphere for 15 min. Ferrous sulfate heptahydrate (2 g) was added to the above solution under N2 bubbling at 90 °C. The mixture was labeled as solution A. Sodium hydroxide (1.8 g) and sodium nitrate (0.9 g) were dissolved in distilled water (40 mL), and the solution was marked as solution B. Solution B was added dropwise to solution A under N2 bubbling. Then, the final mixture was kept at 90 °C for 4 h. After being cooled to room temperature, it was washed to a neutral pH, dried at 60 °C, and passed through a 100-mesh screen.
2.3. Characterization of GO/Fe3O4
The surface topography and structure of the prepared materials were observed using SEM (JEOL, Tokyo, Japan) and TEM (FEI-JSM 6320F, JEOL, Tokyo, Japan). The magnetic property of the material was measured using VSM (Lake Shore, USA) at room temperature. The key functional groups of the adsorbent were analyzed using FTIR (Thermo Electron Nicolet-360, USA). The XRD patterns of material were conducted to determine the crystal structure with X-ray diffractometer (ARL Co., Switzerland) at the range of 5° to 90°. The surface charge of the adsorbent was measured at various pH values using the zeta potential (Malvern Instrument Co., U.K.). The surface elements of the adsorbent were analyzed using XPS.
2.4. Batch Experiments
All experiments were conducted to evaluate the adsorption performance of GO/Fe
3
O
4
at 30 °C. The amount of PRO stock solution (1 g/L) was added into the centrifuge tube with 0.01 g adsorbent. The effects of adsorption time, the concentration of PRO, pH, and the concentration of humic acid (HA) were studied in turn. The pH of the reaction system was adjusted using 0.1 mol/L NaOH and 0.1 mol/L HCl solutions. The mixtures were shaken for a given time. The solution passed through a 0.22 μm filter with a syringe after equilibrium. The initial and final concentrations of PRO were measured by HPLC at a wavelength of 290 nm. The adsorption capacity was determined using Equation (1):
where
C0
(mg/L) and
Ce
(mg/L) are the initial and equilibrium concentrations of PRO.
qe
(mg/g) is the adsorption capacity of GO/Fe
3
O
4
.
V
(L) is the volume of the solution and
m
(g) represents the mass of GO/Fe
3
O
4
.
3. Results and Discussion
4. Conclusions
A nanomagnetic material GO/Fe3O4 was prepared facilely and investigated regarding its ability to remove contaminant PRO from water via adsorption. All the characterization results indicated that the prepared adsorbent was successfully synthesized and easily recovered from the water by an external magnetic field. The kinetics experimental data were fitted well with the pseudo-second-order kinetics, showing that the adsorption process was controlled by chemical reactions or surface complexation. The high correlation coefficient of the Sips model showed multilayer adsorption and the heterogeneous adsorbent surface. Electrostatic attraction, hydrogen bonding, and π–π interactions all contributed to the adsorption process of PRO onto GO/Fe3O4. The adsorption process was pH-dependent and slightly inhibited by HA. All experimental results revealed that GO/Fe3O4 can be used as an effective adsorbent for the removal of PRO from water.
Author Contributions
Y.D. designed the experiments. Y.L., X.T., and M.C. performed the experiments. Y.L., X.G., W.N., and S.L. analyzed the data. Y.D., Y.L., and D.H. produced the figures and tables. Y.D. and Y.L. wrote the manuscript.
Funding
This research was funded by National Nature Science Foundation of China (grant no. 21806128), the Basic Research Plan of Natural Science in Shaanxi Province-General Project (Youth) (2018JQ2030), the Research Cultivation Fund of Xi'an University of Science and Technology (201720), the Doctoral Scientific Research Foundation of Xi'an University of Science and Technology (2016ZX217), and the Scientific Research Program—Shaanxi Provincial Education Department (17JK0507, 17JK0492).
Conflicts of Interest
The authors declare no conflict of interest.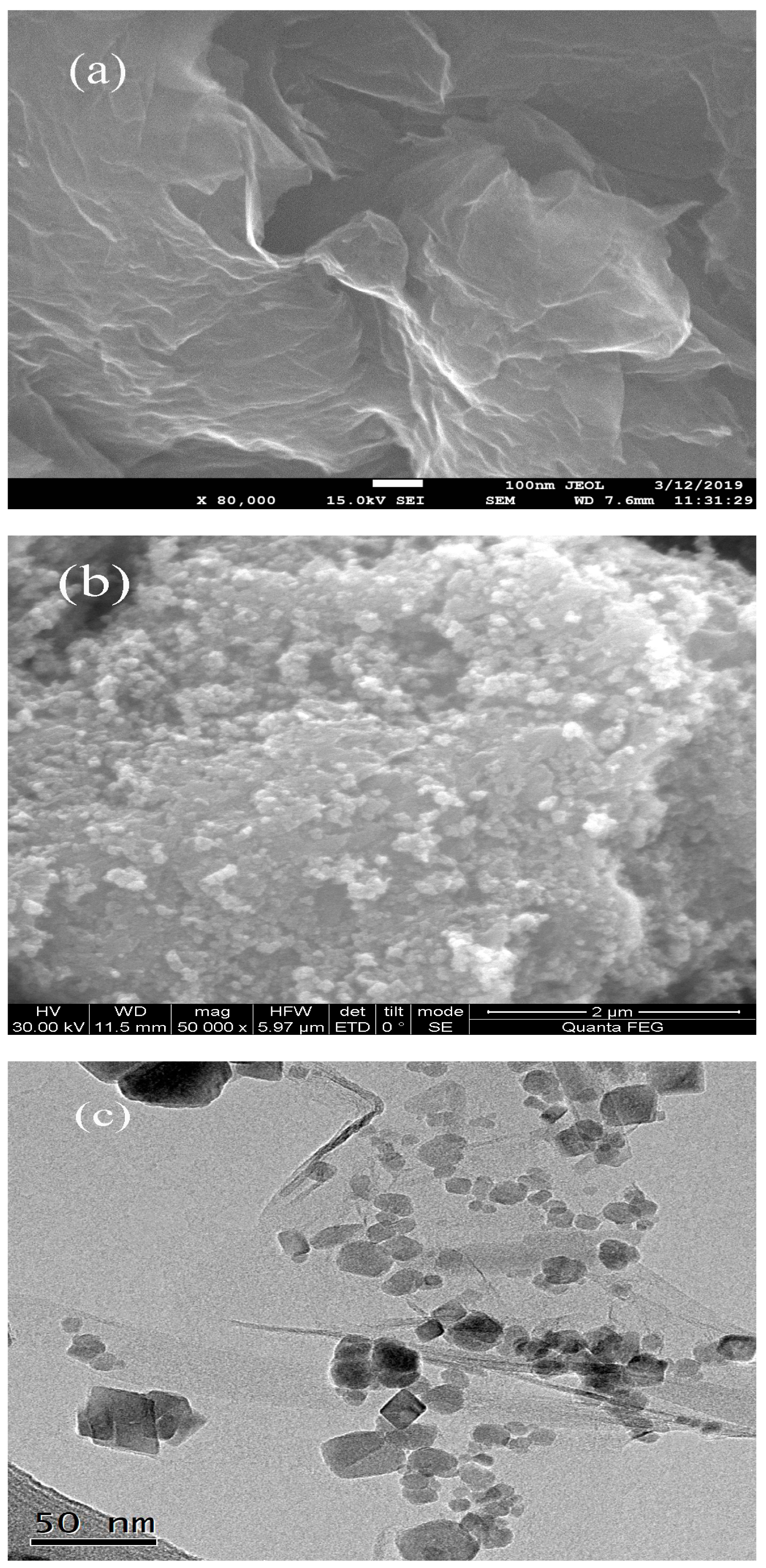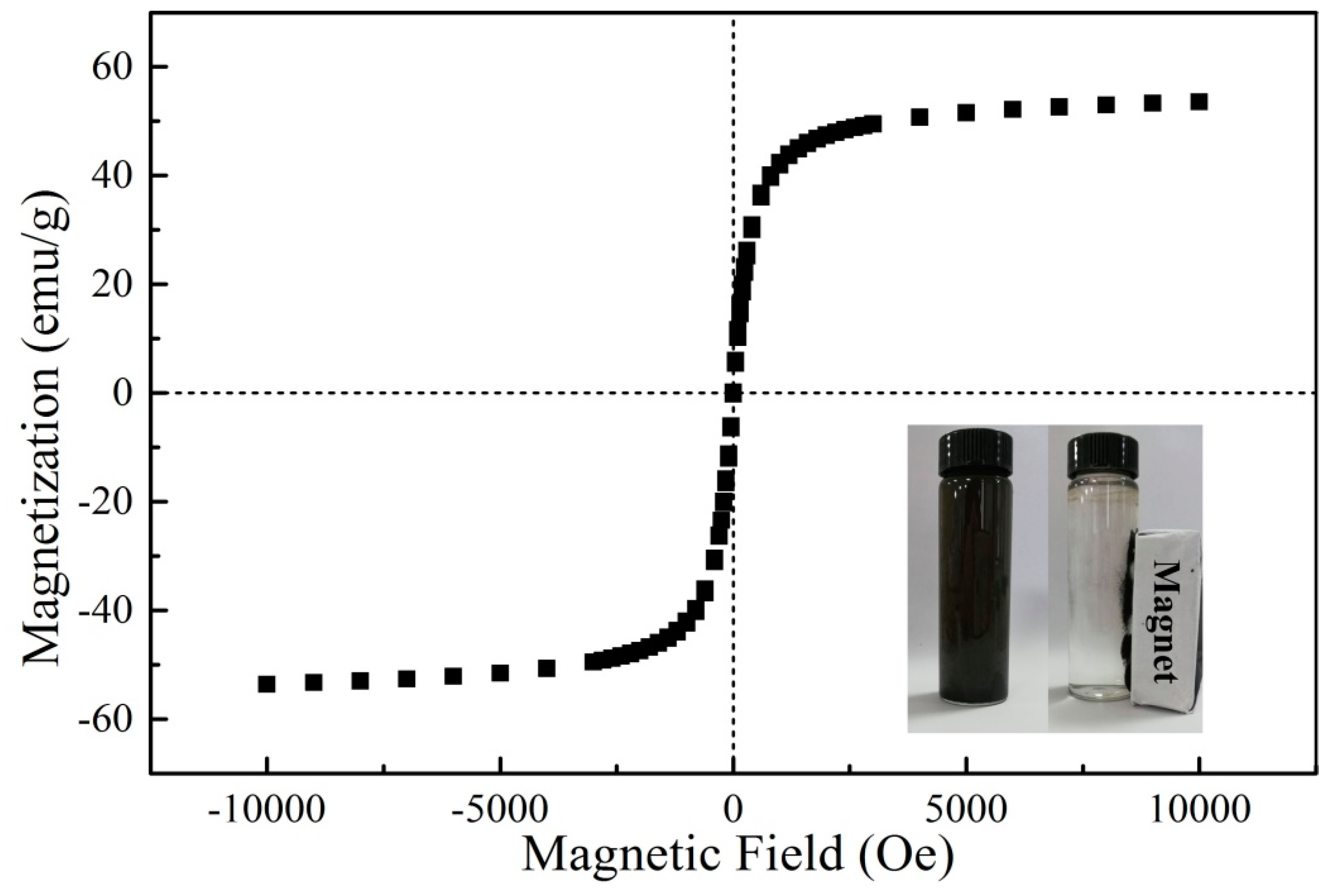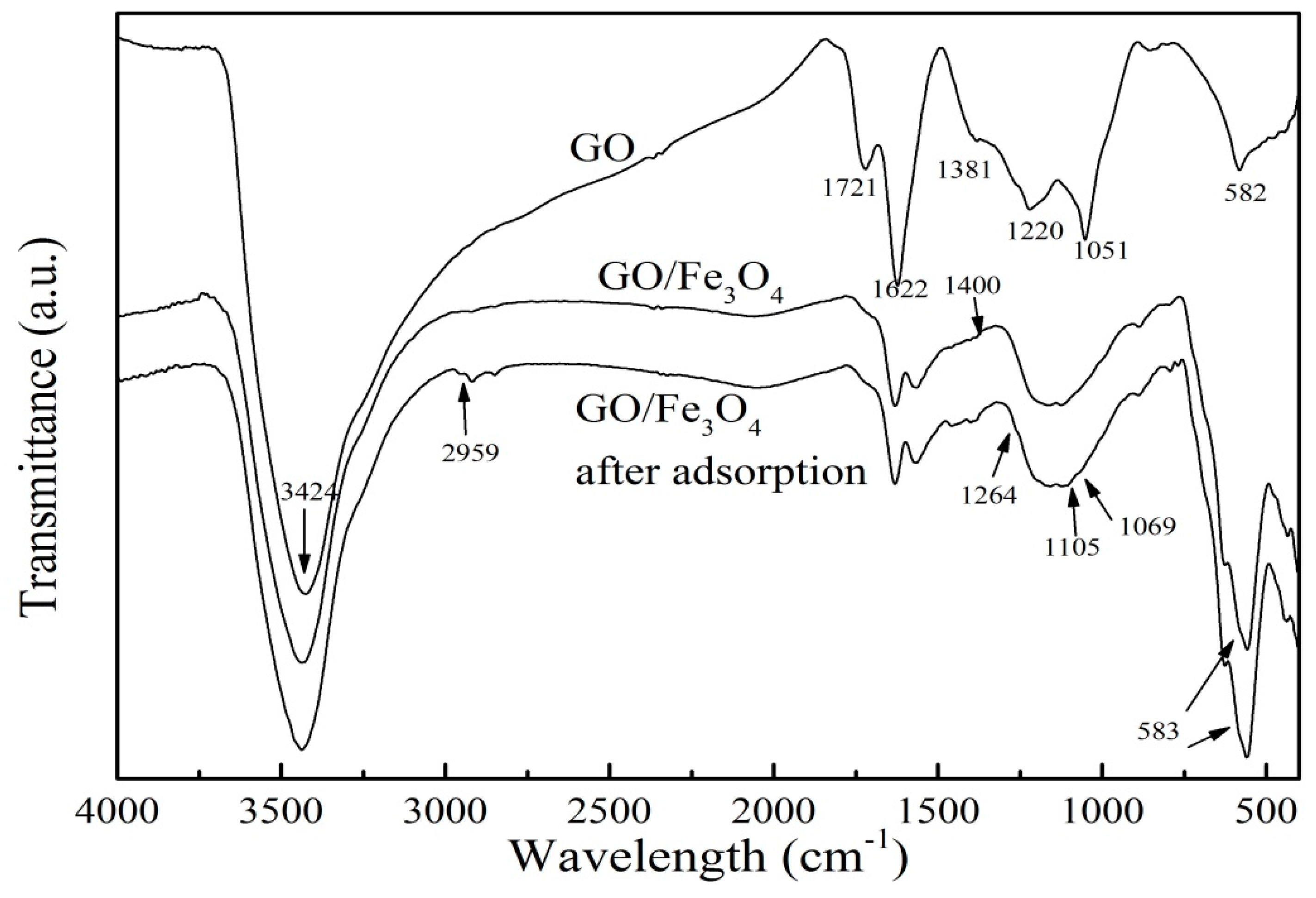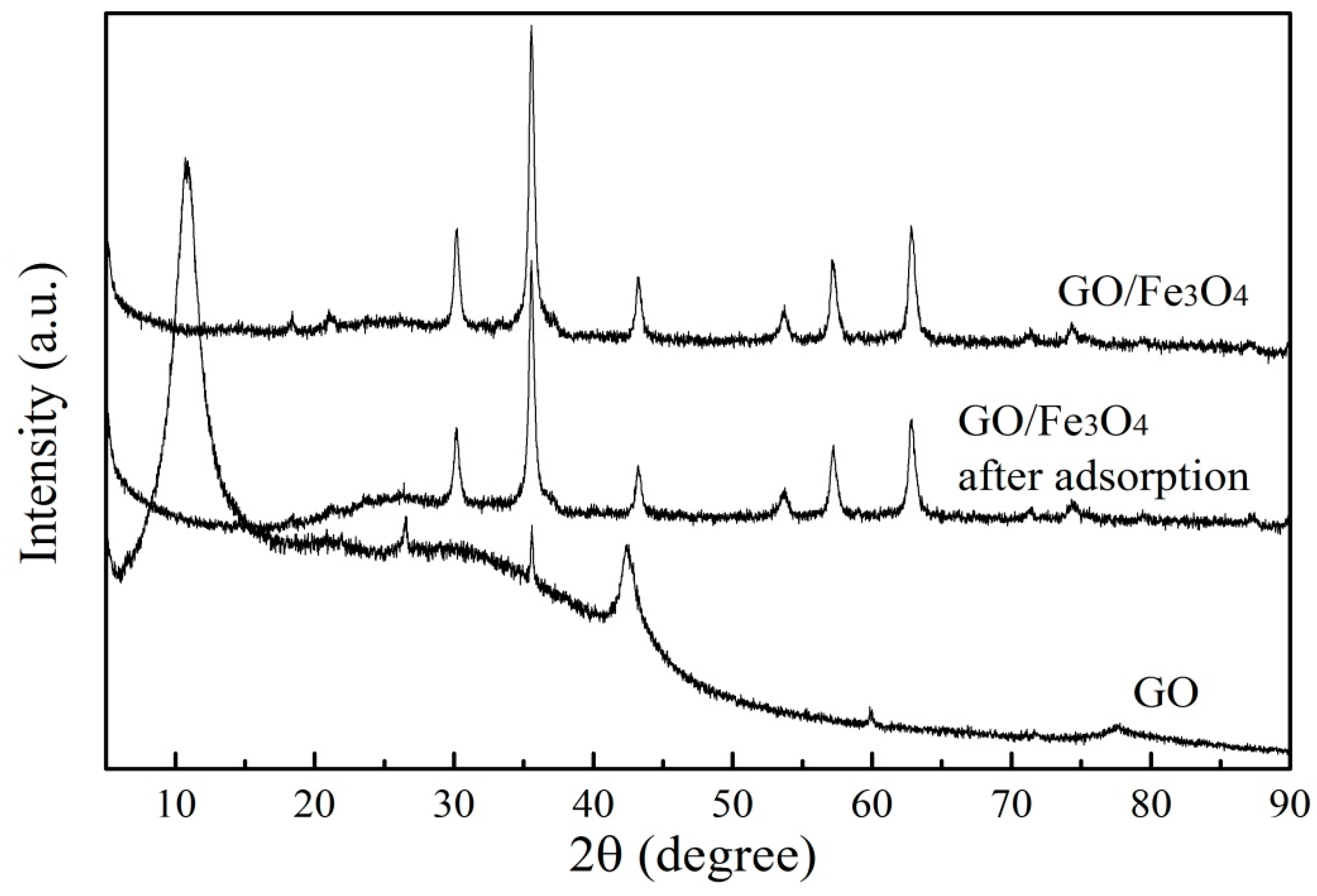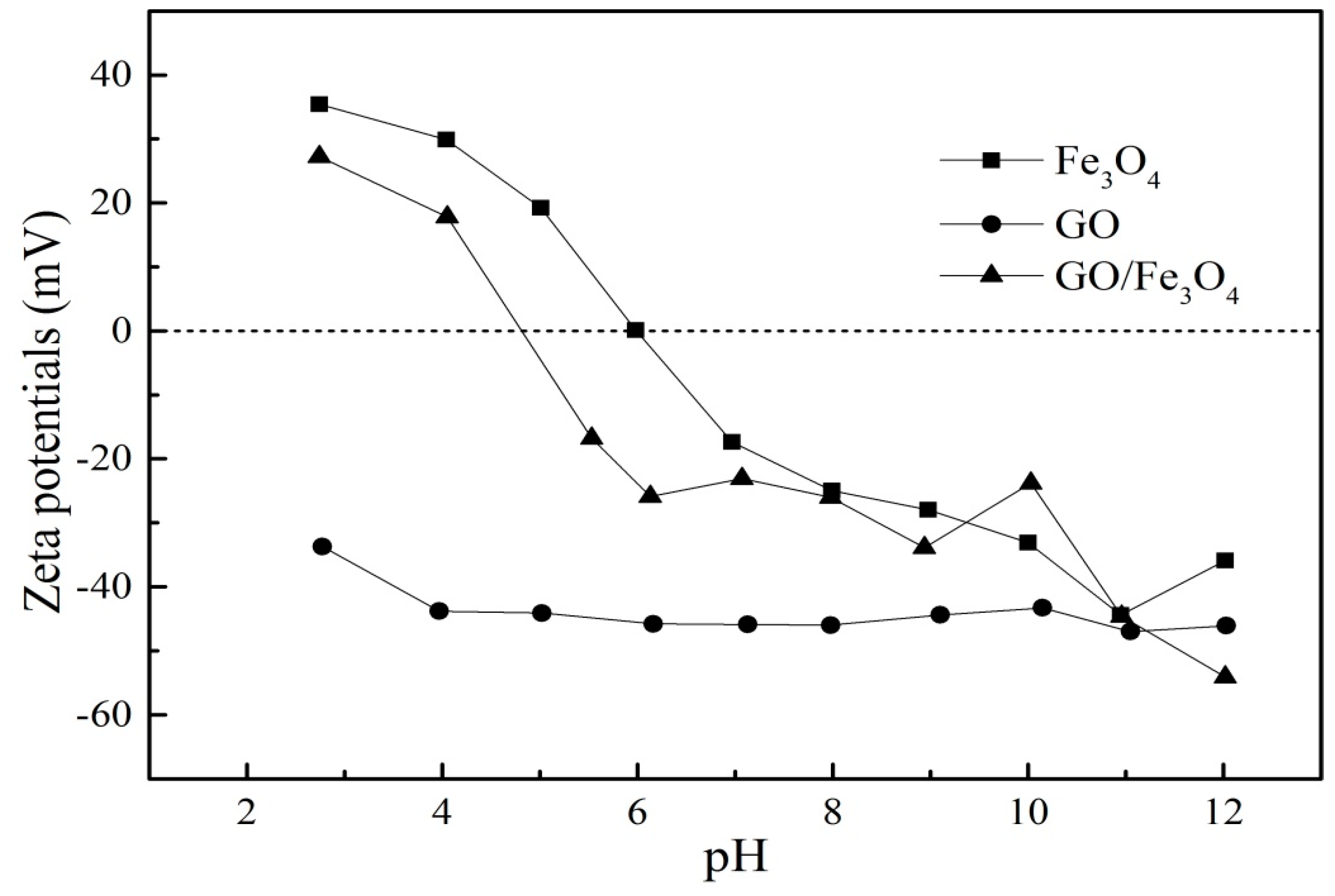 Figure 6. XPS spectra of: (a) the survey scan, and high-resolution scans of: (b) Fe2p, (c) C1s before adsorption, and (d) C 1s after adsorption.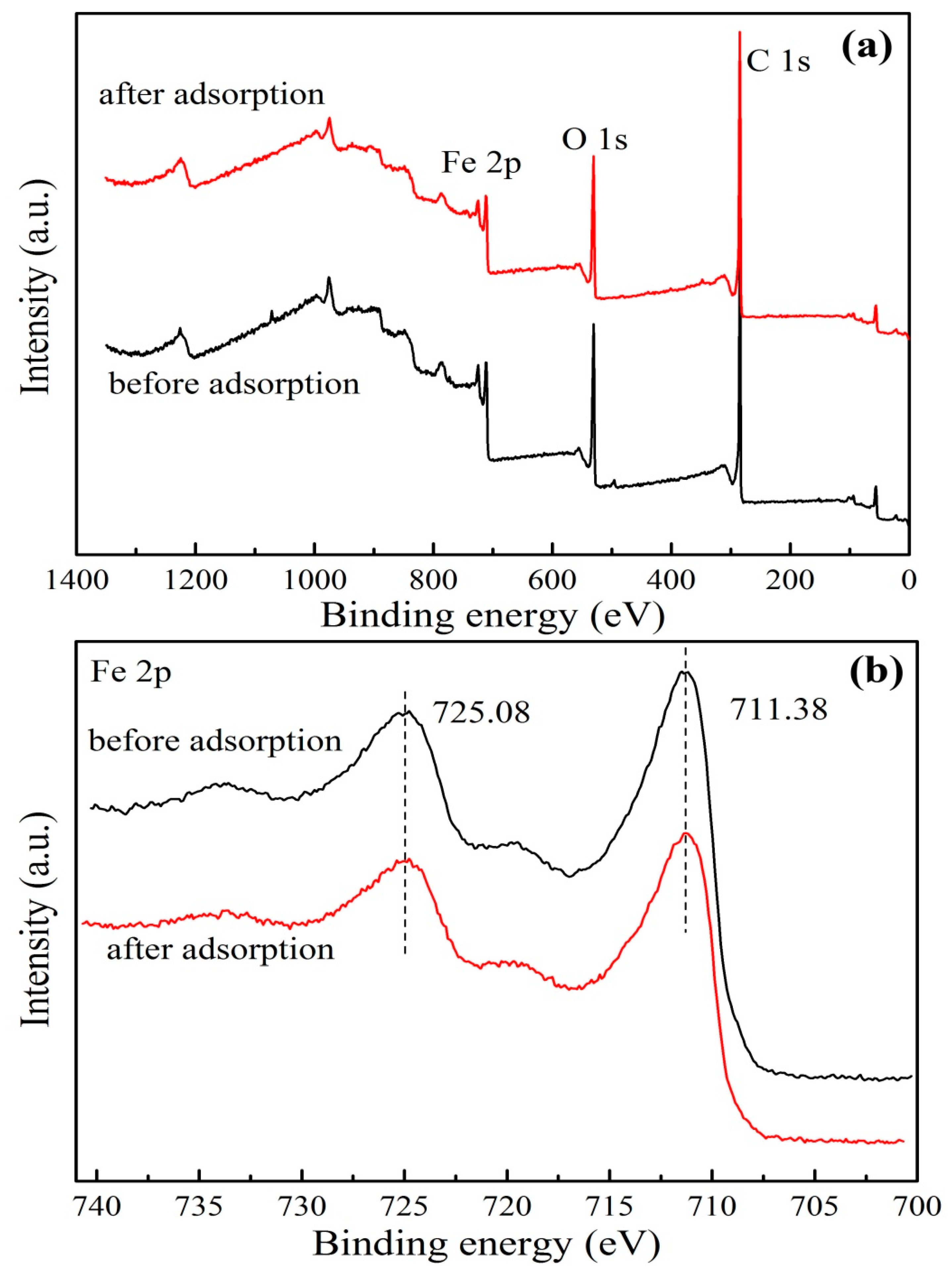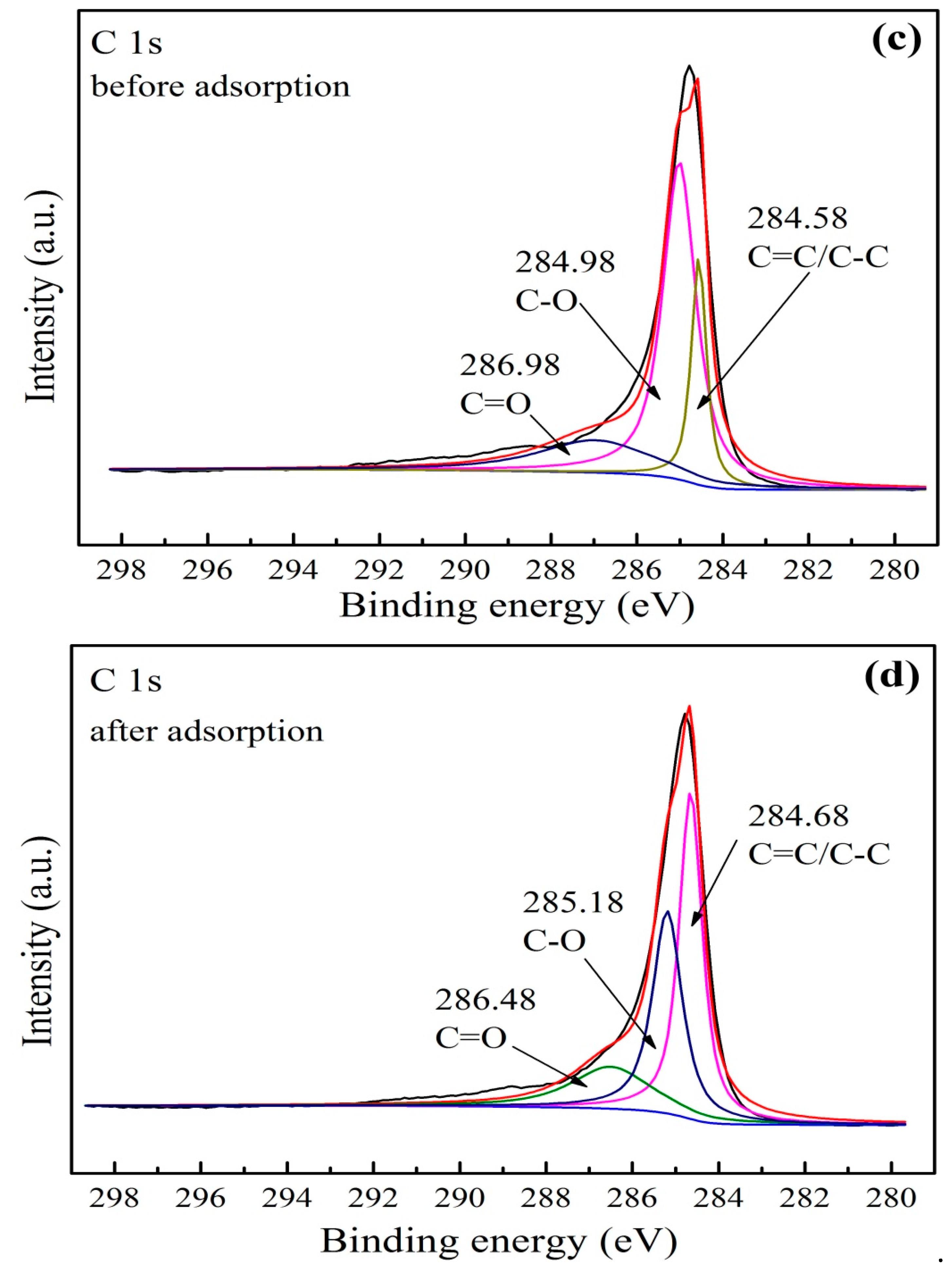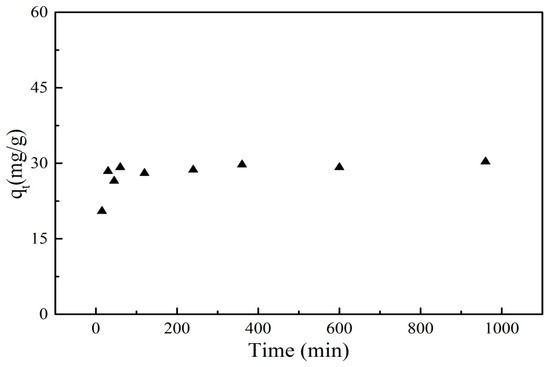 Figure 7.
Effect of contact time on the adsorption of PRO onto GO/Fe
3
O
4
(
C0
= 25 mg/L,
V
= 20 mL,
m
= 0.01 g, pH = 7.5).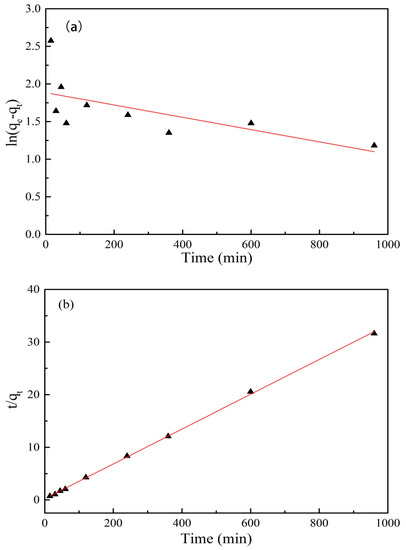 Figure 8. Adsorption kinetics curves of PRO onto GO/Fe3O4: (a) pseudo-first-order and (b) pseudo-second-order.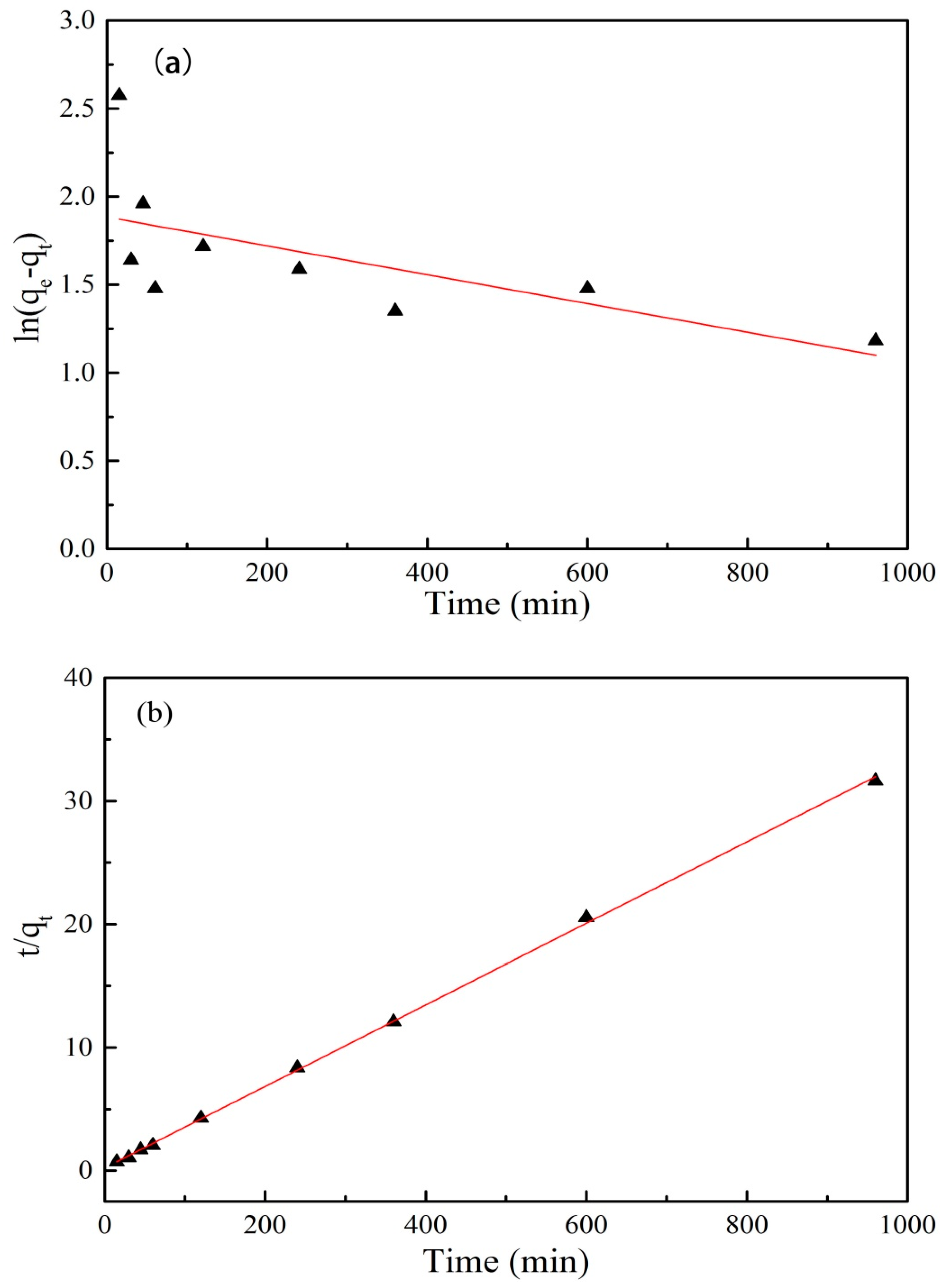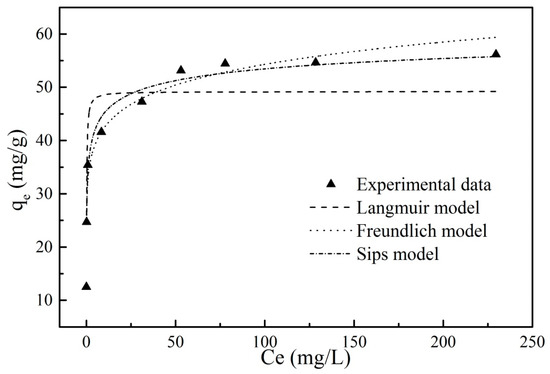 Figure 9.
Langmuir, Freundlich, and Sips isotherm simulations for PRO onto GO/Fe
3
O
4
(
t
= 24 h,
V
= 20 mL,
m
= 0.01 g, pH = 7.5).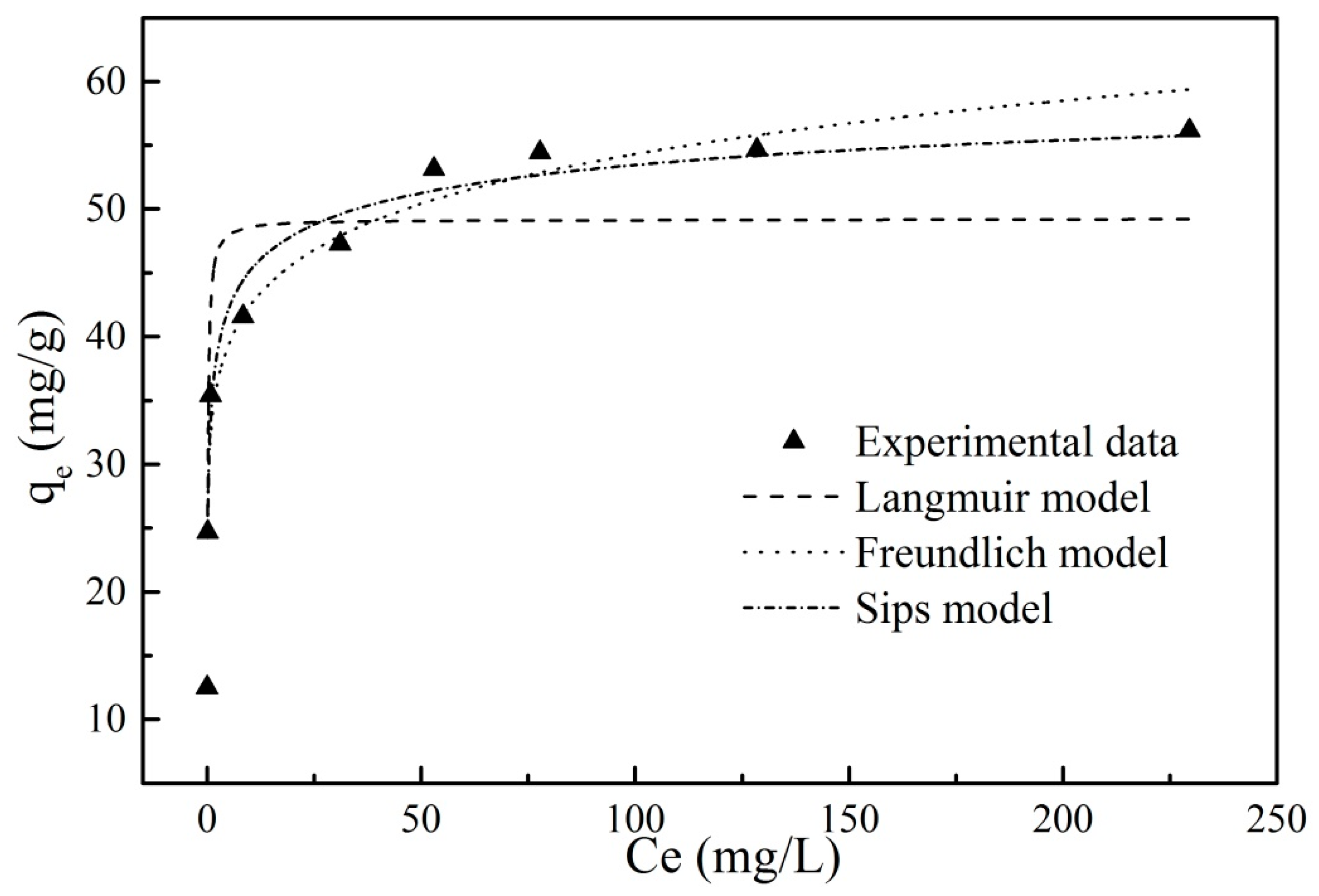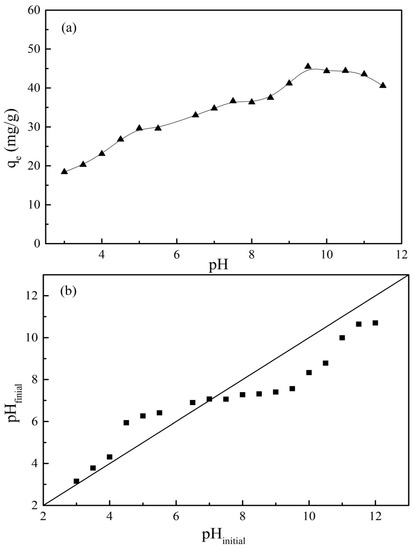 Figure 10.
(
a
) Effect of pH on the adsorption of PRO onto GO/Fe
3
O
4
, and (
b
) the variation tendency of pH after the adsorption equilibrium was reached (
C0
= 25 mg/L,
V
= 20 mL,
m
= 0.01 g,
t
= 24 h).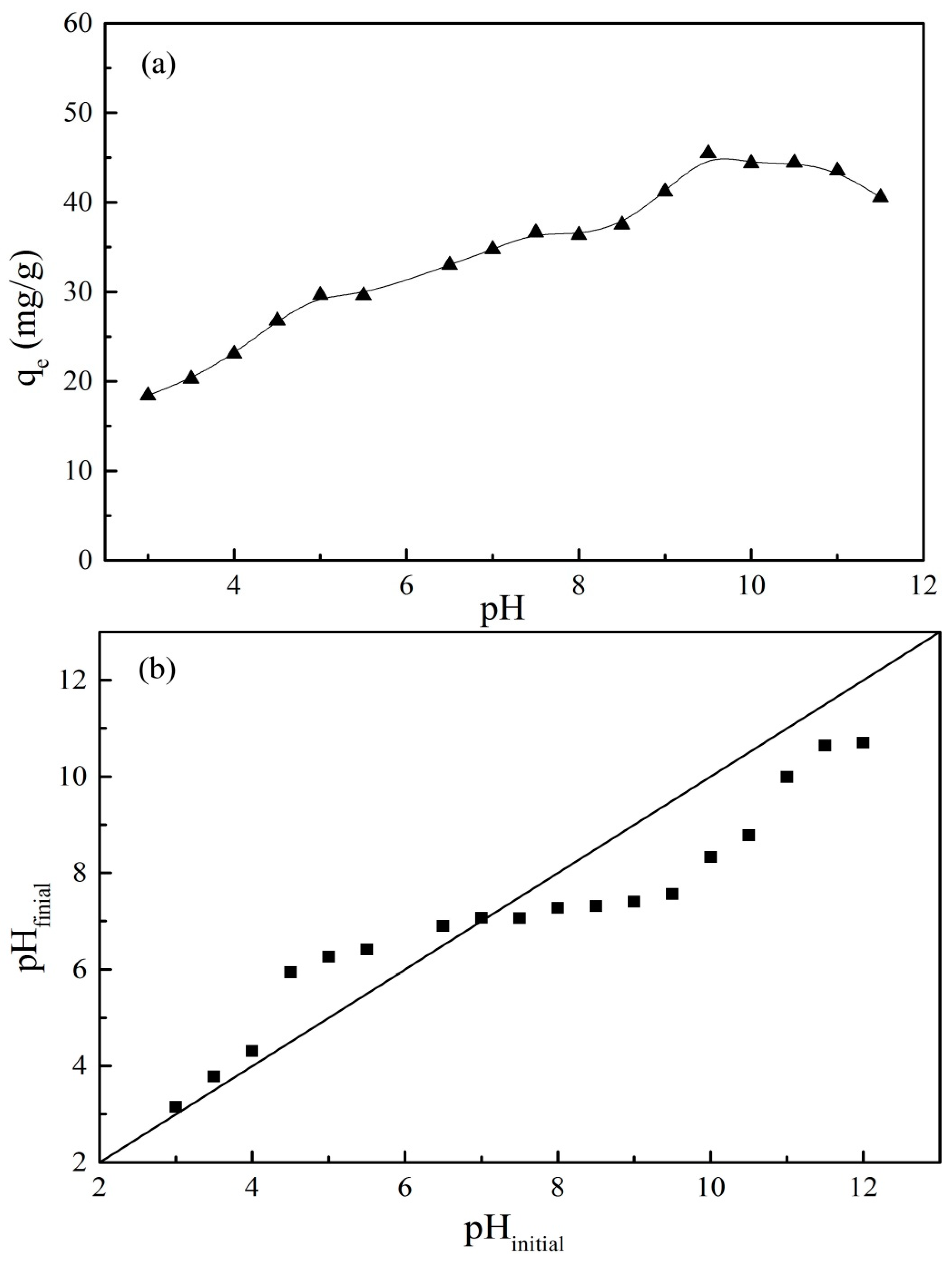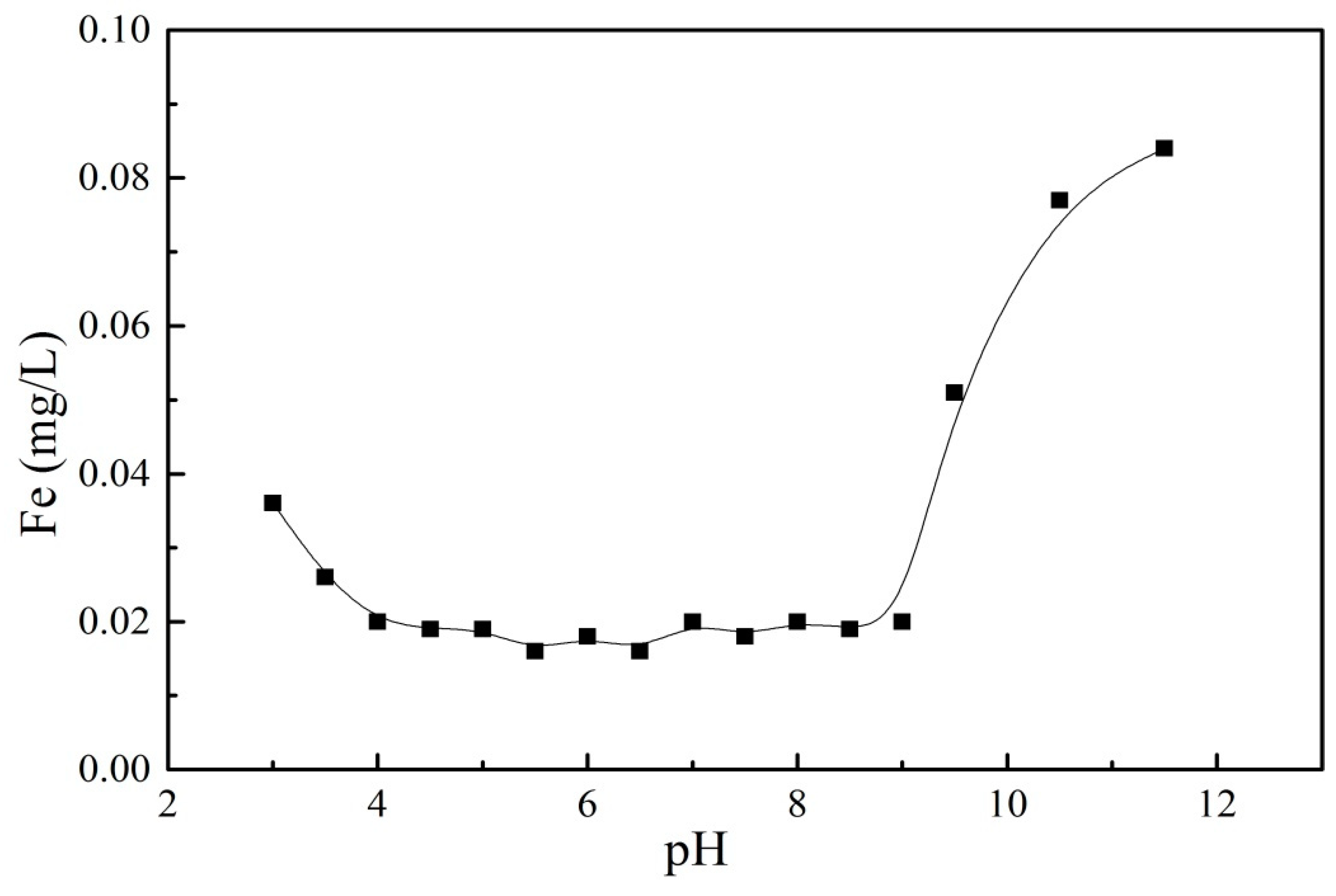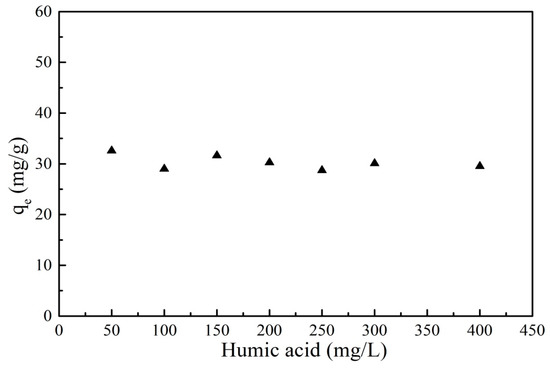 Figure 12.
Effect of humic acid for PRO onto GO/Fe
3
O
4
(
C0
= 25 mg/L,
V
= 20 mL,
m
= 0.01 g,
t
= 24 h, pH = 7.5).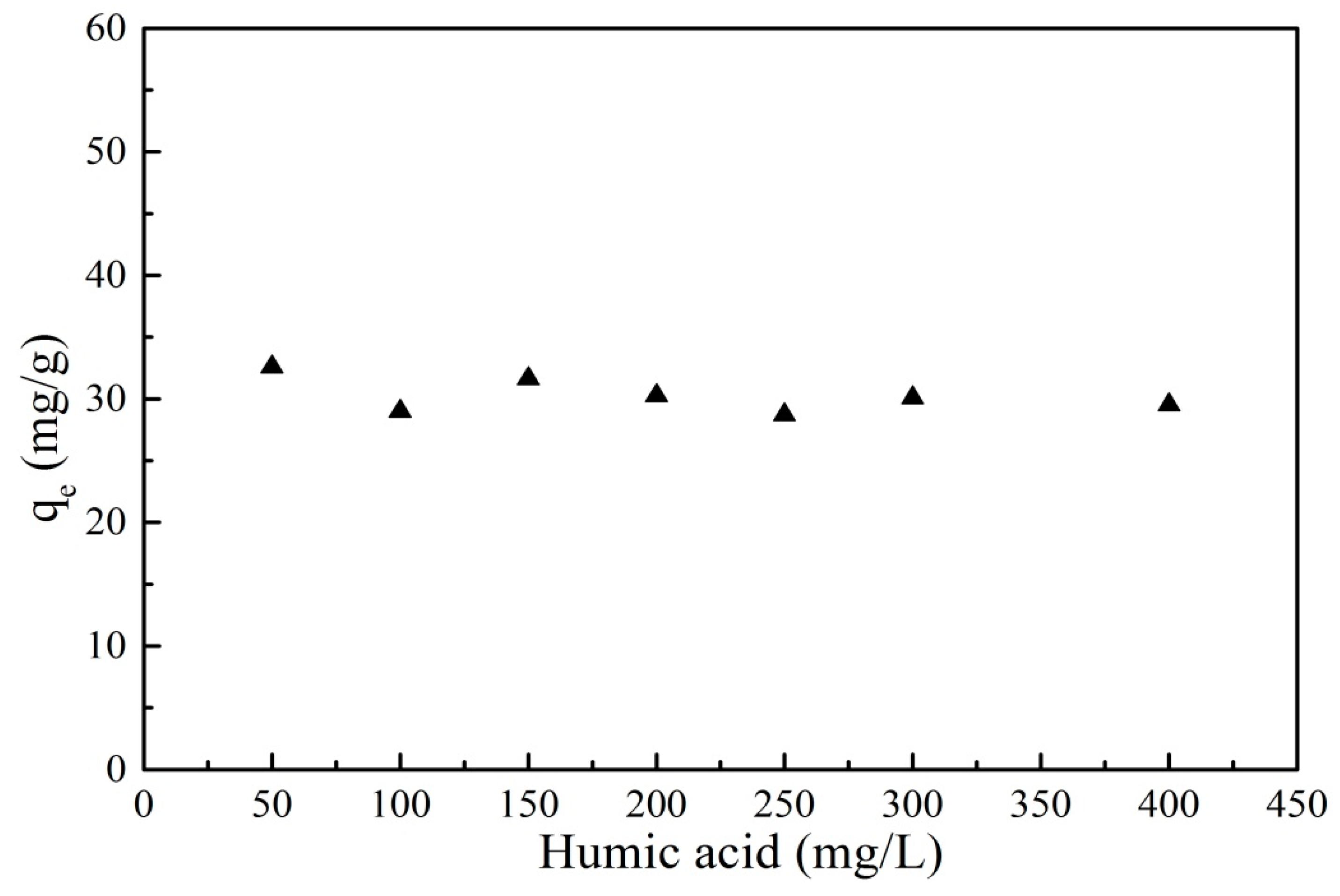 Types
Atomic %
C 1s
O 1s
Fe 2p
N 1s
Before adsorption
66.54
22.04
7.7
0.47
After adsorption
71.19
19.32
5.19
0.87
qexp (mg/g)
Pseudo-First-Order Equation
Pseudo-Second-Order Equation
K1 (1/min)
qcal (mg/g)
R2
K2 (g/(mg · min))
qcal (mg/g)
R2
30.340
0.0008
6.580
0.338
0.0045
30.303
0.999

Table 3. The parameters for Langmuir, Freundlich, and Sips isotherm models of PRO adsorption onto GO/Fe3O4.
Langmuir Equation
Freundlich Equation
Sips Equation
qm (mg/g)
KL (L/mg)
R2
KF (mg/g)
n
R2
qm (mg/g)
b (L/mg)
n
R2
49.213
7.629
0.857
33.123
9.317
0.961
66.225
0.322
3.443
0.983

© 2019 by the authors. Licensee MDPI, Basel, Switzerland. This article is an open access article distributed under the terms and conditions of the Creative Commons Attribution (CC BY) license (http://creativecommons.org/licenses/by/4.0/).