Highly Efficient, Low-Cost, and Magnetically Recoverable FePt–Ag Nanocatalysts: Towards Green Reduction of Organic Dyes
1
College of Physics, Jilin Normal University, Siping 136000, China
2
Key Laboratory of Functional Materials Physics and Chemistry of the Ministry of Education, Jilin Normal University, Changchun 130103, China
3
School of Materials Science and Engineering, Changchun University of Science and Technology, Changchun 130022, China
4
Technology Development Department, GLOBALFOUNDRIES (Singapore) Pte. Ltd., 60 Woodlands Industrial Park D, Street 2, Singapore 738406, Singapore
5
School of Environment and Safety Engineering, Jiangsu University, Zhenjiang 212013, China
6
United Microelect Corp. Ltd., 3 Pasir Ris Dr 12, Singapore 519528, Singapore
†
These authors contributed equally to this work.
*
Authors to whom correspondence should be addressed.
Received: 1 April 2018 / Revised: 11 May 2018 / Accepted: 11 May 2018 / Published: 14 May 2018
Abstract
Nowadays, synthetic organic dyes and pigments discharged from numerous industries are causing unprecedentedly severe water environmental pollution, and conventional water treatment processes are hindered due to the corresponding sophisticated aromatic structures, hydrophilic nature, and high stability against light, temperature, etc. Herein, we report an efficient fabrication strategy to develop a new type of highly efficient, low-cost, and magnetically recoverable nanocatalyst, i.e., FePt–Ag nanocomposites, for the reduction of methyl orange (MO) and rhodamine B (RhB), by a facile seed deposition process. X-ray diffraction results elaborate that the as-synthesized FePt–Ag nanocomposites are pure disordered face-centered cubic phase. Transmission electron microscopy studies demonstrate that the amount of Ag seeds deposited onto the surfaces of FePt nanocrystals increases when increasing the additive amount of silver colloids. The linear correlation of the MO and RhB concentration versus reaction time catalyzed by FePt–Ag nanocatalysts is in line with pseudo-first-order kinetics. The reduction rate constants of MO and RhB increase with the increase of the amount of Ag seeds. FePt–Ag nanocomposites show good separation ability and reusability, and could be repeatedly applied for nearly complete reduction of MO and RhB for at least six successive cycles. Such cost-effective and recyclable nanocatalysts provide a new material family for use in environmental protection applications.
View Full-Text
►

▼

Figures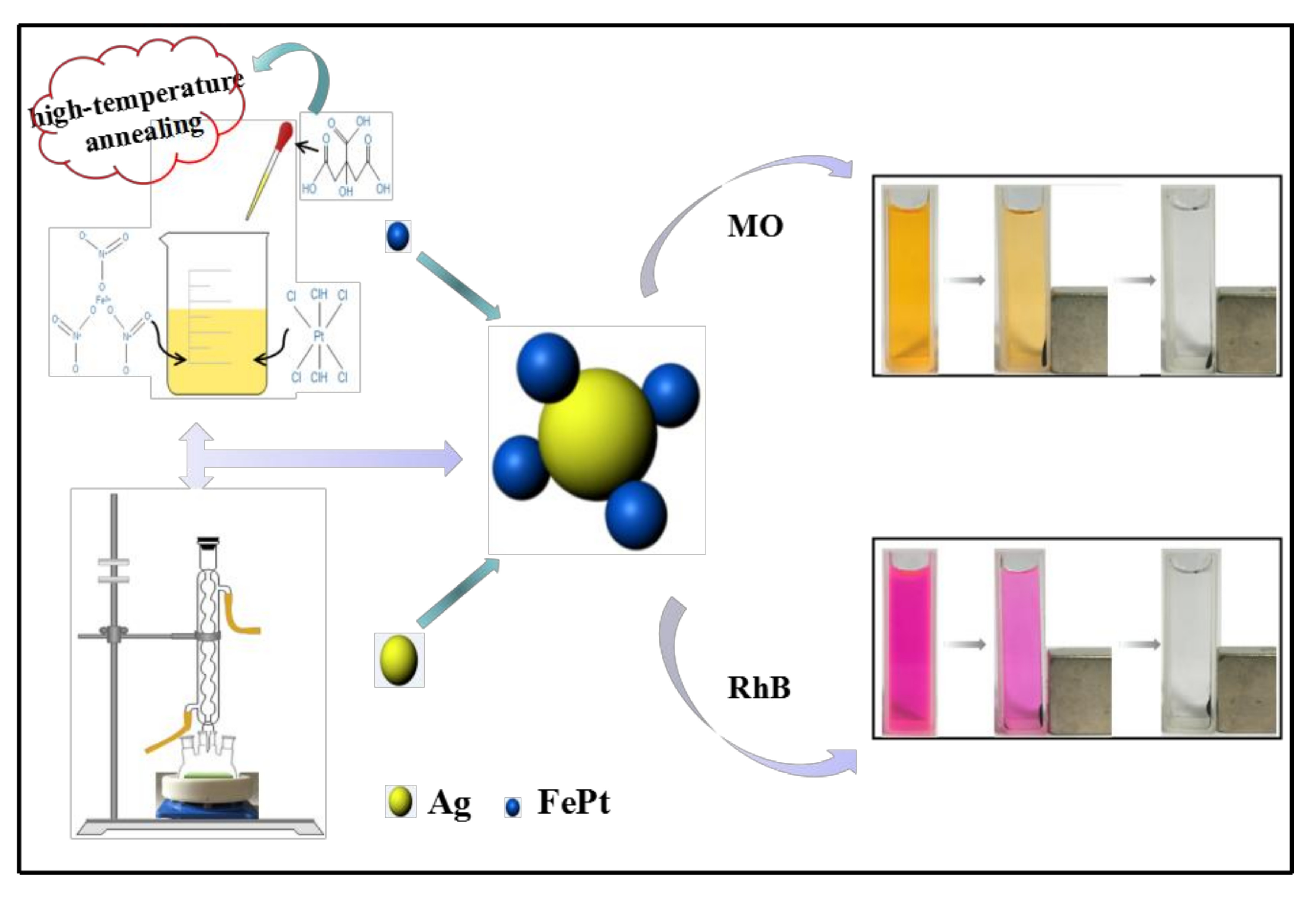 Graphical abstract
This is an open access article distributed under the
Creative Commons Attribution License
which permits unrestricted use, distribution, and reproduction in any medium, provided the original work is properly cited (CC BY 4.0).

Share & Cite This Article
MDPI and ACS Style
Liu, Y.; Zhang, Y.; Kou, Q.; Chen, Y.; Sun, Y.; Han, D.; Wang, D.; Lu, Z.; Chen, L.; Yang, J.; Xing, S.G. Highly Efficient, Low-Cost, and Magnetically Recoverable FePt–Ag Nanocatalysts: Towards Green Reduction of Organic Dyes. Nanomaterials 2018, 8, 329.
Note that from the first issue of 2016, MDPI journals use article numbers instead of page numbers. See further details here.
Related Articles
Comments
[Return to top]