Open Access This article is
freely available
re-usable
Concept Paper
Implementation of Safe-by-Design for Nanomaterial Development and Safe Innovation: Why We Need a Comprehensive Approach
1
INM—Leibniz Institute for New Materials, 66123 Saarbruecken, Germany
2
TEMAS AG, 8005 Zürich, Switzerland
3
Public Impact, Postbus 97814, 2509 GE Den Haag, The Netherlands
*
Author to whom correspondence should be addressed.
Received: 7 March 2018 / Accepted: 11 April 2018 / Published: 14 April 2018
Abstract
:
Manufactured nanomaterials (MNMs) are regarded as key components of innovations in various fields with high potential impact (e.g., energy generation and storage, electronics, photonics, diagnostics, theranostics, or drug delivery agents). Widespread use of MNMs raises concerns about their safety for humans and the environment, possibly limiting the impact of the nanotechnology-based innovation. The development of safe MNMs and nanoproducts has to result in a safe as well as functional material or product. Its safe use, and disposal at the end of its life cycle must be taken into account too. However, not all MNMs are similarly useful for all applications, some might bear a higher hazard potential than others, and use scenarios could lead to different exposure probabilities. To improve both safety and efficacy of nanotechnology, we think that a new proactive approach is necessary, based on pre-regulatory safety assessment and dialogue between stakeholders. On the basis of the work carried out in different European Union (EU) initiatives, developing and integrating MNMs Safe-by-Design and Trusted Environments (NANoREG, ProSafe, and NanoReg2), we present our point of view here. This concept, when fully developed, will allow for cost effective industrial innovation, and an exchange of key information between regulators and innovators. Regulators are thus informed about incoming innovations in good time, supporting a proactive regulatory action. The final goal is to contribute to the nanotechnology governance, having faster, cheaper, effective, and safer nano-products on the market.
Keywords:
manufactured nanomaterials; nanomaterials functionality; Safe-by-Design; innovation; trusted environment
Acknowledgments
The authors acknowledge contributions of Isabella Tavernaro, Petra Herbeck-Engel, and Karl Höhener in the development of concepts for functionality and SbD. The authors acknowledge funding of this work, in frame of the NANoREG (FP7 grant agreement no. 310584), ProSafe (H2020 Grant Agreement-646325), and NanoReg2 (H2020 Grant Agreement 646221) projects, from the European Union's FP7 and Horizon 2020 research and innovation programme. The authors also acknowledge the contribution of Lisa Brödlin who designed the sketches for
Figure 1
. The opinions expressed in this paper do not necessarily reflect the views, opinions, or positions of the NanoReg2 project.
Conflicts of Interest
The authors declare no conflict of interest.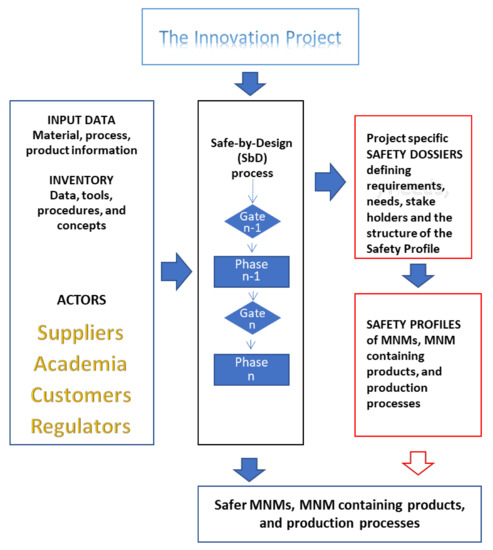 Figure 2. Overview of the SbD implementation process including data inputs, procedures, and the output as Safety Dossier and Safety Profile of the material/ product under development.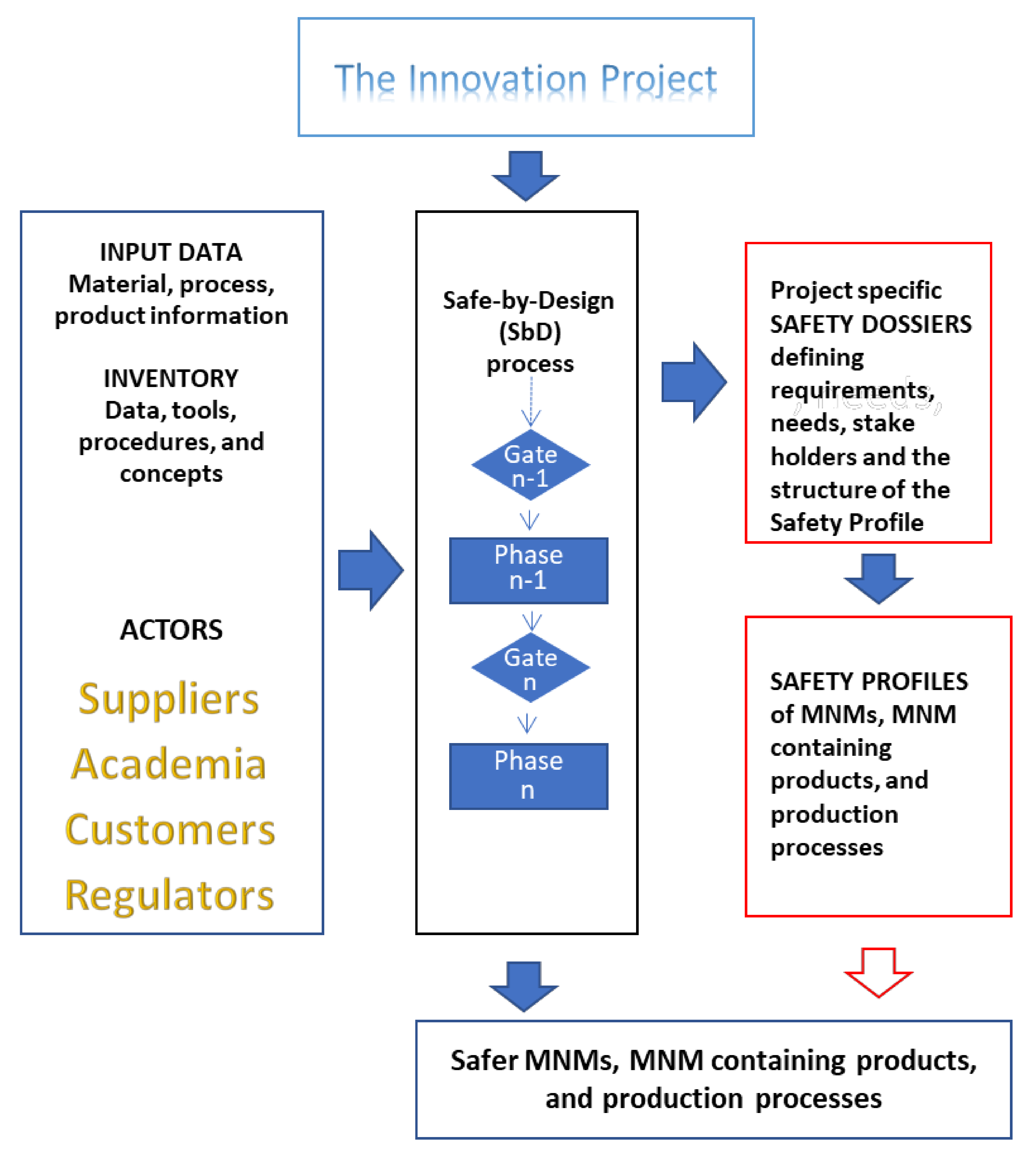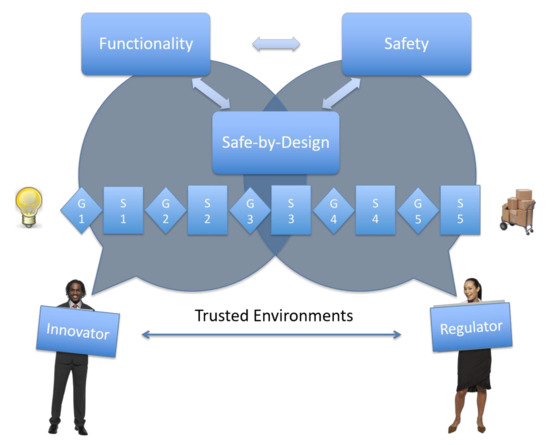 Figure 4. Integrated overview of the relationships between Innovators and Regulators in the Safe-by-Design and Trusted Environment system. Safe-by-Design addresses both Functionality and Safety, while Trusted Environments are the safe lines of communication between the two parts. G: Gates, S: Stage.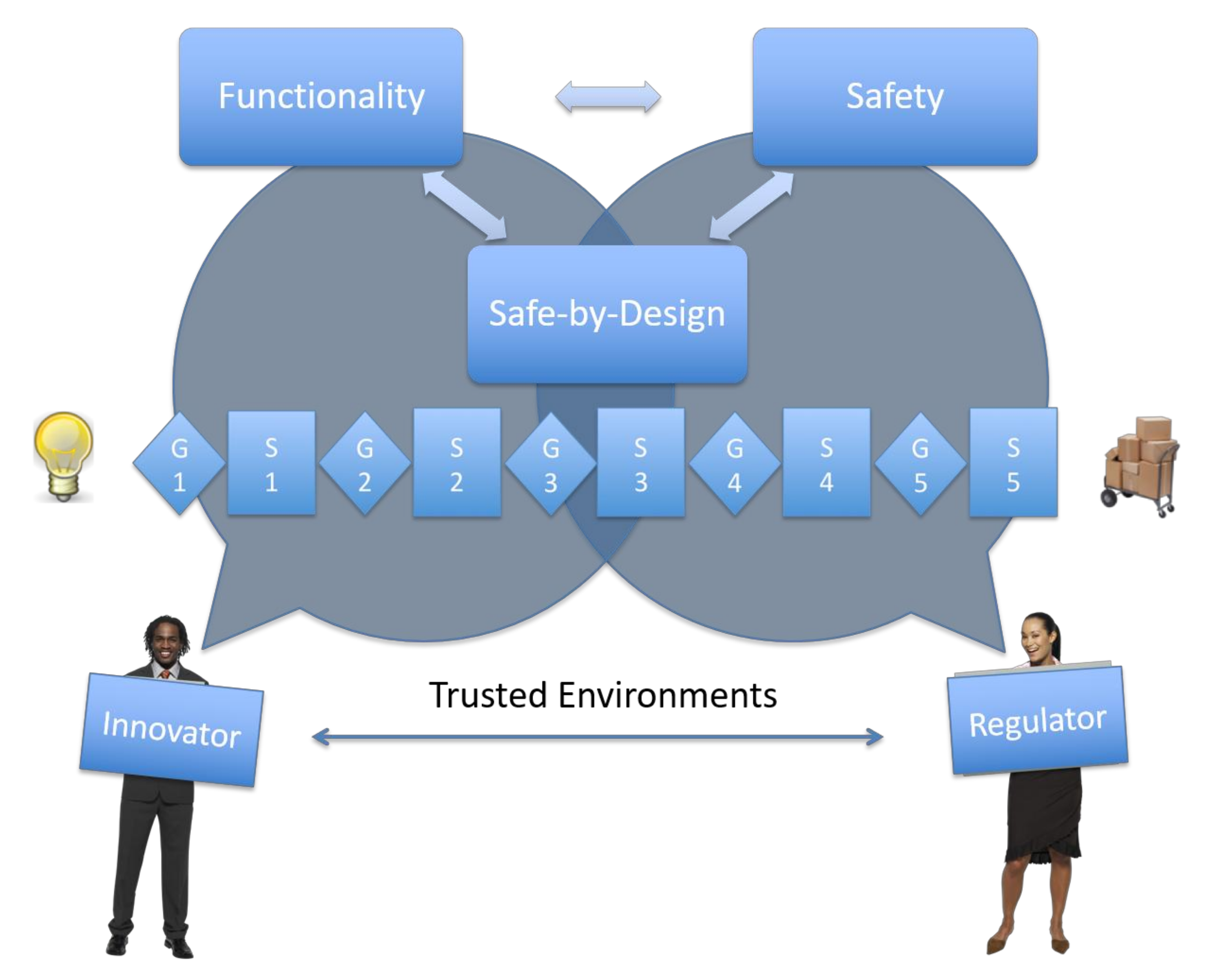 SbD Strategy
Measure
Source
Design out hazard (direct and indirect effects of nanomaterials)
NanoParticle (NP) doping
[1,2]
Surface passivation
[3,4,5]
NP coating
Reduction of photo-catalytic efficiency
[6]
Formation of composites
[7,8]
Surface functionalisation
[9]
Reduce release
Adaptation of the processing
[10]
Selection of nanofiller
[11]
Reduce bio-persistence
Carbon NanoTubes (CNT) Doping
[12]
Testing strategies for safety evaluation
High throughput screening, alternative testing strategies and biological mechanisms
[13,14,15,16]
Material characterisation
[17]
Identification of risk hotspots for potential SbD approaches
End of life cycle: thermal decomposition
Life cycle assessment
[5,18,19]
Pilot plant development
Risk mitigation
[20]

© 2018 by the authors. Licensee MDPI, Basel, Switzerland. This article is an open access article distributed under the terms and conditions of the Creative Commons Attribution (CC BY) license (http://creativecommons.org/licenses/by/4.0/).