Open Access This article is
freely available
re-usable
Article
Diphenylphenoxy-Thiophene-PDI Dimers as Acceptors for OPV Applications with Open Circuit Voltage Approaching 1 Volt
1
Departament d'Enginyeria Electrònica, Elèctrica i Automàtica, Universitat Rovira i Virgili, Avda. Països Catalans 26, 43007 Tarragona, Spain
2
Área de Química Orgánica, Instituto de Bioingeniería, Universidad Miguel Hernández, Avda. de la Universidad, s/n, 03203 Elche, Spain
3
Institut Català d'Investigació Química, Avda. Països Catalans 16, 43007 Tarragona, Spain
†
These authors contributed equally to this work.

Received: 2 March 2018 / Accepted: 26 March 2018 / Published: 30 March 2018
Abstract
:
Two new perylenediimides (PDIs) have been developed for use as electron acceptors in solution-processed bulk heterojunction solar cells. The compounds were designed to exhibit maximal solubility in organic solvents, and reduced aggregation in the solid state. In order to achieve this, diphenylphenoxy groups were used to functionalize a monomeric PDI core, and two PDI dimers were bridged with either one or two thiophene units. In photovoltaic devices prepared using PDI dimers and a monomer in conjunction with PTB7, it was found that the formation of crystalline domains in either the acceptor or donor was completely suppressed. Atomic force microscopy, X-ray diffraction, charge carrier mobility measurements and recombination kinetics studies all suggest that the lack of crystallinity in the active layer induces a significant drop in electron mobility. Significant surface recombination losses associated with a lack of segregation in the material were also identified as a significant loss mechanism. Finally, the monomeric PDI was found to have sub-optimum LUMO energy matching the cathode contact, thus limiting charge carrier extraction. Despite these setbacks, all PDIs produced high open circuit voltages, reaching almost 1 V in one particular case.
Keywords:
organic solar cells; photovoltaics; perylenediimide; non-fullerene acceptor; PTB7; bulkheterojunction
1. Introduction
The power conversion efficiency (PCE) of organic solar cells (OSCs) has surged in the last decade. Particularly, those made from bulk heterojunction solution-processed active layers have shown the most potential for practical applications [
1
]. In this respect, polymer and small molecule donors have both been the focus of significant research, leading to PCEs of over 10% when blends containing a fullerene-based acceptor [
2
,
3
,
4
,
5
] perylenediimide are used. Fullerenes such as PC
60
BM and PC
70
BM have traditionally dominated the field of solution-processed OPV. However, the high costs associated with their use have driven the quest for less synthetically-demanding acceptors. In addition to cost, the poor light absorption properties of fullerenes in the visible region of the solar spectrum limit the efficiency of the active layer to that of the donor's fraction. Consequently, both polymers [
6
,
7
,
8
,
9
] and small molecules [
10
,
11
,
12
,
13
,
14
,
15
,
16
,
17
] have been considered as alternatives. Although polymers showed promising results initially, small-molecule non-fullerene acceptors ultimately became the most studied entities. Among them, molecules built around the coranulene, truxene, subphtalocyanine, perylenediimide cores, or linear alternating donor/acceptor-shaped molecules, have yielded the best results to date. Although the PCEs were typically lower than those of similar devices fabricated with [
6
,
6
]-phenyl-butyric acid methyl ester (PCBM), polymer/non-fullerene acceptor OSC devices have surpassed all reported records of polymer solar cells in recent tests, thus demonstrating that fullerenes are no longer an essential component in OPV [
18
,
19
,
20
,
21
,
22
,
23
,
24
]. Despite these encouraging results, non-fullerene acceptor materials are still yielding inconsistent results. The perylenediimide family, however, has shown more balanced performance, with several acceptors showing PCEs of over 5% [
25
,
26
,
27
,
28
,
29
,
30
,
31
,
32
], and recently, PDI-based dimers with a twisted configuration have produced a PCE of more than 8% [
33
]. Moreover, the important mechanisms underlying suboptimum microstructure formation in perylene-based active layers have been identified [
34
,
35
]; namely, extensive conjugation in perylene cores induces intense π–π stacking, leading to the formation of micrometer-sized acceptor domains as well as excimers in the excited state [
36
], both of which are detrimental to
J–V
characteristics of OSC devices. To overcome these problems, it was found that bridging two or more perylenediimide cores via their lateral ortho- or bay-positions reduced the propensity for aggregation, thus leading to the formation of an active layer with crystallites of moderate size [
26
,
30
,
37
,
38
,
39
,
40
].
In an attempt to tune the aggregation properties of PDI acceptors, herein we report on a library of PDI molecules substituted at the bay position with diphenylphenoxy groups. The perpendicular arrangement of the diphenylphenoxy group with respect to the perylene core was shown to effectively reduce the aggregation of the perylene derivatives in solution [
41
,
42
]. We extended this concept to the solid state by applying diphenylphenoxy-substituted PDIs to OSCs. We carried out the synthesis and characterization of two new PDI dimers bridged through the bay position with one and two thiophene units and applied them to bulk-heterojunction solar cells. The impact of the PDIs on the active layer microstructure was studied via X-ray and atomic force microscopy (AFM). Additionally, the optical and electronic properties of the active layers of all the PDIs were assessed via a study of non-geminate recombination kinetics, using the charge extraction/transient photovoltage (CE/TPV) method and electron and hole mobility measurements.
3. Conclusions
In the present study, we have demonstrated that the functionalization of PDI cores at the bay position with diphenylphenoxy groups leads to completely amorphous active layers when blended with PTB7. The perpendicular arrangement of the diphenylphenoxy groups with respect to the perylenediimide's plane likely impedes intermolecular π–π stacking between the conjugated cores to such an extent that the formation of crystalline domains in the solid state is suppressed. This results in devices with lower-than-average electron mobility when PDIs are used as acceptors instead of PC
70
BM, as well as to significantly slower recombination kinetics. Consequently, these devices exhibit a significantly higher
V
OC
than PCBM-based devices. However, additional losses occur due to the lack of phase segregation between donor and acceptor phases. Surface recombination becomes significant and the electron and hole mobility imbalance induce a decrease in charge extraction efficiency. This leads to
J
–
V
characteristics with moderate
J
SC
, and a typically low fill factor. Work is underway involving the substitution of the diphenylphenoxy at bay position for less sterically demanding groups.
Acknowledgments
This work was supported by the Spanish Ministry of Economy, Industry and Competitiveness (MEIC) (TEC2015-71324-R, CTQ2014-55798-R, CTQ2017-87102-R and TEC2015-71915-REDT (MINECO/FEDER)), the Catalan Institution for Research and Advanced Studies (ICREA) (ICREA "Academia Award", AGAUR 2017 SGR017SGR1527). D.M. thanks the APOSTD/2017/026 grant funded with FSE 2014–2020. We thank Jose G. Sánchez for his invaluable help.
Author Contributions
A.V., A.S. and L.F.M. conceived and designed the experiments; C.S., D.M., M.P.M.-R., S.P., F.F., W.C. performed the experiments; A.V. analyzed the data; E.P. contributed to providing materials and analysis tools; A.V. wrote the paper.
Conflicts of Interest
The authors declare no conflict of interest.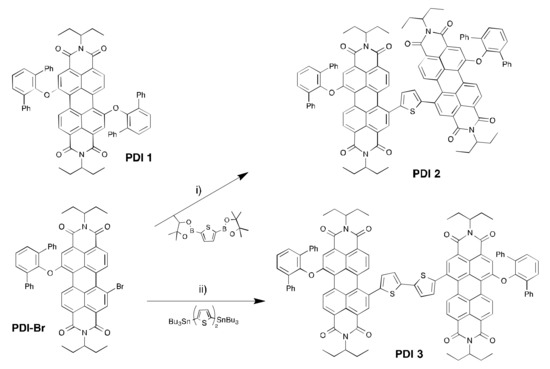 Scheme 1. Chemical structure of PDI 1 and synthesis of PDI 2 and PDI 3. Reaction conditions: (i) Pd2(dba)3, (C8H17)4NBr, THF/H2O, 66%; (ii) Pd2(dba)3, (o-MeOPh)3P, Toluene, 70%.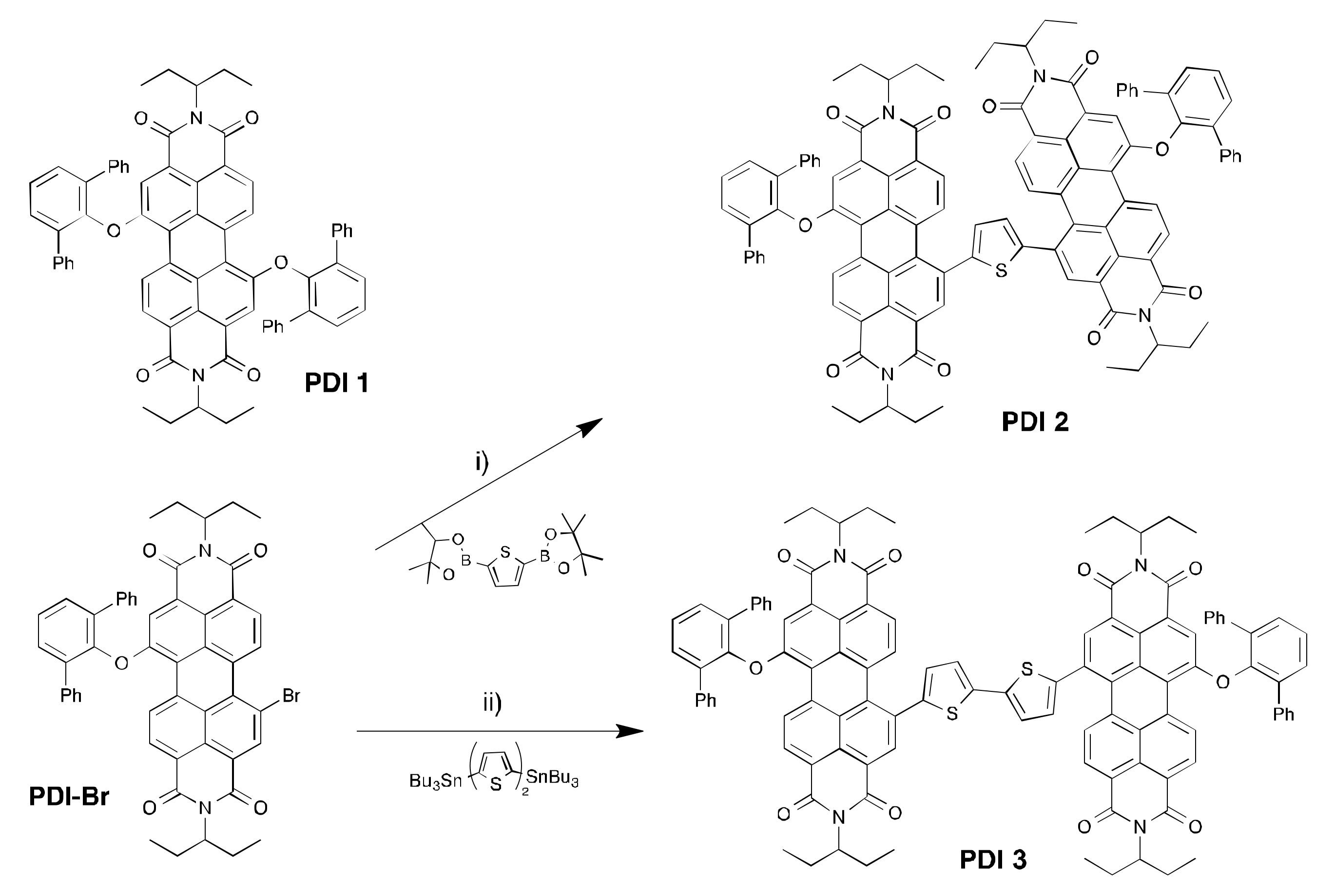 Figure 1. UV-Vis spectra of the PDI acceptors in chloroform (dotted line, right axis); UV-Vis spectra of active layers (PTB7:PDI) processed using deposition parameters from the fabrication of optimized devices (solid line, left axis).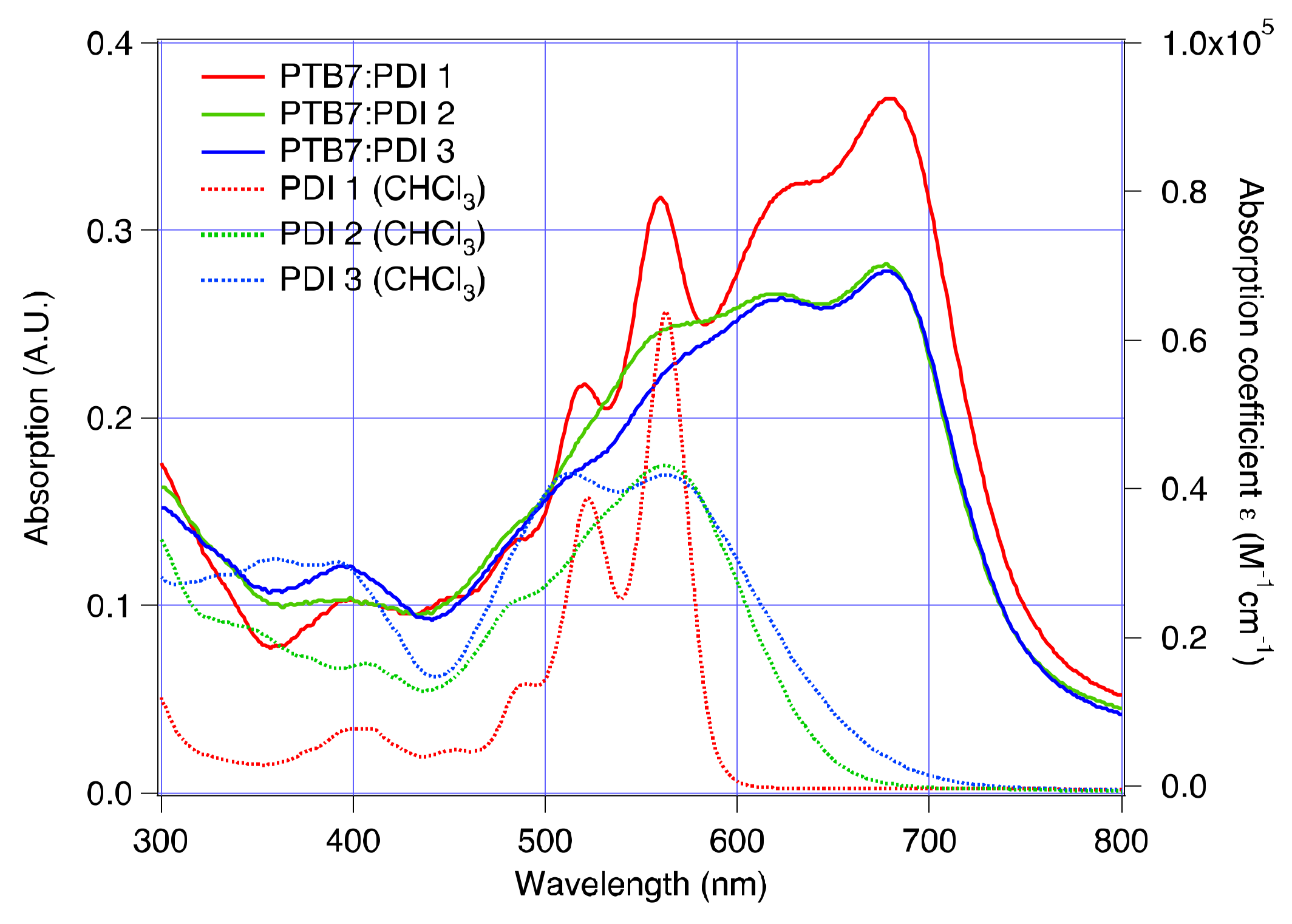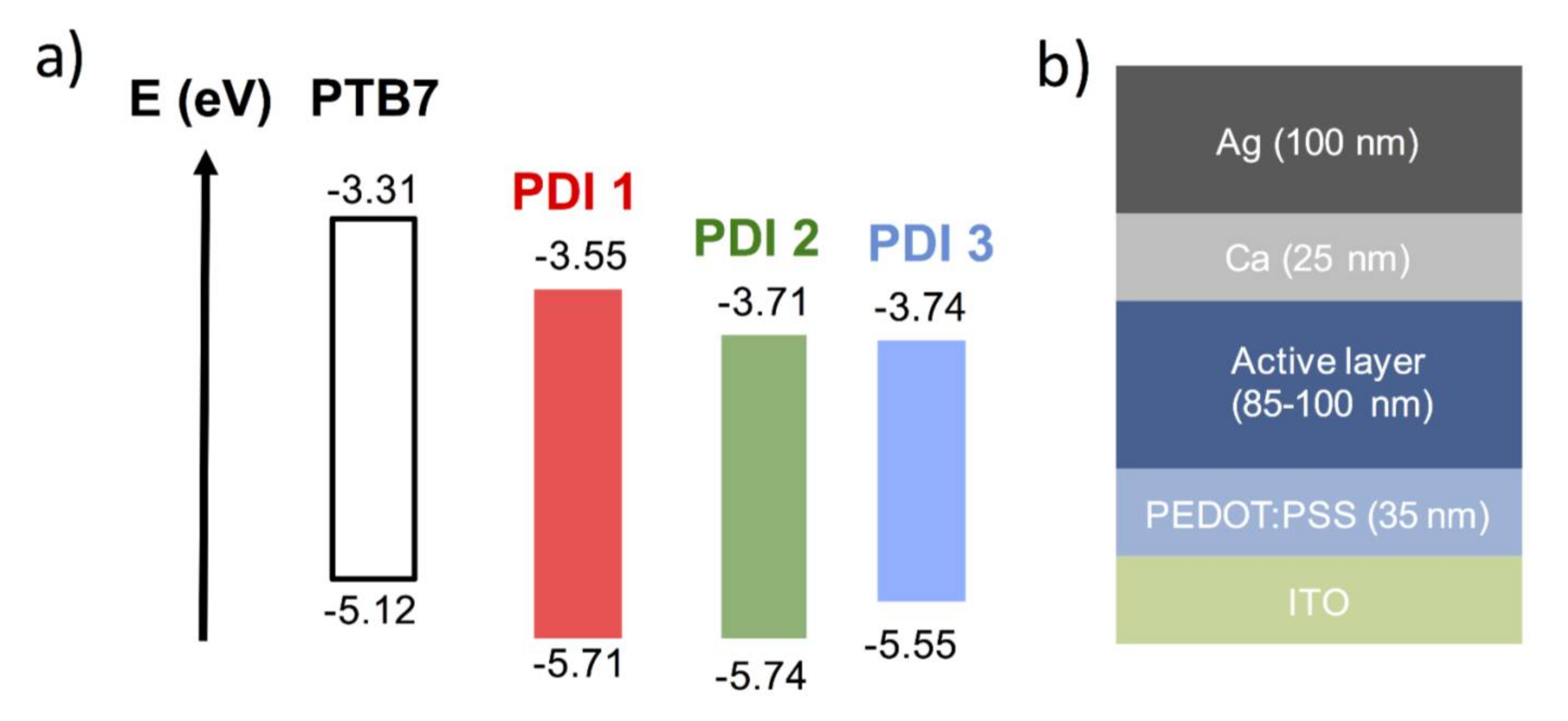 Figure 3.
(
a
)
J
–
V
characteristics of the best performing PTB7:PDI devices recorded at 1 SUN A.M 1.5 illumination; (
b
) external quantum efficiency (EQE) spectrum of devices made from PTB7:PDI active layers.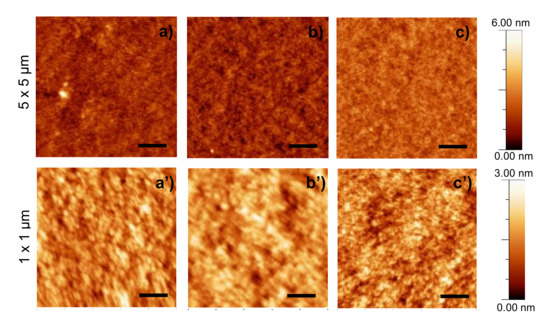 Figure 4. AFM images of the active layers made from PTB7 and PDI blends in conditions of optimized solar cell devices. (a,a') PTB7:PDI 1 (1:1); (b,b') PTB7:PDI 2 (1:1); (c,c') PTB7:PDI 3 (1:1). Scale bar corresponds to 1 μm in the top pictures, and 200 nm in the bottom pictures.
Figure 5.
(
a
) Charge density (n) as a function of the open circuit voltage determined from CE measurement. The curves are fitted to an exponential growth of the form
n
=
n
0
e
(

γVoc

)
(dotted line) whose parameters are reported in
Table 2
; (
b
) Carriers' lifetime measured using TPV as a function of device open circuit voltage. The curves are fitted to a power decay of the form
τ
Δ
n
=
τ
Δ
n
0
·
n
−
λ
(dotted line), whose parameters are reported in
Table 2
.


Figure 6. (a) Open circuit voltage vs. light intensity plot for all PDIs; (b) Short circuit current density vs. light intensity plot for all PDIs.
Acceptor
AL Thickness (nm)

J

SC (mA/cm2)

V

OC (mV)
FF
PCE (%)
PDI 1
100
4.20
0.960
0.29
1.20
PDI 2
90
5.98
0.784
0.35
1.61
PDI 3
85
5.04
0.814
0.36
1.54

Table 2. Values of recombination parameters and hole and electron mobility derived from charge extraction/transient photovoltage (CE/TPV) measurements and SCLC.
Acceptor

n

0

γ

β

φ

μh (cm2/V)
μe (cm2/Vs)
RS (Ω/cm2)
Rshunt (Ω/cm2)
PDI 1
5.7 × 1015
1.47
25.7
16.4
3.4 × 10−4
2.75 × 10−7
28.3
311.6
PDI 2
3.0 × 1015
2.21
13.7
8.8
4.3 × 10−4
6.02 × 10−7
7.5
255.7
PDI 3
3.8 × 1014
2.14
5.2
4.0
4.1 × 10−4
9.53 × 10−7
7.05
327.9

© 2018 by the authors. Licensee MDPI, Basel, Switzerland. This article is an open access article distributed under the terms and conditions of the Creative Commons Attribution (CC BY) license (http://creativecommons.org/licenses/by/4.0/).