An Inhalable Powder Formulation Based on Micro- and Nanoparticles Containing 5-Fluorouracil for the Treatment of Metastatic Melanoma
1
Programa de Pós-Graduação em Nanotecnologia, Universidade Federal do Rio Grande do Sul (UFRGS), Porto Alegre RS 90610-000, Brazil
2
Programa de Pós-Graduação em Ciências Farmacêuticas, Universidade Federal do Rio Grande do Sul (UFRGS), Porto Alegre RS 90610-000, Brazil
3
Escola de Ciências da Saúde, Centro Universitário Ritter dos Reis–UniRitter, Porto Alegre RS 90840-440, Brazil
4
Programa de Graduação em Ciências da Saúde, Universidade Federal do Rio Grande do Norte (UFRN), Natal RN 59012-570, Brazil
5
Programa de Pós-Graduação em Ciências Farmacêuticas, Universidade Estadual de São Paulo (UNESP), Araraquara SP 14801-903, Brazil
6
Departamento de Química Orgânica, Instituto de Química, Universidade Federal do Rio Grande do Sul (UFRGS), Porto Alegre RS 90650-001, Brazil
*
Author to whom correspondence should be addressed.
Received: 27 December 2017 / Revised: 19 January 2018 / Accepted: 22 January 2018 / Published: 30 January 2018
Abstract
Melanoma is the most aggressive and lethal type of skin cancer, with a poor prognosis because of the potential for metastatic spread. The aim was to develop innovative powder formulations for the treatment of metastatic melanoma based on micro- and nanocarriers containing 5-fluorouracil (5FU) for pulmonary administration, aiming at local and systemic action. Therefore, two innovative inhalable powder formulations were produced by spray-drying using chondroitin sulfate as a structuring polymer: (a) 5FU nanoparticles obtained by piezoelectric atomization (5FU-NS) and (b) 5FU microparticles of the mucoadhesive agent Methocel™ F4M for sustained release produced by conventional spray drying (5FU-MS). The physicochemical and aerodynamic were evaluated in vitro for both systems, proving to be attractive for pulmonary delivery. The theoretical aerodynamic diameters obtained were 0.322 ± 0.07 µm (5FU-NS) and 1.138 ± 0.54 µm (5FU-MS). The fraction of respirable particles (FR%) were 76.84 ± 0.07% (5FU-NS) and 55.01 ± 2.91% (5FU-MS). The in vitro mucoadhesive properties exhibited significant adhesion efficiency in the presence of Methocel™ F4M. 5FU-MS and 5FU-NS were tested for their cytotoxic action on melanoma cancer cells (A2058 and A375) and both showed a cytotoxic effect similar to 5FU pure at concentrations of 4.3 and 1.7-fold lower, respectively.
View Full-Text
►

▼

Figures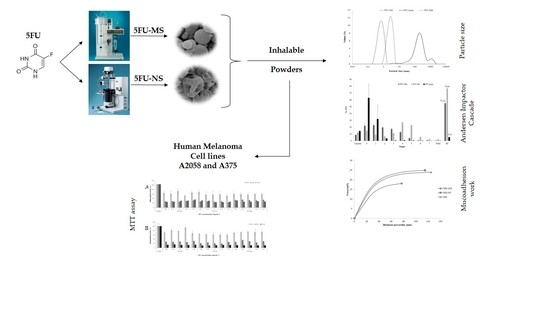 Graphical abstract
This is an open access article distributed under the
Creative Commons Attribution License
which permits unrestricted use, distribution, and reproduction in any medium, provided the original work is properly cited (CC BY 4.0).

Share & Cite This Article
MDPI and ACS Style
Zatta, K.C.; Frank, L.A.; Reolon, L.A.; Amaral-Machado, L.; Egito, E.S.T.; Gremião, M.P.D.; Pohlmann, A.R.; Guterres, S.S. An Inhalable Powder Formulation Based on Micro- and Nanoparticles Containing 5-Fluorouracil for the Treatment of Metastatic Melanoma. Nanomaterials 2018, 8, 75.
Note that from the first issue of 2016, MDPI journals use article numbers instead of page numbers. See further details here.
Related Articles
Comments
[Return to top]