Magnetic Nanoparticles Interact and Pass an In Vitro Co-Culture Blood-Placenta Barrier Model†
1
Department Hematology and Oncology, Jena University Hospital, Am Klinikum 1, D-07747 Jena, Germany
2
Physikalisch-Technische Bundesanstalt Berlin, Abbestr. 2-12, D-10587 Berlin, Germany
3
Chemicell GmbH, Eresburgstr. 22-23, D-12103 Berlin, Germany
4
Institute of Biomedical Engineering and Informatics (BMTI), Technische Universität Ilmenau, Gustav-Kirchhoff-Strasse 2, D-98693 Ilmenau, Germany
*
Author to whom correspondence should be addressed.
‡
These authors contributed equally to this work.
†
This paper is dedicated to our friend and colleague Christian Bergemann, who passed away during the preparation of this manuscript. We will miss him and always keep him in our hearts and minds.
Received: 14 December 2017 / Revised: 8 February 2018 / Accepted: 9 February 2018 / Published: 14 February 2018
Abstract
Magnetic nanoparticles are interesting tools for biomedicine. Before application, critical prerequisites have to be fulfilled. An important issue is the contact and interaction with biological barriers such as the blood-placenta barrier. In order to study these processes in detail, suitable in vitro models are needed. For that purpose a blood-placenta barrier model based on the trophoblast-like cell line BeWo and primary placenta-derived pericytes was established. This model was characterized by molecular permeability, transepithelial electrical resistance and cell-cell-contact markers. Superparamagnetic iron oxide nanoparticles (SPIONs) with cationic, anionic or neutral surface charge were applied. The localization of the nanoparticles within the cells was illustrated by histochemistry. The time-dependent passage of the nanoparticles through the BeWo/pericyte barrier was measured by magnetic particle spectroscopy and atomic absorption spectroscopy. Cationically coated SPIONs exhibited the most extensive interaction with the BeWo cells and remained primarily in the BeWo/pericyte cell layer. In contrast, SPIONs with neutral and anionic surface charge were able to pass the cell layer to a higher extent and could be detected beyond the barrier after 24 h. This study showed that the mode of SPION interaction with and passage through the in vitro blood-placenta barrier model depends on the surface charge and the duration of treatment.
View Full-Text
►

▼

Figures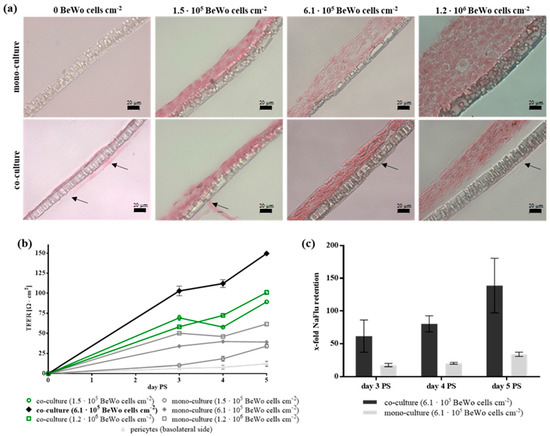 Figure 1
This is an open access article distributed under the
Creative Commons Attribution License
which permits unrestricted use, distribution, and reproduction in any medium, provided the original work is properly cited (CC BY 4.0).

Share & Cite This Article
MDPI and ACS Style
Müller, E.K.; Gräfe, C.; Wiekhorst, F.; Bergemann, C.; Weidner, A.; Dutz, S.; Clement, J.H. Magnetic Nanoparticles Interact and Pass an In Vitro Co-Culture Blood-Placenta Barrier Model. Nanomaterials 2018, 8, 108.
Note that from the first issue of 2016, MDPI journals use article numbers instead of page numbers. See further details here.
Related Articles
Comments
[Return to top]