Modification Effects of B2O3 on The Structure and Catalytic Activity of WO3-UiO-66 Catalyst
College of Chemistry, Chemical and Environmental Engineering, Henan University of Technology, Zhengzhou 450001, China
*
Author to whom correspondence should be addressed.
Received: 20 August 2018 / Revised: 18 September 2018 / Accepted: 28 September 2018 / Published: 30 September 2018
Abstract
Tungsten oxide (WO
3
) and boron oxide (B
2
O
3
) were irreversibly encapsulated into the nanocages of the Zr-based metal organic framework UiO-66, affording a hybrid material B
2
O
3
-WO
3
/UiO-66 by a simple microwave-assisted deposition method. The novel B
2
O
3
-WO
3
/UiO-66 material was systematically characterized by X-ray diffraction, Fourier transform infrared spectroscopy, N
2
adsorption, ultraviolet–visible diffuse reflectance spectroscopy, scanning electron microscopy, transmission electron microscopy, X-ray phosphorescence, and Fourier transform infrared (FTIR)-CO adsorption methods. It was found that WO
3
and B
2
O
3
were highly dispersed in the nanocages of UiO-66, and the morphology and crystal structure of UiO-66 were well preserved. The B
2
O
3
species are wrapped by WO
3
species, thus increasing the polymeric degree of the WO
3
species, which are mainly located in low-condensed oligomeric environments. Moreover, when compared with WO
3
/UiO-66, the B
2
O
3
-WO
3
/UiO-66 material has a little weaker acidity, which decreased by 10% upon the B
2
O
3
introduction. The as-obtained novel material exhibits higher catalytic performance in the cyclopentene selective oxidation to glutaraldehyde than WO
3
/UiO-66. The high catalytic performance was attributed to a proper amount of B
2
O
3
and WO
3
with an appropriate acidity, their high dispersion, and the synergistic effects between them. In addition, these oxide species hardly leached in the reaction solution, endowing the catalyst with a good stability. The catalyst could be used for six reaction cycles without an obvious loss of catalytic activity.
View Full-Text
►

▼

Figures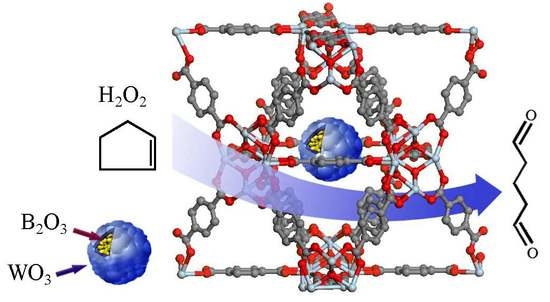 Graphical abstract
This is an open access article distributed under the
Creative Commons Attribution License
which permits unrestricted use, distribution, and reproduction in any medium, provided the original work is properly cited (CC BY 4.0).

Share & Cite This Article
MDPI and ACS Style
Yang, X.; Wu, N.; Miao, Y.; Li, H. Modification Effects of B2O3 on The Structure and Catalytic Activity of WO3-UiO-66 Catalyst. Nanomaterials 2018, 8, 781.
Note that from the first issue of 2016, MDPI journals use article numbers instead of page numbers. See further details here.
Related Articles
Comments
[Return to top]