Open Access This article is
freely available
re-usable
Article
Application of Metal-Organic Framework Nano-MIL-100(Fe) for Sustainable Release of Doxycycline and Tetracycline
1
School of Chemistry, College of Science, University of Tehran, P.O. Box 14155-6455, Tehran, Iran
2
Chemistry & Chemical Engineering Research Center of Iran (CCERCI), Pajoohesh Blvd., km 17, Karaj Hwy, P.O. Box 14968-13151, Tehran, Iran
*
Author to whom correspondence should be addressed.
Received: 30 June 2017 / Accepted: 1 August 2017 / Published: 6 August 2017
Abstract
:
Nanostructures of MIL-100 were synthesized and used as a drug delivery platform for two members of the Tetracycline family. Doxycycline monohydrate (DOX) and Tetracycline hydrochloride (TC) were loaded separately on nano-MIL-100 (nanoparticles of
[email protected]
were abbreviated as
[email protected]
and
[email protected]
). Characterizations were carried out using FT-IR, XRD, BET, DLS, and SEM. The FT-IR spectra revealed that the drugs were loaded into the framework of the carrier. The XRD patterns of
[email protected]
and
[email protected]
indicated that no free DOX or TC were present. It could be concluded that the drugs are well dispersed into the pores of nano-MIL-100. The microporosity of the carrier was confirmed by BJH data. BET analysis showed a reduction in the free surface for both
[email protected]
and
[email protected]
100. The release of TC and DOX was investigated, and it was revealed that MIL-100 mediated the drug solubility in water, which in turn resulted in a decrease in the release rate of TC (accelerating in DOX case) without lowering the total amount of released drug. After 48 h, 96 percent of the TC was sustain released, which is an unprecedented amount in comparison with other methods.
Keywords:
doxycycline monohydrate; drug delivery; nano-MIL-100; sustain release; Tetracycline hydrochloride
2. Results and Discussion
3. Materials and Methods
All reagents for the synthesis and analysis were commercially available from Merck and Aldrich Company (Darmstadt, Germany) and used as received. The ultrasonic synthesis was carried out on a SONIC 3MX, (maximum 160 W at 37 kHz) (Manchester, UK). The hydrothermal oven used in this research was MEMMERT UF 55 Plus (Schwabach, Germany). Melting points were measured on an Electrothermal 9100 apparatus (Stone ST15 0SA, UK). UV analyses were conducted by a Perkin Elmer–Lambda 35 UV-Visible spectrometer (Shelton, CT, USA). FT-IR spectra were recorded on Bruker Equinox 55 spectrometer (Bruker Optics, Marne la Vallée, France) equipped with a single reflection Diamond ATR system over the range of 600–4000 cm−1. Scanning Electron Microscopy (SEM) was performed on an MIRA3 TESCAN (Brno, Česká republika). The simulated XRD powder pattern based on single crystal data were prepared using Mercury software version 3.8 (Cambridge, UK). X-ray powder diffraction (XRPD) measurements were performed using a Philips PW1730 diffractometer with monochromated Cu-Kα radiation (λ = 1.54056 Å) (Amsterdam, The Netherlands), with the step size of 0.05 and 1s per step. Data analysis and FWHM calculation of XRD peaks were performed by OriginPro 2017 software (OriginLab Corporation, Northampton, MA, USA). The BET analyzer model was a BELSORP-mini II analyzer (Ankersmid Ltd., Nijverdal, Australia). Particle size distribution (DLS), PDI index, and Zeta potential were measured by Zetasizer ZEN3600 (Malvern Instruments Ltd., Worcestershire, UK).
The carrier was synthesized via Horcajada's et al. method with some modifications [
14
]. One mmol (0.058 g) of Fe(NO
3
)
3
·9H
2
O and 0.67 mmol (0.1408 g) of BTC (Benzene tricarboxylic acid) were dissolved in 0.6 mmol (0.025 mL) HNO
3
, 2.28 mmol (0.04 mL) HF and 5 mL H
2
O. The solution was placed in the ultrasonic bath for 5 min, transferred to a steel autoclave, sealed, heated for 12 h until reached to 140 ºC, kept at that temperature for 36 h, and then cooled to room temperature in 24 h. The reddish brown sediments were then collected and washed with hot ethanol and deionized water for five or six times until all unreacted ligands washed away.
The process of encapsulating the drug was initiated after preparing the nanocarrier. Tetracycline was dissolved in 2 mL of ethanol. For acquiring a 250 mg tablet of
[email protected]
, 0.01 g of tetracycline should be weighed against 0.03 g of the carrier. The nano-MIL-100 powder was then added to the solution of TC and steered for 48 h until all of the drug molecules entrapped in the pores of the carrier. After that, the brown solution transferred to a rotary evaporator until the solution evaporated and sediments of
[email protected]
remained. In the case of DOX, 0.0107 g of DOX was dissolved in 12 mL of ethanol, and the same procedure was repeated for DOX.
For the quantification of TC and DOX, loaded in MIL-100(Fe), the ethanolic TC and DOX standards for calibration were separately injected into UV capillaries. Calibration curves were prepared from standard solutions of TC and DOX separately. Samples of 1, 3, 5, 10, 15, 25, 50, 75 and 100 ppm of both drugs were prepared and analyzed by UV-Vis spectroscopy (
Figures S1 and S2
).
The release profile of TC was investigated in Simulated Gastric Fluid (SGF). The SGF was prepared without pepsin by the Galia et al. method [
27
]. The temperature of the release medium was set on 37 ℃, and the pH adjusted to 1.2. A 0.015 g sample of
[email protected]
was dissolved in SGF, and the whole container was placed in an oil bath. After 5 min, the container was removed from stirrer and abandoned for 2 min. Then, 0.5 mL of upper solution was collected and transferred to a test tube. For recovery, 0.55 mL of SGF was added to the container. This process was repeated at predetermined time intervals (15 min, 30 min, and 45 min, 1 h, 90 min, and 2 h, 3 h, 4 h, 5 h, 6 h, 24 h, and 48 h). The released samples were immediately transferred to UV-Vis spectrometer and prepared for analyses at a wavelength of 270 nm.
The release profile of DOX was monitored in Phosphate Buffer Saline (PBS). The PBS solution was prepared by Dulbecco and Vogot method [
28
]. The pH was controlled and kept at 7.4. The rest of the process and analyses were carried out similar to the case of TC.
4. Conclusions
Two antibiotics with different solubility, tetracycline hydrochloride and doxycycline monohydrate, were loaded separately on the synthesized nano-sized MIL-100(Fe), which was used as the carrier. The crystallinity and purity of MIL-100(Fe) was confirmed using several characterization techniques including XRD, FT-IR, BET and DLS, and remained intact after encapsulation of the drugs. It was revealed that nano-sized MIL-100(Fe) has a mediating effect on these antibiotics. The result of DOX release in PBS reveals that using this platform could increase the amount of released drug to 25% more than that of conventional methods. In contrast, TC, as a highly soluble drug in water, shows slower release due to the formation of stronger bonds with the carrier. The difference in the pH of the media also affected the release of drugs and resulted in a faster release for DOX compared with TC. Interestingly the slower kinetics of TC lead to 96% of the drug being released in acidic medium, which is much higher than previous reports.
A sustained release and slow kinetics of releasing of antibiotics into the body would be desirable for treatment of infections that need more time to cure. The results of this research could be followed by pharmacists who are studying methods to increase the time intervals of taking antibiotic pills orally, in order to lower the side effects of consuming too much antibiotics.
Supplementary Materials
The following are available online at
www.mdpi.com/2079-4991/7/8/215/s1
, Equation ES1: Calculations on XRD pattern of nano-MIL-100, Figure S1: Calibration curve for tetracycline in different concentrations, Figure S2: Calibration curve for Doxycycline in different concentrations, Table S1: Tetracycline structural analysis, Table S2: Doxycycline structural analysis.
Acknowledgments
The authors wish to thank University of Tehran for its support.
Author Contributions
Janet Soleimannejad and Aliakbar Tarlani supervised this work. Seyed Dariush Taherzade performed the experiments and he wrote the 1st draft of the manuscript. Janet Soleimannejad modified the manuscript.
Conflicts of Interest
The authors declare no conflict of interest.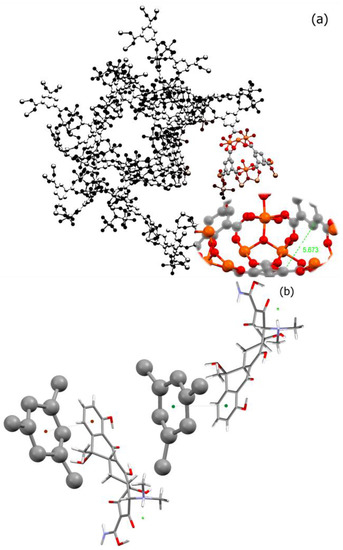 Figure 1. (a) The distance between two BTC rings in a pore of MIL-100; (b) the proposed π-π stacking between BTC rings (Ball and Stick) and TC rings (capped sticks).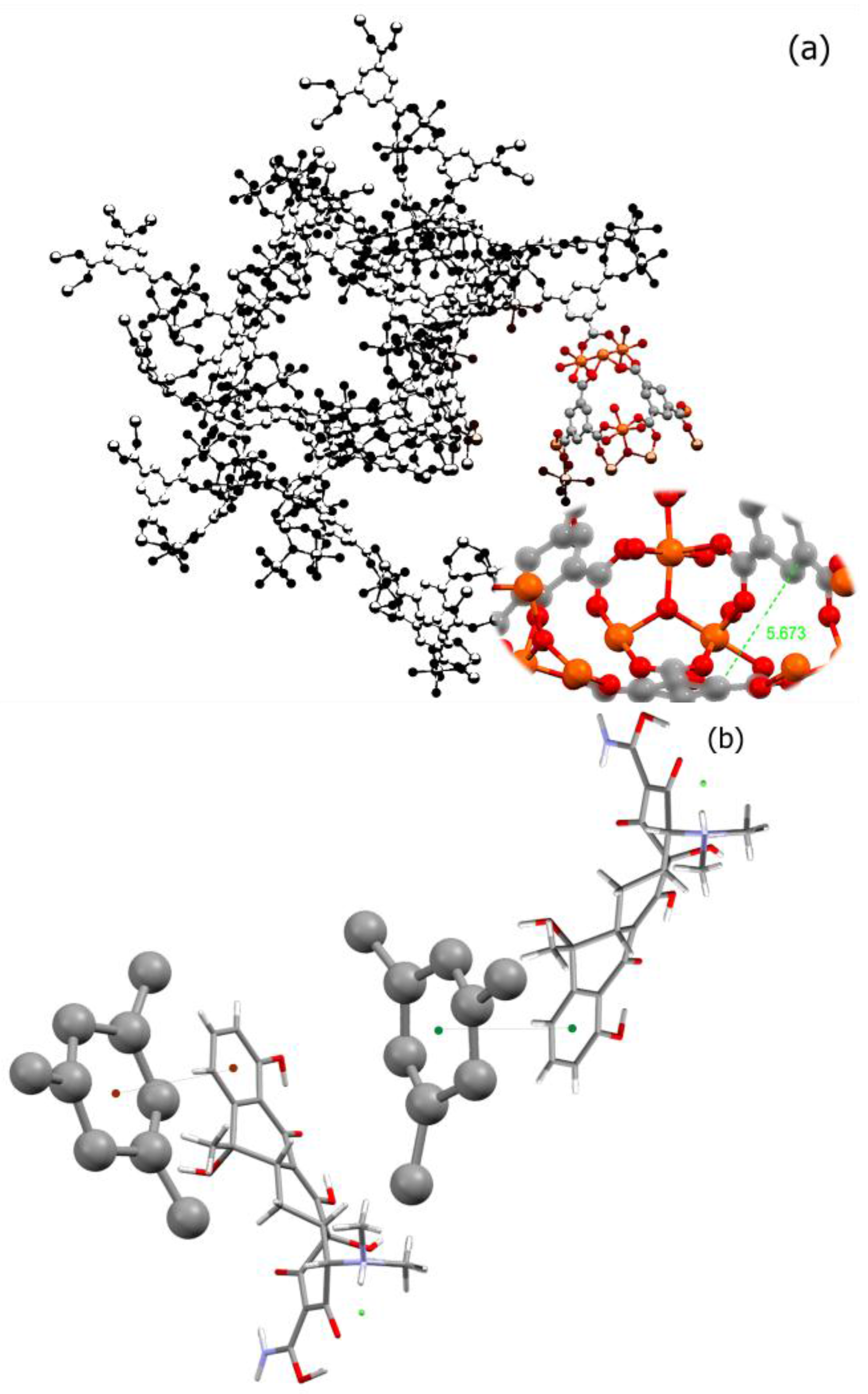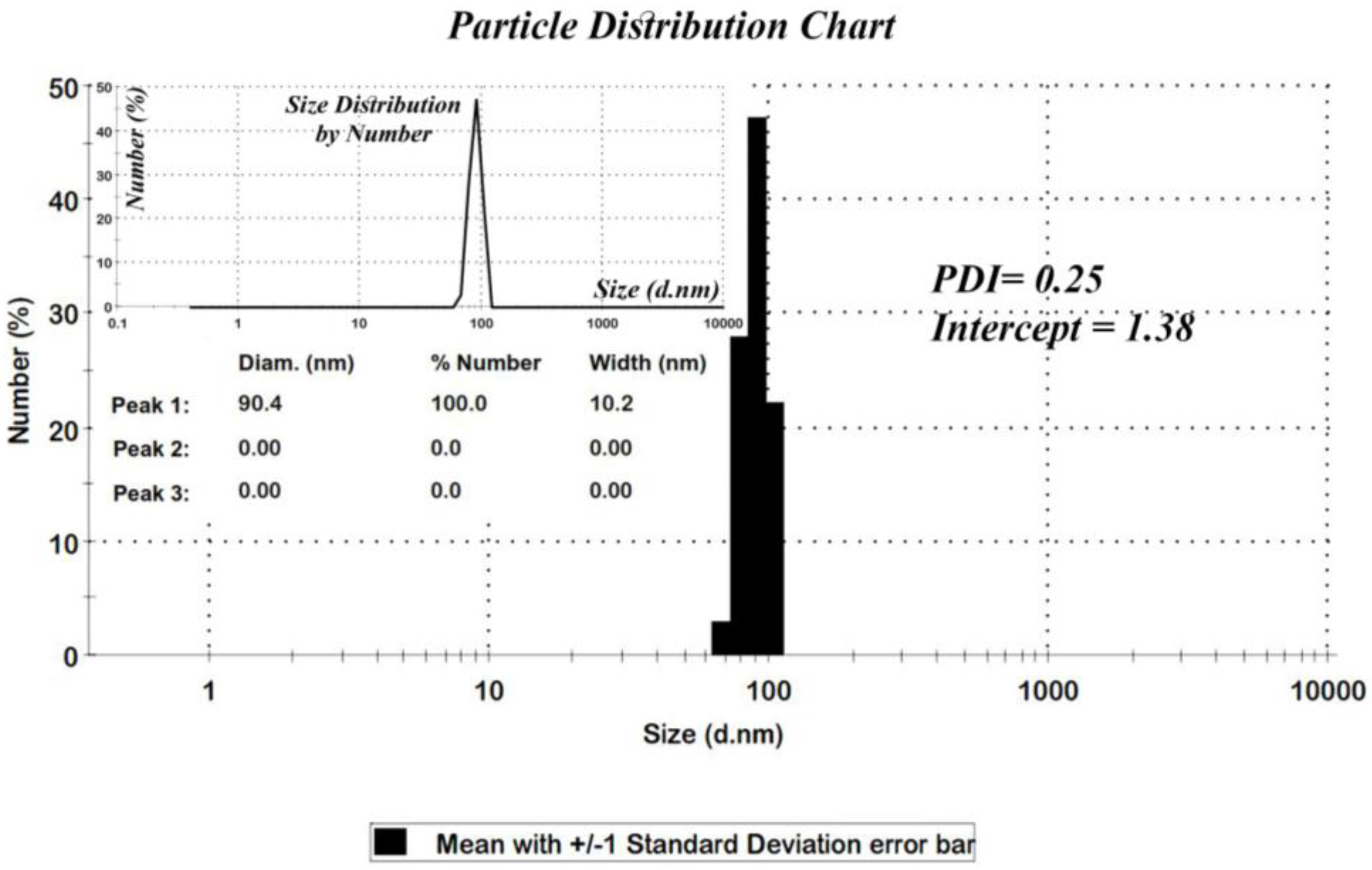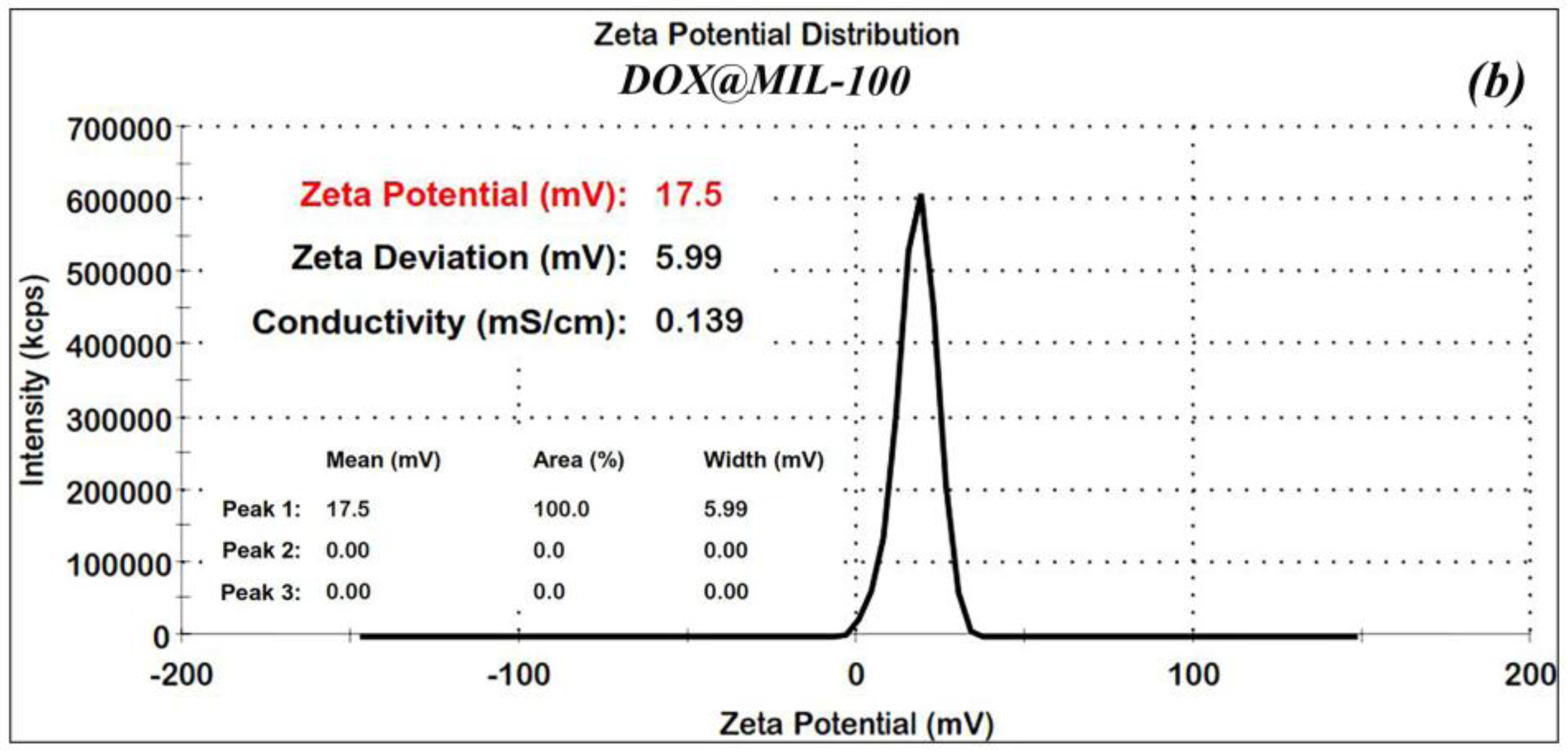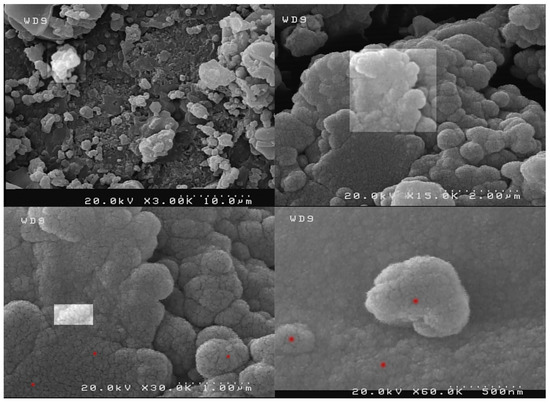 Figure 5. SEM image of nano-MIL-100. Extrapolation of SEM image showing magnification (from top-left to bottom-right). A number of nanoparticles are marked with red spots.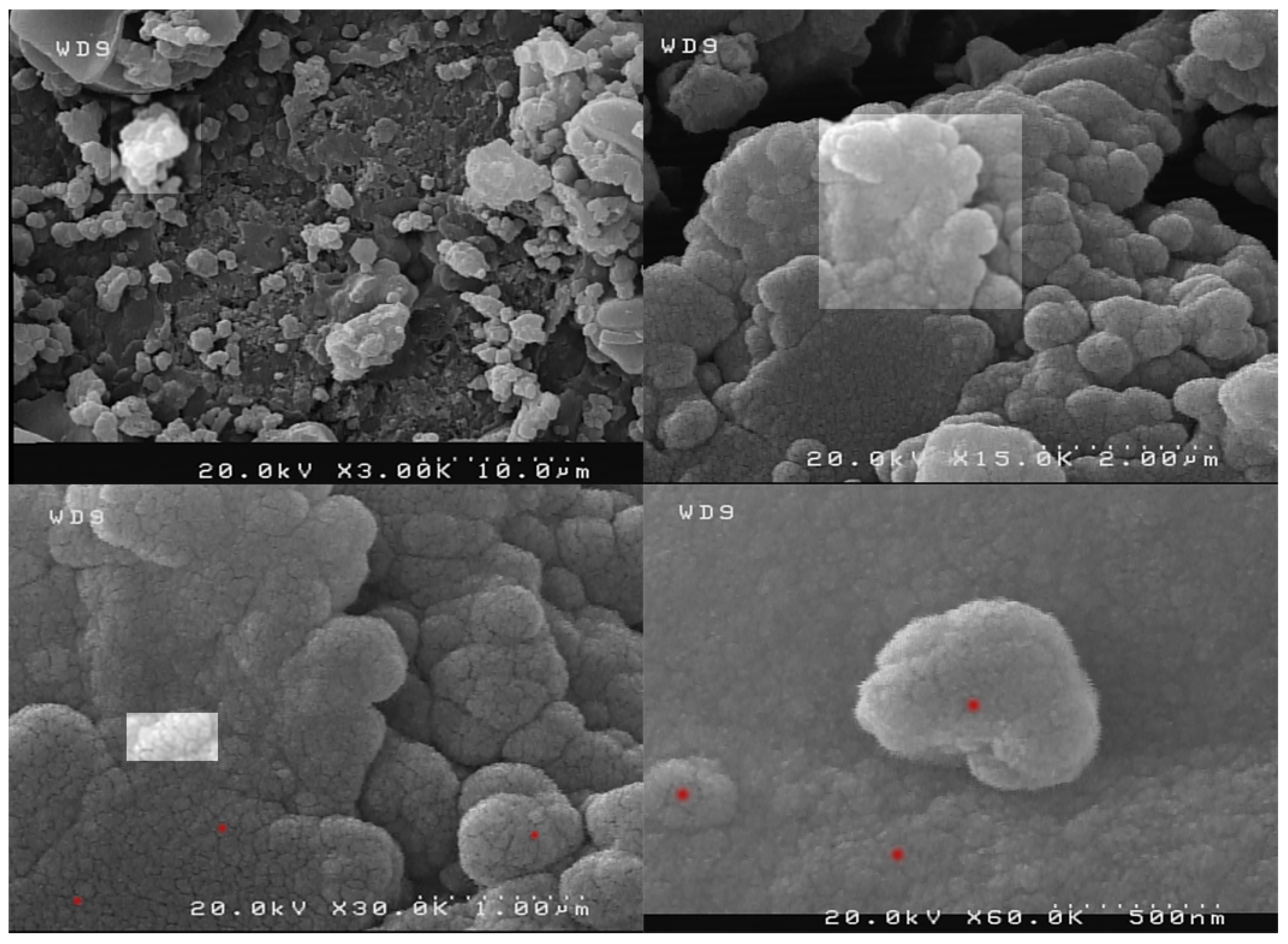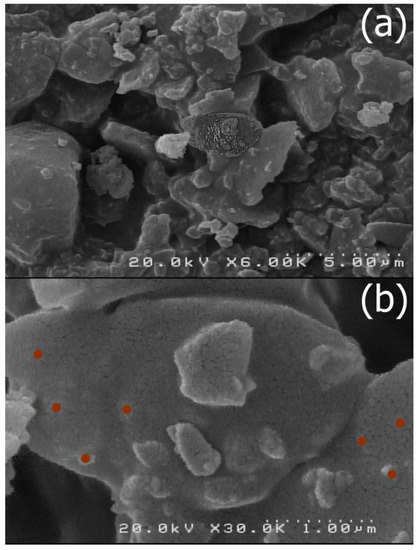 Figure 6.
(
a
) SEM of
[email protected]
; (
b
) Red spots indicate some of nanoparticles.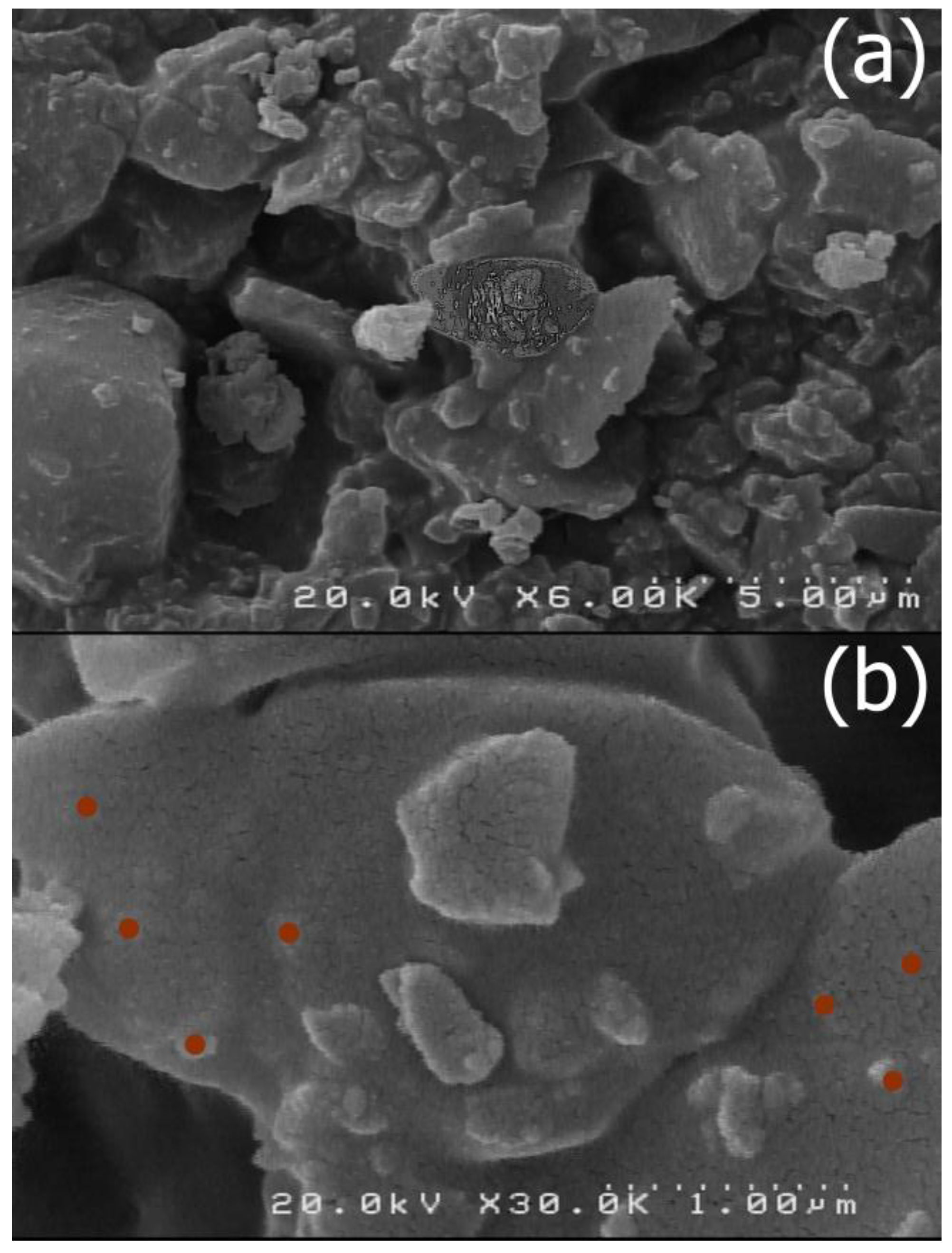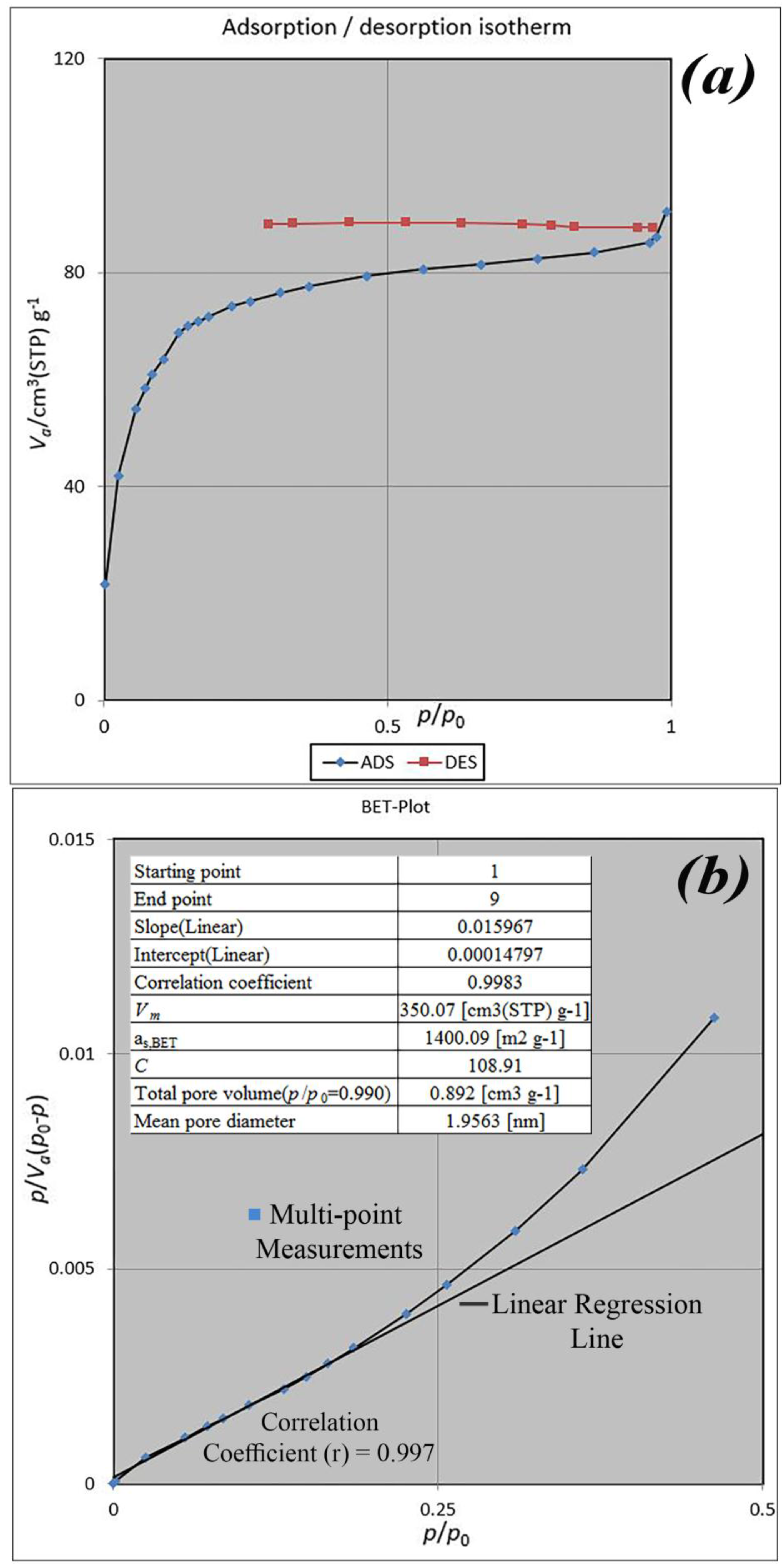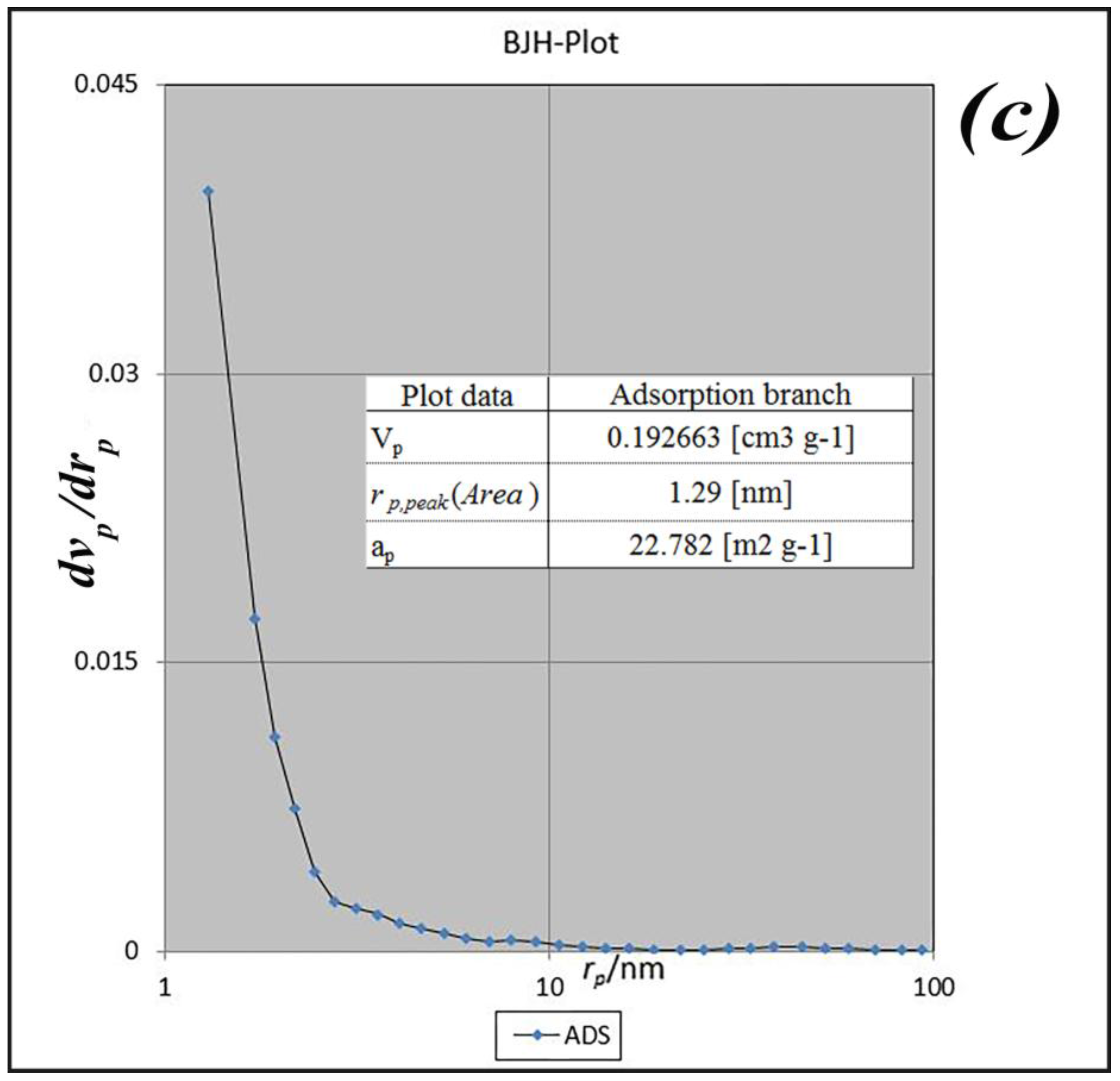 Figure 8.
(
a
) Adsorption/desorption isotherms; (
b
) BET and (
c
) BJH plot of
[email protected]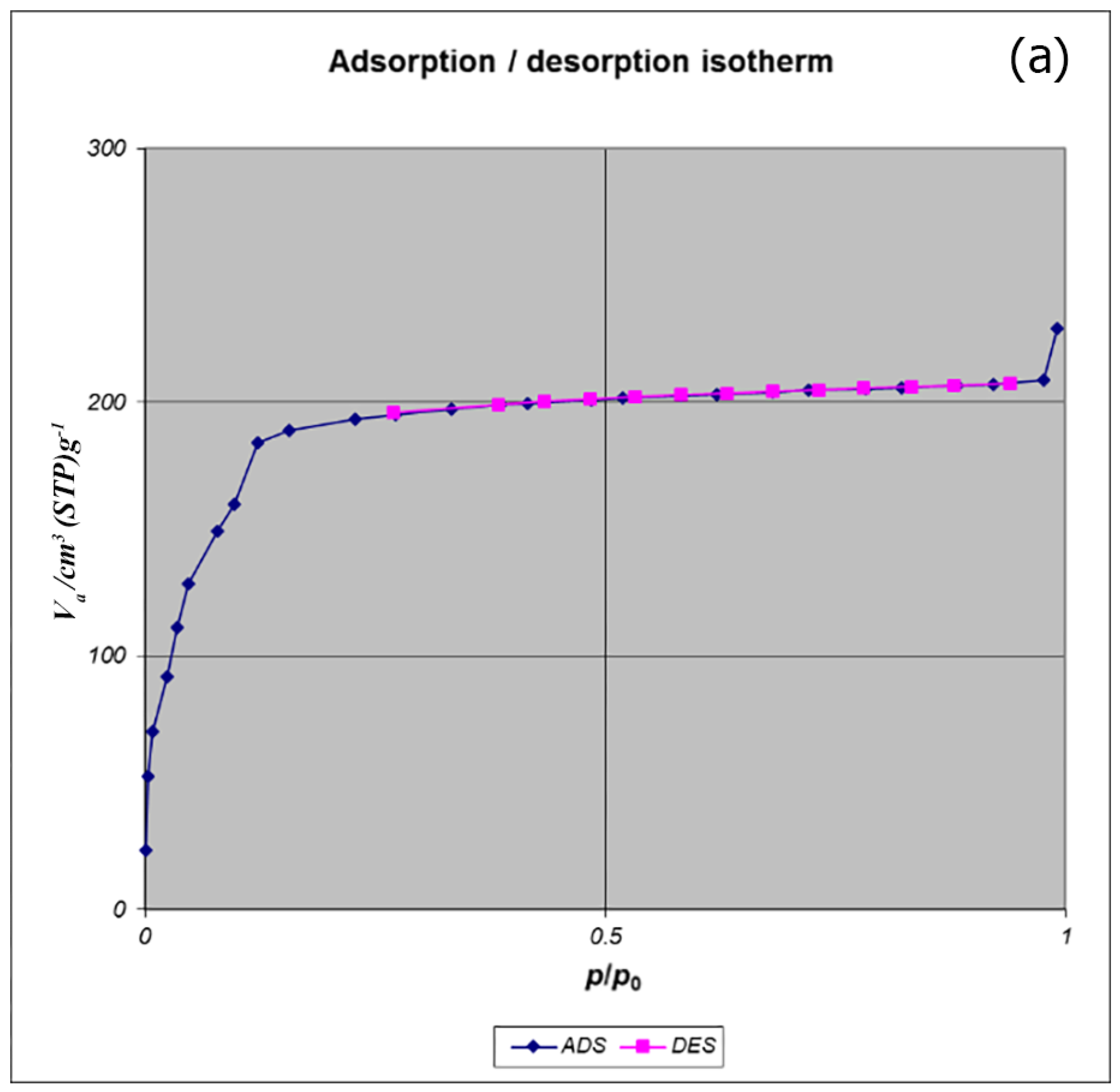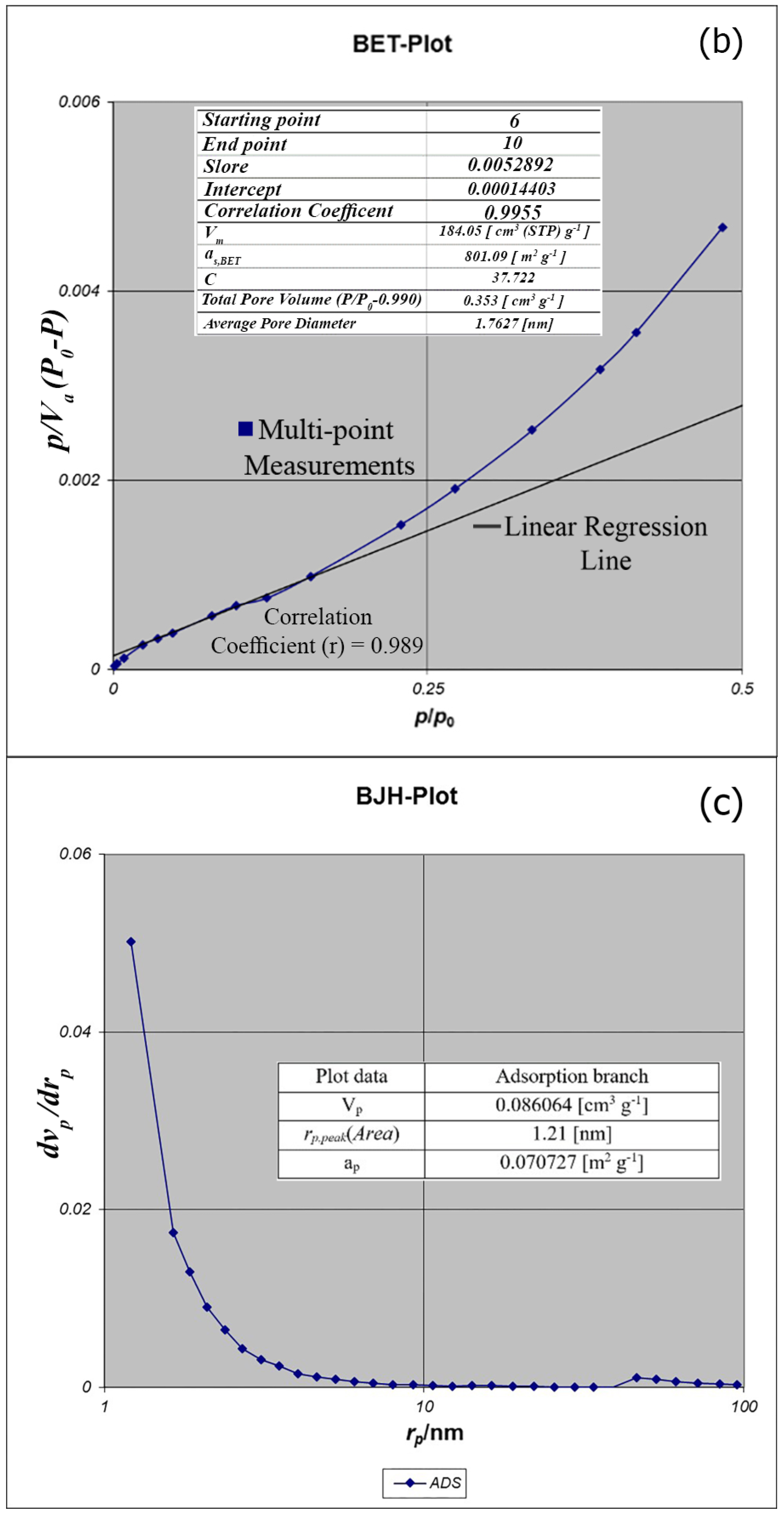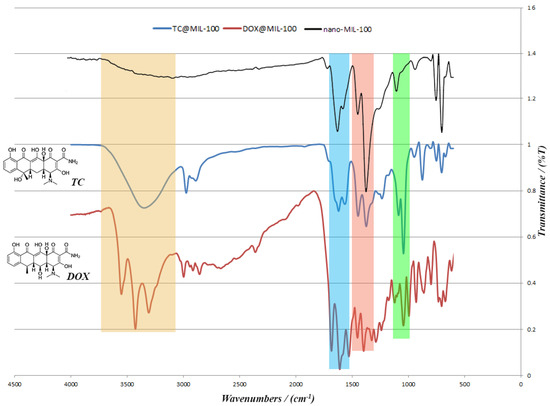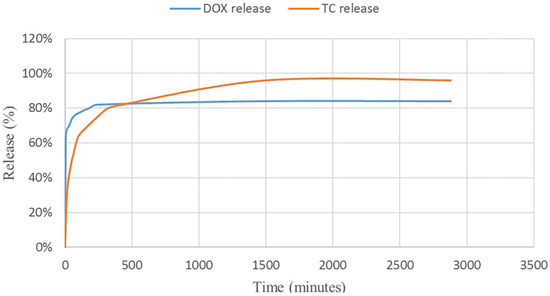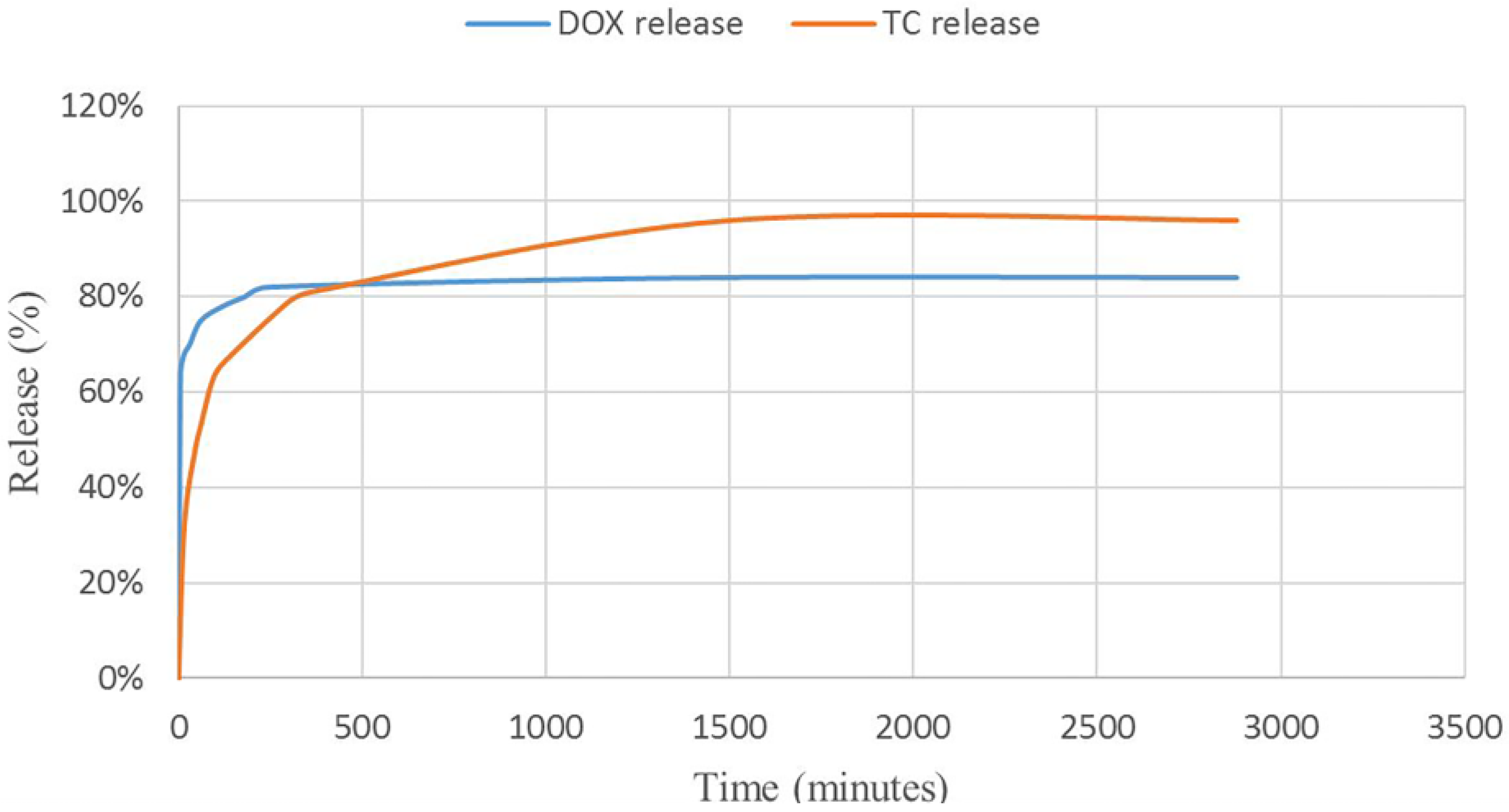 © 2017 by the authors. Licensee MDPI, Basel, Switzerland. This article is an open access article distributed under the terms and conditions of the Creative Commons Attribution (CC BY) license (http://creativecommons.org/licenses/by/4.0/).