Open Access This article is
freely available
re-usable
Article
Magnetic Nanoemulsions: Comparison between Nanoemulsions Formed by Ultrasonication and by Spontaneous Emulsification
1
Department of Pharmacy, Pharmaceutical Technology and Physical Chemistry, Faculty of Pharmacy and Food Sciences, University of Barcelona, Avda. Joan XXIII, 27–31, 08028 Barcelona, Spain
2
Nanoscience and Nanotechnology Institute (IN2UB), Avda. Joan XXIII, 27–31, 08028 Barcelona, Spain
*
Author to whom correspondence should be addressed.
Received: 22 June 2017 / Accepted: 19 July 2017 / Published: 22 July 2017
Abstract
:
Nanoemulsions are particularly suitable as a platform in the development of delivery systems. The type of nanoemulsion with a higher stability will offer an advantage in the preparation of a delivery system for lipophilic drugs. Nanoemulsions can be fabricated by different processing methods, which are usually categorized as either high- or low-energy methods. In this study, a comparison between two methods of preparing magnetic oil-in-water (O/W) nanoemulsions is described. The nanoemulsions were formed by sonication (the high-energy method) or by spontaneous emulsification (the low-energy method). In both cases, the oil phase was olive oil, and a phospholipid and a pegylated phospholipid were used as emulsifiers. To favor the comparison, the amounts of the components were the same in both kinds of nanoemulsions. Moreover, nanoemulsions were loaded with hydrophobic superparamagnetic nanoparticles and indomethacin. In vitro, releases studies indicated a short drug burst period followed by a prolonged phase of dissolutive drug release. The Korsmeyer-Peppas model can fit the associated kinetics. The results showed that such nanoemulsions are suitable as a platform in the development of delivering systems for lipophilic drugs. The long-term stability was also examined at different temperatures, as well as the interaction with plasma proteins. Nanoemulsion obtained by the low-energy method showed a great stability at 4 °C and at ambient temperature. Its size and polydispersity did not change over more than two months. The spontaneous emulsification method therefore has great potential for forming nanoemulsion-based delivery systems.
Keywords:
nanoemulsion; oil olive; magnetic particles; indomethacin; spontaneous emulsification; low-energy method; high-energy method
1. Introduction
Our results demonstrate that both methods produce quite similar nanoemulsions. However, an important difference can be found concerning their long-term stability: the LE nanoemulsion is very stable when kept in quiescent conditions at room temperature or in the freezer, the usual conditions for storage.
3. Discussion
Magnetic O/W nanoemulsions incorporating indomethacin were prepared using a low-energy or a high-energy method. Both kinds of nanoemulsions are extremely similar in relation to physicochemical properties, such as size, polydispersity, drug encapsulation, and iron content. The drug release from both nanoemulsions followed a pattern that can be quantified by the Korsmeyer-Peppas model. This fact indicates that the pharmacokinetics are in good accordance with Fickian diffusion. The main difference between both nanoemulsions lies in their storage stability. The nanoemulsion obtained at mild conditions, i.e., the LE nanoemulsion, was more stable than that obtained by sonication when stored in quiescent conditions at room temperature or in the freezer. Moreover, dilution did not affect the stability. Other important difference was the highest adsorption of proteins on the surface of the droplets of LE nanoemulsion. This different adsorption involves a different protein corona. The corona alters the surface composition and influences the nanomaterials' biological identity as recognized by cells. In consequence, the behavior of the LE nanoemulsion will be quite different than the HE nanoemulsion droplets if it is administered intravenously. Since the adsorbed proteins control the interaction with cell membranes and the mechanism of cellular uptake, a potential future research direction should be the study of the interaction of the nanoemulsion with the biological milieu, including parameters as cytotoxicity, body distribution, and endocytosis into specific cells.
4. Materials and Methods
4.1. Materials
Extra virgin olive oil was from the Arbequina variety and had high oleic acid content (71.9% in weight). 1,2-Distearoyl-sn-glycero-3-phosphocholine (DSPC), iron oxide magnetic nanoparticles (5 mg/mL in toluene), and IND were purchased from Sigma-Aldrich (St. Louis, MO, USA); 1,2-distearoyl-sn-glycero-3-phosphoethanolamine-N-[methoxy(polyethylene glycol)-2000] (ammonium salt) (PEG-DSPE) was obtained from Avanti Polar Lipids (Alabaster, AL, USA). DSC and PEG-DSPE were dissolved in chloroform at 20 mg/mL. Olive oil was diluted in chloroform at 100 mg/mL. Spectra-Por® Float-A-Lyzer® G2 was purchased from Spectrum Labs (Rancho Dominguez, CA, USA). The aqueous phase used to prepare the nanoemulsions was Hepes sodium salt buffer solution (10 mM, pH 7.2). For sodium dodecyl sulfate-polyacrylamide gel electrophoresis (SDS-PAGE) the sample buffer NuPAGE® LDS (Invitrogen, Carlsbad, CA, USA) was used. Double distilled water was used in the preparation of all the solutions. Organic solvents were of analytical grade.
4.2. Preparation of Nanoemulsions
4.2.1. High Energy (HE) Method
The nanoemulsion was prepared by mixing 300 μL of extra virgin olive oil, 300 μL of DSPC, 1000 μL of PEG-DSPE and 75 µL of magnetic particles. The DSPC/PEG-DSPE molar ratio was 1.05. Then, the organic solvent was removed by evaporation at vacuum at 40 °C (Rotavapor R-3000, Büchi, Switzerland) for one hour. Once the solvent evaporated, 10 mL of Hepes buffer at 37 °C was added, followed by 15 min of agitation. The coarse emulsion obtained was sonicated in an UP200 St ultrasonic processor (Hielscher, Teltow, Germany) at a duty cycle of 70% and a frequency of 20 kHz, four times, for 5 min, with pauses of 1 min between sonications. Temperature reached in the sonication process was ≈50 °C. When the nanoemulsion contained IND, the drug dissolved in methanol (1 mg/mL) was incorporated (0.5 mL) to the mixture of surfactants and oil.
4.2.2. Low Energy (LE) Method
The nanoemulsion was prepared with the same amounts used in the HE method via a spontaneous emulsification procedure [
30
]. In brief, the spontaneous emulsification was performed by titration of the organic phase (containing the indicated amounts of olive oil, DSPC, PEG-DSPE, and magnetic particles) at a rate of 2 mL/min into 10 mL of Hepes buffer warmed at 70 °C while continuously stirring the system with a magnetic stirrer. The magnetic stirring was maintained for 30 min to let the system reach equilibrium. Once the nanoemulsion was formed, it was centrifuged for 2 min at 1000 rpm. The supernatant was taken and sonicated in the ultrasonic processor two times for 10 s. When necessary, IND was incorporated in the nanoemulsion as described above.
4.2.3. Particle Size Measurements
The particle size distribution and average particle diameter (
z
-average diameter) of nanoemulsions were measured by dynamic light scattering using a Zetasiser Nano ZS (Malvern, UK). The instrument determines the particle size from intensity-time fluctuations of a laser beam (633 nm) scattered from the sample at an angle of 90°. For the measurement, 50 µL of the nanoemulsion were diluted with Hepes buffer until 3 mL. Each individual measurement carried out at 25 °C was an average of 10 runs. Polydispersity index (PDI) is a dimensionless measure of the width of the size distribution calculated by the instrument. Samples were considered monodisperse when the PDI was lower than 0.2.
4.2.4. Magnetic Measurements
The magnetic properties of the nanoemulsions were determined in a superconducting quantum interference device (SQUID) magnetometer (MPMS, Quantum Design, San Diego, CA, USA) at 300 K. For this, a few milligrams of the sample were lyophilized and the external magnetic field was swept from 20,000 to −20,000 G, and then back to 20,000 G. The saturation magnetization values were normalized to the mass of nanoparticles to yield the specsific magnetization, Ms (emu/g).
4.2.5. Thermogravimetric Measurements
The thermogravimetric analysis of the nanoemulsions was carried out using a TGA/SDTA851e system (Mettler Toledo, Columbus, OH, USA) with a 10 °C/min heating rate under nitrogen atmosphere (50 mL/min). The measurement was made from room temperature up to 800 °C.
4.2.6. Lipid Determination
The lipid content based on the presence of phospholipids was determined by the Steward-Marshall method [
31
]. The calibration curve was made with different amounts of a chloroform solution of DSPC. The absorbance of the organic phase was read at 488 nm using the UV-24011PC UV-vis spectrophotometer (Shimadzu, Kyoto, Japan).
4.2.7. Iron Determination
The iron content of the magnetic nanoemulsions was determined by the Kiwada method based on the determination of ferrous ion using
o
-phenanthroline [
32
]. The calibration curve was performed with a solution of Fe
3
O
4
(Aldrich, Milwaukee, WI, USA) in hydrochloric acid (37%). The absorbance was measured at 509 nm.
4.2.8. IND Determination
Previous to the quantification of the IND encapsulated into the nanoemulsion, the method of Bligh and Dyer [
33
] was applied to extract the lipid from the nanoemulsion. Briefly, for each mL of nanoemulsion, the following solvents were added step by step, followed by gently vortexing after each addition: 3.75 mL of chloroform/methanol (1:2,
v
/
v
); 1.25 mL of chloroform, and 1.25 mL of distilled water. The mixture was then centrifuged at 1000 rpm at room temperature for 10 min, and two fractions were obtained. The bottom one containing the lipid phase was taken, and the volume was completed to 10 mL with chloroform:methanol (1:1,
v
/
v
). Finally, the absorbance was recorded at ~318 nm. A standard calibration curve was obtained for IND concentration calculation by fitting the measured absorbance with known drug concentration (100, 75, 50, 25, 10 µg/mL). The encapsulation efficiency (
EE
) was calculated using the following expression:
4.2.9. In Vitro Release Assay
The release assay of IND was carried out using the Spectra-Por Float-A-Lyzer G2 dialysis device (Spectrum Labs, Rancho Dominguez, CA, USA) at room temperature. For the release experiment, 1 mL of the nanoemulsion was introduced into the dyalisis bag and placed in a vessel containing 100 mL of the receptor solution, Hepes buffer, under magnetic stirring. At predetermined time intervals (0, 15, 30, 45, 60, 120, 240, and 1200 min), 50 µL of sample were withdrawn. These samples were extracted according the Bligh and Dyer method, and the organic phase was read in a NanoDrop One/Onec spectrophotometer (Thermo Scientific, Rockford, IL, USA).
4.2.10. Modelling of Release Kinetics
The release kinetics was determined by regression analysis of the in vitro release curves in five models: zero order, first order, Higuchi, Hixson-Crowell, and Korsmeyer-Peppas. The mathematical model that best expressed the kinetic release profile was selected based on the highest coefficient of determination (
r
2
).
4.2.11. Long-Term Stability Test
The long-term stability of nanoemulsions was assessed by measuring the change of droplet size and polydispersity by dynamic light scattering with time of storage. During the study, the nanoemulsions samples were aliquoted in vials, sealed, and kept at 37 °C, room temperature (~25 °C), and 4 °C. For the LE nanoemulsion, the study was carried out for two months at room temperature and 4 °C in the undiluted form and diluted 10 times with buffer solution.
4.2.12. Interaction with Proteins
The study of the interaction of proteins was performed with bovine serum albumin (BSA) (Sigma-Aldrich, St. Louis, MO, USA) and with human plasma. Human plasma was obtained from the blood of healthy donors after obtaining informed consent. The blood was centrifuged to pellet red and white blood cells, and the plasma supernatant was pooled and stored at −80 °C. After thawing, the plasma was centrifuged at 20,000×
g
for 1 h at 4 °C to remove any residual protein precipitates. A protein concentration of 25 g/L was determined for the plasma. To determine the interaction, 0.5 mL of any nanoemulsion was mixed either with 1.5 mL of BSA (at 60 mg/mL in Hepes buffer) or with 1.5 mL of plasma. The mixing was incubated at 37 °C in quiescent conditions. Aliquots were withdrawn immediately after the mixing and at 1 h and 24 h of incubation. After 1 h, the size of the mixing was recorded. After 24 h, the size and the protein content was determined. The separation of free proteins from adsorbed proteins was carried out by magnetic separation (MiniMacs
™
, Miltenyi, Germany). The system consists of a magnetizable column matrix and a magnet. When located near the magnet, the column serves to create a high-gradient magnetic field. After washing the column with Hepes, 0.5 mL of magnetic nanoemulsion was passed through the column. Then, the retained material was washed with 0.5 mL of buffer to remove the non-retained material. Finally, to elute the retained material, the column was removed from the magnet, and the material was eluted with 0.5 mL of buffer with the aid of a plunger. With this eluate, the determination of the protein content was carried out by means of the Bradford method [
34
]. Briefly, 0.250 mL of eluate was mixed with 1.5 mL of Bradford reagent (Sigma, St. Louis, MO, USA); after mixing, the absorbance of the sample at 595 nm was read. BSA was used as standard (Protein Standard, Sigma, St. Louis, MO, USA). As a control, the same magnetic nanoemulsion incubated with buffer alone was used. The measurements were conducted in triplicate to ensure reproducibility of results.
4.2.13. SDS-PAGE Electrophoresis
Proteins associated with the nanoemulsion droplets were mixed with protein solving buffer (15 µL of nanoemulsion with 5 µL of buffer) and boiled for 10 min at 90 °C. This solution was loaded onto a 12% polyacrylamide gel in a Mini-Protean Tetra device for 1-D vertical electrophoresis (Bio-Rad, Hercules, CA, USA) at a constant current of 20 mA per gel for 1 h. A molecular marker (ColorBurst™ Electrophoresis Marker, Sigma, St. Louis, MO, USA) was run in parallel. Proteins were fixed in 10% acetic acid for 1 h and subsequently visualized by staining with 0.1% Coomassie Brilliant Blue G-250 in 25% methanol for 24 h.
Author Contributions
J.E. conceived and designed the experiments and wrote the paper; N.R.-B. performed the experiments; M.A.B. analyzed the data.
Conflicts of Interest
The authors declare no conflict of interest.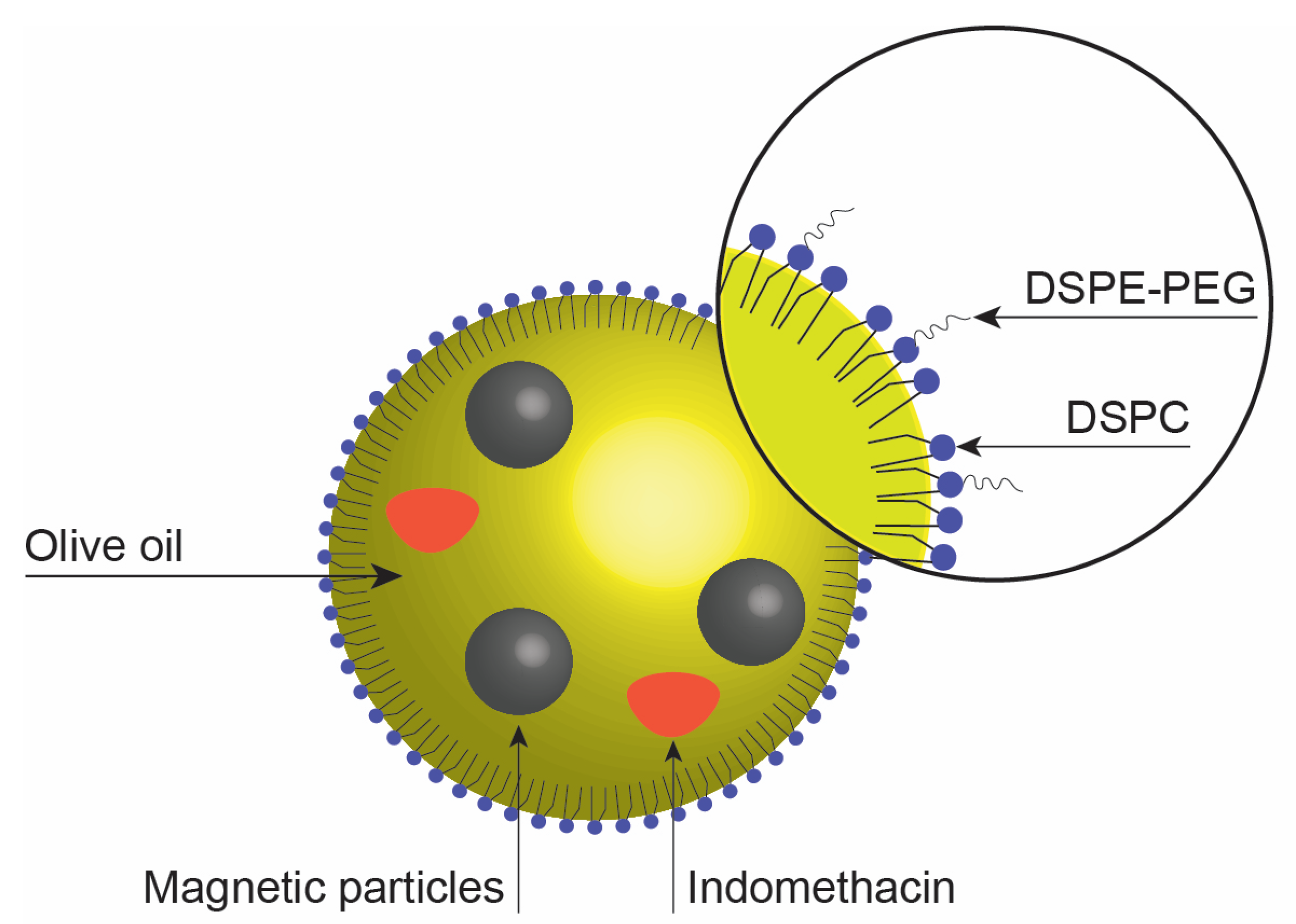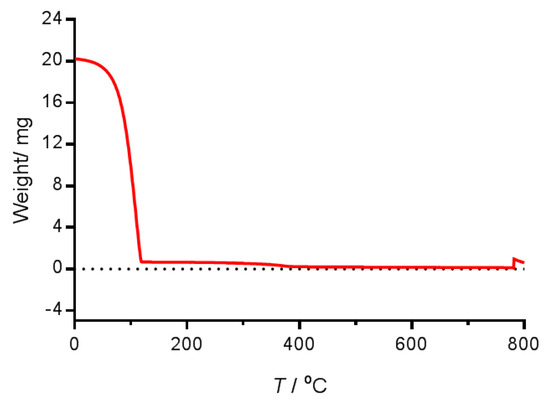 Figure 2. Thermogravimetric analysis of the nanoemulsion obtained by the LE method. The measurement was made from room temperature up to 1000 °C under nitrogen atmosphere (flux of 50 mL min−1) with a 10 °C min−1 heating rate.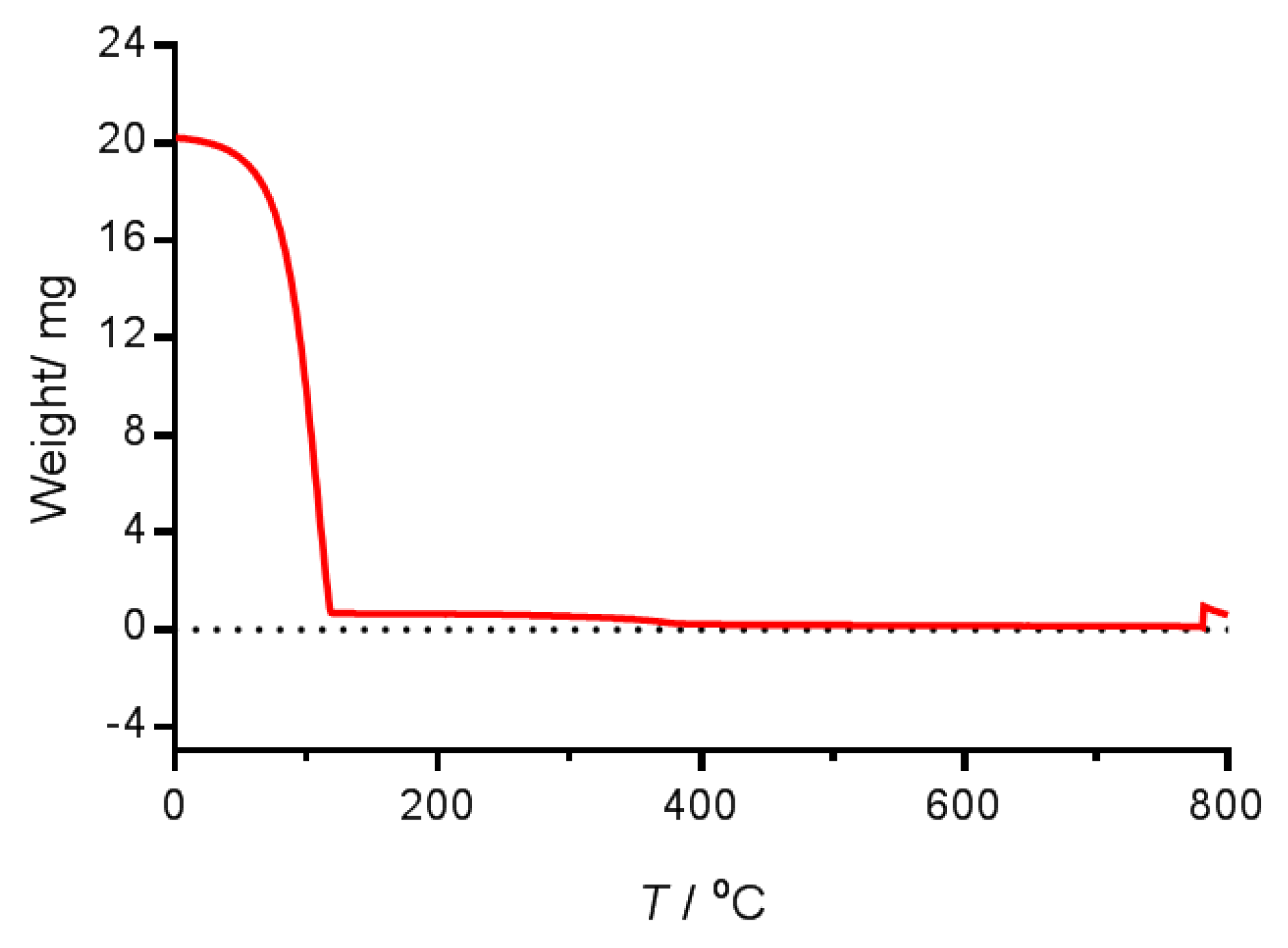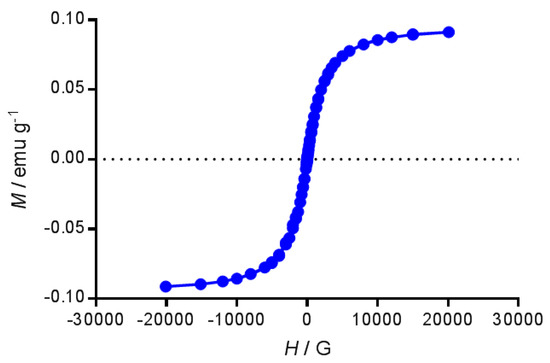 Figure 3. Mass magnetization as a function of the external magnet field for magnetic particles coated with oleic acid at 300 K. The external magnetic field was swept from 20,000 to −20,000 G and then back to 20,000 G.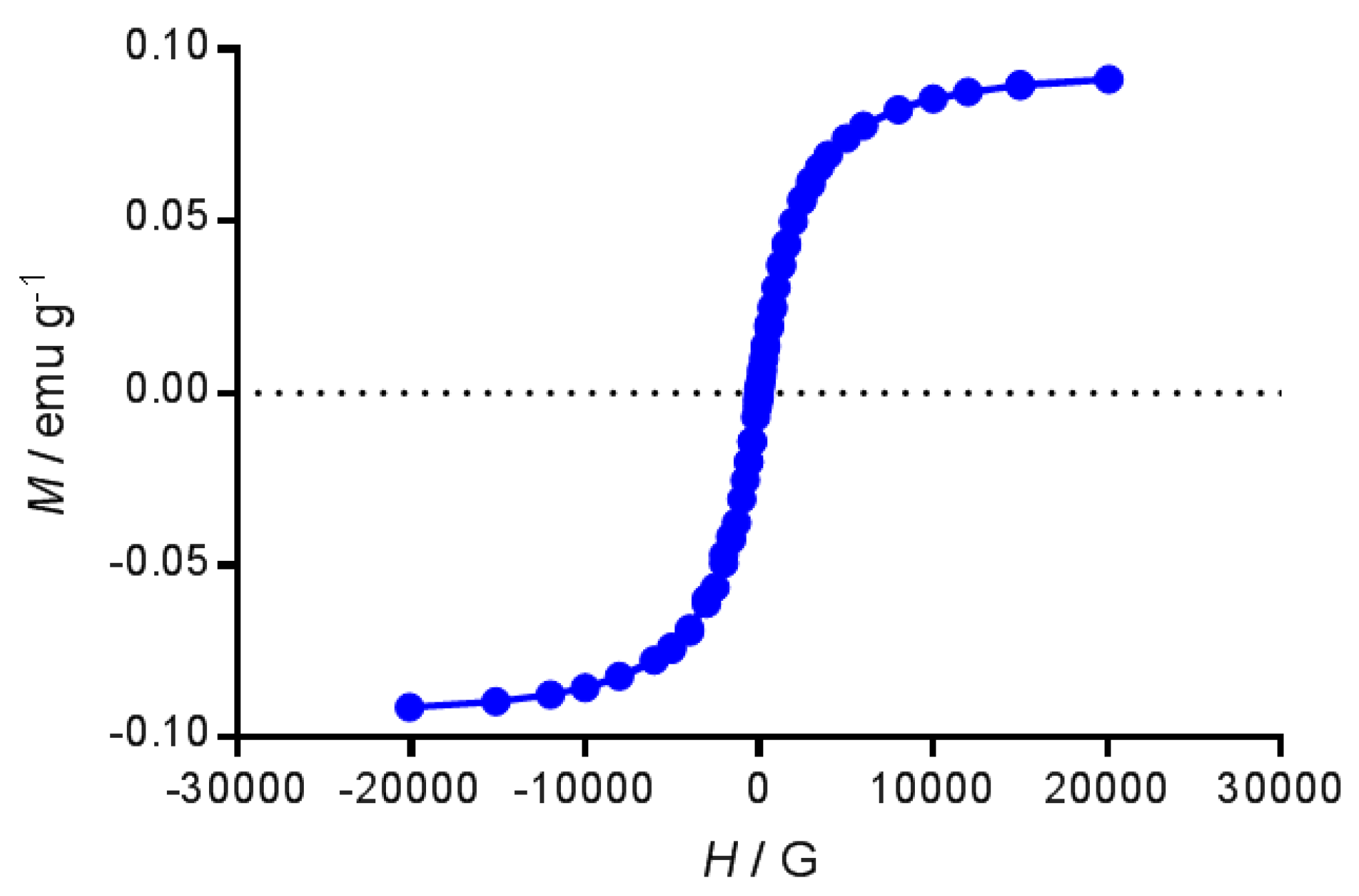 Figure 4. Time-dependent release kinetics of IND from nanoemulsions in Hepes buffer. Solid line is the fitting of the Korsmeyer-Peppas model to the experimental points. (A) High energy nanoemulsion, and (B) Low energy nanoemulsion.


Figure 5. Long-term stability of nanoemulsions at 4 °C (blue dots), room temperature (green squares) and 37 °C (red triangles). Solid lines are guidelines. (A) High energy nanoemulsion, and (B) Low energy nanoemulsion.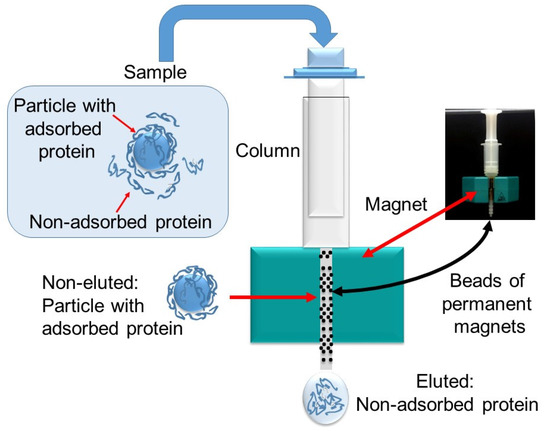 Figure 6. Experimental setup for determination of proteins bound to magnetic nanoemulsions. The MACS columns are composed of a spherical steel matrix; by inserting a column in a MACS separator, a high-gradient magnetic field is induced within the column, which retains the magnetic particles.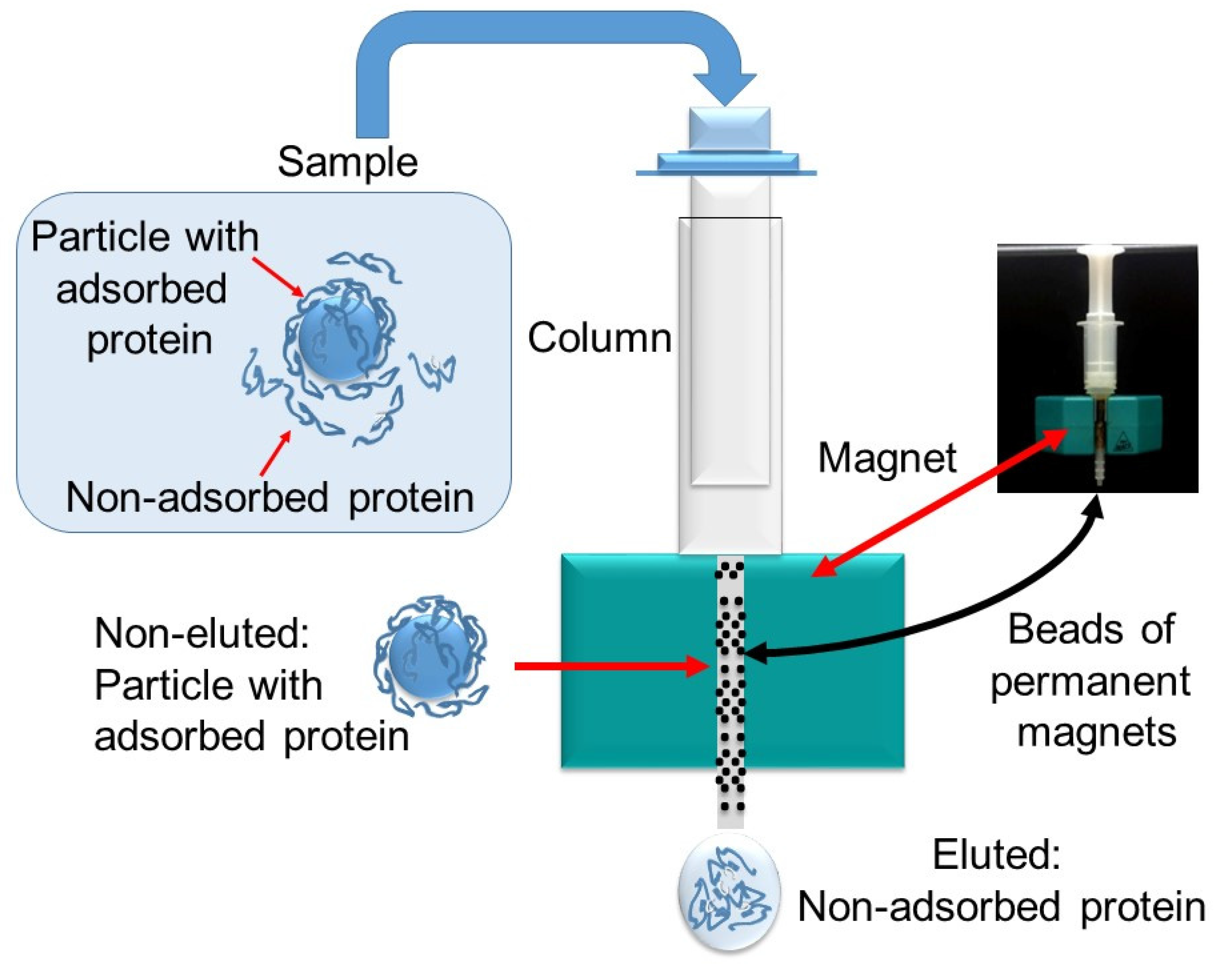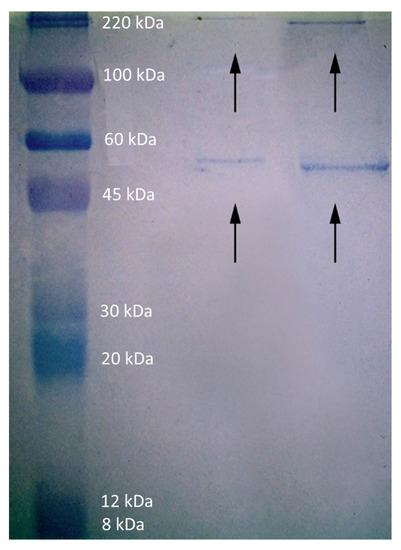 Figure 7. SDS-PAGE gel (12.5%) obtained from nanoemulsion-protein complexes after magnetic separation. The band on the left are the control proteins.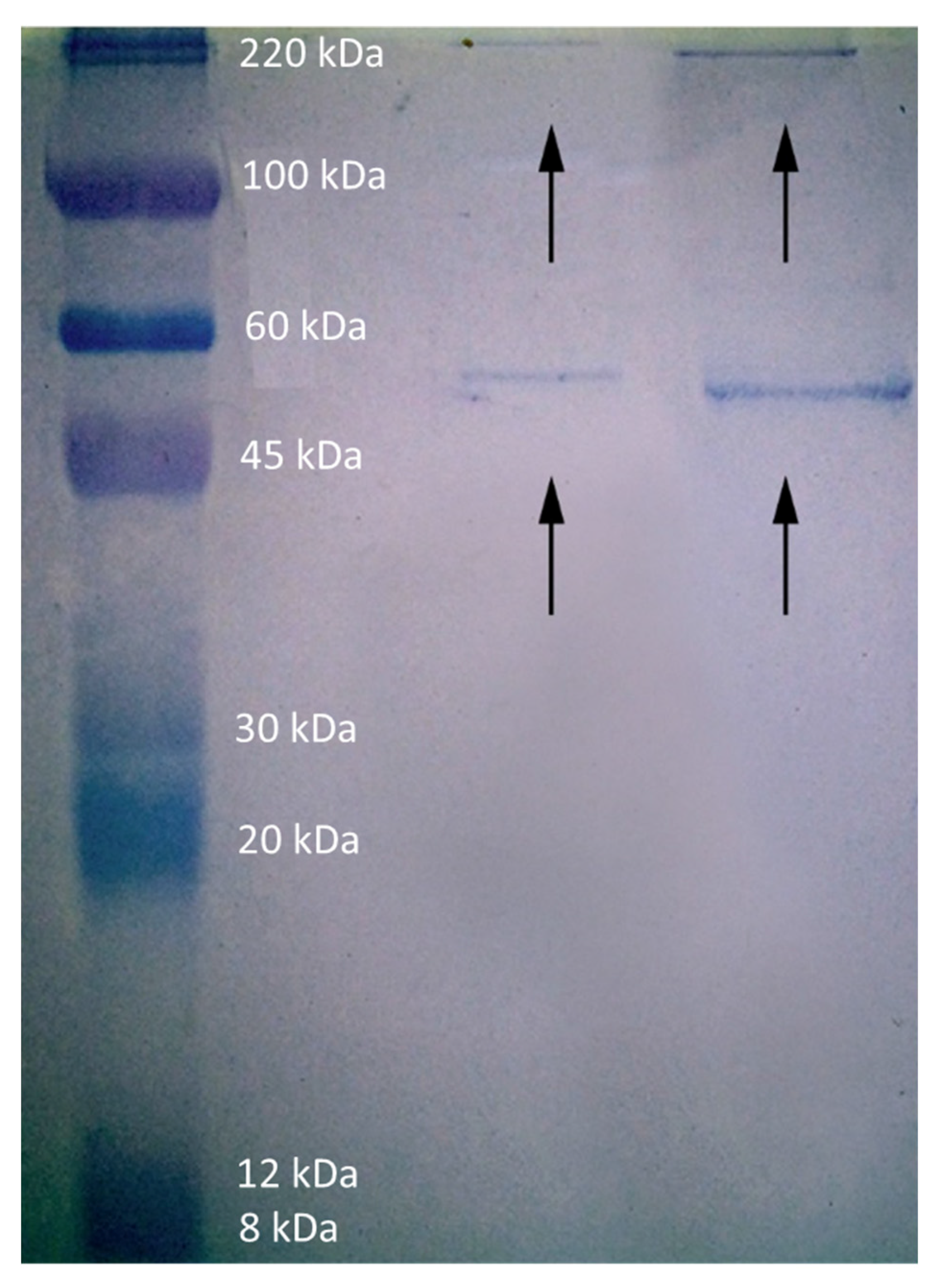 Table 1.
Content in lipid, iron, and IND of the nanoemulsions (NE) obtained by high energy (HE) and low energy (LE) methods. The lipid is referred to the phospholipid content of the nanoemulsion. Values are the average ± standard deviation (
n
= 3).
| Nanoemulsion | Lipid/mg mL−1 | Iron/mg mL−1 | IND/mg mL−1 |
| --- | --- | --- | --- |
| HE | 0.824 ± 0.054 | 0.250 ± 0.030 | 0.46 ± 0.07 |
| LE | 1.058 ± 0.040 | 0.210 ± 0.010 | 0.52 ± 0.08 |

Table 2.
Mathematical models used with the release of drug data. : amount of drug released at time
t
; : amount of drug at time
t
= 0.
Nanoemulsion
Mathematical Model

R

2
Equation
HE
Zero order
First order
Higuchi
Hixson-Crowell
Korsmeyer-Peppas
0.5827
0.8078
0.7996
0.7384
0.9918
Zero order

First order

Higuchi

Hixson-Crowell

Korsmeyer-Peppas

LE
Zero order
First order
Higuchi
Hixson-Crowell
Korsmeyer-Peppas
0.6219
0.8271
0.8340
0.7630
0.9458
Nanoemulsion
Parameters
Values
HE

k

KP/min−

n

41 ± 3

n

0.20 ± 0.02
LE

k

KP/min−

n

37 ± 7.1

n

0.25 ± 0.05

© 2017 by the authors. Licensee MDPI, Basel, Switzerland. This article is an open access article distributed under the terms and conditions of the Creative Commons Attribution (CC BY) license (http://creativecommons.org/licenses/by/4.0/).