Designed Synthesis of Nanostructured Magnetic Hydroxyapatite Based Drug Nanocarrier for Anti-Cancer Drug Delivery toward the Treatment of Human Epidermoid Carcinoma
1
Department of Chemistry, Alfaisal University, P.O. Box 50927, Riyadh 11533, Saudi Arabia
2
Department of Nanoscience and Technology, Bharathiar University, Coimbatore 641046, India
3
Department of Biotechnology, Indian Institute of Technology Madras, Chennai-600036, Tamil Nadu, India
4
Department of Zoology, College of Science, King Saud University, P.O. Box 2455, Riyadh 11451, Saudi Arabia
*
Authors to whom correspondence should be addressed.
Academic Editor: Thomas Nann
Received: 20 March 2017 / Revised: 19 May 2017 / Accepted: 24 May 2017 / Published: 6 June 2017
Abstract
Superparamagnetic Fe
3
O
4
nanoparticles on hydroxyapatite nanorod based nanostructures (Fe
3
O
4
/HAp) were synthesized using hydrothermal techniques at 180 °C for 12 h and were used as drug delivery nanocarriers for cancer cell therapeutic applications. The synthesized Fe
3
O
4
/HAp nanocomposites were characterized by X-ray diffraction analysis (XRD), Field emission scanning electron microscopy (FESEM), Fourier transform infrared spectroscopy (FTIR), Brunauer-Emmett-Teller (BET)-analysis, and vibrating sample magnetometry (VSM). The morphologies of the Fe
3
O
4
/HAp nanocomposites show 15 nm Fe
3
O
4
nanoparticles dispersed in the form of rods. The BET result shows that the synthesized samples have a high specific surface area of 80 m
2
g
−1
with mesoporous structures. Magnetic measurements revealed that the sample has high saturation magnetization of 18 emu/g with low coercivity. The Fe
3
O
4
/HAp nanocomposites had a large specific surface area (SSA), high mesoporous volume, and good magnetic property, which made it a suitable nanocarrier for targeted drug delivery systems. The chemotherapeutic agent, andrographolide, was used to investigate the drug delivery behavior of the Fe
3
O
4
/HAp nanocomposites. The human epidermoid skin cancer cells (A431) were used as the model targeting cell lines by treating with andrographolide loaded Fe
3
O
4
/HAp nanosystems and were further evaluated for their antiproliferative activities and the induction of apoptosis. Also, the present nanocomposite shows better biocompatibility, therefore it can be used as suitable drug vehicle for cancer therapy applications.
View Full-Text
►

▼

Figures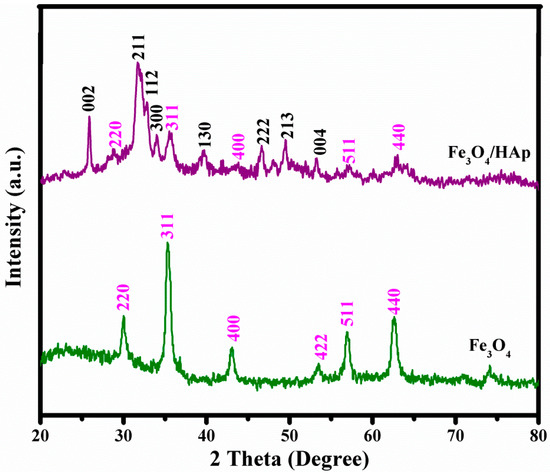 Figure 1
This is an open access article distributed under the
Creative Commons Attribution License
which permits unrestricted use, distribution, and reproduction in any medium, provided the original work is properly cited (CC BY 4.0).

Share & Cite This Article
MDPI and ACS Style
Govindan, B.; Swarna Latha, B.; Nagamony, P.; Ahmed, F.; Saifi, M.A.; Harrath, A.H.; Alwasel, S.; Mansour, L.; Alsharaeh, E.H. Designed Synthesis of Nanostructured Magnetic Hydroxyapatite Based Drug Nanocarrier for Anti-Cancer Drug Delivery toward the Treatment of Human Epidermoid Carcinoma. Nanomaterials 2017, 7, 138.
Note that from the first issue of 2016, MDPI journals use article numbers instead of page numbers. See further details here.
Related Articles
Comments
[Return to top]