Breakthrough to Non-Vacuum Deposition of Single-Crystal, Ultra-Thin, Homogeneous Nanoparticle Layers: A Better Alternative to Chemical Bath Deposition and Atomic Layer Deposition
1
Green Energy & Environment Research Laboratories, Industrial Technology Research Institute, No. 195, Sec. 4, Chung Hsing Road, Chutung, Hsinchu 31040, Taiwan
2
Department of Electro-Physics and Department of Photonic & Institute of Electro-Optical Engineering, National Chiao Tung University, No. 1001, University Road, Hsinchu 30010, Taiwan
3
Department of Electronic Engineering, Chang-Gung University, No. 259, Wen-Hwa 1st Road, Kwei-Shan, Taoyuang 33302, Taiwan
4
Department of Chemistry, National Taiwan University, No.1, Sec. 4, Roosevelt Road, Taipei 10617, Taiwan
5
Department of Nuclear Medicine, Chang Gung Memorial Hospital, 5, Fuxing Street, Kwei-Shan, Taoyuang 33302, Taiwan
6
School of Electronics and Computer Science, University of Southampton, Southampton SO17 1BJ, UK
*
Authors to whom correspondence should be addressed.
Academic Editor: Thomas Nann
Received: 2 December 2016 / Revised: 24 February 2017 / Accepted: 23 March 2017 / Published: 6 April 2017
Abstract
Most thin-film techniques require a multiple vacuum process, and cannot produce high-coverage continuous thin films with the thickness of a few nanometers on rough surfaces. We present a new "paradigm shift" non-vacuum process to deposit high-quality, ultra-thin, single-crystal layers of coalesced sulfide nanoparticles (NPs) with controllable thickness down to a few nanometers, based on thermal decomposition. This provides high-coverage, homogeneous thickness, and large-area deposition over a rough surface, with little material loss or liquid chemical waste, and deposition rates of 10 nm/min. This technique can potentially replace conventional thin-film deposition methods, such as atomic layer deposition (ALD) and chemical bath deposition (CBD) as used by the Cu(In,Ga)Se
2
(CIGS) thin-film solar cell industry for decades. We demonstrate 32% improvement of CIGS thin-film solar cell efficiency in comparison to reference devices prepared by conventional CBD deposition method by depositing the ZnS NPs buffer layer using the new process. The new ZnS NPs layer allows reduction of an intrinsic ZnO layer, which can lead to severe shunt leakage in case of a CBD buffer layer. This leads to a 65% relative efficiency increase.
View Full-Text
►

▼

Figures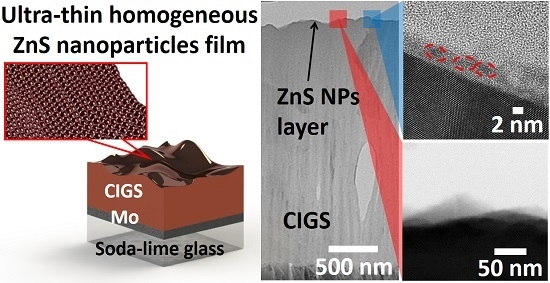 Graphical abstract
This is an open access article distributed under the
Creative Commons Attribution License
which permits unrestricted use, distribution, and reproduction in any medium, provided the original work is properly cited (CC BY 4.0).

Share & Cite This Article
MDPI and ACS Style
Liao, Y.-K.; Liu, Y.-T.; Hsieh, D.-H.; Shen, T.-L.; Hsieh, M.-Y.; Tzou, A.-J.; Chen, S.-C.; Tsai, Y.-L.; Lin, W.-S.; Chan, S.-W.; Shen, Y.-P.; Cheng, S.-J.; Chen, C.-H.; Wu, K.-H.; Chen, H.-M.; Kuo, S.-Y.; Charlton, M.D.B.; Hsieh, T.-P.; Kuo, H.-C. Breakthrough to Non-Vacuum Deposition of Single-Crystal, Ultra-Thin, Homogeneous Nanoparticle Layers: A Better Alternative to Chemical Bath Deposition and Atomic Layer Deposition. Nanomaterials 2017, 7, 78.
Note that from the first issue of 2016, MDPI journals use article numbers instead of page numbers. See further details here.
Related Articles
Comments
[Return to top]