Highly Enhanced Photoreductive Degradation of Polybromodiphenyl Ethers with g-C3N4/TiO2 under Visible Light Irradiation
1
Department of Chemistry, Shaoxing University, Shaoxing 312000, Zhejiang, China
2
Key laboratory of Coastal Zone Envirenmental Process and Ecological Remediation, Yantai Institute of Coastal Zone Research, Chinese Academy of Sciences, Yantai 264003, Shandong, China
*
Author to whom correspondence should be addressed.
Received: 1 February 2017 / Revised: 29 March 2017 / Accepted: 30 March 2017 / Published: 3 April 2017
Abstract
A series of high activity photocatalysts g-C3N4-TiO2 were synthesized by simple one-pot thermal transformation method and characterized by transmission electron microscopy (TEM), scanning electron microscopy (SEM), X-ray diffraction (XRD), X-ray photoelectron spectroscopy, Brunauer–Emmett–Teller (BET) surface area, and ultraviolet–visible diffuse reflectance spectroscopy (UV-Vis-DRS). The g-C3N4-TiO2 samples show highly improved photoreductive capability for the degradation of polybromodiphenyl ethers compared with g-C3N4 under visible light irradiation. Among all the hybrids, 0.02-C3N4-TiO2 with 2 wt % g-C3N4 loaded shows the highest reaction rate, which is 15 times as high as that in bare g-C3N4. The well-matched band gaps in heterojunction g-C3N4-TiO2 not only strengthen the absorption intensity, but also show more effective charge carrier separation, which results in the highly enhanced photoreductive performance under visible light irradiation. The trapping experiments show that holetrapping agents largely affect the reaction rate. The rate of electron accumulation in the conductive band is the rate-determining step in the degradation reaction. A possible photoreductive mechanism has been proposed.
View Full-Text
►

▼

Figures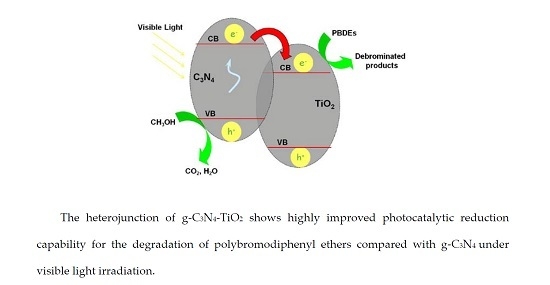 Graphical abstract
This is an open access article distributed under the
Creative Commons Attribution License
which permits unrestricted use, distribution, and reproduction in any medium, provided the original work is properly cited (CC BY 4.0).

Share & Cite This Article
MDPI and ACS Style
Ye, W.; Shao, Y.; Hu, X.; Liu, C.; Sun, C. Highly Enhanced Photoreductive Degradation of Polybromodiphenyl Ethers with g-C3N4/TiO2 under Visible Light Irradiation. Nanomaterials 2017, 7, 76.
Note that from the first issue of 2016, MDPI journals use article numbers instead of page numbers. See further details here.
Related Articles
Comments
[Return to top]