The Electrospun Ceramic Hollow Nanofibers
1
Nanochemistry and Nanoengineering, School of Chemical Engineering, Department of Chemistry and Materials Science, Aalto University, Kemistintie 1, 00076 Aalto, Finland
2
The Institute of Mineralogy, Crystallography and Material Science, Faculty of Chemistry and Mineralogy, University of Leipzig, 04109 Leipzig, Germany
3
Department of Materials Research and Technology (MRT), Luxembourg Institute of Science and Technology (LIST), L-4362 Esch-sur-Alzette, Luxembourg
4
Nanochemistry and Nanoengineering, Institute for Materials Science, Faculty of Engineering, Christian-Albrechts-Universität zu Kiel, Kaiserstrasse 2, 24143 Kiel, Germany
*
Authors to whom correspondence should be addressed.
Received: 28 September 2017 / Revised: 1 November 2017 / Accepted: 6 November 2017 / Published: 9 November 2017
Abstract
Hollow nanofibers are largely gaining interest from the scientific community for diverse applications in the fields of sensing, energy, health, and environment. The main reasons are: their extensive surface area that increases the possibilities of engineering, their larger accessible active area, their porosity, and their sensitivity. In particular, semiconductor ceramic hollow nanofibers show greater space charge modulation depth, higher electronic transport properties, and shorter ion or electron diffusion length (e.g., for an enhanced charging–discharging rate). In this review, we discuss and introduce the latest developments of ceramic hollow nanofiber materials in terms of synthesis approaches. Particularly, electrospinning derivatives will be highlighted. The electrospun ceramic hollow nanofibers will be reviewed with respect to their most widely studied components, i.e., metal oxides. These nanostructures have been mainly suggested for energy and environmental remediation. Despite the various advantages of such one dimensional (1D) nanostructures, their fabrication strategies need to be improved to increase their practical use. The domain of nanofabrication is still advancing, and its predictable shortcomings and bottlenecks must be identified and addressed. Inconsistency of the hollow nanostructure with regard to their composition and dimensions could be one of such challenges. Moreover, their poor scalability hinders their wide applicability for commercialization and industrial use.
View Full-Text
►

▼

Figures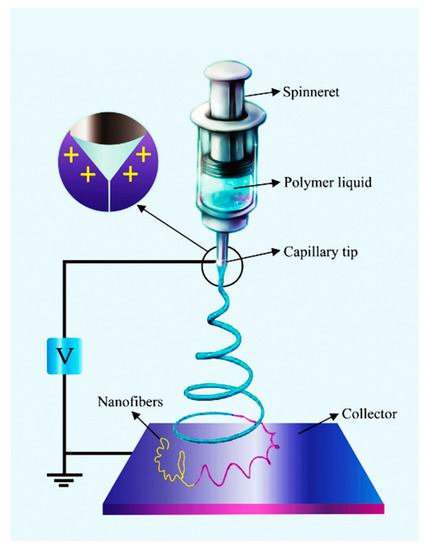 Figure 1
This is an open access article distributed under the
Creative Commons Attribution License
which permits unrestricted use, distribution, and reproduction in any medium, provided the original work is properly cited (CC BY 4.0).

Share & Cite This Article
MDPI and ACS Style
Homaeigohar, S.; Davoudpour, Y.; Habibi, Y.; Elbahri, M. The Electrospun Ceramic Hollow Nanofibers. Nanomaterials 2017, 7, 383.
Note that from the first issue of 2016, MDPI journals use article numbers instead of page numbers. See further details here.
Related Articles
Comments
[Return to top]