Ultrafast Spectroscopy of Fano-Like Resonance between Optical Phonon and Excitons in CdSe Quantum Dots: Dependence of Coherent Vibrational Wave-Packet Dynamics on Pump Fluence
1
N.N. Semenov Institute of Chemical Physics, Russian Academy of Sciences, Kosygina st., 4, 119991 Moscow, Russia
2
Institute of Problem of Chemical Physics, Russian Academy of Sciences, 142432 Chernogolovka, Russia
3
Chemical Faculty, Moscow State University, Leninskie Gory, 119992 Moscow, Russia
*
Author to whom correspondence should be addressed.
Received: 8 September 2017 / Revised: 25 October 2017 / Accepted: 27 October 2017 / Published: 4 November 2017
Abstract
The main goal of the present work is to study the coherent phonon in strongly confined CdSe quantum dots (QDs) under varied pump fluences. The main characteristics of coherent phonons (amplitude, frequency, phase, spectrogram) of CdSe QDs under the red-edge pump of the excitonic band [1S(e)-1S
3/2
(h)] are reported. We demonstrate for the first time that the amplitude of the coherent optical longitudinal-optical (LO) phonon at 6.16 THz excited in CdSe nanoparticles by a femtosecond unchirped pulse shows a non-monotone dependence on the pump fluence. This dependence exhibits the maximum at pump fluence ~0.8 mJ/cm
2
. At the same time, the amplitudes of the longitudinal acoustic (LA) phonon mode at 0.55 THz and of the coherent wave packet of toluene at 15.6, 23.6 THz show a monotonic rise with the increase of pump fluence. The time frequency representation of an oscillating signal corresponding to LO phonons revealed by continuous wavelet transform (CWT) shows a profound destructive quantum interference close to the origin of distinct (optical phonon) and continuum-like (exciton) quasiparticles. The CWT spectrogram demonstrates a nonlinear chirp at short time delays, where the chirp sign depends on the pump pulse fluence. The CWT spectrogram reveals an anharmonic coupling between optical and acoustic phonons.
View Full-Text
►

▼

Figures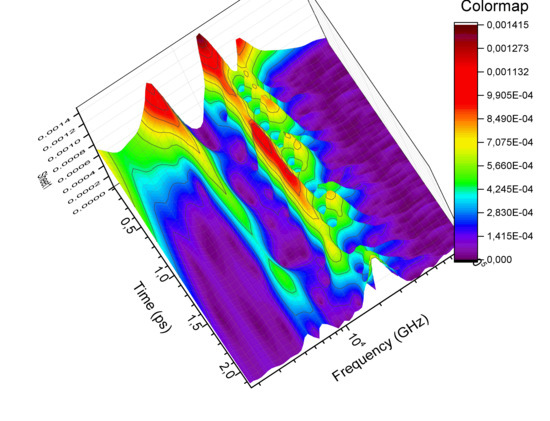 Graphical abstract
This is an open access article distributed under the
Creative Commons Attribution License
which permits unrestricted use, distribution, and reproduction in any medium, provided the original work is properly cited (CC BY 4.0).

Share & Cite This Article
MDPI and ACS Style
Nadtochenko, V.; Denisov, N.; Aybush, A.; Gostev, F.; Shelaev, I.; Titov, A.; Umanskiy, S.; Cherepanov, A.D. Ultrafast Spectroscopy of Fano-Like Resonance between Optical Phonon and Excitons in CdSe Quantum Dots: Dependence of Coherent Vibrational Wave-Packet Dynamics on Pump Fluence. Nanomaterials 2017, 7, 371.
Note that from the first issue of 2016, MDPI journals use article numbers instead of page numbers. See further details here.
Related Articles
Comments
[Return to top]